One of the main advantages to using a 5-pin bow hunting sight is all the ranges that are available to you. This comes in extremely handy when you're fully drawn and your target suddenly moves. These pins serve as guides.
In fact, many hunters set their pins at 20, 30, 40, 50, and 60 yards when using a 5-pin sight. Those extra pins, once you learn how to properly use them, can make those long distance shots with your hunting bow much more viable. That higher success rate during tough hunting seasons
Once you try out this 5-pin style, you'll truly understand how useful it can be. Give it chance and see for yourself.
Finding the Best 5-Pin Bow Sights
Listed below are a few of the best 5-pin hunting sights sold today. They're all high-quality sights definitely worth the buy. These are brands that hunters trust, that are well-designed and made from top-notch materials, and are made by outdoorsmen for outdoorsmen.
Trophy Ridge React H5 5-Pin Bow Sight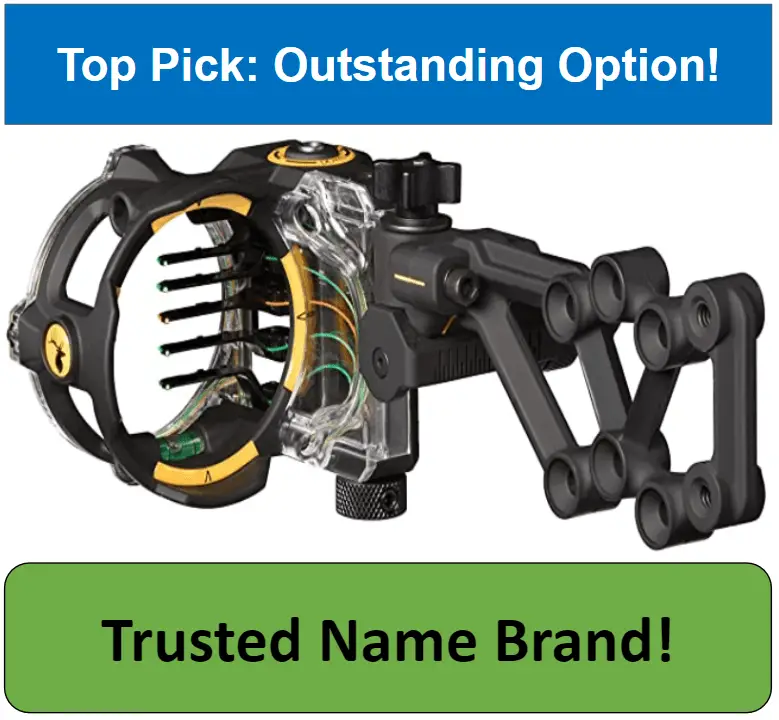 The five fiber optic pins crafted into this sight are really great. They're bright, they can be easily adjusted, and are built with React Technology. React Technology is a handy feature that automatically sights your bow in fast and efficiently. It really will make your life a lot easier.
This is how the technology works. Once you sight your bow in at 20 and 30 yards, it'll automatically sight you in at whatever distance your target is positioned at. That could be 40, 50, or even 60 yards. You adjust it once, and then you let the technology take over.
Adjusting the windage and the elevation is also a simple task that requires no tools. Having to carry a set of Allen wrenches can get a little annoying. Save yourself the trouble and enjoy a toolless design that's quiet and easy to use.
Another kind of technology embedded into this 5-pin sight is the Ballistix CoPolymer System. This system is deigned to minimize the amount of vibration you feel when shooting your bow. As a result, you'll enjoy a smoother, more accurate shot every time.
Pros:
5 bright, fiber optic pins
Advanced technology
Adjustable brightness
Built-in rheostat light for increased visibility
One of the fastest models to sight in
Built-in bubble level
Lightweight and extremely durable
Cons
The rheostat light can be a little fussy sometimes
Doesn't always work well for bows with a lower draw weight 

Trophy Ridge Volt 5-Pin Bow Sight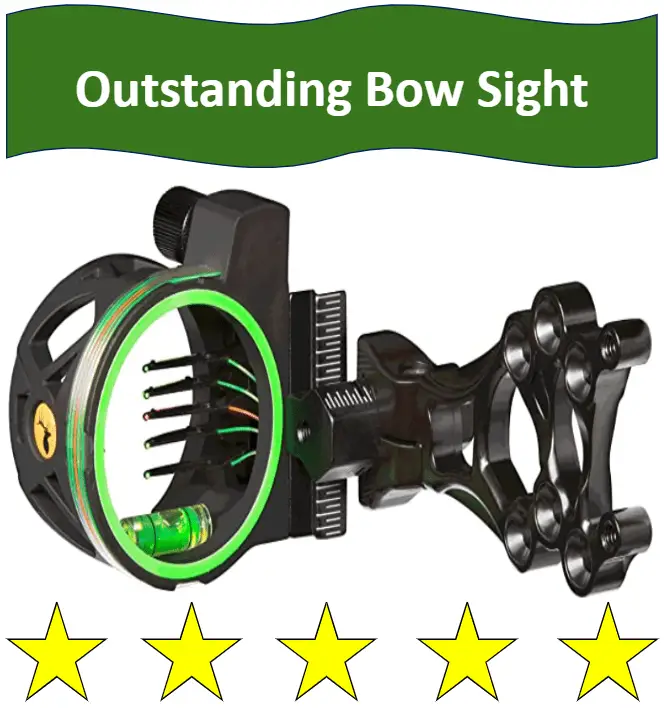 The bright fiber optic pins and the neon green accent ring are what truly make this bow hunting 5-pin sight stand out. Shooting in low-light conditions has never been easier, and with the rheostat light that's included, hitting your target will not be an issue.
In fact, these five pins are all powered by five volts making them extra bright. 
Another thing that makes this Trophy Ridge Volt bow sight great is the overall construction. This 5-pin hunting sight is made from quality aluminum, is extremely lightweight, and features vibration reduction technology. Reducing your vibrations are a great way to increase the overall accuracy of your shots.
You'll also love the convenience the 5-pin Volt bow sight offers. Adjusting the windage and the elevation in addition to mounting this sight to your bow is a piece of cake.
The best part? This bow sight can be easily mounted to both old and new bows. It even mounts perfectly to an aged Browning bow. This really is one amazing bow hunting sight.  
Pros
Durable construction
Ultra bright, 5-volt powered .19" adjustable pins
Built-in bubble level
Neon green hood accent
Simple to sight in
Convenient mounting holes
Cons
The rheostat light that's included has been known to experience some issues
Making adjustments requires your own tools

Trophy Ridge Fix Series Sight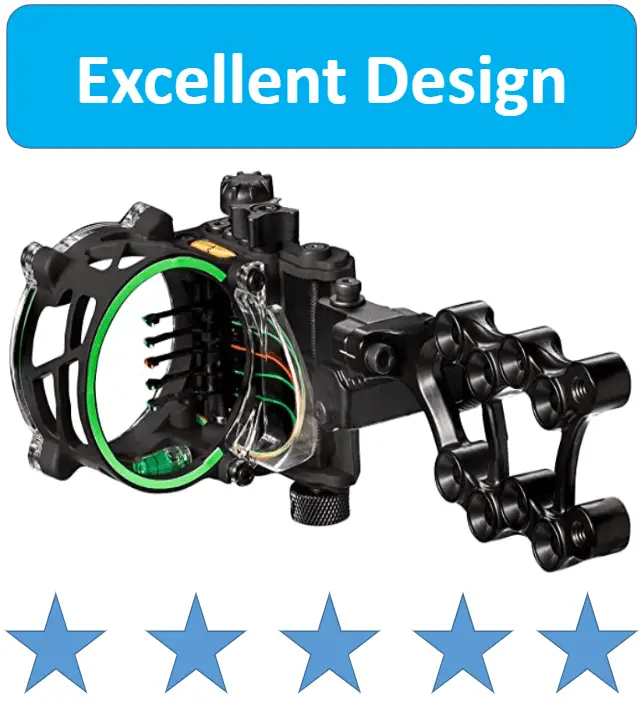 Shooting in low light environments won't be a problem when you mount this amazing 5-pin hunting sight to your bow. The bright fiber optic pins and the glow in the dark accent ring make shooting your bow an absolute delight. You can even adjust the brightness to your exact liking.
You just might notice your accuracy get better when you shoot with this clever little device.
The built-in on board adjustment tool gives you the ability to make adjustments fast and efficiently. This is a really convenient feature you'll definitely appreciate. The pins are also adjustable and can be personalized with the on-board tool.
You can now leave your tools behind the next time you go hunting. If your hunting bow has the Trophy Ridge Fix series sight ready to go then you are just that: ready for the hunt.
The second axis adjustment feature is another benefit to using this 5-pin bow hunting sight. By being able to adjust the second axis, you'll be able to shoot at all those hard-angled targets without the fear of missing.
Pros
Works well in low-light conditions
Built-in rheostat for advanced visibility
Built-in bubble level for increased accuracy
Simply setup
Lightweight design
Crafted from tough machined aluminum
Cons
Rheostat light has been known to have some issues
The bubble level can potentially break off if bumped or dropped

Trophy Ridge React Pro 5-Pin Bow Sight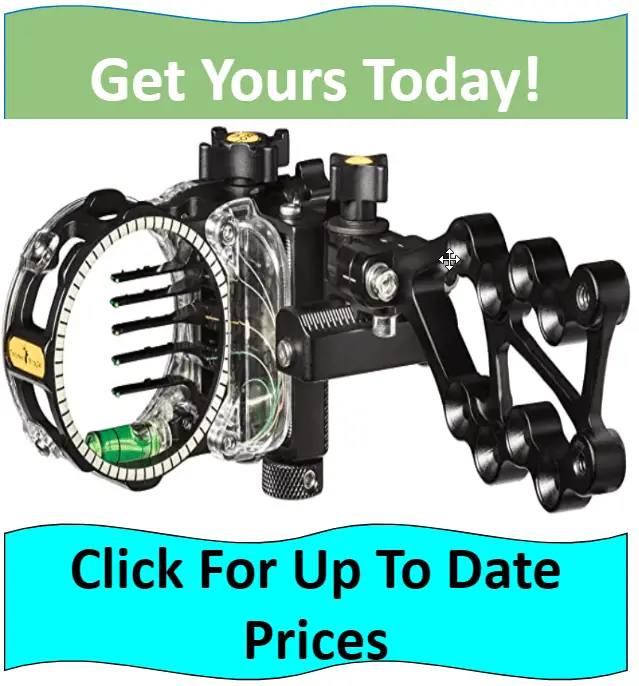 This bow hunting sight is definitely high-quality, both inside and out. Not only does it have extremely bright fiber optic pins with a glow in the dark ring, the Trophy React Pro also features React Technology as well. If you've never had the privilege of using this technology, then you really are missing out.
This hunting bow sight is quick, convenient, and will take your accuracy to the next level
The construction of this device is also amazing. This 5-pin bow sight is crafted from a tough, machined aluminum and features stainless steel hardware. If you like to hunt in all kinds of weather conditions, then you'll definitely want to check this out. It's made to withstand the harshest elements.
The overall appearance is also a benefit worth mentioning. It's sleek, shiny, and has a very polished look to it. It really is beautiful will look great mounted to just abut any bow. If you're into good-looking accessories, then you'll definitely like this sight.  
Mounting and adjusting this 5-pin hunting sight is also quick, easy, and takes minimal skill. Adjusting the windage and the elevation is an easy task tool too. This is a toolless procedure that frees you from having to carry around an Allen wrench whenever you go hunting. If convenience is important to you, then you'll love this feature.
Pros
Bright fiber optic pins
Outer glow in the dark ring
React Technology
Third axis adjusting option for long distances and sharp angles
Toolless adjustments
Cons
Made for right-handed shooters only
The windage and elevation knobs are made from plastic

Truglo Carbon Hybrid Bow 5-Pin Sight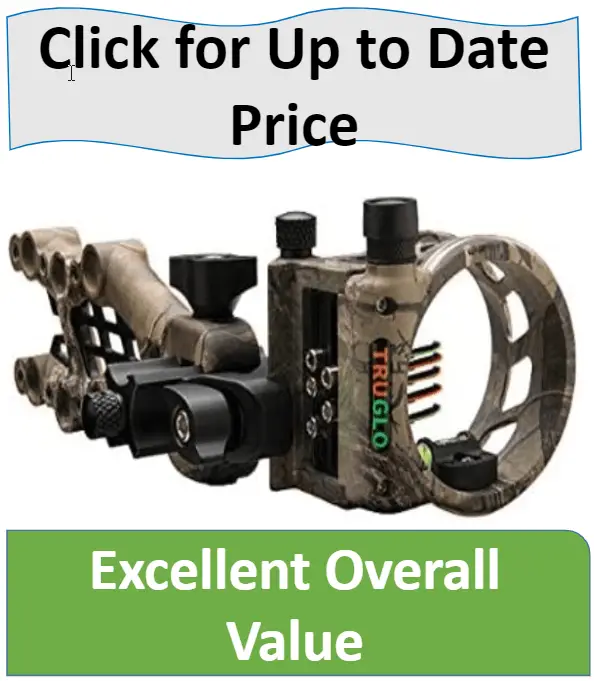 If you're looking for a quality 5-pin bow hunting sight with a little more style, then you should check out the Truglo Carbon Hybrid. This bow sight features a camouflage print that has that sleek, polished look. This camo print doesn't just look good, it'll also help keep you from being seen when you're on the hunt.
The construction of this 5-pin sight is another amazing feature. This is one durable hunting accessory. The Hybrid bow is crafted using Trufusion Hybrid Technology and is currently the only kind of bow on the market that's made from a perfect ratio of carbon composites and aluminum particles. The end result is an extremely tough material that's built to last.
You'd think that a tough, durable hunting sight would be heavy, but that's definitely not the case here. This 5-pin styled bow sight is really lightweight and because it's constructed from carbon composites, there's little or no vibrations when you shoot your bow.
The fiber optic pins are also a great feature on this hunting sight. These pins glow brightly making it much easier to hit your target in low-light environments. For increased visibility, there's even a built-in LED light that you can activate by pressing a tiny button on the side.
Pros
Can be mounted and setup quickly
Tough, durable construction
Wide field of view
Can be adjusted for both right and left-handed shooters
Polished camouflage print
Cons
Pins might be too small for individuals with poor vision

How Do You Aim with a Five-Pin Bow Sight?
Like mentioned in the introduction, many hunters set their 5-pin bow hunting sight so that the pins are at 20, 30, 40, 50, and 60 yards. So, if have your sights on a buck at 20 yards, and the animal wanders back 15 yards, you're now going to sight-in your target between the 30 and 40 yard pin. These pins serve as your personal guides.
This is why a good portion of hunters believe that multi-pin bows are much more accurate than single-pin bows. With single-pin bows, you have to calculate the yardage yourself. When choosing a bow hunting sight, it really comes down to your personal preferences in addition to your overall shooting ability.
What Are the Advantages and Disadvantages of a Five-Pin Sight?
The biggest complaint people have against 5-pin hunting sights and other multi-pin styles is that they clutter up your field of view. For some hunters, the additional pins can be quite distracting. However, if you're not distracted by them, then you can put them to work for you.
Like already stated, the additional pins serve as guides to the shooter, but that's not the only benefit they offer. These multiple-pin bows give you the ability to still take your shot even if you are at full draw and your target suddenly moves. Having multiple ranges on hand will definitely come in handy the next time you have a large buck in your sights.
What Should You Look for in a Five-Pin Bow?
When you're shopping for a new 5-pin bow hunting sight, there are a few things you'll want to look for. First, you really want a sight with bright fiber optic pins. This is essential when you're hunting in low-light environments. Just remember, the brighter the better.
Second, Quality construction is a must, especially if you're an avid hunter. You want a bow sight that's durable, weather resistant, and even has vibration reduction technology. Reducing your vibration will help improve the accuracy of your shots. Quality is definitely something you don't want to overlook.
Lastly, accuracy is another quality a good five-pin bow sight should have. Some of the sights reviewed here are designed with React Technology. This is a really cool feature that will automatically sight in your target. It's fact, effective, and really convenient. Give this technology a try, and you probably won't want to shoot without it again.
In Conclusion
There seems to be a really intense debate on the 3 vs. 5 vs. 7 pin bow sights, and it really is interesting to see what various hunters and target shooters prefer. I've always enjoyed archery immensely though admittedly I've been way more on the target shooting side of things than the hunting side of things.
Other Articles of Interest