If you're a fan of having several ranges available to you all at once, then you'll probably love the 7-pin bow sight. When you shoot with this kind of sight, you'll be able to quickly adjust your yardage and take your shot if your target should happen to suddenly move.
Some individuals aren't a fan of shooting with multiple pins, because they feel it clutters up their field of view. It really depends on your personal preferences. Once you do decide to start shooting with a 7-pin bow sight, you'll more than likely see your accuracy improve with every shot you take.
Three Best 7-Pin Bow Sights Ranked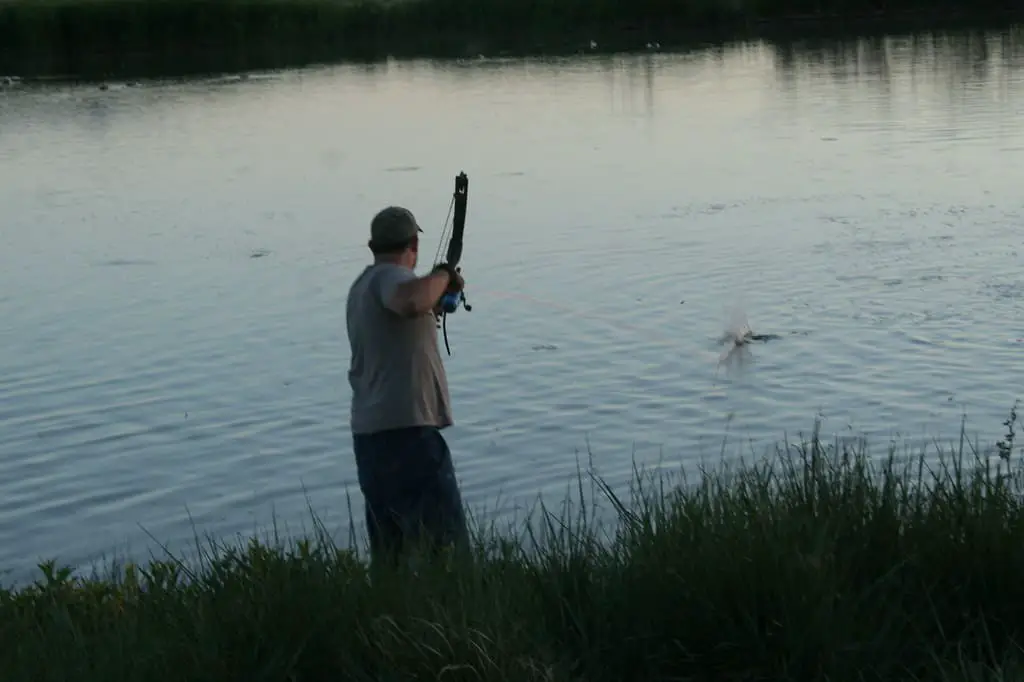 More isn't always better. While our other articles covering hunting bow sights with one, three, and five pins have multiple choices at the end of the day we only found three sights that we felt really comfortable recommending.
These are the cream of the crop when it comes to 7 pin sights as of this writing and combine quality, craftsmanship, and great pricing to make this list. If you go with one of these bow hunting sights you won't be disappointed!
Read on to see our picks for the best seven pin bow sight for hunters, and good hunting!
Trophy Ridge Fix Series 7-Pin Sight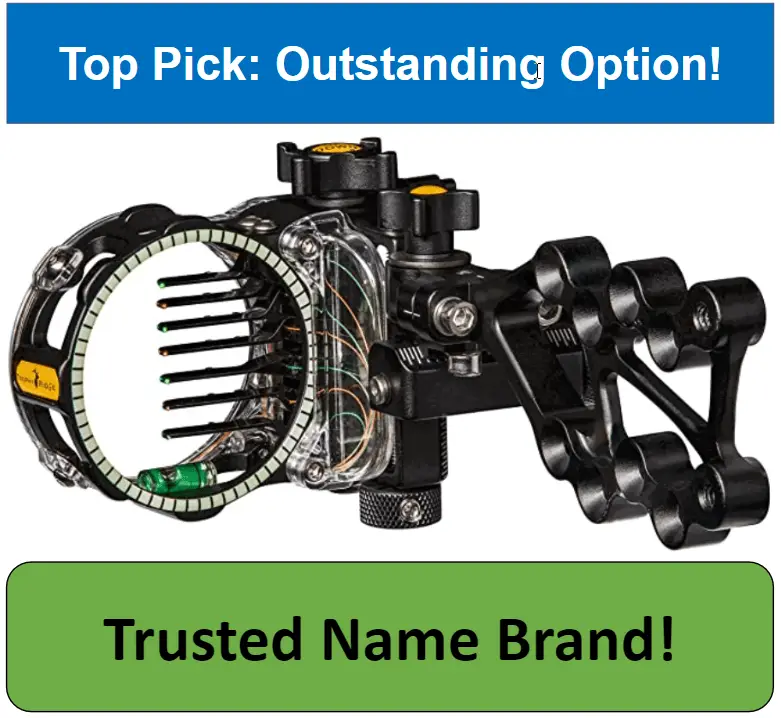 This is a fantastic choice for any hunter who enjoys shooting with a multi-pin sight. This bow hunting sight has a total of 7 adjustable pins. You can adjust them easily and within seconds using the on-board tool. They're not just adjustable though, these 0.019″ fiber optic pins are also extremely bright and will work wonders in low-light environments. The best part? You can adjust the brightness to your liking.
For increased accuracy, there's also a built in bubble level and a nifty little rheostat light too. The rheostat light conveniently shines down onto the pins giving you the ability to see and shoot your target as accurately as possible. The outer neon green accent ring also stands out and is a really nice added bonus.
Mounting and adjusting this 7-pin bow hunting sight is also a walk in the park. Spending a long time reading through pages of instructions can get really old fast. With this Trophy Ridge Fix Series bow sight, that's simply not a concern. This really is one fantastic, hassle-free hunting accessory definitely worth the buy.
Pros
Toolless adjustments
Quick and easy setup
Bright fiber optic pins
Tough, aluminum construction
2nd axis adjustment for advanced accuracy
Lightweight design
Cons
The rheostat light sometimes acts a little finicky
The bubble level can potentially get broken off if dropped or bumped

Axcel Armortech HD 7-Pin Sight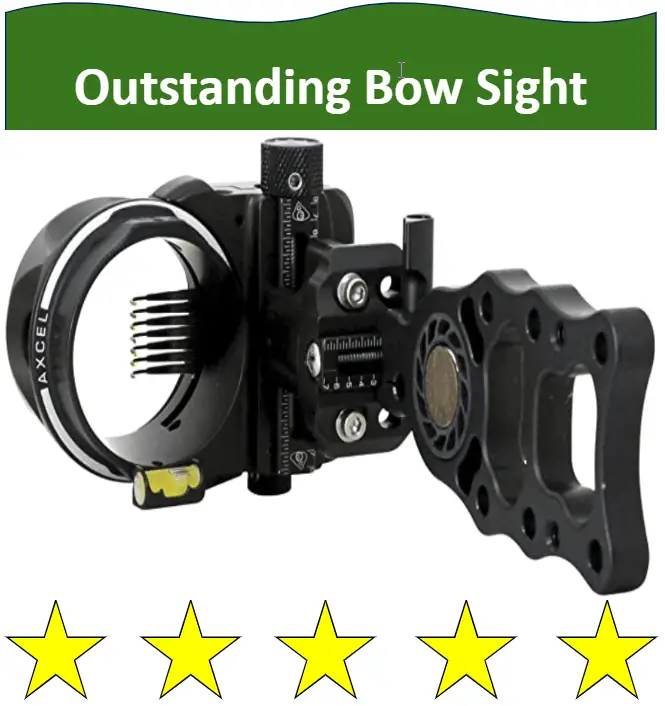 The coolest thing about this 7-pin bow hunting sight is the Amor Fiber Technology. This technology provides full protection to the little fibers embedded inside the pins. In return, the pins in your bow sight will continue to glow brightly for quite some time.
The windage and the elevation adjustment knob is also a pretty cool feature. Making adjustments is fast, easy, and extremely precise. In fact, this is a 20-click knob, and each click adjusts your sight by 0.00156". Now, that's precise.
The 7 pins in this Axcel Armortech bow sight can also be adjusted within seconds, and they can all be moved together at once. Now, how cool is that? This comes in really handy and will save you a little time. This really is a convenient feature.
Pros
Crafted from tough aluminum
Easy to mount
Quick setup
Toolless adjustments
Long distance pins are smaller in size than the close range pins
Third axis for those hard-angled shots
Cons
Pins are sometimes hard to see on a sunny day

Topoint Archery CNC Aluminum 7-Pin Bow Sight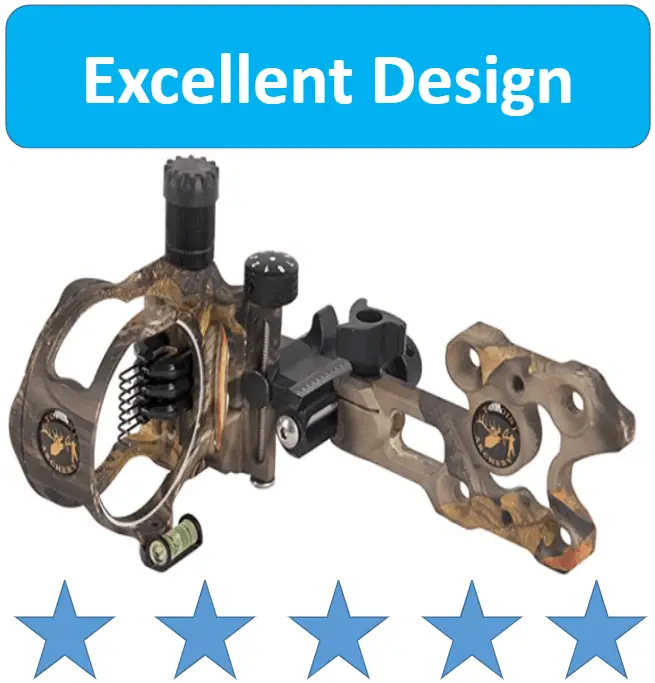 This Topoint Archery 7-pin bow sight is one amazing hunting accessory. This sight is constructed from a tough, machined aluminum alloy while the pins feature a stainless steel tube design. This tube design will not only protect your pins from unnecessary damage, but it'll also ensure the pins continue to glow brightly for quite some time.  
The flexibility of the second axis is also a nice added feature. This axis is extremely easy to adjust and will help you increase the accuracy of your shots, even at longer distances. Adjusting the windage and elevation is also quite simple and can be done by simply turning the little adjustment knob on the side of the sight.
The fiber optic pins in this bow hunting sight are another pretty great feature. Both their brightness and their positioning can be adjusted within seconds. It's that easy, and there's even a built-in light for increased visibility. Hitting your target will not be an issue when you strap this sight to your bow.
Pros:
Extra holes for additional mounting options
Can be setup within minutes 
Toolless design
Lightweight
Adjustable brightness
Built-in light
Cons
Built-in light can be a little finicky

Are 7-pin Bow Sights Better Than Lower Pin Sights?
When deciding between a 7-pin sight or a model with fewer pins, it really comes down to personal preference, shooting skill, and the kind of shooting you'll be doing. For instance, 7-pin sights are great choices for long distanced shooting. Certainly more than than the 1-pin bow sights, for sure. On the other hand, if you're planning on shooting close-ranged targets on a regular basis, you really don't need all those additional pins.
7-pin bow sights also work really well for shooting at moving targets, and the more ranges you have available to you, the faster you can adapt and take your shot. It's that simple. When you use a single-pin sight, you have to calculate the yardage yourself. This is where skill and personal preference come into play.
How Do You Use a 7-Pin Bow Sight?
The first thing you have to do is set your pins the way you want. For a 7-pin bow hunting sight, setting your pins at increments of 5-yards is a good choice, but you can also do increments of 10-yards too. It really comes down to your personal preferences.
Once you have the target in your sights, you simply line it up with the appropriate pin and then take your shot. This is of course assuming you've already adjusted the windage and the elevation too. Using a 7-pin sight takes practice, but after you master it, you'll really enjoy it.
The Pros/Cons of a 7-Pin Bow Sight
One of the main benefits to using a 7-pin bow hunting sight is the amount of ranges available to you. Like previously mentioned, this 7-pin style works really well for moving targets and long distanced targets too. With a 7-pin sight, you can quickly adjust and take your shot at any distance. 
Although this all sounds great, some hunters don't like all those pins cluttering up their field of view while others just find the pins to be annoying. If you're one of these individuals, then a single-pin bow sight might be the more appropriate choice. However, if you're not bothered by multiple pins, then the 7-pin design can definitely take your accuracy to the next level.
In Conclusion
Bow hunting is a pretty incredible hobby and for those who have caught the bug, you don't need me to tell you what's so amazing about it. Having the right sight can make all the difference. Especially when you're hunting game that isn't going to let you get close enough for an easy shot.
Other Articles of Interest