The best wood-handle camping axes can be used to chop firewood, trim thick tree branches and they can double as a hammer in some cases. Not only that, but they can be used to chop meat and other types of food.
However, you don't want to choose just any old wood-handle camping axe, but don't worry because we have chosen the top ones that are worth buying.
The CRKT Kangee and Husqvarna axes are the best quality axes with wood handles while the Marbles ax is a great budget option. If you're looking for heavy duty work, go with the Council Tool Hudson Bay Camp Axe & you won't be disappointed!
Looking at the Best Camping Axes with Wood Handles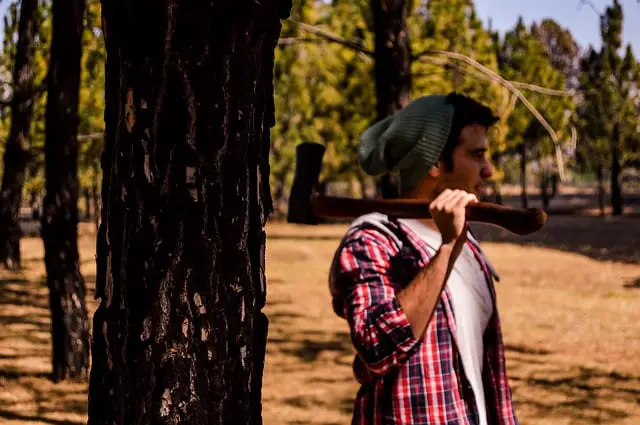 Husqvarna Wooden Multi-Purpose Axe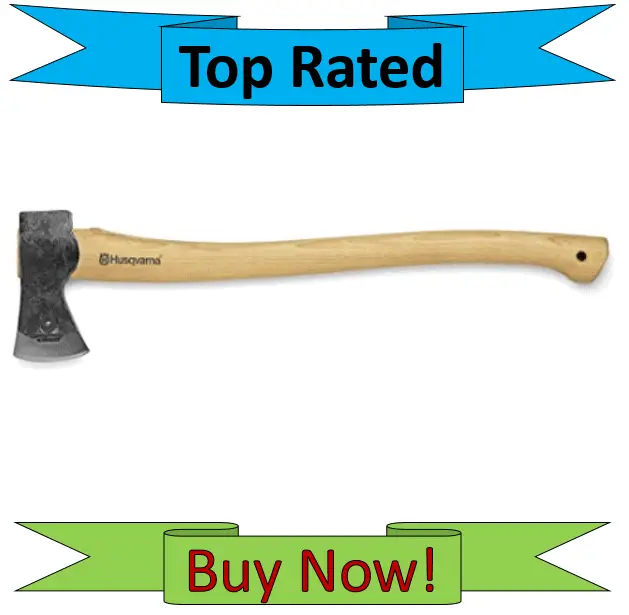 This axe is 26-inches long and it is ideal for trimming branches and for tree felling. We recommend the Husqvarna wooden multi-purpose axe for hiking in areas where there's a lot of bush that needs to be cleared because it does an amazing job at clearing bush. It also doesn't lack in power, which is due to its long handle.
The blade is made with Swedish steel and the handle is hickory wood. The head is securely fastened to the handle. Both a steel wedge and a wooden wedge has been used to keep the head in place.
It's not finished. The maker did coat the handle with a tiny amount of oil. This is why the axe has a basic and very traditional look to it.
Price wise, expect to spend around $60 on the Husqvarna axe. This isn't a bad price at all, especially when you consider it's blade is hand-forged Swedish steel. The axe is worth its price.
There are only a handful of negative reviews, with a few of them saying that the axe isn't as durable as they'd like it to be. Some reviewers said the axe broke in half. Other than that, nothing bad can be said about it.
Pros
Inexpensive
Long handle
Swedish steel
Cons
Not that durable
Unfinished
Check current pricing on Amazon!

CRKT Woods Kangee Tomahawk Axe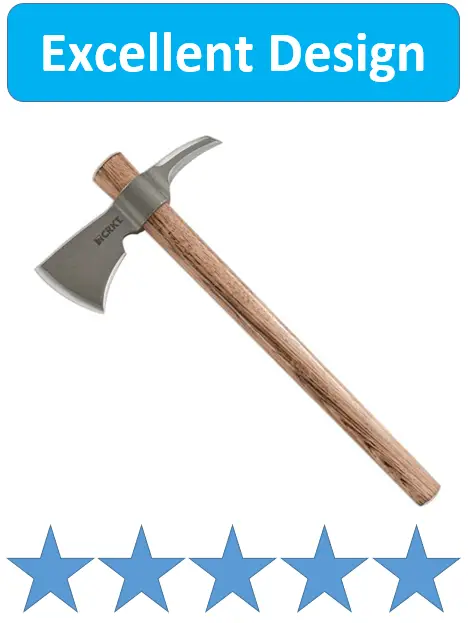 When it comes to the best wood-handle camping axes, the CRKT Woods Kangee comes in at number one. The best thing about this axe is it can chop through virtually anything, so cutting up firewood, meat or anything for that matter will require very little effort. This is thanks to the blade, which is forged with 1055 carbon steel.
It's lightweight and extremely durable and is balanced. This means steady swings each and every time it's used. As for the handle, it's made from hickory wood.
Let's not forget about the price. This specific axe might be the perfect wood-handle camping axe, but it isn't expensive. In fact, it sells for under $50, which is a bargain.
Although it's not a common occurrence, there have been complaints about the head of the axe. There are a handful of reviewers who've mentioned that the head wasn't that securely attached to the handle. It's also worth noting that the head is actually removable, so you can detach it to clean it and then reattach it.
The majority of buyers have raved about how well-made this axe is and how efficient it is to use as a hammer too. Grip is another thing buyers have mentioned, which is good because it means it won't slip out of the hands while using it. All in all, it is the top wood-handle camping axe around.
Pros
The price
Durable
Carbon steel blade
Hickory wood handle
Cons
Axe head might not be as securely attached as you'd like
Check current pricing on Amazon!

Gransfors Bruks Small Forest Axe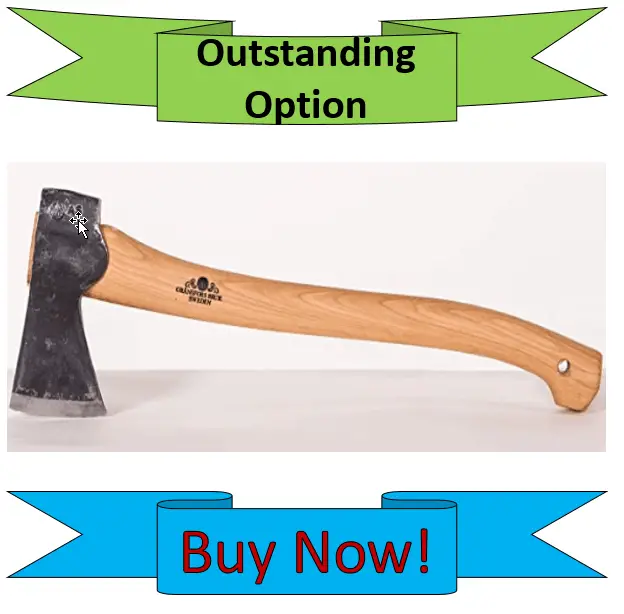 This axe is only 19 inches long, so it is small. This isn't a bad thing because it means it's lightweight; It weighs only two-pounds, and it's an excellent tool for limbing and felling trees. Since it's not that large, the small forest axe can easily split small sticks or cut through limb-wood.
We like the overall look of the axe. It has a rugged feel and look to it, but what we like even more is it's super sharp. Campers will not struggle to chop wood or fell trees with the Gransfors Bruks Small Forest Axe.
Perhaps the best feature is it's handle. It's designed in a way that users can operate the axe with either one hand or both hands. Regardless if they use one or both hands, users will find the axe very simple to operate.
Although it really comes down to a matter of opinion, the axe is expensive. It goes for around $190, but we personally believe this is a fair price. It's durable, reliable and very sharp, so it offers a ton of value for that price.
Pros
Small
Lightweight
Easy to use
Perfect for either dual or single hand operation
Razor sharp blade
Cons
Check current pricing on Amazon!

Marbles Hunters Axe (MR703)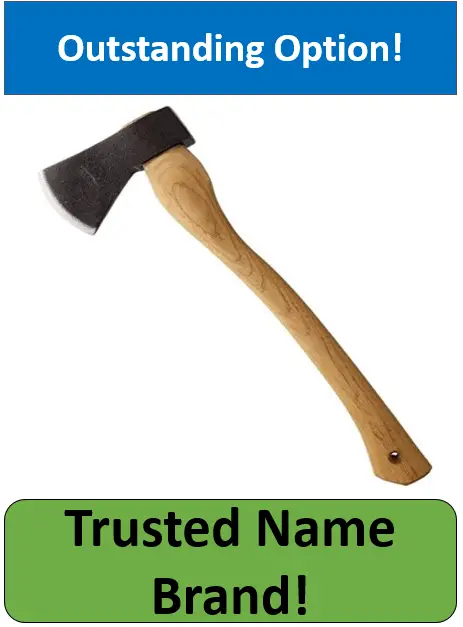 This axe might be very basic in terms of looks, but it is the best axe for camping and hiking purposes. The blade is very sharp and can get small to medium jobs done, so users probably shouldn't attempt to cut down big trees with it. However, it will easily cut through small branches, small limbs and bush that's in the way while on a hike.
We also like that the axe head is six-inches, and the cutting edge is 3.5-inches. The handle is made with hickory wood and features a lanyard hole. It's small and lightweight, which means it's easy to hold and carry around for long periods of time.
The only con is the overall design. We're not saying this is a bad thing, but some people might not think it doesn't look good. Although the design is very basic, we also want to point out that the axe serves its purpose and for what it sells for (around $30), the design can easily be overlooked.
Furthermore, some buyers have said that the axe head is on the small side. Nonetheless, the blade is very durable. It won't chip or crack easily either, which is why it's perfect for both camping and hiking.
Pros
Great for camping and hiking
Durable blade
Cons
Very basic design
Axe head is on the small side
Check current pricing on Amazon!

Council Tool Hudson Bay Camp Axe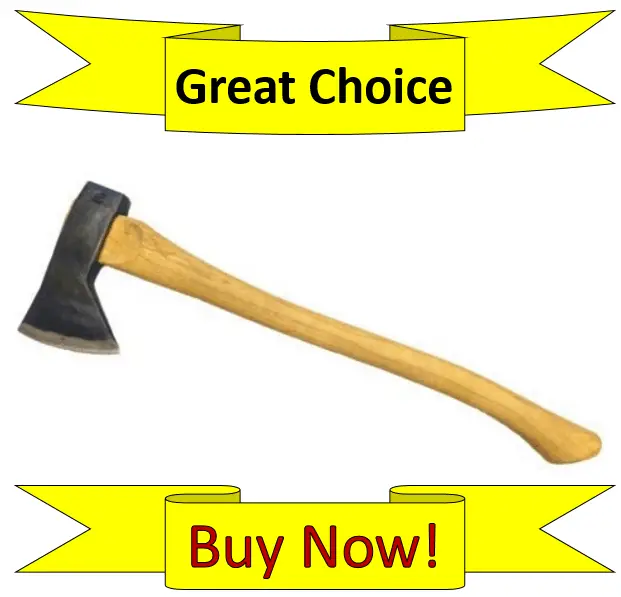 This is the best axe for tackling big jobs, which includes felling trees, clearing bush, chopping up meat and more. It doesn't matter what a user needs a camping axe for, this is the one they'll want to have if they plan on using it for big jobs. One reason why it's capable of chopping through virtually anything is because it's made with alloy steel grade 5160.
The steel has been heat treated, and was manufactured in a way that maximizes both the blade's sharpness and toughness. This also means the axe is built to last and will remain in great condition, even after many uses. Asides from that, the axe has been lightly coated with oil, which will prevent rust from developing.
There's no major cons associated with this axe. The only potential con is it cannot be used with one hand. Sure, a person could try to operate it with one hand, but chances are they'll struggle.
We highly recommend this axe for campers of all experiences. Beginners and experienced campers alike will love the Council Tool Hudson Camp Axe. It's simple to use, durable, reliable and will handle all kinds of jobs.
Pros
Handle big jobs
Great design
Durable
Reliable
Curved handle
Cons
Check current pricing on Amazon!

Hults Bruk Gran Splitting Axe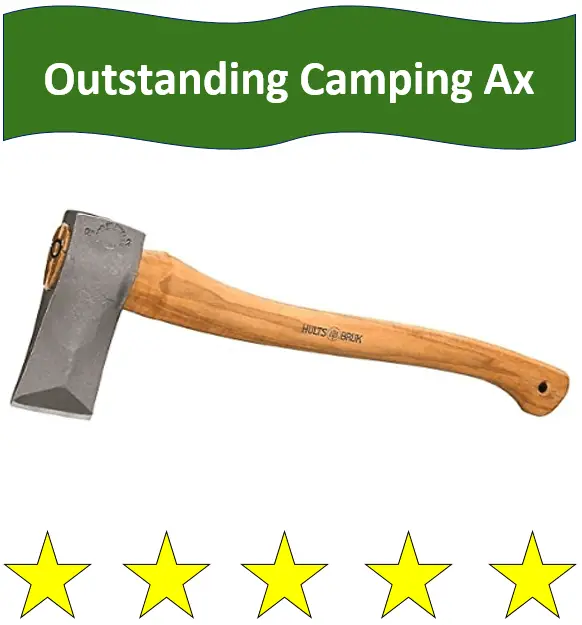 The last axe on our list is the Hults Bruk Gran Splitting Axe, which is your run of the mill camping axe. There's nothing really special about it, but we included it on our list because it gets the job done when it comes to small jobs. This includes chopping medium sized branches into pieces that can be used for firewood.
The steel is quite dense, so it won't break easily. Just make sure it isn't used for tasks such as chopping through extremely thick pieces of wood or for cutting down trees.
Aside from that, the blade can be sharpened repeatedly and it will still remain very sharp. This means you can expect to sharpen it many times before it finally goes blunt.
Another good thing about this axe is it comes with a sheath. The sheath is traditional leather. As for price, it can be purchased for under $100, which is more than a fair price.
Pros
Affordable
Remains sharp after being repeatedly sharpened
Cons
Really only good for small tasks
Check current pricing on Amazon!

What to Look for When Buy the Best Wood-Handle Camping Axes
Durability is the most important thing to look for in a wood-handle camping axe. The best axe will be built to last, and this means both the handle and the blades should be solid. The last thing we would want is to use an axe that breaks in half only after a few uses.
Alloy steel is another feature to look for in a camping axe. A quality axe will have blades that have been forged with high grade alloy steel. The axes we reviewed have all been created with quality alloy steel.
The handle should be solid wood, regardless of the type of wood used to make it. Ideally, the handle should be made in a way that is easy to grip and won't slip out of your hands.
If a handle is of good quality, then it won't take much effort to keep the axe steady while using it.
The size of the head is another thing to look for in an axe. It should be thick, or extremely sharp if it's thin. The key is to choose an axe with a head that is capable of chopping and cutting through materials such as wood, rope and other materials that are associated with camping.
Weight is the final feature to look for. The lighter the axe, the better because it means no struggling while out on long hikes. Just make sure the axe is built to last, otherwise it will eventually snap right in half.
What to Watch Out for When Buying the Best-Wood Handle Camping Axes
Finish is one of the things to watch out for. The best axes will have some sort of finish, be it oil or something else. Finishes can protect the axe's handle, and it gives the handle an appealing look.
If an ax has no finish whatsoever, then it could quickly lose it looks or succumb to wear and tear much faster.
Removable heads are fine, but be careful. Some axes have heads that can be detached, but once they are reattached, they tend to not stay on or they become very loose.
This is why it's important to buy an axe that uses wedges that keep the head securely in place. The best camping axes won't have heads that come loose while in use, nor will they all of a sudden become loose after reattaching them.
Price is the final thing to watch out for. Some brands charge a lot for their axes, and many people automatically assume they are well worth the money.
What we're saying is price doesn't always correlate with quality. It doesn't matter how inexpensive or expensive an axe is, it is important to do research.
If an axe seems durable, reliable and there are more positive reviews than bad reviews, then it's probably worth the price.
What Can the Best Wood-Handle Camping Axes Be Used for?
Many people aren't aware that a camping axe has multiple uses, with the most common one being to chop up wood into kindling. Another use is to chop down trees, but only specific types of axes are strong enough and capable enough of doing this.
Another task an axe can be used for is chopping up meat, which a lot of campers who go hunting on their trips will appreciate.
Campers often enjoy going for hikes. This is another reason why a person should buy a camping axe. A good camping axe can easily cut through bush and clear the way.
These are only a few examples of what a wood-handle camping axe can be used for.
Benefits of Wood Handle Camping Axes
First benefit is it makes camping far easier. If a person doesn't own an axe, then it means making a trip to the shop to buy firewood or to tear down bushes and debris while out for a hike. An axe can be used to quickly and easily make firewood, as well as clear hiking paths of bush.
Second benefit is it means being prepared. Campers often find themselves in situations where an axe, even just a small one, comes in handy. For example, chopping up meat is much easier to do with a sharp axe. In fact, it's easier to do it with an axe than a traditional knife.
Third benefit is protection. Many campers don't encounter any danger at all, but it's still wise to be prepared and have some form of protection. There are many animals out in the wilderness, and having a camping axe on hand serves as a great form of protection.
Final benefit is being able to prepare food after a hunt. A lot of campers do a bit of hunting, be it bow or with a hunting rifle, and then they use a hunting knife to prepare their food.
However, it is often easier to use a camping axe to prepare a meal from the animal that was hunted.
In Conclusion
There are some tools that I just don't want to go camping without. A good reliable ax is one of them. While some people may prefer a handle made from more modern materials, and I get it, there is just something about the traditional wood handle axes that I just love.
Whether from memories of my days scouting or because sometimes you just can't beat the classics, a good wood handle camping ax is always going to be my ideal choice.
Camping Articles You'll Love