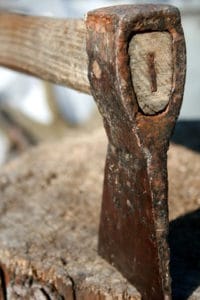 My brother and I both know from experience just how important having the right gear is. While stories about brilliant acts of improv make you feel good after a couple of campsite whiskeys or for fantastic laughs when you're recalling these events later, it's not the way that you want to go into any camping trip, and a good hatchet is always a welcome piece of gear.
Going caveman with a fallen branch in the woods or a big rock pulled from out of the ground to hammer in the tent stakes is not only a good way to feel like a neanderthal, but it's a good way to smash the hand. Try explaining that injury without getting laughed at.
Using knots and lashings I learned in Scouts to create a set of "shelves" out of random branches to the back of our canvas tent  is one thing, but certain tools should just never be forgotten before a big trip. Taking them out should be second nature and that includes a truly good camping ax. The best camping axes definitely stand out from the crowd, and they stand out from the old style of how hatchets and axes were put together. Anyone who ever used an ax with a loose ax head put on a handle (that could potentially fly off) is glad to see much better designs that prevent this type of thing from happening.
We're both really familiar with how useful a good camp ax can be and what a difference there is between an average model and a good one, much less a good one and a bad one.
The Top Rated Camping Axes Reviewed
Keeping in mind that there are several different types of axes (wildlife hatchet, hunter's ax, small forest ax, limbing ax, various blade types, etc.) and that the best selection will often vary based on whether you're a casual camper or looking to stock up a winter's worth of firewood for an isolated cabin. Our focus is one the type that is most useful and practical for the majority of people's needs: so we're focusing on campers and basic easy to carry survival tools, i.e. camping hatchets.
Read on for our top picks.
Estwing E44 Camper's Axe
This quality-crafted ax is a necessity for every serious camper. With a razor-sharp, 4-inch cutting edge and a sleek, lightweight design, you'll be able to cut wood in the quickest and most efficient manner possible. While with heavier axes we often encourage a little more weight to let the momentum help do the work for you, in this case the outstanding construction is plenty by itself. Whether you're splitting wood, driving stakes, or even trimming trees, the Estwing Camper's Ax is truly a camper's best friend.
The easy-to-grip handle, coated with Estwing's patented Shock Reduction Grip, reducing shock in addition to making the hatchet easy to hold on to, and reducing the chance of blisters even during extended us. Add in the fact that this patented grip also helps prevent slippage when you're in full motion swinging away and that extra bit of safety is nothing to sneeze at.
The Estwing Campers Axe weighs 2.9 pounds while the length of it measures out to a total of 16 inches. This is a convenient carrying size for campers or for survivalists and there is also a larger version of this camping ax that comes in the impressive 29 inch size, which is obviously much larger than your typical camping hatchet and in that case the extra length provides users with the ability to get a much fuller swing resulting in a deeper cut from more force.
The Estwing Camper's Axe is available in two stylish colors, blue and special-edition black, and comes with a thick, top-of-the-line nylon sheath that fully protects your tool from moisture and potential rust.

Estwing Sportsman's Ax E24A
If you're looking for a high-quality, American made steel hatchet, the Estwing Sportsman pops up again with another outstanding model as the E24A Ax lives up to every single one of these standards and more. This tough axe is made from 100% American steel and is one of the most durable camping tools out there on the market. Why? The long handle and the head are both forged together for maximum strength. This prevents the head from breaking from the handle during intense impact, a common problem with older two-piece construction models.
The Estwing Sportsman's Axe is available in a length of either 12 or 14 inches and weighs a mere 1.7 lbs. The light overall weight along with a little extra length allows for a more effective and accurate swing. The long handle is easy to grip and coated with a glossy, brownish leather that emulates the look of a traditional finished wood handle. Overall that camping ax is stylish, intuitive and perfect for the ideal sportsman.
Trimming trees and chopping wood are no match for the Estwing Sportsman's Axe. The cutting edge of this tool is hand sharpened and is made of hard, silver-colored metal. Every axe comes with a top-of-the-line, nylon sheath, so you can keep it in excellent condition.

The Bear Grylls Survival Hatchet
Campers who are interested in a smaller yet highly-effective tool will absolutely love The Bear Grylls Survival Hatchet by GERBERS. This hatchet has a length of 9.46 inches and weighs a total of 20.8 oz, making it especially easy to use and carry, and include along with an emergency travel or survival kit. The key here is a small but strong and reliable hatchet that is designed to allow for a swift and highly accurate swing.
The compact and lightweight design also makes carrying the Bear Grylls Survival Hatchet quite easy. In fact, you won't even notice that its there. This is great for campers who enjoy hiking up various elevations, and for those who, like many of us who grew up in Scouts and love the great outdoors, occasionally even take a weekend or some time practicing those bush craft and wilderness survival skills.
The blade on the Bear Grylls Survival Hatchet measures out to a length of 3.5-inches. Although this is much smaller than your typical ax, the Bear Grylls Survival Hatchet definitely pulls its own weight and then some. This powerful blade is hand sharpened and designed to deliver maximum force with every swing, and finds an exceptional niche as a survival tool that can more easily be added to a kit or equipment as opposed to some of the larger models meant for cabins or regular camping excursions.
Another trait that makes The Bear Grylls Survival Hatchet such a useful tool is the lock-tight grip. This lock-tight grip will prevent slippage even when you're chopping wood in the rain or snow. In addition, this survival camping ax also has finger notches jut below the head of the ask for increased grip and accuracy.
On the other end of the blade is a crosshatched striking surface. This is an another very useful tool that can be used for a wide array of things including driving your tent stakes into the ground and cracking the shells of walnuts and other edible nuts. Let's face it, when it comes to finding the best small camping axes you want ones that in a pinch can become a multi use tool.
The Bear Grylls Hatchet also comes with a sheath that's not only military-grade, it protects from mildew and straps easily to either your side or onto your backpack for easy travel.

Schrade Full Tang Hatchet
The Schrade Full Tang Hatchet is a beautiful and effective tool for people who love to camp or hike in the wilderness. The head of this stunning hatchet is powder coated and crafted from a special stainless steel that helps guarantee the ax head has maximum strength and durability.
The Schrade Full Tang Hatchet has a stainless-steel blade that measures out to a total of 3.55 inches and is accompanied with a hammer pommel surface on the other end. Whether you're chopping wood, driving your tent stakes, tenderizing your meat or trimming the branches of the trees, the Schrade Full Tang Hatchet has multiple practical uses.
To prevent slippage and increase accuracy, the handle is wrapped with a high-quality, black TPR rubber coating complete with accommodating finger notches. This black coating prevents slippage when the handle gets wet from either the rain or the snow, and if you've ever been pounding in tent stakes or splitting wood when the precipitation comes down, you know just how important grip becomes in those moments.
The Schrade Full Tang Hatchet weighs a total of 1.9 pounds making it easy to hike with, hook to your belt or backpack and swing with precision. Every Schrade Full Tang Hatchet comes with a lightweight, thermoplastic sheath to protect it from moisture and your basic wear and tear and there is a good reason this particular camping ax makes our top list – because it is among the elite company.

Tarvol Camping Axe
If you're looking for an axe that's extremely powerful, built strong, and comes with a 100% money back guarantee then the Tarvol Camping Axe is the perfect tool for you. The hammerhead blade attached to this axe is 3.3 inches of sharpened, carbon strength steel and can handle all your typical chopping and cutting needs.
One of the things that will leap out when you look at and handle the Tarvol Camping Axe is the lightweight fiberglass handle with grip pads and a sleek design. This sleek design makes grasping the ax extremely easy and comfortable, while the grip pads allow for full control throughout the swing. The design catches the eye and helps guarantee your camping hatchet will stick out.
This high-tech axe weighs just under 2 lbs and definitely outdoes its weight in performance. Whether you're hiking, camping, hunting, fishing or even doing yard work around your home, The Tarvol Camping Axe is definitely a well-constructed tool that has earned its proper place on this list of top choices.

Multi-Functional Camping Axe
If you truly want to be prepared for the great outdoors, the Multi Functional Camping Axe is the perfect set of tools for you. The camping hatchet itself is just a slice short of 14 inches long, a 12-inch long saw, an efficient fire starter, and a high-quality molded plastic case that will help to protect the hatchet.
Just as you would hope, the blade of the axe is made from solid, stainless steel, and has a 3 inch cutting edge. Chopping wood and trimming trees will not be a problem with this tool. Opposite of the blade is a hard, flat surface for tackling things like driving stakes into the ground and tenderizing freshly caught meat if you are using it for hunting needs.
The handle of the axe is made out of thick, hard plastic and is shaped to fit in your hand perfectly. This handle also features a rough surface near the bottom for extra grip. Even in snow and rain, you can feel confident knowing that you'll always have full control of your axe.
The saw knife is also a fantastic tool for those jobs that are just too little for the axe. From removing long and skinny branches from trees to cleaning your freshly caught fish, the saw knife is definitely a tool you want to add to your gear. The best part? It slides conveniently into the bottom of the axe for easy storage.
In addition to the axe and the saw knife, you also get the molded plastic case and the fire starter. This molded plastic case holds the axe, the saw knife and the fire starter, and will protect your tools from moisture and the basic wear and tear. The fire starter is also a great tool for emergencies and starting fires in the rain and snow.
If you're looking for a solid package deal, this is it!

MTech USA Camping Axe
The MTech Camping Axe takes pride in calling itself "The Rambo of axes" and features a beautiful design that definitely goes more along the lines of a tomahawk than a tool hatchet. Precision, beautify, and speed all come together in this remarkable tool which undeniably has one of the best aesthetic looks you can catch anywhere.
The razor-sharp blade of this axe is crafted from stainless steel and measures out to 3.5 inches long and 3 mm thick. In the middle of the blade sits three cutout holes. These holes make the axe lighter and able to be swung faster.
On the opposite side of the cutting edge is a 2.5 inch blade with another cutout design. This blade is great for downward piercing attacks if you find yourself in a crazy self defense situation, or can be used to pierce really hard soil to get a good starter hole for your next tent stakes. When you combine the cutting edge and the back-blade, the MTech Camping Axe is definitely an effective tool.
Another aspect that makes the MTech survival tomahawk such a fantastic tool is the intuitive cord-wrapped handle. This cord-wrapped handle provides a grip so strong that even if it gets wet, the axe will always stay firmly in your hand.
Every MTech Camping Axe comes with a durable, black nylon sheath, so you can keep your tool in fantastic condition for years to come. It attaches easily to your belt and is so light, you'll barely even notice it is there. This model is available in either a black or olive green cord-wrapped handle and is definitely worth the buy especially if you want something different that really sticks out.

In Conclusion
There are many good choices out there when it comes to finding the perfect camping hatchet or camping ax that meets your specific needs. We've reviewed our favorite choices that can be easily found online, and on Amazon, and hope you've found one that is the perfect fit for your specific needs. When you go out into the wild, whether in a potential survival situation or basic camping, you want to make sure you have the best tools available. Make sure you buy one before your next outdoor excursion!
Great YouTube Video comparing two camping hatchets