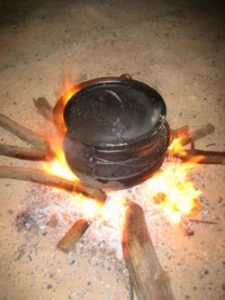 One of the best things about camping is the cooking. I'm firmly in the camp of people who believe everything tastes better when it's cooked over a fire, and that goes well beyond cooking hot dogs, burgers, and making S'mores. Dutch Oven cooking has long been a major part of getting the most out of every outdoor camping meal!
Our memories of Dutch Ovens go back to Cub Scouts and Boy Scouts, because our Troop had several of them. Why cook a large meal with no dessert? While we definitely had our share of stews and Shepherd's Pie, with Scouts the Dutch Ovens often meant dessert: peach cobbler, pear cobbler, and even pineapple upside down cake.
In other words, the GOOD stuff!
A little bit of research shows that as long as you're not tackling a 20 mile hike or doing the ultralight thing (let's face it – a big cast iron cooking pot is going to kill the weight numbers) and are working from a set campground then whether you're going tent camping, renting a cabin, or even taking the RV out, you should take a serious look at picking up a high quality Dutch oven.
This cast iron dish has been popular for well over a century for good reason, and if you want to see some of the best ones on the market then read on for our review of the best camping Dutch Ovens (and accessories) out there for serious campers who enjoy seriously good food from the fire.
Best Dutch Ovens for Camping Comparison Chart
| Dutch Oven Model | Brief Description |
| --- | --- |
| Lodge Seasoned Cast Iron Deep Camp Dutch Oven | An A+ Dutch Oven among a large group of truly A-grade camp cooking gear. Top of the line, outstanding ovens that will work with any campfire recipe. |
| Lodge 6-Quart Cast Iron Camp Dutch Oven | The top of the line 6 quart option from one of the top brands in the business. Fantastic option for your next cooking adventure! |
| Bruntmor 3-Legged Deep Dutch Oven | This is a classic Dutch Oven design we love, including the flange lid we're familiar with from our days baking incredible dessert. This design is perfect for when you need to put hot coals on top of the lid to thoroughly put heat through whatever you're cooking and/or baking. |
| Camp Chef DO-14 Dutch Oven | Exceptional Dutch Oven that holds up to long term use while also offering a unique lid design that also allows it to be used as a skillet or griddle in the right circumstances. |
| Lodge Pre-Seasoned 5 Quart Cast Iron Dutch Oven | Good looking Dutch Oven option with a unique and easy to identify handle. Not the best design if you need to bury the top in coals but a truly fantastic cast iron option. |
| Winterial Dutch Oven for Campers | The picture shows two popular sizes, and Winterial offers true A-grade quality when it comes to these cast iron pieces and offers great options when it comes to prepping your perfect outdoor meals. |
| Texsport Cast Iron Dutch Oven | Solid 1 gallon cast iron crock pot with three legs from a dependable name. Outstanding option. |
| Stansport Non-Seasoned Flat Bottom Dutch Oven | Comes in a variety of different sizes, including some of the smallest Dutch Ovens you'll see anywhere. Intriguing designs that have generally been well received. |
| GSI Outdoor Hard Anodized Dutch Oven | Great classic design including optimal lids, comes in 10, 12, and 14 inch sizes. |
We Only Review the Best Cast Iron Dutch Ovens
There are many great options out there when it comes to Dutch ovens. While we might not have every good brand out there on this list, we do our best to focus on the very best options out there. A good Dutch oven change the way you eat while camping, and can make even the roughest of weekend outings a joy when meal time comes around.
If you want the absolute best in cast iron Dutch ovens, read on because we dive deep into this one!
Lodge Seasoned Cast Iron Deep Camp Dutch Oven
Most often coming in your choice of 5, 8, or 10 quart sizes, these awesome Dutch Ovens from Lodge are the absolute top of the line when you want the absolute best in camp cooking. These Dutch Ovens are built from the finest cast iron and are produced in the same small town they've been made in for over 120 years: South Pittsburgh, Tennessee.
The flanged lid can hold hot coals, giving it a thorough heat and even cooking all the way through. This is an ideal design, the type that most expert camp cooks prefer (and I feel like I've definitely done enough coal and flame cooking to make that statement).
These ovens are pre-seasoned with organic soy-based vegetable oil and this family owned and operated business has long produced high quality Dutch Ovens that have lasted the test of time. There's a reason these are consistently among the highest rated on Amazon and online camping supplies sites.
The lid can even be flipped on this model to be used as a griddle. Lodge cast iron is versatile, exceptionally well made and treated, and delivers on all of your camp cooking needs. A very worthy #1!

Bruntmor Pre-Seasoned Cast Iron Dutch Oven
Offered in 6 quart and 8.5 quart sizes, this pre-seasoned cast iron Dutch Oven for campers from Bruntmor is an outstanding piece of camping cooking gear that will last the test of time, and gives a three legged oven option to those of you who aren't as keen on the flat bottom designs.
Bruntmor Dutch Ovens is one of the best out there, and the flanged lid allows for the easy placement of hot coals on top of the lid for even heat all the way through. No matter what you're cooking (roasts, stew, cakes, bread, chili, etc), this Dutch Oven will help you create an absolutely delicious meal or dessert that will reward taking a day out in the wild. Just because you're enjoying some amazing tent or cabin camping doesn't mean you can't eat like royalty!
Weighing 27 pounds, this outstanding Dutch Oven is well-priced, holds up over time, and is designed to be easily deployed in and out of the fire. This is a really outstanding Dutch Oven, and one that really is worth the price.
If you're looking for an extremely high rated inexpensive Dutch Oven then it is hard to argue with what Bruntmor brings to the table. Truly one of the best options currently out there!

Camp Chef DO-14 12-Quart Dutch Oven for Camping
The DO-14 Dutch Oven from Camp Chef is an exceptional option for campers that provides the high quality cast iron cookware you need to cook a wide variety of delicious major dishes. This heavy duty Dutch Oven is a 12 quart camping pot that can handle all of your outdoor cooking.
Featuring 26 pounds of high quality cast iron, the dimensions on the Camp Chef are 15.2 x 15.2 x 7.8 inches, giving plenty of room to feed even a large campsite with a lot of hungry campers looking for something delicious.
In addition to all the conventional benefits that any truly great and well-designed Dutch oven brings to the table, this particular model also has a lid that can double a skillet. Turn the lid over and go to town cooking your favorite breakfast foods like bacon, eggs, or even pancakes, then just put the lid back in place (make sure you have the proper equipment – don't grab for it with your hand and burn yourself) and start cooking for your more in depth meal or start baking a dessert.
This model comes with a seasoned finish and a built in thermometer notch for easy temperature control. They even include a basic starter booklet for new Dutch oven owners that help you learn how to season, how to clean, and how to maintain these amazing pieces of equipment.

Lodge Pre-Seasoned 5-Quart Dutch Oven (L8DO3)
Lodge produces slightly smaller high quality Dutch ovens, giving a variety of options for campers who love the benefits of cast iron but maybe don't have a camp full of big appetites. These Dutch ovens also come in a 7 quart size, both of which are pre-seasoned so they are ready to be used right away.
The tight fitting lids make for the type of solid seal you want while cooking up close and personal with your camp fire or burned down coals, while the special coil handle makes it easier for a wide variety of tools to get a solid grip and help you move even the heated oven in and out of the fire.
This oven has a 10.25 inch diameter and is four inches deep. Like we said, it's a smaller version of many of the others on this list, but that also allows more versatility for campers who want to have multiple sizes to work with depending on how many are hitting the great outdoors with them. 
The non-stick surface makes for much easier cleaning and care, and these are built just as tough as the larger models from other companies. They can last many decades with proper care, creating the perfect camping memories for generations of the same family.


Winterial Cast Iron Camping Dutch Oven
Durable, reliable, proven. These are the words you want to hear when looking for any type of camping equipment, much less a multi-use cooking tool like an inverted lid Dutch Oven. Winterial is a reliable name and it should come as no surprise that their Dutch ovens live up to the lofty standards that they set for themselves.
Coming in both 4 quart and 6 quart sizes, the design features three sturdy legs, an inverted lid that can second as a griddle, and a unique handle design that makes it perfect to hang from your cooking tripod. A treated non-stick surface means you can cook away knowing you will only have a minimum of cleaning to do at the end.
The design encourages an even distribution of heat throughout the oven so no overheated food on the outside while it's cold in the middle: you should get a nice even distribution that makes sure whatever recipe you're trying out will be cooked to perfection.
A great option and the two sizes also mean quality versatility.

Texsport Cast Iron Dutch Oven with Legs
Texsport is a name that many Texas based outdoor enthusiasts know well as they've been in the camping and hunting retail fields for well over six decades now. With that type of history supplying the outdoorsman it should come as absolutely no surprise that they produce their own line of Dutch Ovens for campers.
Coming in 1 gallon (4 quart) sizes, this design has three side handles as opposed to two, giving more options when it comes to getting a solid grip for lifting and moving the Dutch Oven. In addition to this, this design comes with three legs to allow the even spreading of charcoal or campfire coals underneath, while the wire handle helps to guarantee ease of lift (well as easy as moving a 20+ pound piece of hot cast iron can be).
Make sure to check if you're getting a pre-seasoned or unseasoned Dutch Oven as Texsport manufactures both. Either way this is a solid option for campers looking for an inexpensive option for delicious cooking.
UPDATE: There's been at least one instance brought to our attention where a buyer has claimed the Dutch Oven was poor quality and had a cheap look and gave the food a metallic taste – something that should never happen. These are manufactured in China now, though we haven't been able to confirm this problem is more than an isolated incident. As with all our picks, do your homework and buy (or not) accordingly!

Stansport Non-Seasoned Flat Bottom Dutch Oven
Stansport offers a very unique amount of variety when it comes to their Dutch ovens. They offer an impressive five different sizes of Dutch ovens, including unusually small and large sizes. You can find a non-seasoned flat bottom Dutch oven from Stansport in sizes of 1 quart, 2 quarts, 4 quarts, 8 quarts, and even 12 quarts.
In other words, you can find the perfect size for a smallish side dish or prepare some seriously heavy duty meals for a large camp of big eaters.
These are built to be heavy duty Dutch ovens and they are designed to be resistant to chipping, warping, and damage of any type. Durable with outstanding heat retention properties, the flat bottom means that these are perfect when you're campfire cooking and want to set the pot right on the coals.
The lightest model runs 4.4 lbs with the 1 quart while the 12 quart is 28 lbs. If you have two of the more conventionally sized Dutch ovens and are looking for one huge pot and one small one, then Stansport is your best bet.
Keep in mind all Stansport Dutch ovens are non-seasoned.

GSI Outdoor Hard Anodized Aluminum Dutch Oven
Okay, so this one is a bit different and might make the title of the post a touch misleading, but if there is a really interesting new take on the classic Dutch oven, you'd want to know about it, wouldn't you?
Now right up front: we're depending on reports from some friends who have used this model cooking out. We haven't personally gotten around to it, but we generally trust the reviews most of our outdoor buddies give us, and there's a lot online to back up what they're telling us. That being said, we cherish honesty and building trust and want to be upfront with that before going on with this Anodized Aluminum Dutch oven review.
So yeah…anodized aluminum, huh? As weird as that sounds to long-term cast iron fans like my brother and I, we've heard really good things about the aluminum Dutch oven put out by GSI Outdoors and some of our friends who have tried it out from the old Scout Troop swear by it.
Right off the bat the thing you're going to notice is the weight difference. Dutch ovens have never been for long distance hikes, and that doesn't mean this one is either, but it's about 2/3 lighter than the cast iron models. That's a lot less weight to handle, making it much easier on the arms and in packing and unpacking. We're fans of the lid design, which allows coals or charcoal to be put over the top for even cooking (personally we both think this is the best design for these types of camping ovens).
They are rust free and since they're not iron, they don't require seasoning. One mildly annoying thing is how they're measured. These can be found in 10, 12, and 14 inch models (it would be nice if they used the quart measurement that all of us Dutch oven cooks are familiar with), though we've been told that the 14 inch holds 8 quarts, or at least is comparable to this more conventional Dutch oven measurement.
You can do the rest of the math from there to figure out which model works best for you and your needs, but these are an incredibly intriguing addition to the Dutch oven family and definitely worth a look from everything we've been hearing.

Important Dutch Oven Accessories for Campers
While having an awesome Dutch Oven is a great way to make sure your meals are top of the line whenever you are looking for a great meal to top off a great day (because every day camping is a great day – am I right?), you still need multiple accessories to make sure you get the most out of your camp cooking experiences.
From having the right tools to move the Dutch ovens in and out of the fire to having a heavy duty tripod that can hold the weight of a full sized cast iron pot, there are several things you should look at when getting the right accessories not only to use your Dutch oven but to keep it in top working order so you can continue to eat like kings and queens every time you're out camping.
Sawtooth Dutch Oven Tote Bag for Camping
These bags are meant for transporting Dutch ovens and help not only keep them from being scratched or chipped during rough travel, but also gives a layer of padding in case there's sudden movement and the Dutch ovens hit something else that is packed.
These premium tote bags are designed specifically for these camping ovens and are made of a high grade polyester along with a strong plastic base that helps to prevent wear and tear – even for the three legged Dutch oven models.
They come in 10, 12, and 14 inch sizes to fit some of the most common sizes out there, and has an interior pocket underneath the lid flap where you can store gloves, a fire starter, matches, or whatever else you need to make sure you're always prepared to light the fire and get things going.
While this isn't a necessity per se, there are a lot of advantages to having this accessory and there's no denying its usefulness, especially if you spend a lot of time in travel and a lot of time using your Dutch ovens to cook outdoor meals worthy of royalty!

Stansport Cast Iron Camp Fire Tripod
You definitely do not want to try hanging a heavy Dutch oven from a conventional tripod. That is very often not going to end well, especially if you try using a lightweight tripod that focuses on items like camping lanterns, which are a much lower weight than cast iron is going to be.
One of the major benefits of going with the Stansport tripod for Dutch ovens is that it is built to handle weight. If it can handle the nearly 30 lbs of cast iron then it is going to have no issue at all with lanterns, clothes, grills, water jugs, or anything similar.
This outstanding tripod comes with a strong nickel plated chain and a rock solid S-hook using stainless steel. This gives the strength and versatility that you want out of any piece of camping equipment that is going to take up space (when packing or when setting up the actual campsite). The entire setup (tripod, chains, hook) weighs a mere 13 pounds, giving it a solid heft without being too much.
That's a great combination, and if you want a tripod to hang your Dutch Oven from, this is the one we'd suggest, Mr. and/or Mrs. "I don't want to get my Dutch Oven dirty" Fancy Pants 🙂

Texsport Camp Cast Iron Dutch Oven Lid Lifter
Need to check on how the food is doing or give the stew a nice stir? You definitely don't want to put your hand into the heat. Texsport produces a lid lifter that is very well designed that can be a step up from pliers or sticks.
If you're not confident with gloves and gripping pliers, these are a great way to efficiently move the lid, get a look at the food, and move back.
The design includes a spiral by the handle to diffuse any heat that travels up the lid lifter. This not only helps keep your hand more comfortable but also helps prevent you from dealing with any potential burns.
This tool is 15 inches long and weighs far less than any of the Dutch ovens, or lids, that the tool is designed to be used with.
Many campers find this to be a great tool that makes working around the fire pit a lot easier on them and their arms.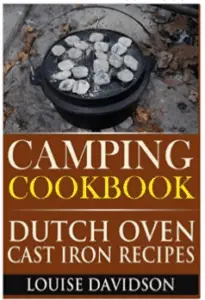 Camping Cookbook: Dutch Oven Cast Iron Recipes (Vol. 3)
Honestly, any good Dutch Oven cookbook (or set of them) is going to be a good choice for this spot. There are old family recipes, there are past recipes, there's good old experimentation, or you can build up a great cookbook collection to go through.
While I use plenty of the recipes from our days in Scouts (you get pretty good at cobbler after the 50th time you've cooked it), and also sometimes go the easy lazy route (roast, potatoes, cabbage, and carrots with a touch of broth), there are many different ways to go about becoming an expert at using your Dutch Oven and they all have one thing in common: eating fantastic meals.
So if you run out of ideas or old Dutch oven recipes, take a look at a book like this one (available on Kindle, as well) and get a short list of new meals or desserts to try. This is one learning experience that should be nothing but a pleasure!

Lodge Original Finish Camp Dutch Oven Lid Stand
This might seem like a bit of an excess, and maybe it is, but it does provide a solution to a very common problem many new cooks don't think about until they end up holding a hot Dutch Oven lid and realize they don't have any place to set it down (the ground is NOT a viable option).
Rather than worry about the sanitary conditions of a picnic table, or the ground, or the potential of burning whatever you place the lid on, why not just have a cast iron stand with you?
The material is strong, it's perfectly designed to hold the lid whether out of the fire or you can use this and a lid in the coals to create a skillet to cook pancakes, eggs, or whatever else you need a campfire skillet for.
In other words it is practical, versatile, useful, and built by a company (Lodge) with a great reputation for making top notch outdoor gear right here in the U.S.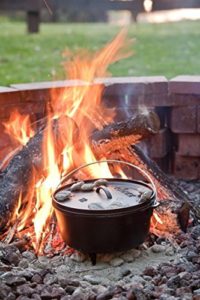 My Memories of Dutch Oven Cooking
There are plenty of them. Like we mentioned a bit earlier, we did a ton of cooking in Boy Scouts and we were blessed to have a group of really old school Scoutmasters who didn't accept anything second rate: and that included quality of food.
If we wanted hot dogs for a snack or marshmallows and S'mores, that was fine for dessert – but meals meant outstanding food followed by the best dessert you can imagine. In other words, our Scoutmasters insisted that all cooking was going to be done the right way, period, end of statement.
That was a hell of a good combination for us all.
In addition to camping constantly with Scouts (we earned the National Camping Award virtually every year we were in existence where 80%+ of the troop camped 20+ days and nights per summer), our family camp outs also involved good cooking, and that meant breaking out the Dutch Ovens for stews, chili, various other dishes, and of course top notch desserts.
Cakes, cobbler, all kinds of both – they were just amazing.
We were a very social campsite, as our cooking ability and mass food production meant we attracted a lot of visitors. While not all cooking skills on a campfire or Dutch Oven end up translating to the kitchen, we ate plenty of amazing meals and learned to fully appreciate what one of these cast iron beauties could do to make your meal times just all that much more sweet.
Why Cast Iron Over Ceramic Dutch Ovens?
Look, if you're cooking in a conventional kitchen then ceramic Dutch ovens make a lot of sense. They probably make the most sense most of the time. However, ceramic designs are specifically for the inside kitchen where you're working with ovens and serving dishes.
That kind of stuff is fine, but it doesn't fly around a campfire, especially if you have a rough and tumble camp with Boy Scouts.
While there are some new aluminum models that are fascinating and have some really serious potential as legitimate camping equipment, if in doubt find a solid cast iron option and if you haven't treated a Dutch Oven before then make sure to go with a pre-seasoned option.
You won't regret the decision and although the heavy weight is a bit of a hassle, it only takes one great meal or dessert from a cast iron Dutch oven to know you made the right decision and it is one of the rare piece of outdoor camping equipment that can be passed down for many generations.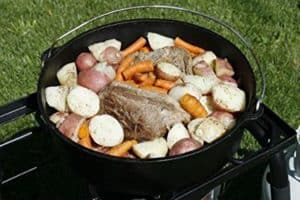 How to Care for Your Dutch Oven
No question that proper care of cast iron is absolutely crucial to get the most out of it. This includes being very careful with water and not letting it sit out with moisture for a long period of time because iron can rust.
That being said, it doesn't take long to learn the proper way to care for these amazing pieces of cookware, and the first few times taking care of them are the hardest…and that's not much of a difficulty at all. After that it becomes a breeze.
The first step is understanding that the general rules of care for pre-seasoned and unseasoned cast iron are different – especially in the beginning. This is a basic guide for keeping your Dutch ovens at their finest.
How to Care for Pre-Seasoned Cast Iron Dutch Ovens
On the very first cleaning using some mild dish soap and a non-scratch pad (no steel wool). Rinse it off completely with hot water and then dry it thoroughly – do not just allow your Dutch oven to air dry. Pat it down. Keep in mind this should be the only time you ever use dish soap on your cast iron.
After the Dutch oven is thoroughly dried you want to wipe all the inside surface with cooking oil and then pre-heat. This helps avoid all potential sticking issues.
Cleaning
Use hot water with NO dish soap. Once again you can use a cleaning pad, sponge, or brush, but it must be non-abrasive. You don't want to scratch up the interior. After you've thoroughly rinsed and wiped, once again you need to dry the Dutch oven thoroughly by hand. Never skimp on this step: you can't be too cautious.
Maintain by Re-Seasoning
You will want to make sure to re-season your Dutch oven (and any other cast iron cookware, for that matter) on a regular basis. This process is simple:
Coat the surface with veggie oil (or cooking spray)
Heat at 300 degrees for one hour (use an oven)
Wipe away excess oil (be careful, don't burn yourself)
Store in dry cool place
Then repeat this process every so often to make sure your Dutch oven stays in top notch shape. Easy, right? There are a few very important things to avoid, however.
Never put hot cast iron in cold water – just don't do it!
You should never store food in cast iron
Dry your cast iron – never leave moisture in your Dutch oven
Never use a dish washer or soapy dish water
Never use abrasive cleaning products after initial seasoning
If you follow these tips while avoiding the obvious mistakes we've also outlined here, you will have an outstanding cast iron Dutch oven that truly holds up against the test of time.
How to Care for Non-Seasoned Dutch Ovens
If your Dutch oven is non-seasoned then you are going to notice that initially it is covered in wax. You need to heat up your cast iron Dutch oven at that point to melt off the wax. Generally we recommend that you do NOT do this inside with an oven but do this outside on a grill, a fire pit, or some place in the open. You don't want that smell or mess inside, and in an oven it can actually cause a fire.
Generally speaking, it should take roughly an hour for this to take place from start to finish. Once that's done, remove it and carefully wipe off all the melted wax with paper towels. Once you've done a thorough job of that then you want to wipe the inside with your favorite cooking oil or spray and then preheat it to prepare.
After this process you should be set to go.
Other considerations…
Look at the previous directions for cleaning and re-seasoning your Dutch oven as those instructions stay the same regardless of which type of Dutch oven that you go with.
Finally, have a bit of patience. Seasoning builds on itself as you use the cast iron more and you will find that over time you build that shiny black surface that is completely non-stick. Also I"m among the large group of Dutch oven users who swear that the taste of anything you make gets much better over time and with frequent usage.
Full Guide on How to Clean & Season a Dutch Oven
Seasoning might be a simple and straightforward process, but it still takes one hour if not longer. It is of great importance to season your new Dutch oven or one that you have just bought.
The initial seasoning serves to get rid of any undesirable contaminants as well as getting the oven ready for its first meal. Once you do the initial seasoning, you will be strengthening its coating and improving the look of your cookware whenever you use the Dutch oven.
What Should You Do Before Seasoning Your Cast Iron?
Dutch ovens have been passed down for centuries now from one generation to the next. If you do a decent job seasoning and maintaining the cast iron Dutch oven, it is possible for you too to keep it as an heirloom.
Today, some Dutch ovens come with pre-seasoned cast iron. If this is the case, it is still important to check whether the seasoning has a nice black patina and that there aren't any blemishes or burrs. If you find it to your liking, re-seasoning won't be necessary. You can skip down to maintenance of your Dutch oven.
If it isn't pre-seasoned, one of the first things you will notice is how new Dutch ovens are coated with a thick wax layer. The coat is applied at the factory to keep the oven rust-free. Before seasoning the oven, check for irregularities or cracks that might have occurred during casting.
Ensure that you check the lid too. If you find any burrs, you will need to remove them by sanding or filing. The lid also needs to fit well to the kettle.
After inspecting the oven, it is time to get rid of the storage or shipping wax. You can do this either indoors or outdoors, but don't forget that there will be a bit of smoke produced during the wax removal and cast-iron seasoning process.
Indoor Instructions
Line a cookie with foil then place it on the oven's bottom rack. Set the oven to 350°. Place the cast iron inside the oven on the top rack face down. The drippings of hot wax will land on the cookie sheet. Repeat the same process for the lid. You will probably notice some smoke coming from the cast iron, which is to be expected.
After the smoking has stopped, you will know that the cast iron is ready for seasoning. Remove both the kettle and lid from the oven and allow them to cool a bit before washing it thoroughly with soap and water. This will be the only instance that you ever use soap. Once the oven is completely dry and cooled a bit, then it is ready for seasoning.
Initial Seasoning
The first time that you season a Dutch oven, you are getting rid of a protecting waxy coating that's factory applied for preventing rust during shipment as well as starting the non-stick coating process. Today, some cookware actually comes pre-seasoned from the factory, which means that you may not have to perform this initial seasoning.
In case you have an outdoor barbeque grill, check whether your Dutch oven can fit inside when the grill cover is closed. Seasoning your Dutch oven outside is far much better than doing it in your kitchen oven, but it is still possible to do it inside. It is important to do it on a day when you are able to open your windows since smoke will be produced.
Seasoning your Dutch oven is as simple as following the steps below:
Heating the oven or grill to 400 degrees.
It will be the only time that you use soap on your Dutch oven. Wash the cookware in hot soapy water. Use steel wool or a scouring pad to scrub away all the coatings down to metal. Don't forget that after this you shouldn't use soap for cleaning up. You can use other approaches to stripping a Dutch oven such as vinegar, electrolysis bath, oven cleaner, etc.
Dry your Dutch oven and lid thoroughly using paper towels or a cotton towel. Place it in your grill for a couple of minutes to really dry it as well as heat it up a bit. Remove the Dutch oven from your grill using an oven mitt and allow it to cool just enough so that you are able to touch it.
Rub vegetable shortening all over the interior and exterior of your Dutch oven as well as its lid. You can use plain Crisco shortening, flax oil, or canola oil. However, you shouldn't use flavored shortening or butter. Run the shortening into all the dimples, holes, and pockets in the metal surface using your fingers, a cotton rag, or a paper towel.
Wipe all the oil off using a cotton rag or paper towels. Wipe it once more until it looks like there isn't any oil left.
Place your Dutch oven upside down in your kitchen oven or grill and then close the grill lid or door.
Place the lid in the grill too so that it may bake along with your Dutch oven.
Bake your Dutch oven for between 45 and 60 minutes. Open the windows and disconnect the smoke alarm temporarily when you do this since the oil will produce smoke.
Turn off your grill and leave your Dutch oven inside to cool for 30 minutes.
Remove the cookware from the grill using an oven mitt.
Allow the cookware to cool until you are able to pick it up
You may need to repeat the later steps until you are fully happy with the look. The color and sheen can look radically different with a few more cycles and many times it can take 3 to 6 cycles to complete.
Periodic Seasoning Necessary
As you continue using the Dutch oven, the oil, grease, and fat from the food that you cook will continue seasoning the cookware. Some acidic foods such as tomatoes and beans can remove part of the coating. So, making doughnuts, deep-frying fish, frying bacon, or cooking fatty foods improves the protective layer while acidic foods harm it.
Once the Dutch oven is seasoned, you will most likely never have to season it again as long as it is used regularly and cleaned correctly. It is perfectly okay to re-season it and some people love doing it at the beginning of a cooking season.
Think about re-seasoning
Re-seasoning might also be necessary if food seems to be sticking too much or the cookware has been stored incorrectly or suffered abuse. If there's rust or the oven simply doesn't appear well coated, you should consider seasoning it again.
Periodic Seasoning is similar to the Initial Seasoning except that you don't wash using soapy water. If rust is observed, you should consider stripping everything down and doing a complete Initial Seasoning.
Otherwise, you should clean the Dutch oven following the normal procedure following the steps outlined here except for the use of soap.
The finish on a Dutch oven should ideally be black or dark brown, the darker the better. It should not be sticky, but rather glossy. If you find that it is too sticky, it means that you probably left too much oil on and it need to be heated more.
Over time, the glossy coating will become stronger with proper cleaning. You should start noticing that it is easy to remove foods and that clean-up is simple.
In Conclusion
When it comes to camping over a campfire, don't just rely on hot dogs, hamburgers, and grills. As good as these meals are, because fire makes everything taste better, there's no question in my mind that you really want to go with Dutch ovens.
Whether cooking in the backyard or out camping, these deliver incredible tasty dishes. From main meals to desserts, you'll love what a truly good cast iron Dutch oven can bring to the table!
Great Dutch Oven Cooking Video

Other Articles of Interest