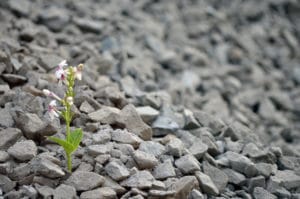 You never want to be lost out in the wilderness, but if you spend a lot of high adventure time out in the wild you will want to be prepared for the worst case scenarios that can arise.
We don't want to scare people, but as someone who has camped for most of his life, and been to some crazy isolated areas (hello Interior Alaska, hello Lac de Mille Lacs Ontario), I understand how critical it is to be prepared for the worst case scenario, even though everyone only wants to think about the good times they are going to be having.
Adventures are called adventures for a reason: there is the potential for danger.
Realistically most people will never find themselves in this situation, even if they enjoy the outdoors immensely, but while these situations are rare, they do in fact happen. This is why it is crucial for you to always prepare before your next hike or outdoor adventure.
Preparing Before The Trip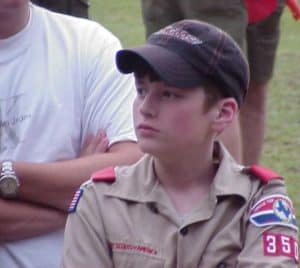 The Boy Scout motto is a simple but critical two words that every single person should take to heart before heading out into the wild: "Be Prepared."
While you might feel good about watching all those survival shows on the Discovery Channel – the truth is these are professionals who often have specific things in mind to "stumble upon" because they know the importance of getting certain basic tools if they are going to make it through the wild.
For many people their chances of survival in the wilderness is directly proportional to what they packed and how they prepared, so what should you do before you get going? How can you make sure the odds are balanced in your favor before you even go out?
Tip #1: Think About Signaling
While the ability to survive for weeks definitely makes it more likely someone will find you in good shape, the truth is that one of the main focuses needs to be making sure you understand the different commonly known signals that should be used in an emergency situation. While the movies almost always show someone waving their arms, that isn't an official plea for help.
Waving the arms back and forth can be interpreted to a pilot as "I'm fine," and result in you actually losing your chance to be rescued.
SOS doesn't just come in its spelled out form, but searchers know how to look for Morse Code, which means three dots, three lines, and three dots will be a pattern that sticks out like a sore thumb.
Knowing the SOS code is a good start, but it's not the only one you should know. Memorize the following signals, and always review them before going out in the wild. It doesn't take long, and these can be made with your arms, body, or any materials around.
V = Help needed and/or required. This is why you don't wave your arms – keep them in a V shape and if the pilot spots you he/she will know you need assistance.
X = Injury, medical help needed. While if you have searched for long enough, medical assistance will be coming, this emphasizes that it is needed and needed right NOW
Y & N = Y means yes and N means no, if this type of communication is needed
-> or <– = Easy to see arrows can point towards you camp, your signal fire, or if you had to keep moving, the direction you headed
These are basic, simple signals yet they can be life saving in the right situation.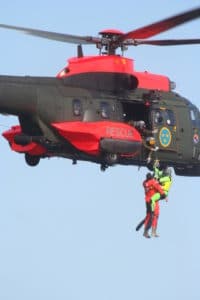 Tip #2: Prepare Multiple Ways To Be Found
If your entire plan is to blow a whistle or start a signal fire and that's it, you're woefully under-prepared. There are many different ways you can signal, make your presence visible, or get the attention of potential passerbys or even rescuers.
Never rely on just one method, one piece of equipment, or one plan (or strategy). There are many different ways you can be found and rescued, many different ways to get attention, and you should look at this part of survival as a numbers game.
The more options you give yourself, the better the chance any wilderness survival situation finishes with a happy ending via rescue.
Have brightly colored banners that stick out in the woods to mark locations, always carry a whistle so anyone within a few miles can hear your three blows for distress, and make sure to carry things like emergency flares or signal mirrors to help get immediate attention depending on the specific situation.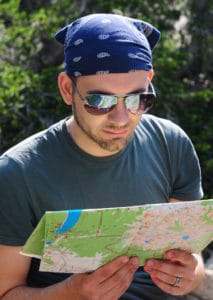 Tip #3: Thoroughly Study The Area Pre-Trip
Are you truly in the middle of nowhere with no options if you are lost? Is there a major highway in any direction that would be impossible to miss if you just walked far enough?
You always want to have a detailed map of the area you'll be visiting, as well as a topographical map, if possible. Make sure you learn how to read these before going out on any high adventure sort of outing.
Aside from having these on you during any trip, along with a compass to properly orient yourself, you want to go over those maps as much as possible before your trip.
Who knows what can happen to the maps during an accident – or because of weather starting a fire might be a life or death situation (and the paper map makes a great fire starter as you're gearing to fight off hypothermia), you want to make sure you have a basic mental picture of what the area looks like.
It doesn't need to be perfect, but even just a few clear landmarks, ideas of where the nearest highways are, and just a little bit of information can make all the difference in a life and death wilderness survival situation.
Tip #4: Practice On A Weekend Camping Trip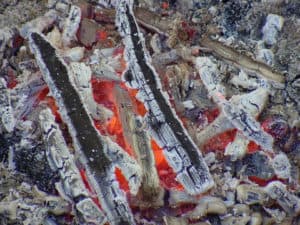 There are so many different things in life where practice is considered essential, so why do so many people buy those all important survival kits and wilderness survival items and then spend absolutely no time practicing using them?
There are certain things to be wary of. Don't go to a campground and set off a bunch of rescue flares – that's a good way to get some angry rangers at your campsite. However practice using fire starters, creating signals, and studying local topographical maps before going way out and then cutting off trail to get back to your campsite (obviously do this in a very populated camp in case you screw up).
Instead of using matches, practice using fire starters and practice building fires with what you can find, not easy to light pre-dried wood you bring into the camp site.
This is a perfect term to practice your skills in a safe environment before it really matters in a potential survival situation, and besides, it's always a great idea to support your local, state, and federal campgrounds!
Tip #5: Take A Survival Class
There are many examples of weekend or week-long survival classes that can help you quickly pick up the skills needed to have the confidence, knowledge, and above all the experience to handle yourself when lost or stuck in the middle of nowhere. Look for camps and classes taught by true experts and be prepared for a rough time.
Few people consider the truly good camps fun, but they are extremely informative and the hands on experience in the wild, under the supervision of your instructors, helps you put concepts into action. The standards that are demanded of you are extremely high, but that's what you need to be prepared when  success and failure both lead to such a major consequence.
As you can see there are several important steps you can take right off the bat to give yourself the best chance of surviving no matter what the outdoor situation.
Survival Gear To Signal For Help
There are many different pieces of survival gear that should be an absolute must before any outdoor adventure. Whether you're planning a weeks or months long thru hike, a long weekend getaway, or just heading out for a long day hike, always take these pieces of signaling gear with you in order to handle any "just in case" scenario.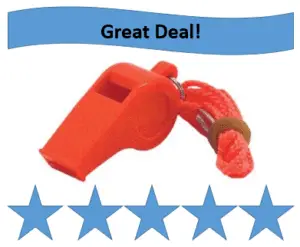 #1: Get A High Quality Whistle
This should be a no-brainer. Aside from the fact that a whistle can be a great tool when in the city to get attention when a crime is happening or help is needed, a good whistle can be heard for miles when out in the wilderness.
If you notice you're lost off some trail relatively quickly, that whistle might let someone close by hear you and direct you towards them. There are many sections of big trails like The Appalachian Trail where it is easy to get lost without being that far away from the main trail itself.
These emergency signal whistles are a great inexpensive piece of wilderness rescue equipment, and take very little energy. Always have at least one whenever you travel.
#2: Signal Panels Shouldn't Be Ignored
Signal panels, also sometimes referred to as signal flags, are another way to help make sure you get the attention of any potential rescuers who happen to be passing through the area. These are much larger than your normal bit of florescent banner, making them easy to see and yet they can also be folded up for very easy carrying that takes up little space.
In addition to this, these are often made out of cloth and in a true emergency can be cut up to create bandages or even be used as a fire starter.
As anyone who has been in the wilderness knows, the more multi-use tools and pieces of equipment you can get, the better off you generally are. This makes the signal panel a great addition – many uses and makes it easier to get the attention of search aircraft.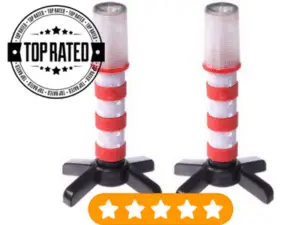 #3: Have More Than One Signal Flare
At the very minimum you should have one signal flare for any emergency kit to help air rescue locate you, but ideally you should have more than one.
Aside from the fact that two emergency flares are much easier to see than one, this also covers you in case one doesn't work or malfunctions or if you run into a situation where one is damaged.
There's also the chance that in rough conditions a rescuer might catch only a glimpse of the first flare, and you'll need another one to stick out so you can be spotted and picked up. It's always better to have two!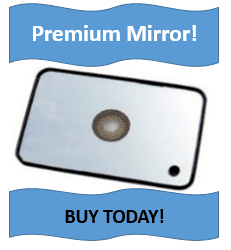 #4: Signal Mirror
The signal mirror is another one of those pieces of wilderness survival equipment that you simply don't have any excuse not to take with you on your outdoor adventures, whatever they might be.
These mirrors are an absolute godsend on a sunny day, and with a little bit of practice a lost hiker will be able to aim the glare of sunlight towards any vehicles in the air or even put out the famous SOS signal to let others know they are in distress.
The model we recommend is the military glass signal mirror (pictured on the right) that is actually surprisingly affordable from Amazon. You can click on the picture to purchase or see what other signal mirrors are out there in competition, but don't have a survival kit without one!
#5: Pen Flare
The few we tend to recommend either aren't sold on amazon or are currently sold out, but the good news is that these small portable flares are becoming more popular and this rise in demand means that in the future there almost certainly will be more companies looking to produce these.
Take a look locally to see what second hand or camping supply stores in your area carry pen flares and which ones are best for you and your A-Z kit for helping to guarantee your rescue from emergency situations.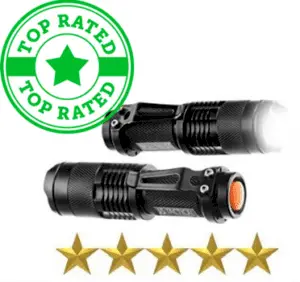 #6: High Quality Flashlight
We're not talking about cheap plastic flashlights that can be picked up for a couple dollars from any dime store. You want a heavy duty flashlight that can take a beating and still continue to function.
Even beyond that, you want a flashlight that is going to have an extremely bright light that can cut through the dawn, dusk, or dark, and make it abundantly clear exactly where you are.
This last point is the biggest reason why we recommend the J5 Tactical Flashlight over many others. While you can actually use many different types of flashlights, the J5 in particular can signal from miles away, creating an ultra bright light that virtually no one else can compete with.
If your biggest concerns are durability and ability to signal through the dark, this is definitely the one for you.
Survival Gear To Stay Alive
Less specific recommendations are going to be helpful here without knowing for sure what type of environment you will be hiking, camping, or experiencing. The best survival gear is going to vary immensely from one environment to another. Obviously the wilds of Alaska, a polar environment, the deserts of the Southwest, or the swamps/bayous of Louisiana or Florida are all very different places and gear that is ideal in one of these places might be virtually useless in another.
That being said, there are certain pieces of survival gear that tend to be useful no matter what the situation is, and you want to make sure any basic survival kit you have includes these objects.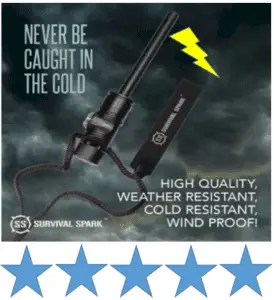 #1: Fire Starter
By all means, carry around some solid wooden matches along with a lighter, but you always want to have as many different ways to start a fire as possible and having a quality fire starter is a crucial part of that.
Based off the same basic concept as flint and steel, the added magnesium in this fire starter means more sparks, more heat, and a much higher chance of getting that burst of sparks that turns in to the beginning of a fire.
This isn't the only fire starter out there, in fact fire starters are one of the areas where you can find an abundance of truly high quality products from companies that really know what they're doing (our full survival fire starter reviews post is coming shortly).
This is doubly good news since we recommend having more than one. They're extremely small, extremely light, and designed to be easily carried with you. There's no excuse not to have more than one, and fire is an absolute life saver in so many ways when you're stuck out in the wild and waiting for rescue.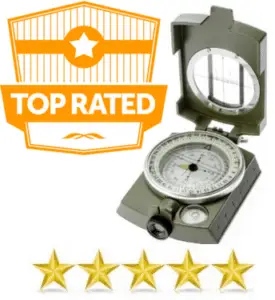 #2: Compass
You don't have to be a survivalist or member of the special forces to be an expert using a compass. Remember the earlier advice about studying maps before you go into an area, and ideally carrying a paper version with you?
If you find yourself in a situation where for whatever reason you need to move or rescue yourself, having a compass allows you to find your direction.
You remember the big highway being 20 miles north – well now you can find perfect north. Do you remember a resort town being 15 miles to the southwest?
Now you don't have to guess, you can actually use the compass to get an exact beeline towards your destination, and our top rated compass is the SE CC4580 military quality compass which comes with prismatic sighting and a pouch. It's the way a survival compass should be made! There's no excuse to head out into the wild without a compass!
#3: Emergency Blanket
Why have one emergency blanket when six are so inexpensive and work so well? Designed to be water proof and to retain heat, these can help keep you warm on cold nights and fight off any potential hypothermia.
In addition to this, the bright silver stands out and the "extra" blankets or any damaged ones can still be used for signaling or getting the attention of searchers on both the ground and in the air.
This is extremely light, helps with the all important task of keeping your core body temperature at a safe level, and can even be used for signaling. That's exactly the type of equipment you want to carry with you during any outdoor excursion.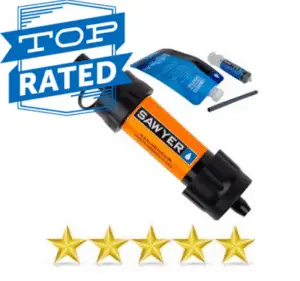 #4: Water Filtration System
While there are many conventional ways in a wilderness survival situation to create water, and you learn about boiling water or might even see the complex building of a charcoal filtration system, but you should never find yourself in that situation to begin with.
Water is so much more important than food, and one of the first things you need to look for when in a wilderness survival or lost in the woods type of situation.
If you have a solid shelter, the ability to start a fire to help keep warm (and keep the spirits up), and the ability to filter water to give yourself a steady supply, you exponentially increase your chances of coming out of the wild in relatively good shape and being healthy enough to help with your own rescue.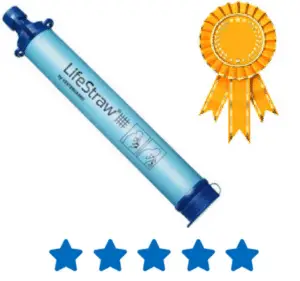 This section is a little weird, as well, because while Sawyer has traditionally made one of the best water filters out there because of its ease of use and ability to make filtering out bacteria easy, a relative newcomer on the scene has made some big waves with their take on mini water filtration by creating the LifeStraw water filter.
There is a LOT to like about this easy to carry filter, and it comes with a sealed bag for packing filtered water to carry out with you.
This is a really unique design, a very inexpensive filter, and is easy to pack in any type of kit whether a basic first aid kit, a basic wilderness survival kit, or simply attaching it to a backpack. Both of these wild outdoor water filtration systems stand up to scrutiny and so we can happily recommend both at this point in time based on our experience with them.
Want To Learn More?
There are many ways to learn about wilderness survival, signaling for rescue, and just picking up the type of skills that can help you through even the hairiest of situations. If you love the outdoors, many of these classes, courses, or camps aren't going to feel like boring work. Good ones won't be easy. Being tested and gaining confidence from overcoming genuine discomfort, hardship, and challenges are part of the experience.
Check out this USA Today article on 10 of the best wilderness survival camps out there to get an idea of just what is available if you're curious to really become a professional out in the bush.
You can also take a look at popular wilderness survival books like the SAS Survival Guide, considered by many to be THE book when it comes to learning how to survive and thrive out in the wilderness.
In Conclusion
Generally speaking, no one ever wants to find themselves in a wilderness survival situation, but by doing a little bit of planning, always making sure to have a couple of good tools on hand, and taking responsibility to learn some basic skills, you will not only be able to hold on until rescue comes but you will be able to survive and maybe even thrive.
Take a look at this video to learn a little more and see some of this information in action. As you can see from this article and the following video: signaling matters.
Signal for Rescue Video


More good outdoor survival resources worth checking out:
http://www.wilderness-survival.net/chp19.php
http://www.outdoorlife.com/photos/gallery/2014/09/11-ways-signal-help/?image=0
http://www.wilderness-survival-skills.com/signalingforhelp.html
http://www.mensfitness.com/training/endurance/12-outdoor-survival-skills-every-guy-should-master
http://www.artofmanliness.com/2010/10/06/surviving-in-the-wild-19-common-edible-plants/
Wilderness Survival Merit Badge PDF (for scouts)