One product line that has become much more popular in recent years is solar cookers. Solar cookers, or solar ovens, use the sun to cook food or boil water. They can be extremely effective – with some models being able to reach temperatures of 500 degrees!
There are a lot of different types of solar cookers you can pick from. Some are built for traveling and camping, while others work much better in a back yard bbq setting. The technology has improved so much, that these solar cookers are an effective and environmentally friendly way to prepare meals!
The downside to these cookers is that without sunlight, they won't be able to warm up enough to cook anything. So weather conditions play a major part in just how effective these units are. The upside – you have a way to cook that doesn't involve any fuel, which is making a major impact in countries around the world.
Below is a quick review of the different types of solar cookers and solar ovens that you can buy. Included is our recommendations on the best solar cookers, and hopefully this review will give you all the information you need if you are thinking about purchasing one.
Sunflair Solar Cooker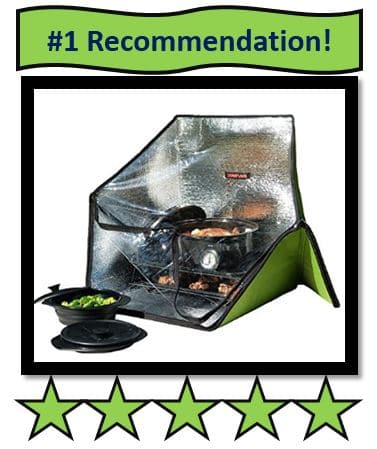 The Sunflair Portable Solar Oven (Deluxe) is one of the most well-known and popular solar cookers you can buy.
It is very light weight (the oven weights 1.2 pounds) and easy to transport (when folded up it is about the size of a seat cushion), so it is very popular for camping trips and other outdoor adventures.
The unit itself is almost designed like a giant bag with zippers running along the outside. It is so easy to setup, you basically just zip it up, and you create an oven that stands on its own.
It has two vents that you want pointing down, and you want to make sure the zipper is at the bottom of the unit when you are ready to cook. It literally only takes seconds to setup.
When ready to use, you point the oven towards the sun to preheat it. Just like a regular oven, this oven should be preheated. The insulation is able to warm up the oven to 285 degrees Fahrenheit, but the temperature will depend on weather conditions such as windiness and cloudiness.
Water boils at 212 degrees and most crock pot or slow cookers range from 180 to 300 degrees Fahrenheit for comparison sake.
It is hard to beat the combination of price, size, ease of use, and other features that you get from the Sunflair solar cookers!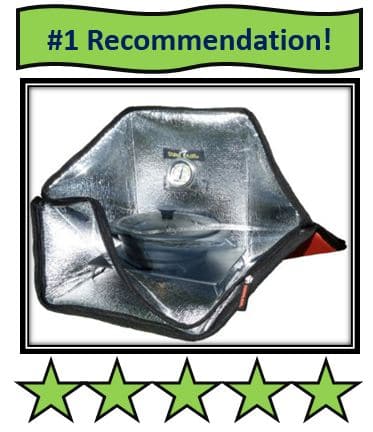 The deluxe model comes with a thermometer, 2 heating/baking trays, 2 baking/dehydrating racks, an enamelware pot, two silicone pots, and a carrying bag. There is a miniature version that is very similar, just a little smaller, and it only comes with a thermometer, a trivet, a silicone pot, and a bag to hold everything in.
There is no assembly required, it literally is a zip up process to get it ready to run. The deluxe version is normally around $50 – $70 more expensive than the miniature version, but it comes with everything you need, including enough cookware to feed a lot of people!
The oven does get hot inside, so you are going to want a towel or oven mitt to remove food. It also comes with a 1 year warranty and a 30 day money back guarantee.
You can cook everything from meat to rice with this oven (you can bake cookies too), and you can even pasteurize water with it. It is great for any camping trip where a fire or fuel might be difficult to have, or for anyone that just wants a good slow cooker for outdoor trips.
Sunflair is a great company, with great reviews, and they take a lot of pride in trying to create a greener world. Because of that, this is our #1 recommended solar cooker for outdoor trips!
Haines Solar Cooker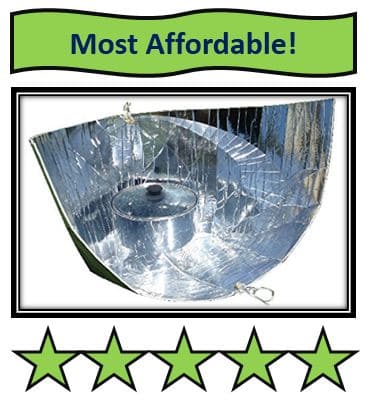 Another great solar cooker for camping and traveling is the Haines Solar Cooker. It has that same plastic bag looking design that Sunflair has, and it can heat up anywhere from 210 to 325 degrees Fahrenheit. That is plenty warm enough to cook food and boil water!
It is about 1.5 pounds in weight and rolls up nicely into the storage bag in comes with, which makes it very easy to transport. That transportability is the reason this solar oven is great for traveling and cooking in places where fuel isn't available.
Your big selling point here is that is it designed and assembled in the United States. It is also very durable, it should last around 5 years of cooking in the sun. It does not come with any of the pots and racks that the Sunflair comes with, so those will have to be purchased separately.
The other big selling point here is the price. It is normally around $50 to $100 cheaper than some of the other foldable solar cookers you can buy. This unit gives you an American made, durable, affordable, and easy to use solar cooker!
GoSun Portable Solar Cooker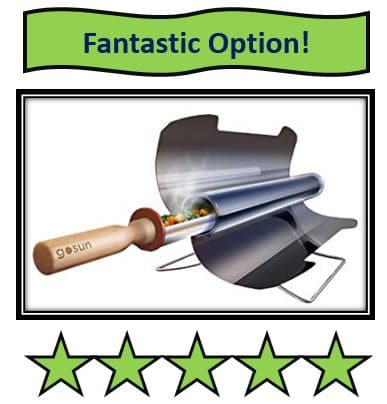 Another solar cooker with a great design, and very effective results is the GoSun Portable Cooker. The design is completely different than the zip up models listed above.
This unit looks like a giant tube, and it basically is. You have your parabolic mirrors on the outside that fold up and down around a tube that runs in the middle. The tube is where you place your food or water, and when the mirrors are open they cook that food very quickly. When done using, you just close up the mirrors and the unit cools down.
It has a stand that adjusts the unit vertically or horizontally. You want it vertical if you are boiling water, and horizontal when cooking food.
To use the stove, you just place the cooking tray into the tube, making sure the vent is pointing up. If you are done cooking and want to keep your food warm, just close the mirrors around the tube.
If you do put liquids straight into the tube, just be very careful when extracting them. You wouldn't want to spill and burn yourself. GoSun says temperatures can get to 550 degrees in full sunlight and non-windy conditions.
What is also remarkable is that you can touch the outside of the cooking tube and it will be completely cool to the touch, even when the inside is cooking at hundreds of degrees. No worries about burns here.
It does fold up to a portable unit that is about 7.5 pounds. This is relatively heavy, but not too big that you can't have it on hiking or camping trips. It is designed in Cincinnati, Ohio – and if the tube breaks for any reason you can get a replacement from the manufacturer during the first two years of purchase.
A big reason this company started producing these units is because smoke inhalation was the 2nd leading cause of death in the world (4.3 million people died prematurely from illness attributable to the air pollution from cooking with solid fuels), and the impact of wood harvesting and fuel burning can be devastating to the environment.
For every 5 units sold, GoSun helps train and equip a family around the globe with one of these units. Saving the environment and helping families is a core value of GoSun. For all of these reasons, we highly recommend this solar cooker.
SolSource Solar Cooker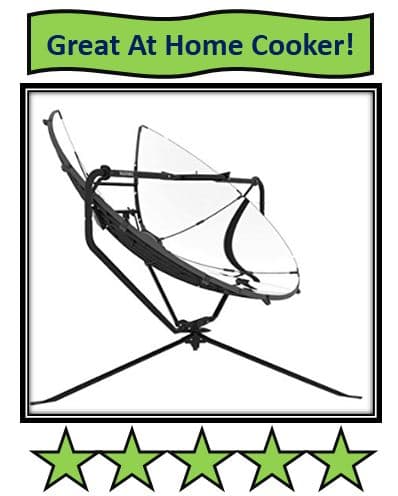 The SolSource Solar Cooker is an off the grid solar cooker with a unique design, and very impressive results. It is larger in size, a little bit bulky (it weights close to 40 pounds when set up), so it isn't nearly as easy to transport or to take on outdoor trips as smaller portable units – but it is impressive.
It has a very unique, satellite looking design, with a bar that runs across the middle of it holding your pan/grill in place. The frame is made from durable, stainless steel parts, and it comes with all the clamps and clips you will need to lock the frame into place. It also has 5 very reflective parabolic mirrors that are attached to the frame, which will focus the rays of the sun to generate a lot of heat.
There is a nice opening in the mirrors that will allow you access to your pot to stir your food accordingly. Amazingly, in the right conditions, this cooker can generate heat up to 550 degrees Fahrenheit. The mirrors concentrate the sun into the center cooking space, making it a great way to grill meat, boil water, or prepare numerous types of food!
You control the heat by adjusting the mirrors, which is very easy to do. It also comes with a 2 Year manufacturer warranty – One Earth Designs takes a lot of pride in their work, and that is easy to see with this unit.
Due to its large size, this unit makes more sense on a patio or at home cooking space. It is great for anyone that wants to eliminate the use of fuel for outdoor grilling, and it just looking for a great way to be environmentally friendly.
It can be stored and transported relatively easy, making it possible to take on different outdoor trips, but it wouldn't be our number one recommended solar cooker for that. We should also note that you can buy a cover for this unit to help protect it from the elements.
Solavore Solar Oven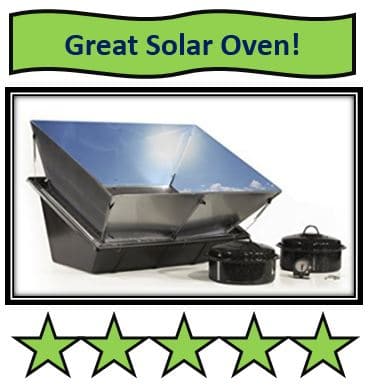 A great solar oven option is the Solavore Sport Solar Oven. This is whats called a heat box design, it looks like a box without a top on it.
The base is made from recycled nylon plastic, and is tested by Solavore by being dropped a foot onto concrete to make sure it is going to last!
It does weigh about 9 pounds, and measures 27" in length, 17" in width, and 12" in height. It is large enough to hold two 10" round pots, which are included when this solar oven is purchased.
The sun can heat this oven in the rage of 200 to 300 degrees, again depending on weather conditions.
You can use your own pots or pans in it, but we do recommend using dark colored pans because it helps with the cooking process.
This is a very highly rated solar oven with lots of positive reviews. It is easy to see why based on how durable and efficient this unit is. It is also made in the United States, and we do like supporting American businesses!
We could see you using this solar oven on your back porch or while camping, making it just a good all around option. If you decide to purchase this solar oven, you are going to be happy with it.


Final Thoughts
There are a lot of good reasons to purchase a good solar cooker. At home, they are a great way to cook food without using up fuel or wood. On camping trips, it provides you with a reliable way to cook, and you can leave your food to slowly cook while you are out and about doing other things.
For anybody that is looking for ways to be less dependent on fuel sources and to make a positive impact on the environment, this is a great option for that. These units are very popular with people that are trying to live a little bit more off of the grid.
These solar cookers also have a major impact on helping people all over the world. There are countries where woman and children spend 50 hours a week harvesting wood and other fuel sources. Solar cooking eases that burden on families and the environment. Plus you also have the health risks that are created by wood and fuel burning.
We love the companies that are using this technology to help others around the world, and even if you are just looking for the best solar cooker for your camping trips, this list should help provide you with those answers.
There is also a lot of other great solar gear available for people that want to protect the environment or have dependable solar gear for camping trips! Check out our reviews on some of those other options:
The Best Solar Powered Backpacks
The Ultimate Solar Camping Gear Guide
The Best Solar Showers for Camping
Below is a neat video from National Geographic just showing the impact Solar Cookers can make!