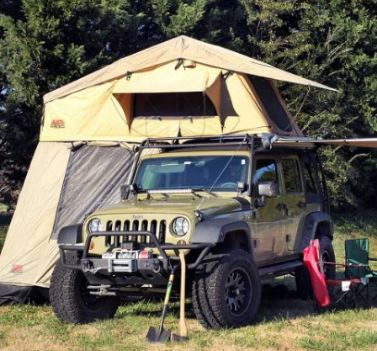 Picking the right tent for different camping trips is extremely important – and recently I was lucky enough to learn about Roof Top Tents after seeing them in action. These tents are nothing like traditional tents and they are called rooftop tents because they are literally attached to the top of your vehicle.
They are a very easy type of tent to setup and they are perfect for people that camp in some pretty remote places where a well maintained campground and camp site aren't going to be provided for you. You will be able to drive your vehicle to the desired camping spot and within minutes you will have your tent pitched and your campsite setup.
These tents aren't perfect for every situation, there are times where a traditional tent will be a better option, but they provide outdoor adventurers with a unique opportunity to camp on shorelines, the beach, and other remote wilderness areas where pitching a standard tent just isn't possible.
There are lots and lots of different options that you can pick from, and they come in all different shapes and sizes, but here is our list of the best roof top tents reviewed!
The Installation Process
A vehicle roof rack or base is going to be required to bolt these tents into, and they are not included with most tent packages you buy (my jeep already has one installed). The bolts and equipment you need for the initial installation will normally be included, and each different tent has a slightly different installation plan.
In general terms, you will decide if you want the tent to open towards the side of a vehicle or the rear of the vehicle, you will install the tent to your vehicle's roof rack based on how you want it to open up, and the best piece of advice I can give you it to read the very detailed instructions that come with these products before installing (we can do that guys, it is okay to read the instructions).
Most roof top tents can be installed in about an hour or two, you will want to have at least one other person helping you out. Once installed, they are enclosed in a case that is about a foot high and weighs up to a couple of hundred pounds based on which tent you buy.
Based on the tent, the ideal mounting height can be a little different, but it is usually 70 – 78 inches off the ground (this allows for the ladder to reach the ground safely and possible add-ons to setup appropriately). This means a ford focus might not be the best vehicle to mount your tent too.
When camping, the tent will open right up and will support up to 500 or 600 hundred pounds – again that depends on the version you purchase. The ladder will also roll right out, making it easy to get into the tent from the ground.
Other Important Things to Know!
Shipping of these tents can be a little tricky. They can weigh a few hundred pounds when packaged, making them difficult to ship by traditional United States Postal options. This means your tent will probably be shipped by cargo truck (so a forklift would be nice) or a lift gate truck, and special delivery requirements may be needed to ship to a residential location.
Tuff Stuff Overland Rooftop Camping Tent
It is hard to find a roof top tent that is as good of a value as this one.
The closed dimensions of this unit is 12 inches high, 56 inches wide, and 48 inches long when packed on your car roof. When unpacked you are looking at dimensions of 56" W x 96" L x 52" H – providing enough room for two adults.
It comes with an included foam mattress that is 2.5 inches thick and covers the tent floor. The frame, roof rack, and ladder are all aluminum – making this a very durable tent! It is also made of a thick poly/cotton fabric that is durable and has a waterproof coating.
This tent will open up either to the side of your vehicle or the rear, you will just want to make that decision before you install the tent to the roof rack. You should be able to install it in a couple of hours, and remember, the roof rack you install it to is not included. It will install really easily onto your jeep or van.
Once you are at your campsite, setup can be done in minutes and doesn't require any tools. It has a 685 pound weight capacity – depending on your vehicles roof and roof rack and normally costs somewhere between $1200 to $1500 depending if you are getting the annex room with it.
The annex room can be setup right beneath the pop up tent, and fits a queen sized mattress, or provides great gear storage and a social space.
There really isn't a better option when it comes to durability, price, features, ease of installation – making this our best value and #1 recommendation on our best roof top tents list.
Autana XL Siberian Camo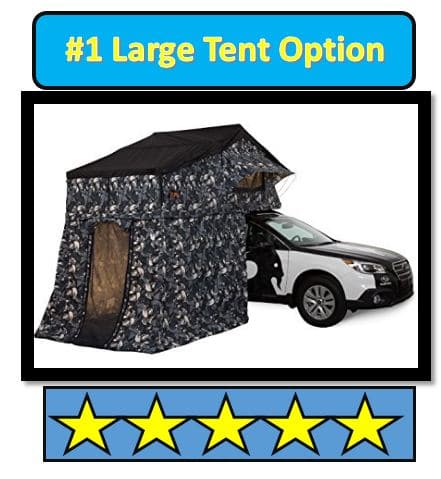 If you are looking for a tent that will fit 3 or 4 people comfortable, this is a great option. This tent use to be called the Gran Sabana, so if you see that name out there, they are referring to the same tent.
The dimensions are great. When closed you are looking at 72" W x 48" L x 12" and when opened up you are looking at 72" x 122" x 52" – which gives you a large 72" W x 96" L sleeping area!
It weights right around 150 pounds. It also comes with a 2.5 inch thick mattress to make sleeping much more comfortable. You will also have plenty of room to sit up while in your tent.
This tent is built very well, with an aluminum tube internal frame and a strong aluminum base. The ladder is 8 foot 6 inches long and is also made from aluminum. The rainfly is made of a strong polyester material, and the canopy is also made from a strong polyester cotton that is waterproof coated and mold resistant.
A big plus here is that it is considered to be a 4-season tent, making it perfect for early spring and fall camping trips.
Included are the mounting brackets that allow for an easy setup, and if you ever get stuck during the initial install, they have great videos on their website that review the installation process in step by step details.
This tent does normally cost over $2,000, but it is perfect for anyone that needs a little more room, and also for campers that love those fall and early spring camping adventures.
Smittybilt Overlander Roof Top Tent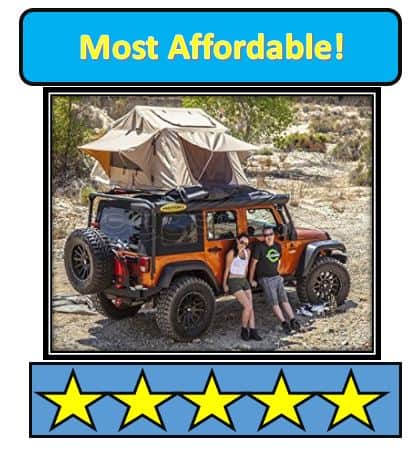 This is the most affordable option that we reviewed. It normally costs under $1000, making is half the price of many of these tents.
When setup, you are looking at a 95" w x 56" L x 51" H tent space that should comfortably fit 2, maybe 3 people depending on size.
It weighs about 116 pounds, and comes with a 2 inch foam mattress. It can hold up to 661 pounds when pitched. It has a 6 ½ foot ladder – some pimped out vehicles with lift kits may need a ladder extension to make sure you can reach the ground safely.
Personally I also like the coyote tan color, it really seems outdoorsy to me. The base is a 1" aluminum build, with a heavy duty polyester fabric that should be waterproof. The aluminum tent poles and steel hinges are very durable. There is also an LED strip light which is a unique feature.
One person can easily setup this tent in minutes, and the price is excellent for anyone that may want to dip their feet into the world of roof top tents.
ARB Series III Rooftop Tent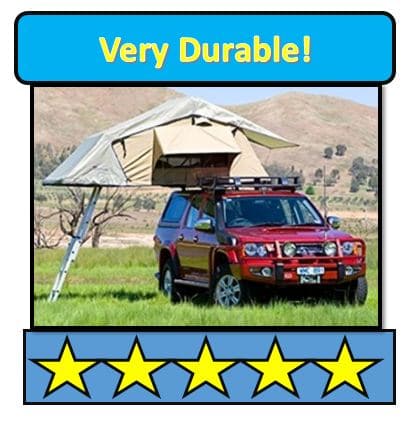 This is a very popular and highly reviewed rooftop tent.
This tent does need to be paired with an ARB roof rack, which is not included with the price – so it does not have the installation flexibility that some of these other tents do. It does come with all the mounting hardware and tools that you do need during the installation.
What is nice about this tent is that it can be configured to unfold off the back of your vehicle or to either side.
It is 55 inches wide, 94.4 inches long, and 51 inches high, so it should provide plenty of space for a couple of campers.
Two major pluses with this tent are the durability and the look. The frame components are all aluminum and treated to prevent corrosion, and the tent itself is made from a strong poly/cotton fabric that should keep you dry in most rain storms. It does also come with a foam mattress. The weight of this tent is right around 180 pounds.
It also comes with a bungee cord system that helps you close the tent when it is time to pack up and leave. Expect to pay in the $1500 to $1700 range for this tent, and if you are buying it from a place like Amazon, you will need to sign for it during delivery because of its expense.
This is just a very strong, durable tent built from a very trustworthy company!
Tepui Kukenam Sky Tent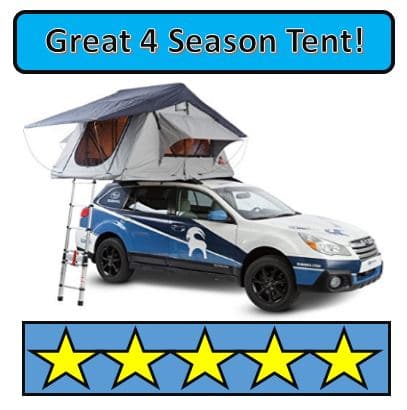 This is a really well put together 3 person tent. The design is great with 2 "SKY Panels" which are openings in the roof that allow for a great nighttime sky view. Sitting comfortably on top of your vehicle, gazing at the stars seems like a good nighttime activity to me!
It is made from a strong coated canvas material so durability should not be an issue. It also comes with an 8 foot 6 inch ladder which should be tall enough to reach the ground for most vehicles.
It is considered a 4 season tent, so you shouldn't have any problem in the cooler fall weather. There are four large storage pockets on the inside, and the built in mattress is 2.5 inches thick, so you should be plenty comfortable.
The $1350 price tag makes it a very affordable option. Setup should be relatively easy, and the text weighs about 130 pounds. There are lots of add on accessories that can be purchased with this tent as well.
Front Runner Feather-Lite Roof Top Tent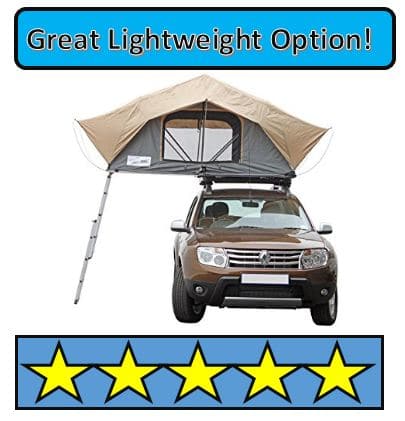 Like the name implies, this is one of the lightest roof top tents you can purchase. Instead of lugging around 130 to 180 pounds on the top of your vehicle, these tents weight less than 90 pounds!
This lightweight roof top tent can be opened up behind your vehicle, or to the side of it. It comes with all the mounting equipment you will need to attach it to your vehicle.
The tent itself sleeps two people comfortably, and is made with a heavy duty fabric that is durable, water resistant, and good looking. The windows and doors are screened, protecting you from annoying insects. The mattress is included, so bring your extra blankets, sleeping bags, and pillows, and you will have a bedroom on top of your vehicle that pulls out quickly!
The ladder is under 8 feet tall, and it has a low profile which helps make it be very wind resistant. It has an $1100 to $1200 price ranges, so it is a great lightweight roof top tent, and needed to be included on our best roof top tents list!
Final Thoughts.
Roof top tents provide you a great opportunity to camp in some places where a traditional tent just wouldn't work so well. Being able to drive your car right to your camp site, and to open up your tent quickly and efficiently is a blessing. If you are using your roof top tent in some hard to reach places, please let us know about your experiences – we love to post about our reader's experiences!
We also love to review other camping gear (some of which will help save you a lot of space when camping off the beaten path) you may need, – so check out the following articles:
Check out this video if you want to see what it is like to install one of these tents to your vehicle!