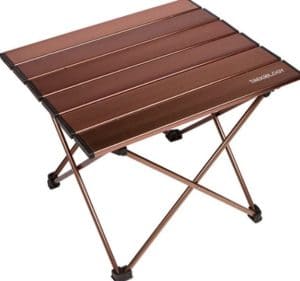 One of the things that I almost always forget to pack when I go camping is a good portable camping table. It is like I forget how much easier it is to cook and have a functional campsite when you have one.
Picking the best portable camping table is going to vary greatly based on the individual's needs. If you are a hiker, you might be looking for that light weight table that is easy to store and easy to carry.
For the more casual family camper, you are probably going to be looking for something that is larger in size and can allow your entire family to sit together during meal time (that is what I need now).
When I was in college, I just needed a table that could hold my drink and allow my friends and I to play cards.
With that in mind, the rankings of this list are a little subjective based on what you need – so we want to provide a great list of the best portable camping tables & give you a breakdown on what situation we feel they are best in!
Hopefully that information will help you pick the right camping table for your unique, and in my case, ever changing situation.
Quick List of the Best Portable Camping Tables
Here is a list of our top recommendations for portable camping tables. We wanted to provide plenty of options based on what your individual table needs are. We looked at things like size, durability, cost, and features to help break down the best options for you!
Beneath this list is a more in-depth review on all the different tables. So, if you need more detail, please read on!
Our picks for the absolute best folding tables for camping out there.
Coleman Compact Folding Table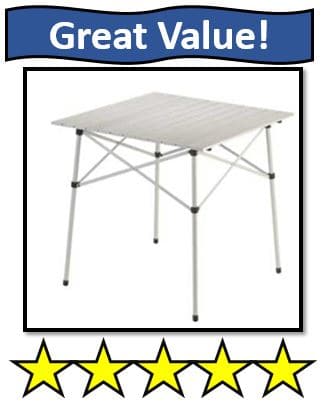 It would not be a stretch to call Coleman the most recognizable name when it comes to outdoor gear – so of course we shouldn't be surprised to have the Coleman Compact Folding Table listed on our best camping tables list.
This table has an aluminum top that sits on a steel frame – and a classic square design that provides plenty of stability (which of course is very important) & durability.
It has a snap-together design that makes set up, take down, and storage very easy.
When not in use, it easily fits into a carrying bag that is included. It only weighs about 8 pounds, so it is very easy to carry around.
The size of this table when assembled is 27.5 x 27.5 x 27.5 inches. Coleman says you can fit 4 adults around the table, but that might be a little tight. I know it can easily fit two adults!
The price is very reasonable for this table, and it provides a great surface for cooking, storage, eating, or even playing cards! This is a great camping table for anyone that just wants a solid table for their camp site.

Trekology Portable Camping Tables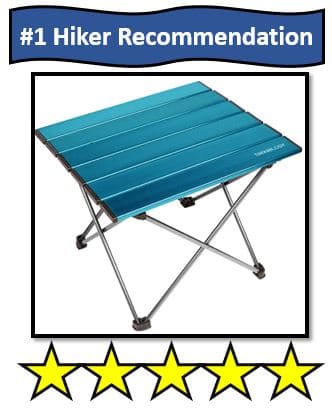 The nice thing about Trekology is they make portable camping tables that come in different sizes depending on what you need. You are going to be able to pick from a small, medium, or large Trekology Portable Table!
No matter what size you pick, Trekology tables have an aluminum table top that is durable, water-resistant, and very easy to clean. The frame is an aluminum pop up style frame that is easy to set up & easy to fold down. The table top actually folds up when not in use, and snaps onto the table legs when in use. The table legs have large rubber feet that help provide stability no matter what type of terrain you have the table on.
All options also come with a carry bag and can hold up to 50 pounds! These tables are designed to be incredibly light weight, making them incredibly easy to travel with & a great option for hikers and campers that like to get off the beaten path just a little bit.
Here are the size specs of the different Trekology Camping Tables:
Small Size – The surface area (table top) is 15.6 inches by 13.6 inches. It has a height of 12.8 inches and weighs an incredibly low 2.2 pounds!
Medium Size – The medium sized camping table has a surface area of 22 inches x 18 inches and has a height of 16 inches. The weight of this table is only 3.5 pounds.
Large Size – The large portable camping table has a surface area of 27 inches x 18 inches and a height of 16 inches. It is just slightly heavier than the medium sized option weighing in at only 4 pounds.
All of these options come in a sharp blue color or great looking brown color based on what you prefer.
This is our number one recommendation for hikers. These knee-highs table provide an incredible mix of durability and size for their weight. They are also incredibly easy to store, and the included carry bag can easily be carried with the rest of your gear. Plus, did we mention how light weight these tables are?

ALPS Mountaineering Dining Table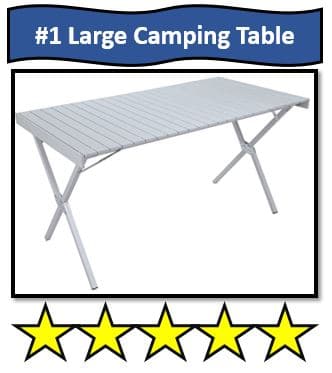 For those of us that need a large camping table for our family camping trips – you need to take a look at the options from ALPS Mountaineering!
When you are picking an ALPS Mountaineering Dining Table, you have 3 choices to pick from. You have their regular option, traditional square option, and extra-large option.
Each choice comes with an aluminum "X" leg frame base. This design helps keep the table sturdy and lightweight. The frame doesn't have side supports or bars running underneath the table, so you have what I call "Leg Freedom" underneath the table and you don't have to worry about banging your knees! It is also high enough that you don't have to hunch down by it like some other options.
The tabletop can be snapped in and out of place, and it is collapsible/foldable which makes it very easy to store and carry. You don't have to worry about carrying the entire table around.
This table is large enough for your family to eat around, or large enough to provide you with plenty of cooking space. It is also perfect for playing cards & tailgating – this table really is flexible due to its ease of set up, ease of storage, and light weight.
Here are the specs for your 3 different ALPS Mountaineering Dining Table Options:
Regular: 28" W x 43" D x 28" H and a weight of 12 pounds.
Square: 31" W x 31" D x 28" H and a weight of 8 pounds.
X-Large: 28" W x 55" D x 28" H and a weight of 14 pounds.
All of these table are great, but I really like the X-Large option for my family of four! This is our number one recommendation for those that need a large table for their camping trip!

GCI Outdoor Compact Folding Camping Table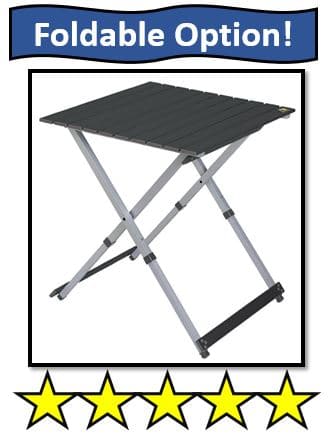 Another great camping table option is the GCI Outdoor Compact Folding Camping Table. GCI Outdoor makes 2 different sizes for this table as well!
This camping table is a folding model, so the top doesn't completely come off like the above listed options.
This does make it a little more difficult to store and carry – but there are still a ton of reasons why you would want to pick this option.
It is an aluminum table that will be very easy for you to fold and unfold. It can be used as a dining table or a side table, and the very durable frame can hold up to 60 pounds!
The small table has a table top of 18 inches by 20 inches – and is about 24 inches tall. It weighs only 4 pounds.
The large table option has a table top of 25 inches by 25 inches – with a height of slightly over 28 inches. This option weighs 6.2 pounds. I like the added height of the large option – and would recommend spending the extra few dollars on it unless you are in the market for a slightly smaller table.
This is just a really good table that you can use for camping, fishing, or basically anytime that you would need a dependable table!

Timber Ridge Folding Camping Table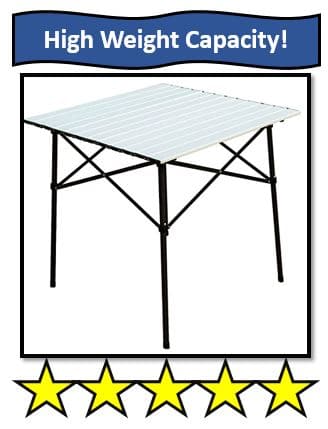 Another easy to travel with, easy to store portable camping table is the Timber Ridge Folding Camping Table. It really has all the features that you want in a quality table.
This table has a great square design which helps keep it very stable.
When setup, it is 27.5 x 27.5 x 27.5 inches and it only weighs 9.5 pounds. The listed weight capacity is 66 pounds, which is pretty impressive for a portable camping table of this size.
The top of the table can be removed and is collapsible. Same thing with the legs, and it does take a couple of seconds to put them together. All and all, it takes about a minute to put this table together when it is completely disassembled. It doesn't require any tools to assemble and since it can be broken down into pieces, you can store and carry this with no problem at all.
The table is made from aluminum, and it comes with a 1-year manufacturer's warranty. That should show you how dependable Timber Ridge products are.
This is a little heavier than a few of the other options, but it holds a lot of weight and is a very high-quality option.
You will be very happy if you decide on this option!

Qisiewell Aluminum Camping Table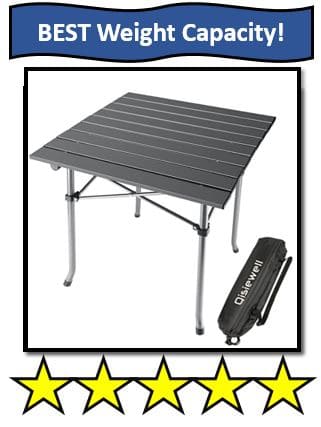 The big reason we recommend the Qisiewell Aluminum Camping Table, is because for its size and weight, there isn't a portable camping table on the market with a better weight capacity.
This table uses a mixture of aluminum alloy and iron to provide a frame and table top that has a listed weight capacity of 121 pounds! This is an amazing number since this table only weighs about 5 pounds!
This table can be setup in 3 simple steps, and can be completely unassembled to be stored in the small storage bag that is included. This once again makes this table easy to hike with, easy to store, and easy to carry when camping.
The unfolded size of the table is 20.5 inches x 20.5 inches x 19.3 inches. I'm told a skilled outdoorsman can put this table together in 30 seconds.
This table is really easy to clean, and can be used in pretty much any outdoor situation you can think of: fishing, camping, hiking, because you need extra space at a BBQ – the possibilities are endless!
Again, if you are looking for a compact, lightweight camping table that has a super high weight capacity – this needs to be your choice!

KingCamp Ultralight Compact Table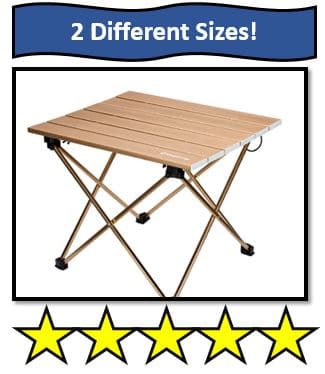 If you are looking for a very nice side table for your campsite or outdoor activities – a great option for you is going to be the KingCamp Ultralight Compact Table.
This table also comes in a large and small size depending on what you are looking for. Both of them are made from aluminum and can support up to 44 pounds.
They both also have a triangular base, and the table top and base can be broken down and stored in the included travel sack.
The Large option weighs 2.9 pounds and is 22 x 16 x 15.7 inches in size. The packed size is 22 x 6 x 2.2 inches; which is very compact.
The small option is 2.5 pounds and is 15.7 x 13.4 x 12.6 inches in size when assembled. When disassembled, it is 18.9 x 5.7 x 2.8 inches in size.
I see more value in the large option because it is nearly the same weight as the small option, but gives you that little extra space!
This isn't a large table, so I would plan on using it for eating as a family, but it makes the perfect companion next to your chair!
This is also a great table to pair with a portable fishing chair for shore fishing!

CampLand Outdoor Folding Table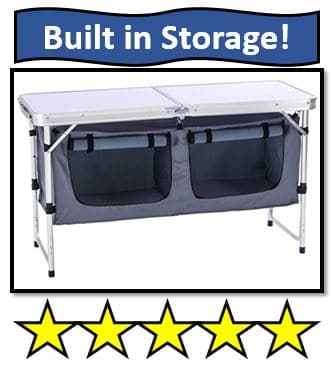 Another great table for family camping is the Campland Outdoor Folding Table. This table is a little bit bigger and a little bit bulkier than some of the other options listed above.
Instead of being able to be fully disassembled, this table will fold up into a case with a handle when not in use. The folded-up version is 23.62 inches tall, 18.5 inches long, and has a width of 3.96 inches. This does make it very easy to carry.
When assembled, the dimensions are 47.24 inches in length, it 18.5 inches in width, and 27.36 inches high.
It can hold up to 66 pounds, which is a very solid amount of weight for such a small table!
This table also a really neat storage system that is built in. This just helps you stay organized, which I know my campsite needs help with from time to time.
This table has nice size, and the extra storage space is a nice add on. I could see people using these tables in a number of different situations, but family camping is what I have in mind for it!

Best Choice Products Folding Table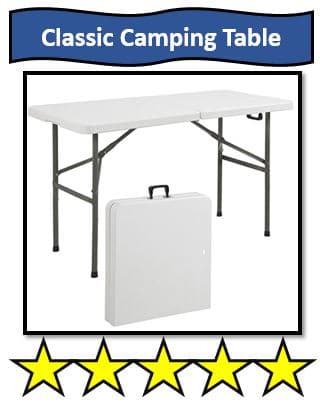 If you are a person that is just looking for a long, basic, every day run of the mill table for your camping trip – The Best Choice Products Folding Table is probably the best pick for you!
There really isn't a lot special about this table. It is a table that folds up into a case when not in use, and is a polyethylene top, with steel powder coated legs. It looks just like a normal rectangular table, and it locks into place with a very simple frame.
It is super easy to clean, and will be perfect for outdoor parties, camping trips, or if you just need an extra table in the garage or porch.
You do have 3 sizes to pick from. You have the 4-foot table with is 48" L x 24" W x 29" H and can hold 300 pounds.
The 6-foot table can also hold 300 pounds; with a size of 30" L x 72" W x 30" H.  The largest version has a weight capacity of 300 pounds; and a size of 96" L x 30" W x 28.5" H.
Again, this table isn't the best option for hiking with, or carrying around for long distances, and it can be a little bit bulky, but it is the perfect table for anyone that just wants an easy to setup, easy to clean, large table for outdoor use.

Final Review
Speaking on personal experience, you don't know how valuable a good camping table is until you don't have one. Hopefully, you will have at least one for your camping adventures.
My best advice for you is to really think about what you are going to be needing a camping table for, and making sure it has all the necessary features.
If you need a very light weight, easy to transport table for hiking, don't buy a bulky table! If you are looking for a large table to prepare meals or to provide space for a family meal, buy a bigger table!
The above breakdown should provide you with all the necessary information you need to make the right choice!
Other Useful Camping Gear
If you are looking to up your camping gear game this year, we have some great suggestions for you! Please check out some of these articles on other useful camping equipment to bring maximum enjoyment to your camping trips!
The Best Screen Houses – Perfect for protecting your table from the elements and insects!
The Best Cast Iron Dutch Ovens – Dutch Ovens are awesome for camping food preparation!
The Best Camping Axes – if you are someone that really likes to go "old school" on their camping trips – check out this article!
The Best Portable Bunk Beds – If you are a large family, you might want that portable bunk bed for a little extra space & comfort!
Man, this article got me excited for camping – I just might have to pack up the family and go adventuring!