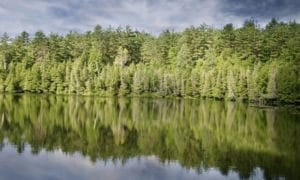 Portable fish finders were a game changer in the fishing world. These devices have allowed anglers to gather really accurate information from shore, while kayaking, or while ice fishing. They give you much more flexibility than the traditional boat mounted options – and they are cheaper most of the time.
Over the years, improvements to handheld portable fish finders have made the imagining much better, and now you can even incorporate you phone and tablet into your tackle box with Wi-Fi or Bluetooth linked fish finders. You can literally take these fish finders to almost any fishing location you can think of!
Fishing has never been easier with these devices, and this portable fish finder review should help you pick the right option for your situation. Should you pick a traditional handheld fish finder or should you pick a Wi-Fi connected option? Read below to find out all the information you could ever want about these devices – and enjoy catching more fish!
UPDATED 2018 BEST PORTABLE FISH FINDERS LIST
For 2018 we have updated our top recommendations for the best portable fish finders! These units are all great – but there are going to be a wide variety of features and different things to look at when comparing them.
For that purpose, beneath this chart we have detailed information on each unit – as well as information on how portable fish finders work, tips on what to look for in a good portable fish finder, and some frequently asked questions that we are kind enough to answer for you!
The Best Portable Fish Finders
Our 2018 List of the Best Portable Fish Finders
Important Factors to look At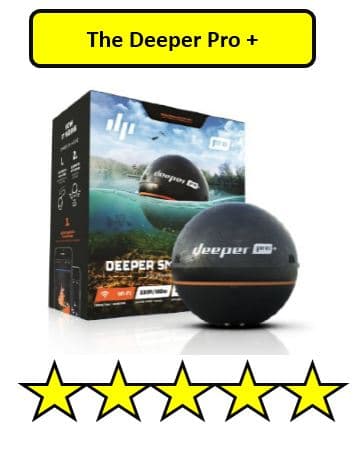 When you are picking the right portable fish finder for your situation, there are a few important factors to look at.
1.) Do you want it to connect to your phone, or do you want to pick a fish finder that comes with its own display screen? Some people won't want to bring their phone or tablet with them, other won't mind. Battery life is also key, if your phone's battery doesn't last long that will create issues on the water, and a traditional option would be a better choice for you.
2.) You should also determine if you need a wireless version, or if it is okay to have your display screen connected to the transducer. Wireless versions can help gather data from farther away from shore, but having your transducer connected to your device makes it much easier to gather data and control where your sonar is at when in a kayak or boat.
3.) You need to examine the features that come with your fish finder. If the main purpose of your device is going to be creating detailed maps, you will want to pick an option with those features. If you are a kayaker and want to know water temperature, you have to pick a version that measured that. Knowing the features of each unit will help ensure you make the right decision.


How do they Work?
I am going to keep this section really simple. Basically you are going to have a transducer/ball that you cast out into the water (it floats on top) and it is going to start relaying information back to your display screen or mobile device. Each one will connect a little differently, but this basic principal is the same.
The wireless connected versions will need the transducer to be tied to a fishing line and casted out, the cable connected versions can just be tossed out into the water.
These fish finders really are so easy to use. As long as you connect them properly and make sure the software is up to date, you will have no problem using them.
What are the Top Portable Fish Finder Options?
After extensive research and personal usage, these are the nine portable fish finders that we recommend the most. Each one is reviewed below, and should help you pick the right option for your fishing situation.
1.) Deeper Smart Sonar Pro +
Deeper makes some very good portable fish finder options, and the Deeper Smart Sonar Pro + is the best of that group!
This is a Wi-Fi connected portable fish finder that is going to work from your smartphone or tablet. It is compatible with iOS and Android devices – and doesn't require cellular data or an internet connection to work.
We really like this fish finder because it can be used for shore & bank fishing, for kayak or float tube fishing, & it even has an ice fishing mode! It really provides you with the flexibility you are looking for in a portable fish finder!
This fish finder sonar will connect to your device from up to 330 feet – which is the best range of any option for this type of fish finder. It also works in water depth of up to 260 feet – which is ridiculous as well.
This also has an incredible mapping feature that separates it from most other options – including the other Deeper Fish Finders that made it on this list!
You are going to be incredibly happy with this fish finder, and we had to move it up the list to become our new #1 recommendation.
For a more detailed review on Deeper Fish Finders – please check this revised article that talks about all of the different products that company offers!
2.) Venterior Portable Fish Finder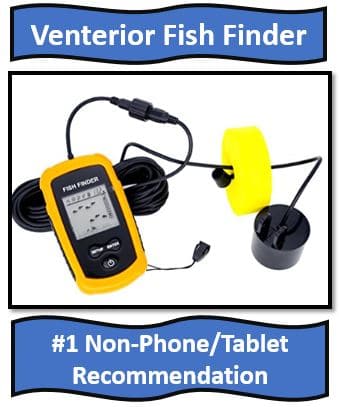 Also new to our list – and the #1 non-tablet/device connecting portable fish finder for our list is the Venterior Portable Fish Finder.
This fish finder has a round transducer float that connects to the fish finder by a 25-foot cable. That transducer float will read depths of up to 328 feet.
The screen will show fish icons, water depth, and bottom features like weeds & rocks. This fish finder can remember settings as well.
There are different sensitivity options top pick from, a battery save mode, backlight, fish alarm, and other features that will help you catch some fish!
It is highly rated on online shopping sites and should provide you with a great fishing experience.
Even better is the price. This is an incredibly affordable portable fish finder – usually ranging in that $40 to $50-dollar range. It is tough to find a portable fish finder that has so many features and so many positive reviews at that price point!
I would strongly recommend this for anyone that wants basic water information like depth & bottom features, or for anyone that is looking for a dependable, entry level unit into the world of portable fish finders!
3.) Deeper Pro Finder Review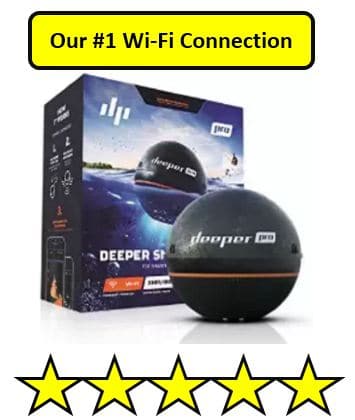 This Deeper Pro Fish Finder was basically the upgraded version of the original Deeper Smart Fishfinder 3.0 – with the biggest difference between these Deeper Pro units (including the Deeper Pro + unit listed as the #1 Recommendation) and the original 3.0 option is that the Deeper Pros use a Wi-Fi connection instead of a Bluetooth connection.
The Wi-Fi connection allows these fish finders to connect to your smart devices from over twice as far away, 330 feet!
That isn't a small amount of distance – especially when you're finding yourself trying to get a little bit further off of shore in order to find those hiding trophy fish.
The Deeper Pro versions also scan more frequently and provide a little bit more accurate and detailed information. For Kayak fisherman that need a connection of more than 100 feet, this is a fantastic option for finding fish.
What this does not have is all the amazing mapping features that our #1 recommendation has. If you aren't going to do a lot of mapping with your portable fish finder – than you won't necessarily have to spend more money on the Deeper Pro + option.
This is our number #1 Rated Wi-Fi connection portable fish finder. It is going to be extremely hard to find a better value than this.
4.) Lucky Portable Fish Finders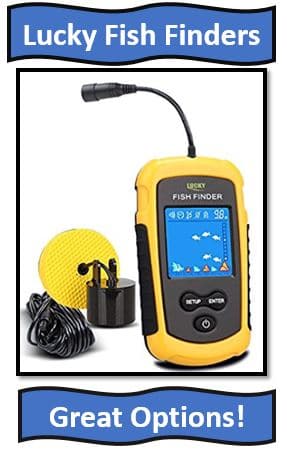 Another great handheld, non-device connecting portable fish finder is the Lucky Portable Fish Finder.
This option allows you to cast out your transducer – which reads at a 45° cone shape underwater. It will read at depths from 3 feet to 328 feet and will show water depth in either meters or feet.
The transducer that you cast out floats, and is connected to the display screen by a 25-foot cable.
This is more popular for shore fishing, but can be used in moving kayaks as long as your speed is below 5 miles per hour.
There are a lot of different viewing options and battery save modes you can play with to find an option you like.
This fish finder does come with a 12-month warranty.
Lucky does offer a wireless option as well, where you connect the transducer to a display screen without that 25-foot cable. This version is a little more expensive, but does provide you with a much wider coverage area and some other really cool features that the connected version does not offer!
Please click here to learn more about the wireless version (LUCKY WIRELESS PORTABLE FISH FINDER).
5.) iBobber Wireless Bluetooth Smart Fish Finder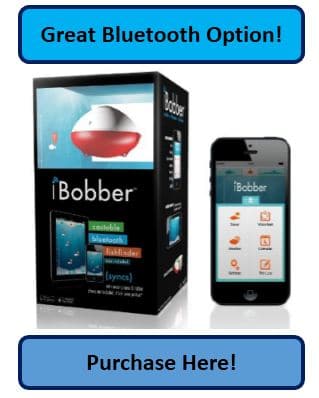 Another great wireless fish finder that connects to your device, is the iBobber Wireless Bluetooth Smart Fish Finder!
This fish finder is going to provide some good imaging on your phone and/or tablet. This particular wireless fish finder uses a Bluetooth connection to get data back to your device, and this connection works up to distances of about 100 feet.
It will also provide you with depth-tagged fish icons, underwater structure mapping, and GPS spot tagging. All great tools when fishing!
There is also a trip log that lets you enter information like date, time, water temp, fishing lure, fish caught – all of that data to help you remember how well certain fishing trips went when you are exploring different bodies of water!
The other 3 major selling points for the iBobber are: the price, the weight, and the battery life.
You will also find that the iBobber is the lightest portable sonar, weighing less than 2 ounces (which is stunningly light). This is very easy to cast out into the water, and works in water depths up to a remarkable 135 feet deep.
The battery life is also one of the best, working for up to 10 hours at a time before being recharged. It also has a rechargeable battery and a charge status indicator light – which will warn you when that battery life is getting a little weak!
The price is fantastic, making this one of the least expensive wireless fish finder options while still providing the best of the benefits.
6.) NorCross HawkEye F33P Fish Finder Review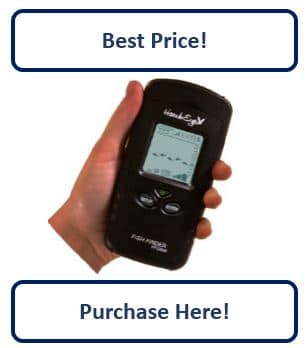 This option has been on the market longer than all other options in this detailed review, and obviously it still holds up if it makes our list of approved models.
Because it is an older version, this is also the cheapest portable fish finder available as well. Water depth readings are accurate from 1.5 feet to 100 feet and you will get good bottom and fish readings, as well. The sensor is attached to 35 feet of cable, so you can get readings from a good distance away from shore.
The downsides with this option are, unsurprisingly, related to the age and the fact this was one of the very first portable fish finders that could stand up to the test of time. One downside is that the screen is harder to read than other options since it is an old display, and this design does not measure water temperature.
The plus side is you get very good customer service, and the price is extremely affordable, making it perfect for people that will only use the fish finder a few times a year and don't want anything fancy, they just want something they know will work and work well.
7.) HawkEye FT1PX FishTrax Portable Dot Matrix Fish Finder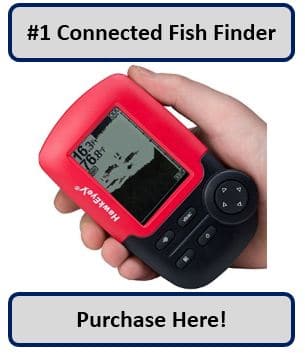 This is the updated version of the NorCross F33P Fish Finder, and works exactly the same way as the original but with some nice little upgrades that make it a touch more appealing for many of the anglers out there.
This updated design is a little more expensive, but the screen reads better and it measures water temperature. The Dot Matrix screen makes for very easy reading, even in bright and sunny conditions that might cause glare with some cheaper finder options for anglers.
If you want a more updated fish finder, and enjoy the excellent customer service NorCross provides, this is a very good option.
We do recommend this as the best cable connected portable fish finder. While the cable can be a little bit more restrictive compared to a modern hands-off Wi-Fi model, but it works really well. This is a good pick that works extremely well when you are kayaking or in a boat, and want an easy to control fish finder.
*NEW FOR 2018* This fish finder also comes with a new, much improved, color display screen that anglers will really enjoy!
8.) Original Deeper Fish Finder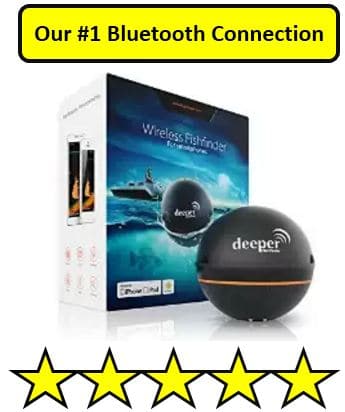 This is the most popular, and really the first option for Smartphone Fish Finders. Download the app, cast out the sonar, and you will start seeing data on your smartphone about fish, water depth, water temperature, and even vegetation. That's a lot of detail for a relatively simple (though that doesn't mean less impressive or effective) fish finding tool.
The Deeper Smart Fishfinder 3.0 works effectively for shore fishing, ice fishing, and even kayak fishing. There is also some very nice mapping tools available with this option, and those maps can still be viewed in offline mode.
Every two months the batteries do need to be recharged, even if it hasn't been used since there will be a bit of a ghost drain over the course of time.
The connection between the sonar and your phone will work at lengths of up to 130 feet. It also works in water depths of up to 130 feet.
*UPDATE for 2018* We had to drop this option down the list because it is not actively produced or promoted by Deeper anymore. It is still a great fish finder that is going to work really well for you, and it is still sold by certain online vendors, but again the updated versions just bring more to the table.
OLDER OPTIONS
The following options are great fish finders, but aren't normally readily available online anymore. Feel free to check them out and see if they are available, but we can't make any promises!
N/A Signstek FF-002 Review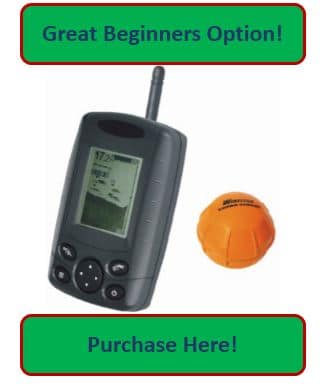 This is one of the best portable fish finder options that is wireless, but doesn't have to connect to your phone (for those of us that like to leave our smartphones at home while fishing). This fish finder is simple to use. Just connect and cast out the transducer and you will start seeing water temperature, water depth, and bottom readings right away.
Readings are accurate from shallow depths as little as 2 feet to 240 feet, and the LCD display screen makes it easy to read. This finder works in both fresh and salt water, and the audible fish alarm should make fish finding easy on you. I
This model also gets high reviews on battery life, requiring 3 AAA batteries, but they last multiple outings of 5 to 6 hours at a time. It is one of the cheaper options, and the display screen isn't anything special.
This is a really good beginner's option. For someone that wants something simple and easy to use, and doesn't want to actually connect the fish finder to their phone, the Signstek FF-002 is a truly good pick.
N/A MadBite FX3000 Fish Finder with Wireless Sonar
The big selling point here is you have a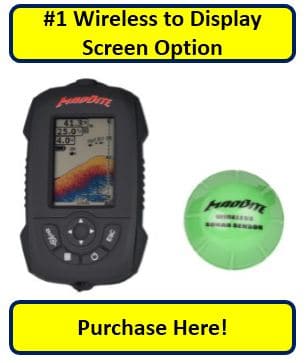 wireless connection from the sonar to the display, and the display isn't your phone or tablet like it is with most of the other wireless fish finder options.
You get your own display screen (so you don't have to risk dropping your phone) and you aren't bogged down by 30 or 35 feet of cable!
The screen is nice, being a full color LCD screen that is about 3 inches in size. The connection from the sonar to the screen works from about 400 feet away, making it tops on the market in that category.
The depth finder works in depths of 2 to 150 feet, and it has a fish alarm for fish that are passing by. The sonar sensor lasts 8 hours before needing to be charged.
The display screen is also 100% water proof, so if you tend to drop things, or you tend to flip your kayak or canoe, this is a strong choice.
Again, this is your option when you want all the benefits of a wireless or Bluetooth connection, but don't want to use your smart device to connect. This is our #1 recommended wireless non-tablet/phone connected portable fish finder.
N/A FishHunter Directional 3D Wireless Portable Fish Finder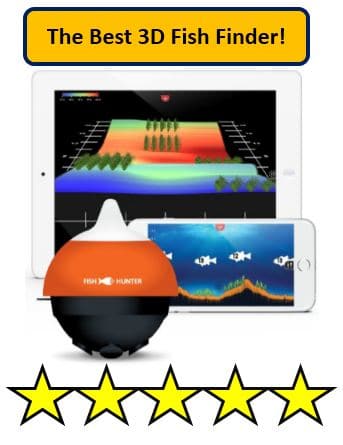 This is your choice if you are looking for a 3D Portable Fish Finder. The way this angler's tool shows the underwater area being scanned is nothing short of extraordinary. There's just no other words for it: the imaging you get back from this model is amazing.
The sonar you cast out with this option actually has 5 transducers, so the area it maps is much larger than other options, and the imaging it provides it about as good as it gets.
The FishHunter 3D fish finding tool uses a Wi-Fi connections to connect to your smartphone or tablet. This connection is good for up to 200 feet away. This is a truly great chocie for ice fishing, and you can even track your jig in up to 100 feet of water.
Not many portable fish finders offer that, and it is a feature that definitely sets this exceptional model arpart. Great mapping features and the 3D imaging are the reasons you will want to purchase this option.
This is one of the most expensive portable fish finders, but it is also your only option for 3D Images and is worth every penny if you want the full information of the underwater layout you're looking at.


Frequently Asked Questions
Do the Wireless/Bluetooth connected fish finders required an internet connection or data?
No, these devices do not require an internet connection or data from your mobile phone. The Bluetooth or wireless connection is built into the sonar, and will connect automatically to the device. Just make sure the Wi-Fi on your device is turned on.
Can these fish finders be mounted to a boat?
Some of these options do allow for the transducer/sonar to be permanently mounted to a kayak, canoe, or boat. Other options have extra pieces that you can buy to connect your fish finder to a kayak, canoe, or boat without permanently mounting them. In general, they do not work very well in speeds past a few miles per hour, and mounting them does defeat the purpose of having a portable fish finder.
Do the Smartphone & Table Fish Finders work on most devices?
Yes, Smartphone & Table Fish Finders will work on both Samsung and Apple devices. The key is making sure the correct apps are downloaded, and all the software is up to date. If software is not up to date, connection issues could occur.
Different Options Available
I break down portable fishfinders into four different categories. You have your standard option, which is a display screen that connects by cable to a transducer that you cast out into the water. You have a Bluetooth option which uses Bluetooth technology to connect to your phone or tablet. You also have a Wi-Fi option that attaches to your smartphone or tablet through a Wi-Fi connection. The fourth option is a Wi-Fi option that connects to a display screen – not your phone or tablet.
Each version can be very affective, and a lot of times deciding between these options will come down to what you are willing to spend and personal preference. Here is a quick reference chart showing the nine best portable fish finders we reviewed and what type of option they are.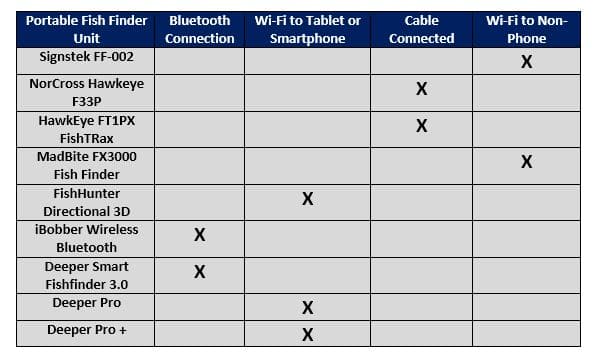 Final Notes
There are so many great options to pick from when it comes to portable fish finders. I can still remember the first time my dad brought home a fish finder for our boat, and how sad I was that I couldn't use it from shore. Those days are over, you can gather fishing data from pretty much anywhere, and the details provided by these fish finders keep getting better and better.
There aren't going to be many reasons for you to not catch fish, and having the ability to track fish from shore, or while kayaking, or while ice fishing will just make your fishing experiences more enjoyable. This list should help you pick the right option for you.
Other Great Fishing Articles that we have written include:
The Best Portable Fishing Chairs
The Best Portable Fish Lip Scales
Check out this YouTube Video if you want to see the 3D Fish Finder we reviewed in action!