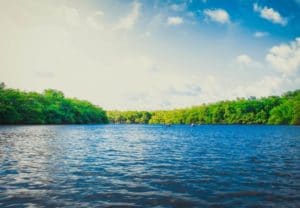 Technology has come a long way in the fishing industry since I was a kid, and this is especially apparent with outdoor tools like portable hand held fish finders. I remember how excited my brother and I were when our dad brought home a fish finder. That new fish finder almost made you feel invincible, even if pixelated fish that it claimed were right under the boot were hard to tell apart from the pixelated bottom, but hey, at least you knew where to fish now!
After all, how could you not catch all of the biggest fish when you actually knew where they were at? Put it on the boat and start trolling for bass!
The only downside to that new fish finder was it did nothing for us kids who were shore fishing and just hoping we weren't spending two hours casting into empty water which based on frequent results, we many times almost certainly were. Luckily someone was smart enough to create portable hand held fish finders that are perfect for on shore fishing, kayak fishing, ice fishing, and pretty much any type of fishing where having a big fish finder attached to your boat isn't an option.
This article might be twenty years too late for me, but here are some handy tips and reviews for you to look at when deciding on which of the best portable hand held fish finders will be best for you!
How Do Portable Hand-Held Fish Finders Work?
Every setup is going to be a little bit different, but the first steps are going to be pretty basic. Batteries will be installed, transducers/sonar sensors will be connected to the portable screen, settings will be formatted, and the transducer will be connected to a floating device.
The transducer will be thrown into the body of water and it will start gathering data like water depth, fish detection, and even what type of structure is at the bottom of the lake or river for you.
Our best advice is to always read your user's manual to see all the special features your fish finder has – because you may be pleasantly surprised by some of the options that these actually bring to the table!
NEW 2018 Best Portable Hand Held Fish Finder List
We have made some major changes this year to our list of the best portable fish finders – adding some really nice options. Below is a quick list of our top recommendations, with a much more in-depth review about each below this chart.
The Best Portable Handheld Fish Finders
Our List of the Best Portable Handheld Fish Finders
Venterior Portable Fish Finder Reviewed
UPDATE 2017-2018: NEW LIST ADDITION!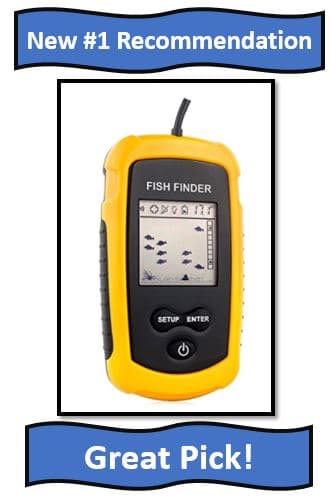 We always promise that we do our best to update our lists and reviews when we find products worth mentioning and without a doubt the current Venterior portable hand held fish finder is one of those products we've just become aware of that definitely should be on this list.
There's a lot of neat ways this one can be used. It can be attached to a boat, but it can also be floated out, attached to a pole and get readings in the water around it, or even used for accurate ice fishing numbers to help you know what's really down there and looking at your bait.
Measured from the accurate and effective sonar sensor, this can measure water that is as shallow as 3 feet in depth, and claims to be able to hit up to 300 feet. This is quite a range, and the fish finder itself comes with a transducer float as well as a 25 foot cable, giving you the ability right off the bat to use its unique features to really test the waters around your fishing area no matter what the situation and figure out how to tackle your next angling challenge.
The Venterior fish finder is designed with a popular TN/Anti-UV LCD display that is illuminated via green LED lighting. The temperature range is also very impressive as the company says this can work from temperatures as cold as -4 degrees Fahrenheit all the way up to a beyond sweltering 158 degrees Fahrenheit, giving it one of the largest temperature operating ranges you're going to find for any type of fish finder.
That being said the company does state that at the extreme end of those ranges things can get buggy if kept at those temperatures for long periods of time.
While it might not overthrow our top picks on this list, this is another great option worth looking at when you're considering getting one of the best hand held fish finders around.

Deeper Smart Sonar Pro+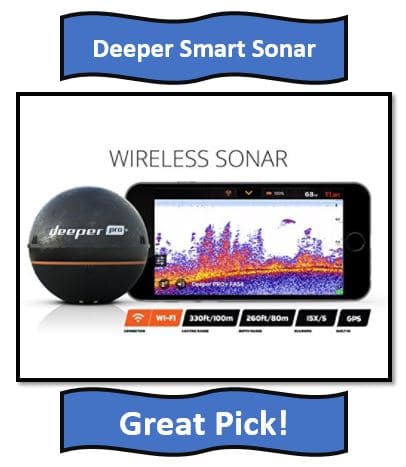 A great option for a portable fish finder is using the most updated Deeper option – which is the Deeper Smart Sonar PRO+.
This option allows you to connect the sonar to your phone – and is compatible with both iOS and Android.
It is Wi-Fi connected, but it doesn't require an internet connection or use your cellular data. The connection range is top notch – allowing you to connect from 330 feet away!
From a depth stand point, this fish finder can gather data from a water depth of up to 260 feet. This option is great for both shore fishing and kayakers or boat fisherman.
This option also has a mapping feature that you are going to want to play with – and has incredible reviews from just about everybody that uses it.
It even has an ice fishing mode that you are going to really enjoy.
It is a little bit more expensive, and we are going to recommend not dropping your phone into the water, but this is a great portable fish finder – and since you are using your phone, we are going to call it a hand-held fish finder as well!

Lucky Portable Fishing Sonar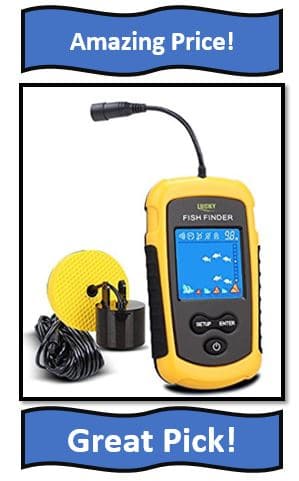 Another new option to our 2018 list is the Lucky Portable Fishing Sonar. It delivers a great handheld screen, an effective transducer, and an amazing price!
The transducer reads depth from 3 feet to 328 feet and is attached to a 25-foot cable – and comes with a removable transducer float. It will effectively read information when you are on shore fishing, or fishing from a vessel traveling below 5 miles per hour.
You will be able to see things like water depth, fish location, weeds, and bottom features like rock and sand.
The fish finder has all sorts of neat little features. There are different sensitivity options, fish and fish school alarms, a backlight mode, and even a battery safe mode. You will be able to use this fish finder during the day and at night as well!
With new batteries, this fish finder will normally last between 4 to 5 hours.
Lucky does have a 12-month warranty for this fish finder, and the price is unbelievable.
It doesn't have all the bells and whistles of some of the other options, but it is a great portable fish finder for a great price!
I would highly recommend this option for people new to using portable fish finders that are looking for something effective, but easy to use!

iBobber Wireless Smart Fish Finder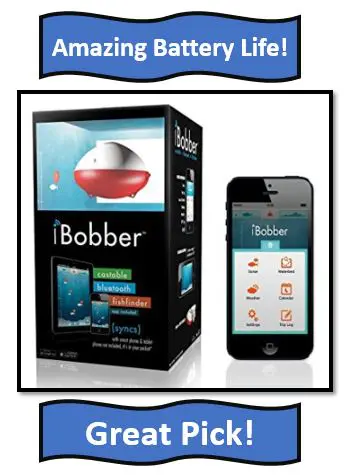 If you are looking for an affordable fish finder that you can use in conjunction with your phone, the iBobber Wireless Bluetooth Smart Fish Finder is a great option for you.
This fish finder comes with a transducer that looks just like a bobber, and it will connect to your phone via Bluetooth technology from a distance of up to 100 feet. This works on both iOS and Android, so you shouldn't have any problems connecting your device.
It will read water depths of up to 135 feet, and you have a raw sonar or fish tagging view you can pick from. You can also get a nice mapping of underwater structures, and you can also tag different spots via your GPS.
Other neat features include a trip log where you can log information, a lunar calendar, and weather monitoring…plus fish strike alarms.
To me, the biggest selling point to the iBobber is the great battery life it comes with. The battery life is 10+ hours when fully charged, which is amazing for a Bluetooth or Wi-Fi connected fish finder!
This is a great option if you are looking to use your phone as your hand-held fish finder, and you are also looking for an affordable fish finder with a great battery life.

Hawkeye Portable Hand Held Fish Finders Reviewed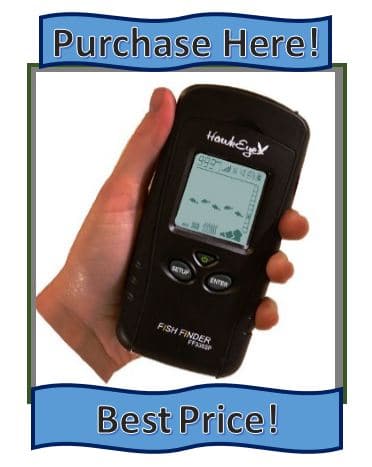 One of the best portable handheld fish finders from a pricing standpoint is the NorCross HawkEye F33P Fish Finder. This fish finder has been on the market for a few years, and has a very loyal following, and for good reason. It can read water depths from a mere 1.5 feet of water (shallow stream level) up to approximately 100 feet for those deeper lakes.
Besides water depth you can also see fish, weeds, and get readings on the overall shape and contour of the bottom, helping give you the information you need to make smart decisions about lure use and style of fishing.
In addition to this, there is a fish alarm that will help notify you when fish swim under the sonar sensor. The floatable sonar sensor is attached to 35 feet of cable, which is perfect for on shore fisherman that want readings from a good deal of distance away from shore while getting the information they need to know where to cast and how to give themselves the best chance at that exceptional catch.
The key to using this fish finder is adjusting the sensitivity settings correctly. While this can be a touch frustrating the first couple times you try it, this is a great product and it's definitely worth taking the time to learn the right adjustments. This particular portable fish finding unit has four different sensitivity settings.
Sensitivity settings:
Clear water
Dirty water
Deep water
Salt water
While clear water is pretty self explanatory, it makes sense that dirty, deep, and saltwater settings will require a higher sensitivity in order to get accurate details. Higher sensitivity settings does mean you will get false readings from time to time, but the benefit you get from more accurate readings more than makes up for the occasional false flag. Obviously the cleaner the water, the lower the sensitivity level can be set to get accurate readings.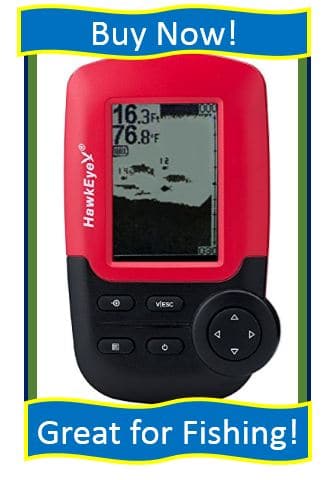 The downside to this option is the screen doesn't read as well as some of the other options and it does not read water temperatures (which is really valuable information for fisherman and recreational kayakers).
The price is really hard to beat, so we would recommend this fish finder canoers or kayakers that are interested in water depth and for fisherman who take a few trips a year, but don't want to spend a lot on a fish finder.
This particular design comes with a two year warranty, and customer service reviews have been very positive. The company backs up its product and you should have no trouble getting warranty coverage in the unfortunate event that you will actually need it.
Hawkeye also released a new model that gets rid of some of the flaws associated with the NorCross HawkEye F33P Fish Finder. This newer model is called the HawkEye FT1PX FishTrax Portable Dot Matrix Fish Finder. Right off the bat it's worth noting that this upgraded model is more expensive, but the dot matrix screen makes it very easy to read, and it has the ability to read water temperature. That's more data and it's frankly really nice to see a company producing outdoor gear that has obviously taken the feedback from their customers into account in order to tackle the issues they had and try to improve upon their products.
This particular top rated fish finder is a great unit for fisherman because the unit will display fish as icons with a depth reading beside it. Basically, for the more serious fisherman or outdoorsman, this is a better option than the older NorCross Hawkeye F33P.
There are other portable hand held fish finders that are wireless or make this list but right now if you're looking for some of the most reliable and high quality options these really are the best ones we know of (as of this writing). That being said, always check back for more options!

Signstek FF-003 Portable Fish Finder Review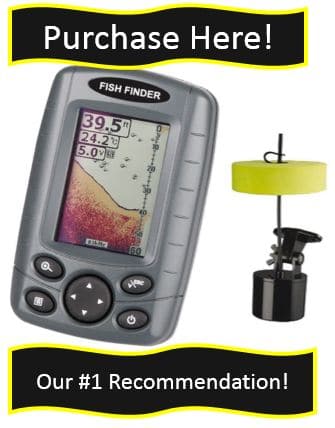 This is a very highly rated portable fish finder on the different review sites we checked out, and we can see why. It's very easy to use – just hold on to the screen and cast out the sonar sensor into the water. This fish finder works in both fresh and salt water, giving it a versatility that a lot of us will appreciate.
We really like the colored screen which presents a clear picture and works well in sunny conditions. The ability to show a wide range of different colors and blends (they claim an amazing 512 different shades of color can be shown) helps paint a very clear picture of what you're looking at when using this device.
In addition to the great display screen, this premium portable hand held fish finder is also programmed to read water depths from 2 ft. to 240ft so if you find a place to fish that doesn't meet those standards, you probably need to make it back to shore.
That is quite a range! Depending on what type of fish you're going after, the depth information can help you make an educated guess on the best place to find them. In addition to this, you can also get data about water temperature (which many other units do not offer) and you get to see what type of structure is at the bottom of the body of water.
If you can increase the number of fish you catch and cut down on the number of snags while shore fishing, that's a win-win situation all the way around.
The Signstek FF-003 Portable Fish Finder will also receive very high marks when it comes to its overall battery life. This particular model requires 4 AAA batteries, but it can also run 5-6 hours at a time for multiple days in a row with very few issues and sometimes none at all. That's a lot of juice coming from some pretty small and easy to replace batteries.
The transducer can be permanently mounted to a boat with the appropriate instructions included in the owner's manual. However, doing that kind of defeats the purpose of having a portable fish finder. To each their own.
You can also attach the adapter to a broomstick handle. This allows you to maneuver the sonar to give you readings under docks, boats, or you can use this technique when ice fishing, making it an extremely popular portable ice fishing fish finder. There aren't very many that can answer the call when someone looks for this specific of a fishing aid.
The manufacturer does include a note that extreme cold weather is hard on the electrical components of the fish finder, so they recommend keeping the unit in temperatures above zero degrees when in operation. This is our top choice for serious fisherman or anybody that needs an easy to view, easy to use portable fish finder. It is also a very good choice for your conventional shack setup for ice fishing.

Garmin Striker 4 Fishfinder w/ Portable Kit Reviewed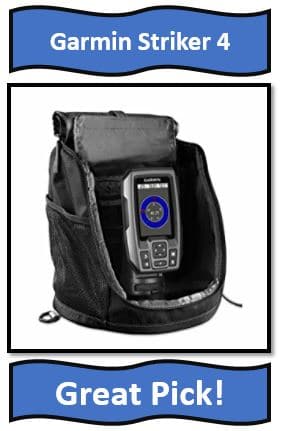 2018 New Addition: And we have another new entry into the mix! While not as perfect a fit to the handheld side of things as others on this list, the focus on having a portable kit definitely makes a high quality Garmin Striker a portable fishfinder that we need to add to the list.
Garmin has a reputation for outstanding GPS, fishfinder, and other outdoor electronic products and this one does not disappoint. Focusing on what they call "the power of simple," creating an easy to use interface that comes with 3.5, 5, and 7 inch displays.
Using chirp sonar technology and offering a waypoint map and built-in flasher, there's a lot here to like if you are going to be fishing. This combination of features is outstanding for most anglers but in particular is going to be especially useful or amazing when it comes to vertical jigging or ice fishing. This is ideally suited for both, and the portable set up means you get the full power of the Garmin Striker 4 while also enjoying the full mobility you want.
Major features of this model also include the CHIRP fishfinder, GPS, a 3.5 inch color screen, and the carrying case itself isn't cheap – it's a well made piece of gear perfect for canoe, kayak, or ice fishing.
An outstanding option that we are proud to add to this list of our top rated handheld fishfinder options.

Handheld Fish Finder Tips
Here are just some basic tips and important information to know when you are purchasing a Portable Handheld Fish Finder. If you are looking for a Bluetooth Portable Fish Finder, check out this list.
When using these products for ice fishing, we do recommended using lithium batteries because they work much better in cold weather. As Shane can tell you from his Alaska days, extreme cold can brutally annihilate the batteries of electronics.
You cannot test these depth finders in bathtubs, buckets, or anything like that. Unless they are in an open body of water they do not read depths accurately. You will get an error message or no reading when trying to test it outside of open water.
These fish finders do not get accurate readings through wood, plastic, or composite materials.
Thick ice can also cause issues.Temperatures below 0 degrees are extremely harsh to the electrical components.
Portable Fish Finder Frequently Asked Questions (FAQ)
Q: Are portable fish finders any good?
A: These aren't the old fish finders you remember as a kid from 20-30 years ago. Portable fish finders have come a long way from those early models and as this article shows, there are several outstanding options when it comes to finding a handheld portable fish finder that works well and will help you get the most out of any fishing excursion.
Q: What's the difference between boat fish finders and hand held fish finders?
A: Ones built for boats tend to be larger and bulkier, and while its true many can offer a little bit more information and detail, or a larger screen, they also require specific setup. Hand held fish finders are just that: they can work with a battery and a simple setup that then allows you to use them whether on shore, ice fishing, or even trolling on a boat with an electric motor.
Q: Which portable fish finder is best?
A: This is going to depend on what your specific needs are whether it's a larger than normal depth, ability to clearly read through ice, or a model that can hold up to rapidly changing conditions. The good news is that there are several outstanding options, as this article shows our picks for the top choices currently in the market.
Q: How do portable fish finders work?
A: A combination of sonar and GPS to help map where you are, where the fish are, and to sense where the bottom of the lake or river is versus bodies moving through the water (the fish you're after). While they're not 100% perfect they are an important tool for any devoted angler looking to get the most out of their time on the water, the shore, or the ice.
Q: Why get a portable fish finder for ice fishing?
A: This seems like a strange question. Can you really think of a better place for a fish finder? You need to drill/auger out a large hole, set up a shelter, and prep all your equipment and then you're stuck in that one area. Don't you want to make sure it's one that actually has some fish before going through all that work?
Q: Do portable fish finders have GPS as well?
A: Many do, but you need to check them on a case by case basis to see if that's true of the model you are looking at or what level of GPS is actually available.
Final Thoughts
There are so many great usages for these fish finders. Recreational canoers and kayakers can use these tools to find out water depth and temperature, while fisherman have opportunities to get fishing data from places that weren't available in the past. I do wish I had these fish finders when I was younger, but it is better late than never! If you are looking for some fun places to take your portable fish finder too, check out these awesome kayak trip ideas from the National Forest Foundation!
Also feel free to watch this great video from HawkEye about their portable fish finders!

Other articles of interest you may like: