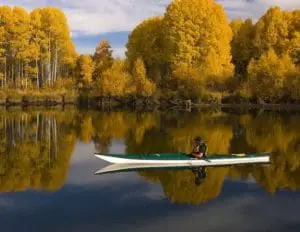 While we were doing a lot of research on portable and Smartphone accessible fish finders, one brand name kept coming up over and over again. That brand would be Deeper, who really was the leader in bringing smartphone and table fish finding capabilities to the masses of anglers who needed it.
Deeper currently has 3 different portable fish finders available to consumers. The classic version is the Deeper Smart Fishfinder 3.0, and they have also released The Deeper Pro and The Deeper Pro +.
There are a lot of similarities between these three fish finders, but there are also a lot of subtle differences that make each of these versions better in different circumstances.
The type of fishing you do and the area you prefer to do it in can make a huge difference when it comes to figuring out which one is the best Deeper portable fish finder for you and your specific angling needs.
*MAJOR UPDATE FOR 2018 – One of the big reasons we are huge fans of Deeper is because they are always refining and improving their products! As of the Spring of 2018 – Deeper is not actively promoting the 3.0 version anymore. That version is available for sale from numerous different vendors on places like Amazon – but they are not the most up to date options from Deeper anymore.
New to be released in 2018 is the Deeper START – which we will review in much more detail below!
We hope this Deeper fish finder review will help you determine which one of these options is the right one for you!
Deeper Product Recommendation List
We put together a quick list of the Best Deeper Fish Finders & Other Products from them. Below this list is a much more detailed review of each item – so please enjoy!
The Best Deeper Fish Finder Products
Our list of the Best Deeper Fish Finder Products
How These Deeper Sonar Work
It is very easy to use all of these Deeper Sonar options. It takes about 10 minutes for you to setup. All you do is pair your smartphone or table with the sonar by following the easy to use included instructions.
Once it is synced up, you cast the sonar from shore, troll it from your kayak, or even drop it into the ice if you are ice fishing. The sonar easily attaches to most fishing lines and can be reeled in very easily.
Once the sonar is in the water, you will start to get data transmitted to your phone that includes things like water depth, fishing structure, and of course visuals of actual fish.
You can also map this data as well!
It is that simple! And that simplicity is why so many people love using these Deeper Sonar options instead of traditional fish finders!
The Deeper Smart Sonar PRO & Deeper Smart Sonar PRO +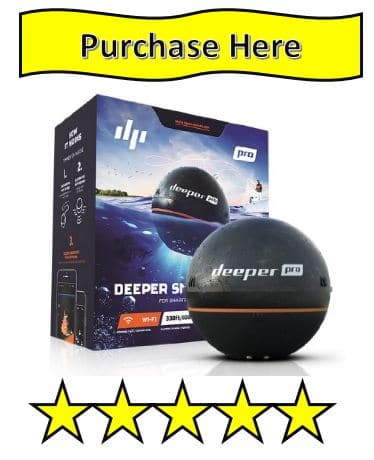 These are the more updated versions of Deeper's portable fish finders. They work just like we mentioned above where you download the app, you still cast out the transducer, and it transmits data to your mobile phone or tablet.
One of the big difference is that both of these versions actually used a Wi-Fi connection instead of a Bluetooth connection to connect to your tablet or phone (the Original Deeper used a Bluetooth connection, and many other device connected fish finders also use Bluetooth).
What that means for you is that these fish finders will actually stay connected to your phone from 330 feet away instead of the 130 feet or so the Bluetooth connection works for.
This allows you to gather data from a lot further away from shore and that your readings from close to that cut off mark will be much more accurate, which is definitely a plus for many anglers.
The Wi-Fi connection comes from the sonar you cast out (it is built in) so you still won't need an Internet connection or data from your cell phone plan. Just make sure the Wi-Fi on your device is turned on and connected and you will be set to go.
Not to get to technical, but another big difference between these two version and the 3.0 Bluetooth version is the frequency and details provided by the sonar. These versions scan more often, and provide greater and more accurate detail to your screen. Basically, you get more accurate information and a better picture with these two versions.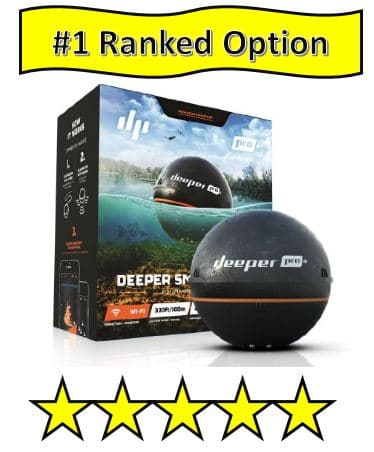 One last major difference between these two versions and the 3.0 is the battery charge cycle. Every 2 -3 months you will need to make sure the battery is recharged on the Deeper Smart Fish Finder 3.0, even if it hasn't been used. It is a 6 month recharging cycle for the other two versions.
So what is the big difference between the Deeper Smart Sonar Pro and Deeper Smart Sonar Pro +? The Pro + comes with an awesome GPS enabled mode that allows for very advanced mapping options. This version's internal GPS receiver lets them create bathymetric (that is the really fancy term for underwater topography) maps while you are fishing on shore or off shore. These maps are incredible and a huge reason why we would recommend the Deeper Pro +.
These maps it creates are real time, and can even be saved so you can study them in offline mode! If you really want accurate information, and you really want to create the most accurate maps possible, the Pro + is the best version for you. If you don't need maps that are quite that accurate, but you want a better picture and the ability to gather data from further distances, than the Deeper Smart Sonar Pro Option is better than the 3.0 version.
Both the Deeper Pro & Deeper Pro + are great options for ice fishing as well!
If you are looking for something a little bit different, check out these other portable fish finder options!

Deeper START Fish Finder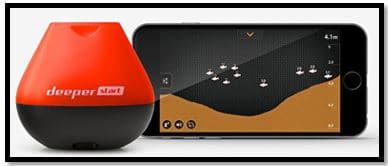 The Deeper START Fish Finder is going to be launched in the Spring of 2018 according to the Deeper website, and is going to be a great fish finder for on shore anglers!
***UPDATE*** – The Deeper Start is here now and ready to be purchased to make your on shore fishing experiences as enjoyable as possible!
It is going to use a Wi-Fi connection to connect the transducer to your phone, and the connectivity range is up to 165 feet!
The scan depth is up to 165 feet – which is way more than I'm going to need for my favorite fishing spots.
The sonar scans 10 times per second – which allows you to cover a large area and get back incredibly accurate data!
The fish icons are going to be tagged with size and water depth data, which should help you use the right fishing technique to land some big fish!
As soon as this product is launched, we will provide some more information!
The Deeper Smart Fishfinder 3.0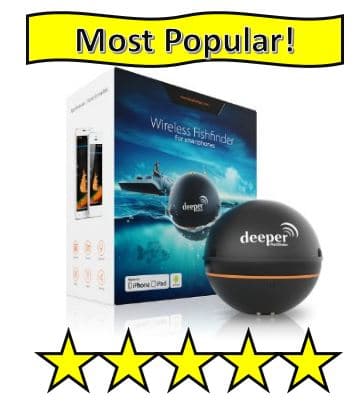 *REMINDER – this version is still very effective and is sold by many different vendors, but it is out of date when compared to the Deeper Pro & Deeper Pro+…..as well as the new Deeper START.
A best Deeper fish finders list definitely has to start with the original 3.0 model. What is really neat about this fish finder is it is actually made to use with your smartphone or tablet. When you buy it, you are buying the necessary software and the transducer that will be placed in the water. Obviously you need to supply the smartphone or tablet yourself, but nowadays that's not going to be a problem for most of us.
The first steps will be downloading the app to your phone or tablet and making sure all software is up to date.  The sonar/transducer that you will be putting into the water is actually a small black ball that weighs about 3.5 ounces. You can actually tie the transducer to an extra fish rod and cast it out into the water to start gathering data from a little distance from shore.
The transducer you cast out connects to your smartphone or tablet by using a Bluetooth connection. Fortunately, this connection does not require an Internet connection and does not use any data from your data plan, which definitely is a major plus as far as I am concerned! One point worth mentioning is that the Bluetooth connection works to distances of about 130 feet, so don't cast out the transducer too far.
This fish finder will work in water depths of about 2 feet to 130 feet, and should work in both fresh and salt water. Water temperatures are also measured, and you will start seeing bottom structure on the screen of your smartphone and tablet right away.
The app also has some cool features like a solunar forecast calendar (if you believe fish move differently based on the moon), offline maps, weather forecasts, a camera, a day and night screen color mode, and even a social media sharing button. That's a lot of variety all from one smart fish finder.
This is the cheapest of the Deeper Fish Finder options, but it still provides the data and information that most people need. There is a reason this is the most popular version of Deeper's portable fish finders, and chances are you won't be disappointed by it.

Other Deeper Products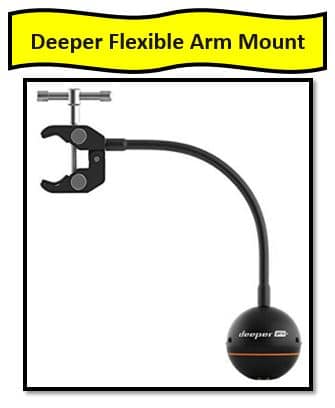 Deeper also produces some really cool products that aren't sonar – but are built to make your Deeper Sonar products more effective!
The Deeper Flexible Arm Mount allows you to troll your Deeper sonar from your boat or kayak. Your sonar is attached to the flex arm, and the flex arm gets clamped to your vessel – allowing you to create some great maps while fishing!
The clamp has been upgrade from when it was first released, and it can be fastened to any object in your water vessel that is 2.7 inches thick or less.
The arm is flexible enough to be positioned in a number of different ways to ensure that the sonar stays into contact with the water.
There is also a security strap that you will want to place onto the flexible arm mount and secure to the vessel – basically making sure if the clamp fails for some reason, you won't lose your mount with the Deeper Sonar connected to it.
This will be a great addition to anyone that is planning on using their Deeper Sonar while in a kayak or a boat!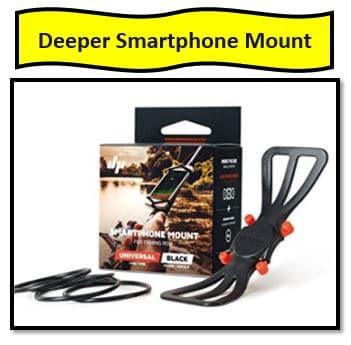 The Deeper Smartphone Mount is another great add-on product from Deeper! This product is built to mount your phone to any fishing pole. This is going to allow you to have the information from your sonar right in front of your face, but also allow you to keep both of your hands free for fishing!
Two important notes with this product – 1.) with iOS devices you can use the mount both horizontally or vertically depending on how you like to see the data. Android devices need to display the information horizontally.
2.) Before you start casting with your phone attached, make sure you shake the rod multiple times to make sure everything is mounted correctly. We don't want your phone flying into the water.
The instructions are very easy to follow, and you shouldn't have any problem connecting your smartphone to your fishing rod!
For those of you that really enjoy night fishing – you need to take a look at the Deeper Night Fishing Cover. This night fishing cover replaces the regular cover that goes on the sonar – with this specially designed cover being able to light up when the night fishing mode is selected on the Deeper App.
Basically, this product is designed to make sure you increase your visibility at night and during poor visibility conditions to map fish to the best of your ability!
The last really cool product that Deeper makes is a Winter Smartphone Case. This case was obviously created for people that enjoy ice fishing, and using their Deeper Sonar to help catch those fish!
The case is designed to protect your phone from the elements, help protect your phone's battery, and give you something very easy to hold onto.
These different products are nice add-ons to help your Deeper Sonar run even more effectively…and at night too!


Final Thoughts
These are the best Deeper Fish Finders available for purchase. Each one is a little bit different, but they are all some of the best portable fish finders that money can buy. You will get more accurate information from some of the state of the art 3D fish finders that are mounted to boats, but they are not portable and they cost a heck of a lot more. If you need the mapping capabilities, the Pro + will be the best option for you. If you are more interested in just have a portable fish finder that will really provide you with accurate information, the other two options are really really good.
If you are in the need for more traditional fish finders, take a look at some of these other articles we wrote:
The Best Fish Finders for Under $300
If you want to learn more about Deeper Fishfinders – check out this useful YouTube video.