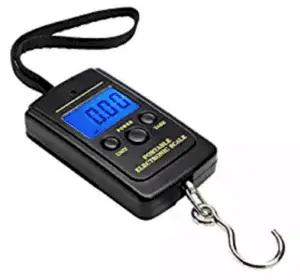 While I was thinking a little bit more on tips, tactics, and pictures where I show off my history of catching impressive hauls of northern pike and/or walleye (and those posts will still yet come at some point), in my 100 posts reflection I said I wanted a lot more posts on fishing and well, this certainly counts!
The hardest part for me will be not overusing the term "fish scales" which can be confusing for obvious reasons. Thanks to whatever biologist named flecks of fish skin the same as the device to weigh them.
While you know a good fish when you see it, sometimes you want to know what that weight is right now and a portable fish lip scale lets you see that information, gives you a solid number to work with, and if you're like our group ("$20 everyone, biggest fish wins") you don't want to be eyeing two 24 inchers to see which one is slightly fatter (Note to Jon: It wasn't yours and you know it, you cheating bastard). Avoid the instantaneous family feuds and make sure to pack one of these outstanding portable fish lip scales into your tackle box before the next trip.
You have a great protective fishing rod tube to protect your best rods, now make sure you get one of these scales to take care of any on the water weight disputes!
Read on to see our picks for the top models currently available to all our fellow anglers out there.
Top Rated Fish Lip Scales
There are many great portable fish scales on the market, and while we are doing our best to bring you the closest to a solid top 10 list we feel comfortable with, as always it does come with a few caveats for our fellow freshwater and saltwater anglers.
Always remember that this industry can change quickly so while we update whenever we can, it's absolutely possible that any 'hot new fish scale' that comes out of nowhere and begins to gain popularity will be a worthy addition to this list months before we catch up to it. We also want to remind everyone that we all have different standards when it comes to what is "best."
We'll do our best to give you the top options around, and beyond that we hope you find this a really helpful and informational starting point, if nothing else!
Dr. Meter Portable Hanging Hook Fish Scale
No matter where you go online looking for a high quality portable fish lip scale, Dr. Meter is frequently mentioned as one of the best options out there, if not the premium option, and it doesn't take much investigating to see why. We have to agree – when it comes to finding a reliable and sturdy fish scale you can trust, this is as good as they come when it comes to portable options.
Right off the bat this is a very sturdy option, which has been tested and approved for fish weighing up to a very impressive 110 lbs, or 50 kilograms. A large LCD display with a supportive glowing background means it is extremely easy to see the numbers clearly. There is a built in tape measurer to go with a fine steel hook that is the reason this scale is capable of holding so much weight.
This scale is easy to read whether it is night or day, and although it does require 2 AAA batteries, these do come with the initial purchase (though obviously this also means you will want extras back at camp in case the power starts draining after a long period of time). Multiple anglers have spoken of how remarkably accurate the Dr. Meter fish scale is compared to many certified shore scales, and this comes with a one year manufacturer's warranty.

ReelSonar Digital Fish Scale Tape Measure
ReelSonar is a name many anglers will recognize, and while it's not quite up there with Rapala or Bass Pro, it's not hard to see why so many outdoor enthusiasts love the products that ReelSonar puts out. This digital fish scale and tape measure gives you a quick and effective way to get a good measurement on your most recent catch, make sure its legal, or maybe even have one of those rare moments to see if you might be flirting with a state, national, or world record.
The ReelSonar digital fish scale comes with a built in tape measure that comes out to a full 39 inches, while it can handle weights of up to 45 kilograms, or 99 pounds. This is a great combination and the information comes up on an easy to read LCD screen with a full digital display. A stainless steel hook gives the strength needed to weigh a large fish pushing that 100 pound mark and the lip grabber is removable.
Offering high end premium features at a truly value level price, this portable fish scale automatically shuts off when not in use to save on batter life and has a remarkable 500 hours of life on the battery. There's a reason it's currently #2 on our list!

Next-Shine Electronic Digital Hanging Fish Scale
The portable electronic digital fish scale from Next-Shine looks great with it's sleek aesthetics and easy to see digital readout, but its quality goes way above and beyond. The sensors are high precision and accurate to within a mere .01 lbs (.005 kg) and this scale is good for fish up to 88 lbs in weight.
Made for outdoor use in so many different conditions, which means it is not only lightweight and compact but it is also durable so it will stand up against multiple uses over the test of time – no matter what the outdoor conditions.
This digital scale has a clear read out screen with a blue-black display setup, warnings for low battery or overload, and automatic turn off functions that will help to preserve battery life and keep it working when you actually need it the most.
Add in a 30 day money back guarantee and a solid 1 year warranty to boot and it's not hard to see why this outstanding boat fish scale makes our list.

Rapala 50lb Digital Scale
Rapala is a name that is extremely well known in the fishing community, especially if you like going after those predatory big game sports fish like largemouth bass, northern pike, and even large walleye in some locations. While they're best known for their crankbait lures, a sub-niche where they're definitely king of their space, they make a very solid portable fish scale, as well.
One thing that will stand out immediately is that Rapala doesn't care about looking fancy or having the best bells and whistles. Just as with their lures, they're all about providing simple but effective solutions for any fisherman's needs.
This fish scale is a simple digital read out with black letters on a gray background. It's compact with the dimensions coming out to 1.8 x 4.8 x 9.9 inches, as well as lightweight at a mere 6.1 ounces. Measuring in both pounds and kilograms, this scale can measure as precisely as tenths of an ounce up to a full 50 lbs for large catches. There's nothing super sleek or high end about this Rapala portable scale: but it is powerful, effective, and gets the job done.
Requiring only one single 9 volt battery, this portable electronic scale will be more than enough for most anglers and allows you to have a quick way to measure your catch while out at the favorite fishing hole and settle those biggest fish bets among a group.

WiseField 50kg Digital Fish Hanging Hook Scale
While they're relatively new in the field compared to many of the other digital fish hook scales that are on this page, even a quick cursory examination of these fishing scales makes it easy to see why they've become so popular in such a short time. This is an extremely high quality digital scale and one that most anglers will absolutely love.
The WiseField hanging hook fish scale is good for fish up to 110 pounds in weight (50 kilograms), and the design offers two options for a solid steady no-slip grip while an LCD display with blue backlight means it will be easy to see the numbers no matter how sunny or cloudy it is.
That's reliable weight information that comes in fast. Requiring only 2 AAA batteries (which are unfortunately not included), this scale is extremely easy to use, gives very accurate readings, and even has a natural power down so you're not wasting battery life when you don't need to use it. After two minutes of inactivity the scale shuts off.
No one should be surprised by just how popular this excellent scale has become with freshwater fishing anglers across the country and we expect this positive press for this portable digital fish scale to continue.

Rapala 25 lb Tube Scale
This really is a true old school portable fish scale model, and one that you just don't see around as much anymore as more people go with the many digital options out there. However if you don't care at all about bells and whistles and you just want a great portable fishing tube scale that works, then this offering by Rapala is the one for you!
Featuring a stainless steel hook and operating with a classic spring handle & aluminum tube setup, this is the type of boating scale that many of us grew up with whether fishing the Mississippi River with Grandpa, hitting the side trout creeks in northeast Iowa, or tackling whatever your local favorite freshwater fishing hole is.
This is simple, to the point, and measures in both pounds and kilograms without having to rely on batteries or electronics so you know this simple yet long standing (not to mention effective!) design will hold up against the test of time and is an extremely inexpensive option that can last for many years if properly taken care of.
Needless to say, these are also among the least expensive options since they don't require electronics or batteries, and that also saves you money in the long run since you won't have to replace them as often, either.
There's a lot to love about this simply but effective portable fishing scale so make sure to grab one before your next outing!

Entsport Fish Lip Gripper Fish Scales
Entsport has a strong offering here with a fish lip gripper that has plenty of strength to grab and hold fish up to 15 kilograms (33 pounds) in weight, as well as an attached measuring tape. This isn't the best pure scale, but its versatility will more than make up for that with many anglers who want the most possible uses out of every bit of equipment.
The metal is a strong stainless steel that is resistant to corrosion, and the retractable tape measure is attached at the jaw. This is an easy to use design and you should have no problem using it even with one hand.
In addition to being built from the highest quality of metals, the EVA handle is non-slip so no matter how much that fish thrashes and gets you wet, your grip will remain firm. The attached lanyard makes this fishing tool extremely easy to carry and to attach to your jeans with a simple carabiner. It's not hard to see why these Entsport tools are becoming increasingly popular with long time anglers.
There's a lot to like about this grip and it no doubt will continue to find more fans, especially as more and more anglers become aware of it.

Home Lake Digital 99 lb Fish Scale
This digital fish scale from Home Lake has not been around very long, but it is an impressive piece of fishing equipment that has already earned a reputation as being durable, accurate, and reliably functional.
The design definitely sticks out because of the distinctive coloring that isn't just aesthetic in nature, but also helps the numbers stand out against the green screen. This Home Lake digital fish scale is good for up to 99 lbs, making it one of the heavy duty portable fish scales out there, and a favorite for anglers who have a chance of catching an especially large trophy fish.
These portable scales have positioned themselves as the premium choice in the market for anglers who need something that is reliable, strong, easy to use, and has the light to work well at night because depending on what you're after there's no question that night is the time to be out.
These heavy duty digital fish scales are absolutely for the freshwater anglers (and even saltwater shore anglers) who want premium scales. Carbon steel makes up the hook and these are built to last the test of time.

Berkley Digital Fish Scale
Rounding out our list of the top rated portable fish scales out there is this digital fishing scale from Berkley. Another long recognized brand by experienced anglers, Berkley has a basic yet reliable digital fish scale that will work in a pinch.
Sporting precision accuracy that weighs accurately to within half an ounce, and is waterproof while providing the full weighing services you need when you want a quick and accurate read on just how big that nice catch is…which with about every single fisherman I know is right away.
Why wait? If you're fishing with friends then you might also have a friendly bet between the two of you about who has the biggest fish.
You can argue about which is a quarter inch longer or which one looks bigger – but the pure weight is the final number and one is going to be larger than the other. This gray scale with red buttons is a classic design and fully functional for what you need.
The biggest complaint is that some anglers think this is premium pricing for a basic hook scale, so keep that in mind while comparison shopping but if you love the brand then this is a great potential kick.

In Conclusion
You know when a big fish hits, but sometimes you just want a number to be able to put on it right then and there. As someone who did northern pike fishing in Ontario for years, it was funny how often a long skinny pike would turn out to look big but have so little weight to it while an ugly bumpy smaller one would send that needle up to the 10 lb range. Having a reliable scale on hand is important and in many places with strict catch and release policies based around weight you'll want to make sure to have your tools on hand.
Taking the time to pick out the right portable fish lip scale is not only fun and convenient, but it's an excellent tool that should always go along with you whether you're planning on just a simple morning on the lake or are planning a week long excursion with the family or old fishing buddies.
Fish Scale on Phone? Have You Heard of This?