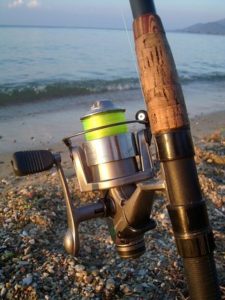 There's something special about spring time for those of us who enjoy fishing (especially if, unlike Dad, you don't live in Florida and can't fish 24/7 365 days a year). The ice breaks, the temperature starts warming up, and it is time to clean out whatever part of the garage the old fishing gear is being stored in. First find your protective fishing rod tubes. You know, the ones that are holding your favorite fishing rods.
Dust them off, re-spool the reels, check the overall health of the rods to make sure everything is in working order, and then it's time to start planning those fishing trips.
Whether it's a visit to a recently stocked trout creek, hitting the lake for some bass or walleye, or whatever your preferred fish are in your area after the ice break, you know when it's fishing season. That means breaking out those rods and reels, your favorite lures, and heading to your favorite fishing holes.
While the fishing rod is the obvious piece of equipment you'll need, the last thing you want to find out during the opening of the season is that you favorite rod (or rods) are damaged because you didn't take care to get a fishing rod tube to protect them. Read on to find our list of best fishing rod tubes currently available on the market!
Protect Your Purchase!
Hey, I don't have to tell you how much gets invested into even a small collection of good gear. The right rod and reel combination is pretty expensive in and of itself in some cases. And that's even before adding premium fishing line, lures, boxes, and everything else. Then, oh yeah, depending where you live, a boat.
So unless you're in one of the few areas where a good spearfishing gun is your fishing tool of choice, you will want to have one, if not several, good fishing roads that are perfectly set up for your preferred type of freshwater or saltwater fishing. The best way to transport them and keep them protected (and to avoid those oh-too-easy-to-get damaged tips) is to have the right protective tube.
Plano Fabric Rod Tube
The Plano fabric rod tube is one of the most popular choices for anglers looking for a solid but inexpensive option for protecting their fishing rods. Especially when transporting them from point A to point B or even packing them up for the long haul.
This rod tube's main base is designed in a solid tube made from durable polypropylene that is specifically made and manufactured to be resistant from pressure and crushing. Each end is covered with a dense foam pad that helps make sure all your rod tips are protected.
The outside is lined in a solid fabric that is both tough as well as water resistant in nature. In addition to this the fabric is colored a nice green that adds an excellent aesthetic to an already extremely functional rod tube. The handle to carry this fabric rod tube easily is made from solid nylon, and with a three inch diameter there should be plenty of room for one or more rods, depending on the thickness of the base of the fishing rods you prefer to use.
We've dealt with broken tips before and while it's not a big deal when you have a Dad who makes custom rods (seriously, he does, check out some of his work on the Facebook page for LMD Custom Rods), at least when we're by his work area. If you're traveling to a lodge on a lake in Canada where the only way in is a one hour boat ride then a few broken rod tips become a very big deal. Protect them!
These particular protective rod tubes are 48 inches in length, with a 3 inch width and height. While there are a lot of great options out there, we are huge on this one from personal experience, and that is backed up by online ratings and reviews that are frankly superb.

Adamsbuilt Fly Tailwater Rod Case
While the Adamsbuilt rod case might be second on our list, there is a very good case for arguing that Plano is 1A and Adamsbuilt is 1B when it comes to the best and most effective overall cases for protecting your fishing rods. In fact, we'd be willing to listen to any angler who made the argument that there isn't even that much separation between these two outstanding options.
The Fly Tailwater Rod Case is a touch over 30 inches long but has space for up to 30 inches of length (very important if you have particularly long rods). This is a single rod case that comes with a shoulder strap for convenient carrying and transport.
There are pockets integrated into the design for rod pieces in the interior, although no reel pouch. This is an impressive hard case that certainly holds up to initial tests and has the type of solid strength I want when protecting my fishing rods.
Each end has about 1.5 inches of foam to help make sure your rod doesn't receive any damage from bumping the ends during transport. The inside diameter is 2.25 inches, and while this one isn't as widely used as some of the others on this list, there is a reason that it has earned the #2/1B spot on this list. If you want solid protection for your fishing poles, you aren't going to be disappointed with what this one brings to the table.
High quality, reasonably priced, and it gets the job done. What more could you ask for? A well deserved #2 spot!

Plano Airliner Telescoping Rod Case
This is a design that definitely catches the eye, that's for sure. This telescoping rod case is adjustable, using a three tier design that combines with a remarkable 5 inch diameter to allow you to store not just one or two rods, but in most cases up to eight 7 foot rods. That is an impressive set up.
Depending on what you're carrying at the time you can fully extend this particular Plano Airliner protective tube case to be a full 88 inches in length or if you are only transporting the protective tube itself at the moment then it breaks down to 47 inches to make it much easier to transport to and fro.
In other words, it is a remarkably well built and very versatile design that is going to find a large number of fans among anglers, especially among those of us who understand the importance of being prepared and carry multiple fishing rods with us wherever we go. The hard sided case should be more than enough to protect all of your favorite rods during bus or airline travel, and you are going to be very hard pressed to find any other design that comes even close to offering the same amount of space and thus the ability to transport the same number of rods.
Speaking of travel, there are some basic holes drilled into the design. You'll need two basic locks to secure the tube, but that's it: you won't need anything special. Among the telescoping rod cases we've seen, this is the one we've got to give the highest grade. With hundreds of positive reviews from happy buyers, it's not hard at all to see why this choice is an outstanding addition to the list.

Redington Single Tube Case
Featuring a classic but effective hard shell design, this basic protective tube for fishing rods might not be flashy, it might not have an eye catching design, but it is effective and gets the job done. These cases are designed to hold rods up to a length of about 27 inches on the inside once you mark off for the necessary foam padding on each side.
It's important to note that while this case can be used for several different fishing rod designs, this Redington case in particular is designed to carry a 9 foot long 4-piece fly rod. The section of these rods are 2 feet and 3 inches, or 27 inches total.
While the overall length of the Redington protective fly rod case is 31 inches, that's the total amount. Make sure to only use this with rods whose sections are 27 inches or less otherwise you will find yourself in a situation where they don't fit or there's bending, which risks damage and really defeats the purpose of having a protective carrying and transport case for your fishing rods.
An adjustable shoulder strap for easy carrying is a nice benefit while reinforced plastic caps at each end means you can rely on this tube doing the job. As long as your fly rod fits perfectly, you'll be extremely happy with the quality of this case and the job it does.

Allen Riprap Fishing Rod Case
Another great addition to this list, it's obvious right from first glance that this is a very different type of carrying case from many of the others on the list. While most of the protective rod tubes on this list are designed only to protect the broken down fishing rods, they don't have any space for the reel.
This case is designed specifically to fit spinning rods of up to seven feet or can also work with the right type of 4-piece spey/switch fishing rods all the way up to 13 feet. The key is making sure that the individual parts of the broken down rod aren't too long for the case.
While the "side bag" that gives this case room for the reels is made of a tough nylon cloth, the tube section actually holding the rods themselves are made from a harder material that is built so it won't be crushed or damaged.
This allows the full level of protection you need for the more thin and delicate sections of your fishing rod while also eliminating the inconvenience of having to find another way to transport the reels.
Featuring a classic olive color this fits right in with the other gear many other outdoor enthusiasts are likely to have or use and a padded handle means easy carrying. There is also a clear plastic ID window which is definitely convenient if you're flying and need to quickly ID what is yours, or simply prove that it is.
This model is a bit more expensive than some of the others on the list but there's no denying a certain convenience here that the other models will not be able to match. Because of that for some of us this is worth the extra little bit of payment.

Plano Adjustable Rod Case
Plano appears once again on the list and while this version of an adjustable protective rod case couldn't quite make it as the highest rated we have, there's no shame in coming in second to another model from your own company.
Bronze is pretty dang good if your brothers are gold and silver. This 3″ adjustable rod case comes in a stark white color that definitely sticks out and frankly kind of reminds me of the PVC pipe experiment my dad had to create his own protective case for his collection of fishing rods.
This case has received high marks for being able to hold rods up to 8.5 feet in length, and this is a reliable, simple, but effective design that gets the job done without too much fuss or confusion. The adjustable fishing rod case comes with a Plano brochure as well as a nameplate order form. Each end of this design has foam padding to protect rod tips and can also be locked for that extra bit of security.
While in general the materials used would be waterproof because there are small holes for adding locks or for adjusting the length, if submerged this will take on water but if your fishing rod tubes are all submerged in a lake chances are you've got much bigger problems going on at that point.  A limited lifetime warranty backs what is sure to be more top notch craftsmanship.

Flambeau Outdoors Bazuka Rod Case
Flambeau certainly wins the award for most attention grabbing name out of all the options on this list. Winning praise from many anglers for being an especially sturdy design, the Bazuka is a telescoping protective rod case that boasts of a 5 inch diameter (plenty of room for multiple fishing rods as a result), and can go from 63 inches all the way up to 87, offering plenty of space for even some of the largest fishing rods.
In ideal conditions the Flambeau case can hold up to a half dozen 6.5 inch rods and the case boasts of being virtually indestructible, a boast that is hard not to take seriously as they have foregone any attempt to make it look like it has a basic cloth or leather cover.
This is a strong solid tube meant to protect the contents and it truly shows. The versatility of this case makes it extremely popular and it has a hinged door to make it easy to load or unload.
While this is convenient, the one knock this product has had is that every great once in a while those very same hinges will be damaged, which kind of nullifies the benefit of having a nearly indestructibly constructed tube.
However, for most anglers this is never an issue and the purchase is well worth every penny, with many reviewers commenting that while a touch on the expensive side, they see the value as being very much worth it.

Entsport Foldable Fishing Rod Bag
The last one on the list definitely is more about transportation as opposed to focusing on protection. There are plenty of good options for the latter on this list already, and even a brief review of Amazon will reveal more. Although I feel pretty confident that even a long search there will give you a list of a lot of familiar names after you've read this article.
However, when it comes to simply wanting and easy and reliable way to transport, the Entsport foldable fishing rod bag is a favorite among those who have tried it.
This bag is 45 inches in length and can be used to easily group together and transport your group of protective rod tubes, cases, and other similar materials. If you have four or five rod tubes to carry around, that can quickly become a giant pain in the backside.
On the other hand, with a good fishing rod (or fishing rod case) bag that was designed just for that type of transportation, you are going to be in much better shape and not have nearly as many potential issues.
While this is a very durable bag, it's also important to recognize it as what it is and NOT a substitute for an actual hard tube that will actually protect rod tips and the body of the fishing poles themselves.

Many Names for Fishing Rod Tubes
These outstanding pieces of protective fishing equipment come under many names. Whether you refer to them as a rod case, a rod tube, travel case, or something else completely, it's important to remember that you are protecting what is likely one of your most expensive (and important) pieces of fishing gear so you don't want to skimp!
This just scratches the surface, as well. There are many different fishing rod cases out there, and memories of my childhood include actual bought rod tubes from the sporting goods store but it also includes some DIY work with PVC pipe. The key is that at the end of the day you want to make sure what you have is going to work to protect your investment.
In Conclusion
You don't want to drop some serious money on your new fishing rods only to end up breaking a tip or seeing them damaged in transport. While getting a top rated fishing rod tube or protective holder doesn't have that sexy appeal as a brand new rod and reel combination, it's an investment you want to make. Protecting your best gear is crucial to getting the most out of your time out in nature, and getting a couple of these for your best rods will help you travel in confidence and make sure you always have your best fishing days ahead of you.
Personally I'm not as big on the DIY projects as others and I'd probably go with a proven one but if you guys are looking for one way of creating your own protecting case for your favorite fishing rods, this video is one of the best I've seen:
Video DIY Creating Fishing Rod Case