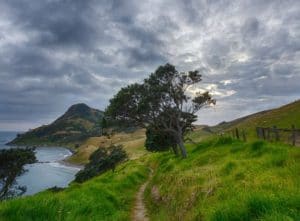 Long hiking trips are a lot of fun, and the best hiking trips often involve some fun camping at the end. If you are going to be doing some camping at the end of your hiking trip, a good hiking sleeping bag is worth the investment!
When looking for a good hiking sleeping bag we recommend buying something that is light weight and easy to travel with, but also a sleeping bag that will keep you plenty warm.
Comfort is important too, so making sure you buy a sleeping bag made out of comfortable materials is extremely important as well. To save you from the trouble of researching hundreds of different sleeping bags – we compiled our list of the best hiking sleeping bags.
Below is that list as well as a quick review on each one. Hopefully this review will help you buy the right option for your hiking adventures!
Teton Sports Sleeping Bags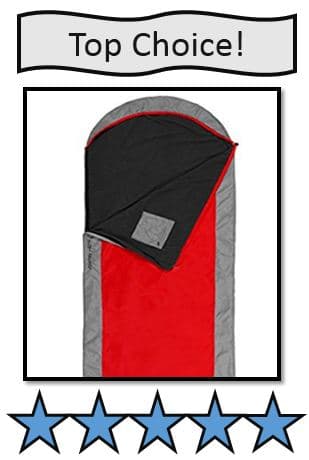 Teton Sports makes some really good sleeping bags for hiking. The lightest sleeping bag they make for hikers is the Journey +40ºF hiking sleeping bag.
This sleeping bag is designed for summer hiking, with the +40ºF rating meaning that you should be plenty warm inside the sleeping bag as long as the outdoor temperature is 40 degrees or above.
If the temperature is going to be below that, you will want to look at different options.
The Journey +40ºF sleeping bag is great for hikers because it weighs an unbelievable 2.3 pounds!
This light sleeping bag will allow you to hike comfortably and conserve that packing space for other things, while still providing you with plenty of comfort (the pack size is also 11"x 6" x 6").
Size wise, you are looking at a rectangular sleeping space of 90 x 33 inches. It also has a mummy-style hood that keeps your pillow off the ground, and a full length zipper that will reduce those cold breeze drafts from getting into your sack.
The inside is made from fleece to keep you warm and comfortable. It also has a couple of interior pockets that you can store a wallet or phone inside. This is a fantastic choice for anyone that does a lot of summer and late spring hiking and camping!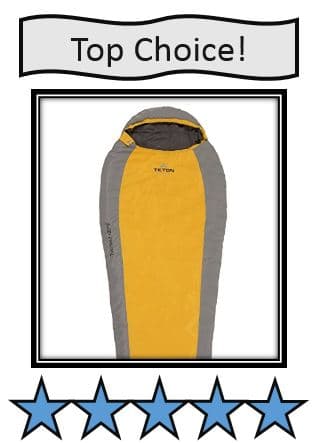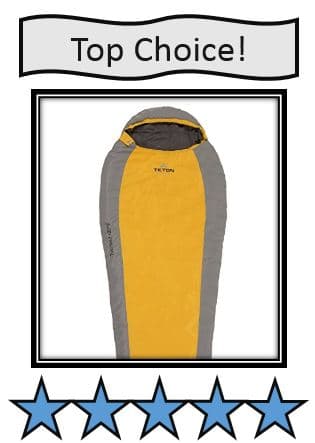 Another great sleeping bag for hikers from Teton Sports is the Trailhead +20°F. It is designed for slightly cooler weather than the Journey option, keeping you comfortable as long as the outside temperature is warmer than 20 degrees.
It is slightly heavier than the Journey, weighting 2.9 pounds and has a pack size of 14.5" x 6.5" x 6.5" – still making it light enough and small enough to hike with.
The design is almost identical with comfortable fleece lining, interior pockets for storage, and a design that keeps your pillow off the ground.
This sleeping bag makes sense for hikers that like to start their hiking season in early spring, and expand that hiking season to late fall.
For the extreme hikers that will be hiking in the winter, Teton makes a Tracker +5 and LEEF 0 that is designed for cold nights. Those options require much more padding to keep you warm, so they both weight over 4 pounds.
If you are doing most of your hiking in the late spring, summer, and early fall the Journey +40ºF and Trailhead +20°F are better options for hikers, because they will provide you with all the warmth you need, but save you on packing space and they weigh half as much as those winter sleeping bags.
Tough Outdoors XL Hooded Sleeping Bag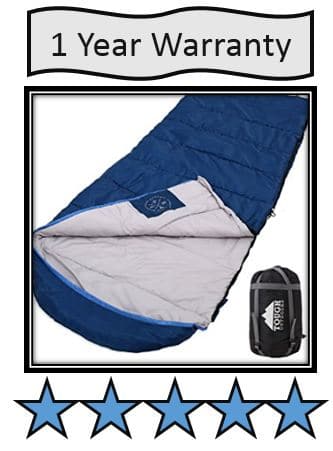 When you look at online reviews, the Tough Outdoors XL Hooded Sleeping Bag scores as well, if not better, than just about any hiking sleeping bag you can find.
It is very light, weighing 2.8 pounds and it has a compression sack that gets it down to a packed size of 15 x 8 x 8 inches.
Both of those are ideal numbers for hikers (i'm getting older, so i know I appreciate not having so much weight in my hiking pack).
You will sometimes see this sleeping bag described as a year around bag, but it is rated for temperatures between 32 to 60 degrees, so not for winter camping.
However, it should be fine in fall, spring, and summer hiking trips depending on your geographic location.
It should fit adults that are 6 feet 6 inches and smaller, and has a sleeping space of 88 x 34 inches. It is made from polyester and has a soft insulation that makes sleeping inside very comfortable. It also has interior storage pockets.
You get a one year guarantee on Tough Outdoor sleeping bags, and almost no one has negative things to say about them. The price is great on this sleeping bag, and you will be very happy if you decide to purchase this option!
ErgaLogik Nomad Classic Warm Weather Sleeping Bag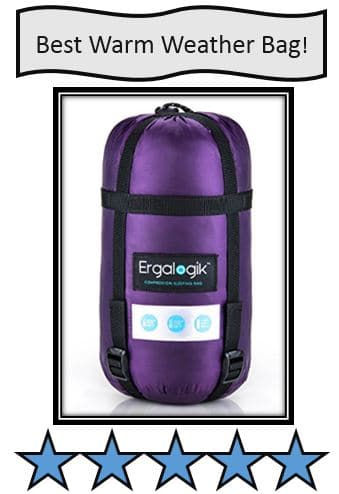 For hikers that are only going to be dealing with warm weather, the ErgaLogik Nomad Classic Warm Weather Sleeping Bag is a fantastic option!
The weight is great, under 2 pounds (about 1.76 pounds to be exact) which is one of the lightest sleeping bags you can buy. The reason it is so light is because there is not a lot of materials to it, which is why it was made for warm weather hiking.
It has a survival rating of 48 degrees (meaning you can use it in temperatures as low as 48 degrees), but the maximum comfort rating would suggest you shouldn't use this sleeping bag in temperatures under 58 degrees.
The other thing that hikers love about this sleeping bag is the compressed dimensions. It stores in an easy to pack bag and is only 8" x 11.5" when packed up. That is a perfect sized package to hike with, and since it is so light weight, you won't even know it is there!
When you unpack it, you have a sleeping space of 76 inches in length and 2 and ½ feet in width. It is made from a very durable nylon fabric and has synthetic material insulation. It is so durable that ErgaLogik has a limited lifetime warranty.
The price is very affordable and you have some very colorful blue, red, and purple color schemes you can pick from! Again, this is a fantastic option for hikers in warm weather climates.
Outdoor Vitals OV-Light 35 Sleeping Bag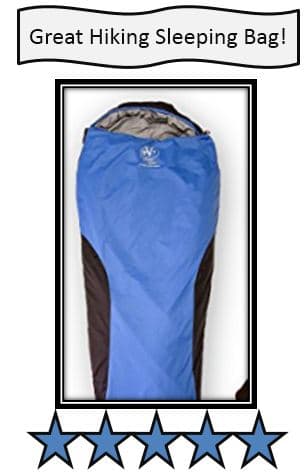 When you are hiking, we love those light weight sleeping bags, and the Outdoor Vitals OV-Light Sleeping Bag is another high quality sleeping bag that hikers love!
With the compression bag included, you are looking at a packed weight of 2 pounds 5 oz., and a packed dimension size of 10 x 7 inches.
If you are looking to save room for other gear in your hiking pack, this sleeping bag will help you achieve that goal!
You can use this sleeping bag in temperatures of 35 degrees Fahrenheit or above, so it is perfect for spring, fall, and summer camping!
It even has a drawstring that helps tighten the bag up around your head, which helps keep you warm during those chilly nights!
This is a very popular sleeping bag and has great user reviews, and part of that is because of the very durable nylon fabric and reinforced zippers. You can also get a limited life time warranty with this sleeping bag.
The sleep space is 83 inches by 29 inches, so almost anybody that is 6 foot 6 or smaller should fit inside comfortably.
A unique feature of this sleeping bag is they make a blue and an orange option. The blue version has the zipper on the right hand side and the orange sleeping bag has the zipper on the left hand side. This does allow you to zip the two sleeping bags together to create a double sleeping bag!
You will not be sad if you pick this option to be your go to hiking sleeping bag!
OutdoorsmanLab Lightweight Warm Weather Sleeping Bag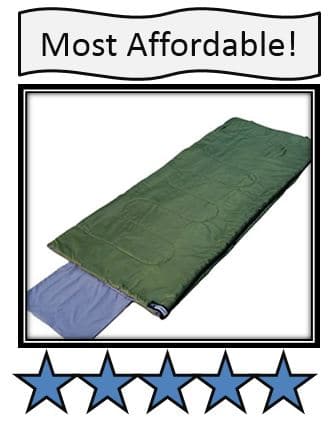 Another sleeping bag that warm weather hikers should love is the OutdoorsmanLab Lightweight Warm Weather option.
It is ideal for people that will be sleeping in temperatures of 50 to 70 degrees Fahrenheit.
The recurring theme we have with our hiking sleeping bags is lightweight options, and this sleeping bag is only about 1.6 pounds in weight!
Again, ease of travel is a must when out hiking.
It is a little smaller than most of the other options listed (the lack of fabric keeps the weight down).
It will comfortably fit people that are 5'11" or smaller, so tall people probably want to find a different sleeping option.
It comes with a compression sack that makes it easy to travel with, but the price is probably the best thing about this sleeping bag.
It only costs about $25, making it great for people that don't want to spend a ton of money on sleep sacks (or for people that only need their sleeping bags for one or two hiking trips a year).


Final Thoughts
A good hiking sleeping is bag is going to be easy to travel with, but provide you with maximum comfort when it is finally time to hit the sack.
All of the above sleeping bags are great choices, but you should really pay attention to the temperature ratings and sizes. You won't be comfortable if you are too cold at nights, or your sleeping bag isn't quite big enough to fully cover your body!
Have fun on those hiking trips and we hope that by reviewing the best hiking sleeping bags you will be able to find the right option for your outdoor adventures!
If you are looking for a slightly different type of sleeping bag, check out these other reviews we have done:
Best Winter Weather Sleeping Bags
Best Sleeping Bags for Large People