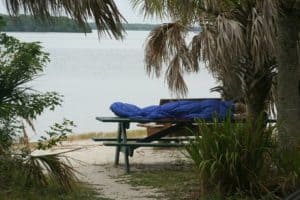 I think most of us have been in that situation where we get a phone call from a friend, inviting us to a camping trip or outdoor bachelor party this weekend. Doesn't leave you a lot of time to prepare, and you certainly aren't going to take your high end camping gear with you. This is exactly where picking out a top notch discount sleeping bag comes in!
When that happens to you – make sure you go and buy a really comfortable, but discount sleeping bag. Seriously, don't be the guy that shows up with two bed sheets and a pillow. You may not be spending much time sleeping, but when you do, let's make sure you enjoy it!
Below is our list of the best discount sleeping bags. They are going to keep you warm, provide plenty of comfort, and most importantly – not even come close to breaking the bank.
And best of all – if you get these sleeping bags a little dirty, or a little ruined, you won't be that angry!
Best Discount Sleeping Bags Reviewed
We will work frequently to update this post multiple times per year. After all, discount deals come and go. We want to help bring you the best quality sleeping bags that are still cheap enough to be considered one heck of a deal.
The best discounted sleeping bags are going to be inexpensive, not bust your budget, but still offer a certain level of warmth, comfort, and quality.
Read on for our list of the top current options.
Ohuhu 75″ X 34″ Sleeping Bag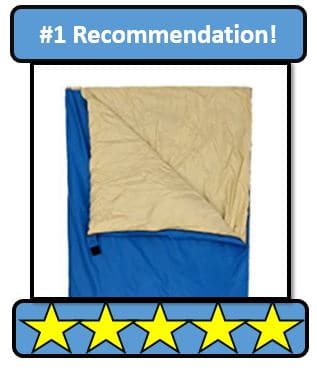 The OHUHU 75" x 34" Sleeping bag is very lightweight & very affordable.  It weighs under 2 pounds – so you will have no problem carrying it around; especially since it comes with a carrying case.
From a price standpoint, you are often going to find this sleeping bag on sale for slightly over $20 on most shopping sites.
The temperature recommendation for this sleeping bag is between 48°F & 59°F – which is going to be perfect for most late spring and summer camping trips.
From a design standpoint, you are looking at your traditional rectangle envelope design, and the outer coating is made from nylon with a 100% polyester inner filling.
Because of the design, materials, cost, and just how comfortable it is – this is our number one recommendation for people looking for a discount sleeping bag that is cost effective and dependable!


Coleman Sunridge 40-60 Degree Sleeping Bag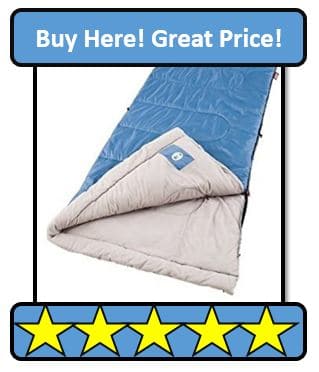 Coleman produces a wide selection of great sleeping bags and the Coleman Sunridge sleeping bag is priced under $30!
As the name implies, it is mean to for temperatures in that 40 – 60 degree range, which is perfect for most summer camping trips.
It has a polyester shell and an insulated lining that keeps you warm but also very comfortable. The zipper is also very nice, and is designed to prevent snagging the fabric (really nice feature if you have had too much to drink).
If you have two of these sleeping bags you are able to zip them together to increase your sleeping space.
The most common color scheme for this bag is light blue, and it has your traditional rectangle, envelope style design!
Coleman is a great provider of sleeping bags, and you should be able to use this sleeping bag on multiple camping adventures!


Coleman Biscayne Big & Tall Warm Weather Sleeping Bag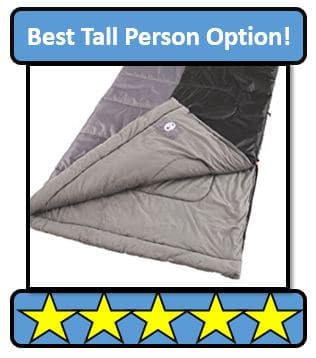 The Coleman Biscayne Big and Tall Sleeping Bag is the option you are going to want to pick if you are taller than 5"10" which is who most traditional sleeping bags are made for.
This sleeping bag will comfortably fit people up to 6 feet 4 inches in height (if you are taller than that – check out our list of the best sleeping bags for tall guys).
From a temperature stand point – this sleeping bag can be used in temperatures as low as 40°F. It is a little heavier than most sleeping bags due to the extra materials, weighing about 7 pounds.
It is made from 100% polyester, and you are going to like how both the outside and inside feel!
Again, Coleman has been producing sleeping bags for a very long time, and they do a really nice job of creating affordable, comfortable, and durable products.
This sleeping bag normally costs right around $32.00 – but is often on sale for a slightly lower price! It really is the best discount sleeping bag for tall people!


OuterEQ Camping Sleeping Bag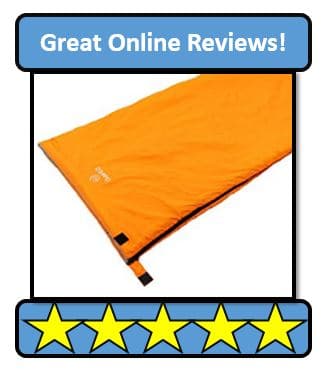 With a price tag normally under $30 – the OuterEQ Camping Sleeping Bag will be a great choice for individuals looking for a top rate discount sleeping bag.
This option fits campers up to five feet 11 inches in size (it is 75 inches by 30 inches) – and is very lightweight in size.
The temperature rating for this sleeping bag suggests using it in temperatures between 48°F to 58°F.
It is made from a durable polyester cover and a soft cotton liner for the inside of the sleeping bag. It also has cotton insulation that helps keep you warm and comfy when inside.
These sleeping bags are machine washable and very easy to store.
You have a dark blue, light blue, green, and orange color scheme you can pick from. All of those choices are sharp looking.
This is a highly rated, well liked sleeping bag online and you should love using it if you decide to go this route.


Mountain Trails Cascade 40 Degree Sleeping Bag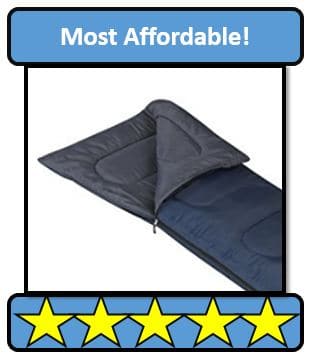 Mountain Trails has a wide selection of sleeping bags – with the most discounted & dependable option right now being the Mountain Trails Cascade 40 Degree Sleeping Bag.
It is 72 inches long and 29 inches wide – so it will fit adults up to about 6 feet in height. It has 2.5 pounds of insulation in it that will keep you warm in temperatures as low as 40 degree!
It is rectangle in shape, and has an "S" quilt construction – which was designed like that to keep the insulation in place.
It can be completely unzipped to be used as a blanket, or you can attach another Cascade sleeping bag to it to create an extra-large sleeping space.
It does have elastic straps that make it easy to carry around and store. It also has a nice looking dark blue color scheme.
The price is great. You are often able to buy this sleeping bag for under $20. It is a steal at that price point.


Outad Ultra-light Sleeping Bag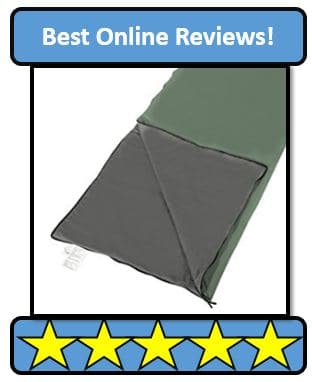 With a price tag under $30; the OUTAD Sleeping Bag is a great buy that should bring plenty of enjoyment to your outdoor sleep outs.
It is made with a nylon outer lining and a cotton liner on the inside. It uses a 100% polyester filling – which will keep you warm in temperatures between 48°F to 58°F.
You have a large version and an x-large version you can pick from – so you taller individuals should pick the extra-large version.
The nylon outer shell is easy to clean and this sleeping bag is machine washable. It only weighs about 2 pounds as well.
It comes with a travel carry bag and a compression sack – so you will easily be able to transport this sleeping bag.
There is great customer service associated with OUTAD purchases, and the reviews for this sleeping bag are incredibly positive.


Discount Sleeping Bag FAQ
Q: What are the best cheap sleeping bags for backpacking?
A: This is going to change a lot from year to year and it really does depend on the type of backpacking. If you are doing a thru hike that takes weeks or even months, then you need to look at going for a serious long-term solution and going discount isn't the way to go.
That being said, if you're rolling out for a quick one, Mountain Trails and Coleman are solid brands and any on this list should be solid. It's worth noting that there isn't a good discount sleeping bag for winter camping, so keep that in mind when looking around.
Q: Are there good cheap sleeping bags for cold weather?
A: As long as your definition of cold has a basement of about 40 degrees, then yes. However for serious freezing winter weather you will need to look for something that is a bit more heavy duty.
Q: Is Amazon a good place to find cheap sleeping bags?
A: Yes. While maybe not always the best option, this is usually one of the quick stops to check out along with ebay, a local second hand military or outdoor store, or sites like overstock.com. All of these can be viable options.
Q: What should I look for in an inexpensive sleeping bag?
A: While you won't be getting top of the line quality you will still want to look for basic standards, a lack of any sign of damage, mold, or anything less than ideal. Beyond that you want a good fit. You don't want a sleeping bag that's too small – curling up and creating body heat in your own little cocoon is much more effective if a quarter of your body isn't sticking out.
Q: Are discount sleeping bags any good?
A: Yes. There are plenty of terrible options, as well, so it's all about doing your homework and making sure you pick one of the better cheap designs. The list we put up are our particular picks for the best ones.
Q: How do I find a cheap sleeping bag that will hold up?
A: The best way is to stick with one of these top options, and to keep away from brands that have a particularly weak reputation. Even with cheap gear, the better you treat it, the longer it will last and the better it will serve you, as well.
Final Review
These are six of the best sleeping bags that are always at a discounted price point. Even though these sleeping bags are very affordable, they are well designed, very comfortable, and should provide you with everything you need on your camping trips.
If you are looking for something a little different, here is our complete review of the best camping sleeping bags (I will warn you this article provides you with way more details than you would ever need to have). You can also take a look at our article on sleeping bag suits – which would be a big hit at most camping parties I've ever been to.
How to Choose a Sleeping Bad Video

Other Pages of Interest