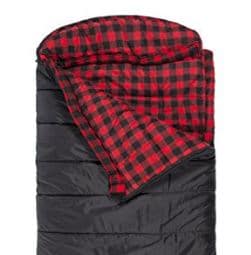 There are some major advantages to being tall – buying camping gear that fits is not one of those advantages. One of the hardest things for our tall friends to do is find a good large sleeping bag.
Being comfortable while you sleep – and staying warm while you sleep – are two of the most important things you are going to do while camping. So if you are tall, having a large sleeping bag is going to be important for you!
Since most sleeping bags are traditionally 5 feet 10 inches in length – well you can see why it might be difficult for tall individuals to sleep in a traditional sleeping bag (unless they enjoy having their upper body uncovered).
To make your life easier, we put together a list of the best large sleeping bags. We reviewed these sleeping bags based on materials, price, comfort, and of course size. 
So, what are the best large sleeping bags for tall people?
The best options are the Teton Sports Celsius XXL Sleeping Bag, Teton Sports Mammoth Queen Sized Sleeping Bag, and the Tough Outdoors All Seasons XL Sleeping Bag. 
For a more detailed review about the best options, and to see some other amazing choices, please continue reading!
Quick Best Large Sleeping Bags List
Below is a quick reference chart on the best sleeping bags for tall guys – with a more detailed description of each item located below the reference chart. Hopefully this helps you find the right sized sleeping bag!
The Best Large Sleeping Bags for Tall People!
Teton Sports Celsius XXL 0°F Sleeping Bag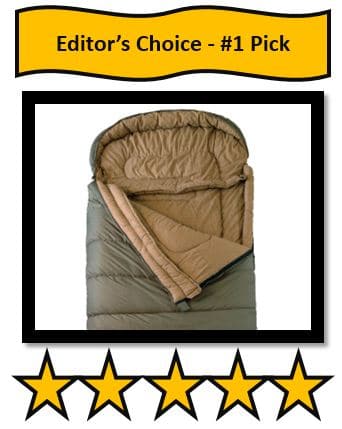 When it comes to large, warm, and comfortable – it is hard to find a better sleeping bag than the Teton Sports Celsius XXL 0°F Sleeping Bag.
With a size of 90 x 39 inches, you are looking at a sleeping bag that is over 15 inches longer and 3 inches wider than most traditional sleeping bags. Size won't be a problem here.
From a comfort stand point, this sleeping bag has a temperature rating of 0°F – which will keep you comfortable in temperatures as low as 10 to 15°F. This makes this an all season sleeping bag in my book.
It is designed with a half circle mummy hood, so it will keep your head area comfortable and pillows off of the ground.
The materials are durable and comfortable – and the sleeping bag has a weight of about 7 pounds.
You have a black, a gray, and an olive green color scheme you can pick from. You also have the option for a left hand zipper or a right hand zipper. If you buy both a left and a right hand zipper option, you are able to zip them together to create one super large sleeping bag that will comfortably fit multiple people.
You are looking at a price of around $70 – and a sleeping bag that has thousands of positive reviews online.
Teton Sports Mammoth Queen Size Sleeping Bag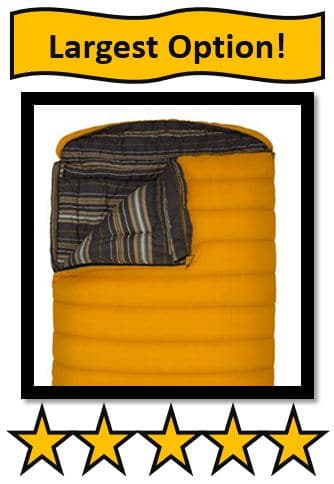 Technically the Teton Sports Mammoth Queen Size Sleeping Bag is a two person or double sleeping bag – but if you are looking for a giant sleeping bag – this is it.
With a sleeping space of 94 x 62 inches, you are looking at a sleeping bag that is wider than a queen size mattress and longer than a king sized mattress!
This was built for tall people or couples that want to share the same sleeping space!
The materials are great- a common theme with Teton Sport sleeping bags. You have a flannel liner, a taffeta outer shell, and a fiber insulation that keeps you warm and cozy. All of these materials are very durable too – giving you a long lasting sleeping bag!
You have two choices when it comes to temperature ratings; a 20°F and a 0°F option.
Both will keep you warm in most situations, with the 0°F option being a great choice for cold weather camping. You are looking at a 14 pound sleeping bag if you pick the 20°F choice, and a 16.5 pound sleeping bag if you pick the 0°F option.
You won't have a shortage of color schemes to pick from – you have olive green, blue, grey, orange, and teal.
Depending on the options you pick, you are going to spend between $120 to $150 to get a giant sized all weather sleeping bag that you are going to love!
Tough Outdoors All Season XL Hooded Sleeping Bag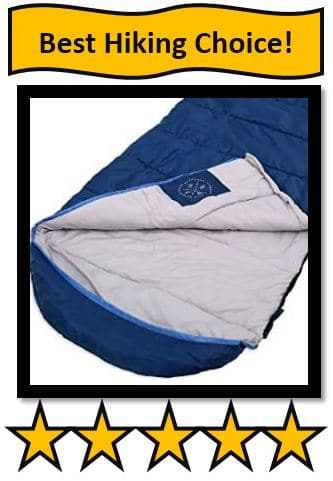 As long as you are not taller than 6 feet 6 inches, you will have no problem fitting into the Tough Outdoors All Season XL Hooded Sleeping Bag.
This sleeping bag is 88 x 34 inches – and is surprisingly light, weighing only 2.8 pounds.
That makes these sleeping bag a good choice for hikers and backpackers, especially because it comes with a compression sack that gets it down to 15 x 8 x 8 inches when packed up.
The comfort rating is between 32 – 60°F, so you should be very comfortable camping with this sleeping bag as long as it isn't bitterly cold.
The design is very nice, with a waterproof shell, soft woven liner, and comfortable insulation material.
These materials are even machine washable, so if you get a little muddy during your next camping trip, no big deal!
An interior storage pocket makes it easy for you to store your keys, wallet, or cell phone – or any of those little things that you might have on you while camping.
You also can't beat the price. You are looking at spending right around $80 if you decide to purchase this Tough Outdoors sleeping bag for your next camping trip!
With a great mix of size, durability, and features – you probably see why we added this sleeping bag to our list of the best large sleeping bags!
Coleman Biscayne Big & Tall Sleeping Bag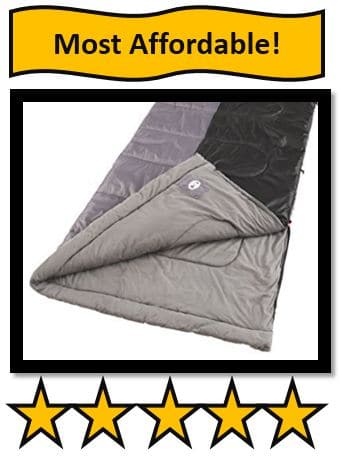 This sleeping bag is slightly smaller than the other options listed so far, but the Coleman Biscayne Big and Tall Warm Weather Sleeping Bag has two major selling points – price and design.
The sleeping space is 81 x 39 inches, so it will fit people up to right around 6 feet 4 inches. It has 4 pounds of "ThermoTech" insulation to keep you warm and comfortable – as long as you are in weather conditions of 40° to 60°F.
Material wise- you are looking at polyester with a polyester fill – it is not itchy or scratchy however.
You should be plenty comfortable if you pick this option.
The design is nice, the materials are nice, the size is nice, but the big kicker with this sleeping bag is the price.
You can find these sleeping bags on sale for as low as $30 to $35 dollars, which is really unheard of when trying to find large sleeping bags.
We had to include this sleeping bag on our best sleeping bags for tall guys list because of that mixture of durability and price! Hard to beat that!
Also just in case you were wondering – I am not really sure what BISCAYNE means – so I did look it up on Wikipedia. I have no idea if that is where they got the name from.
Coleman Big Game Big & Tall Sleeping Bag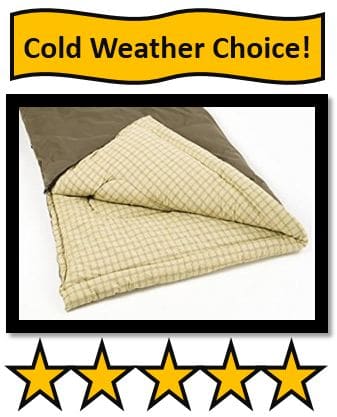 Coleman also makes an extra-large sleeping bag that is designed for colder weather camping.
If you know you will want to camp in the late fall and maybe even early winter – the Coleman Big Game -5°F & Tall Sleeping Bag is a great choice.
This sleeping bag is designed to fit adults up to 6 feet 5 inches. It has a cotton flannel liner and cotton canvas cover, which are very comfortable.
With a temperature rating of -5°F, this is really designed to be a colder weather sleeping bag.
Realistically I would recommend using this sleeping bag in when the temperature is a little cooler – it can get a little warm using this sleeping bag during the summer (especially if your tent doesn't have great ventilation).
It is heavy, right around 13 pounds –so it's not perfect for every situation. It is also machine washable and easy to clean.
Make sure you buy the big & tall version, they do make a standard size in this design as well. The big & tall version should cost you right around $100, and provide you with all the space you need.
If you are going to be cold weather camping, make sure you either have a good Canvas Tent or Winter Weather Tent to go along with your sleeping bag!
Final Thoughts
Being only 5'10" I've never had the pain of trying to find camping equipment that was specifically designed for tall people. However, I know the importance of finding a comfortable sleeping bag that keeps me warm during a camping trip.
Hopefully this article will help you find that right sleeping bag. If you want more information on the best camping sleeping bags, check out this complete review of numerous camping sleeping bags!
If your camping trips are going to be a family affair, you may want to look at the best toddler sleeping bags we reviewed and the best kid's sleeping bags we reviewed!