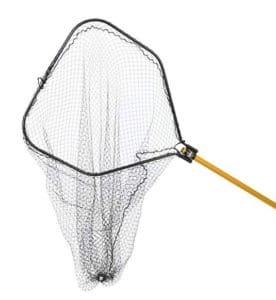 Catfish Fishing was a very popular pastime where I grew up in Iowa. Living in a town that was a mile away from a nice sized river made catfish fishing the popular choice for many of my angler buddies. Especially during those all-night river camping trips.
The beauty of catfish fishing was that you never knew what sized fish you were going to catch. It wasn't uncommon to hook something that was 10-pounds or larger – which is something that is very difficult to do when bass fishing.
Having the right catfish fishing net was also very important during those trips. When you had a nice sized catfish on the line, a good net was needed to help secure that fish from the bank.
I also remembered the time when my dad was able to hook a 40-pound catfish while bass fishing. That fish also required a net.
So, having the right type of catfish fishing net should help you secure those fish during your next fishing trip; and to make sure you have the best net possible – here is our list of the best fishing nets for catfish fishing!
Quick Best Fishing Nets for Catfish Fishing Guide
Here is a quick list of our choices for the best fishing nets for catfish fishing. Below this quick reference chart is a much more detailed review about each net. Hopefully, this helps you pick the right net for your catfish fishing adventures!
The Best Fishing Nets for Catfish Fishing
Ranger Big Game Nets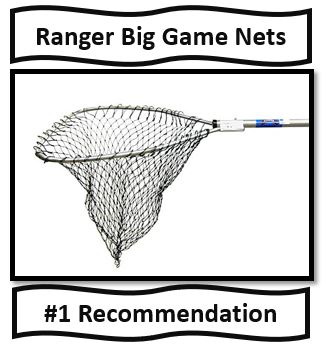 Ranger is one of my favorite manufactures of fishing nets, and the line of Ranger "Big Game" Fishing Nets is perfect for catfish fishing. This line of fishing nets has a few options to pick from, and your choice is really going to come down to what hoop size you want!
Your smallest option is going to be the Ranger Big Game Landing net with a 48-inch handle, 24 x 25-inch hoop, and 36-inch net depth. This sized net will be perfectly fine for most catfish you catch, but some of those large catfish might be difficult to fit into that 24 x 25-inch hoop. For a quick link to purchase this option, click here: Ranger Landing Net.
This net is going to be your least expensive option, which is a great selling point!
The biggest options are going to have a 34 x 31-inch hoop with a 48-inch net depth, which should be able to handle just about every catfish you catch.
There are also some "in-between" options that have a 27 x 30-inch hoop & 48-inch net depth. They really do have a size that is going to meet your specific fishing needs.
No matter which option you decide on, you are going to get a net that is made in the USA, made from great materials, and is going to be very durable.
The prices normally range from around $60 – $90 depending on the bells and whistles included on each net and the size.
Because of that price, because they are made in the United States, and because Ranger nets are known for being incredibly durable – we had to make these are number one recommendation for catfish fishing nets!

Cumings Big Cat Catfish Net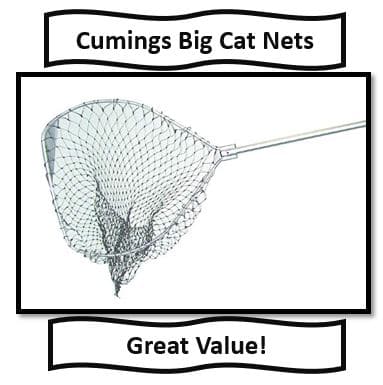 Cumings has been making high quality nets in the United States since 1927, and they have a great line of Catfish fishing nets in the Cumings Big Cat Catfish Nets series. These nets provide a great mixture of strength and durability, for a very reasonable price!
Probably the most popular option from Cumings is the Cumings BC-1 Big Cat Catfish Net. The bow size is 30 ½ x 31 ¼ inches – with a net depth of about 48-inches. That should be plenty of room for most of the catfish you are going to catch!
The handle length is 48-inches and is 1 and ¼ inches in diameter. This provides an easy grip that should help you scoop up fish with ease. It is also a slide-a-way handle, so it can be disconnected for easy storage and transportability.
There are some other great Big Cat Cumings Net options, like the BC-5. It is still made with the same great materials, foam grips, and super strong netting as the BC-1 option listed above, it just has some different size options.
For example, this one has a 35 and ¼ inch by 36 by ¾ of an inch hoop. Some of the other options have a slightly longer handle, but the original BC-1 is still the most popular and highly reviewed option online.
The pricing is going to be under $100 – which is less than half of what you are normally going to pay for the Frabill Power Stow Net which is listed below.
These nets are just a great value for the durability and features that you get with this line of catfish nets.

The Frabill 8527 Power Stow Net
There are a lot of reasons why the Frabill 8527 Power Stow Net had to be included on our list of best Catfishing Nets, but the biggest reasons are the size, durability, and features that these fishing nets possess.
This catfish net has a 36 x 38-inch hoop and is very deep, so it won't have any problem scooping up those monster catfish that we are hoping to catch. This net is a little bit of an overkill for those 2 or 3-pound catfish, but you can just scoop those guys right out of the water anyways.
It also has a telescoping handle, so if you need extended reach out of a boat or from a bank, you are going to get it with this net. The handle is normally 48-inches but can be expanded out to 66-inches.
The handle of the net is also made from heavy duty aluminum to keep it light, but very durable. It is also rust/corrosion free. Basically, it gives you a great mixture of durability and the strength you need for catfish.
The net itself is a knotless mess that helps reduce potential injuries to fish and will hopefully reduce potential line tangles.
This net is also great for other large species – such as pike or muskie – if you are ever interested in hooking other big lunkers.
The only potential downside to this net is the price, which is on the high end – but well worth the investment if you are an avid angler that needs a catfish net for years to come.

Frabill Conservation 29 x 34-Inch Landing Net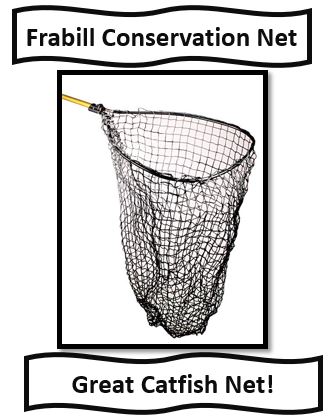 Frabill is one of my favorite companies in terms of producing high quality landing nets, so we had to include two options from them on our list of the best fishing nets for catfish fishing.
The second option we would recommend is the Frabill Conservation 29 x 34-Inch Landing Net.
We selected this option because of its size. The 29" x 34" hoop size should safely land most catfish. It does have a flat bottom, which does help protect the fish from rolling around. This style of net also helps support the weight of the fish, making it easier to scoop.
The net hoop also has a tangle-free coating to help prevent your hook from getting all snagged up in the net.
The handle is a heavy-duty steel that is 48-inches in length. It is a slide handle as well.
This is a net that is on the expensive side of things, but it well last a long time, and has just about every feature you could want in a catfish landing net.
Overall, there isn't much to love here – you are really going to like this net if you decide to purchase it!

Bass Pro Shops Catfish Net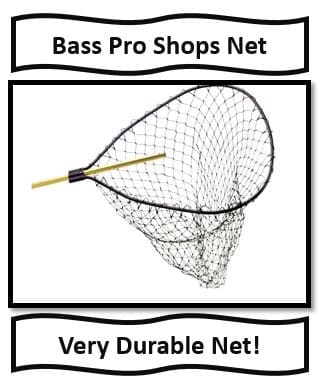 I know it sounds crazy, but Bass Pro Shops does a great job of creating gear that isn't just for bass fishing.
If you are looking for a great catfish net, the Bass Pro Shops Catfish Net is a great choice!
Bass Pro Shops describes this net as being created for "monster flatheads, channels, and blues." Those are all of my favorite types of catfish!
They did this by creating a rubber-coated net bag that is 32 x 36 inches in size, 46-inches deep, and can handle up to 50 pounds!
I'm thinking that will be large enough to handle most of the catfish that we are going to catch!
The handle is not only a cool gold color, but it also is 1-3/4 inches thick, and is a breakaway handle! This makes it very easy to transport and store. The handle has a length of 52-inches, which should provide plenty of reach from a boat or a fishing bank.
This is just a really solid net that looks good, is very durable, and is priced very affordably. It also comes from one of the biggest names in fishing gear: Bass Pro Shops – which should give you some confidence in your purchase!

Catfish Fishing Net Tips
There are some tips that we recommend you follow when buying a good catfish landing net.
1.) Make sure the hoop size of your net is large enough to safely net a large catfish. Catfish can be big, there is nothing worse than struggling to land a large catfish because your hoop size is just too small to navigate around a large fish.
2.) Make sure the frame of the net is very durable. You are going to put a lot of pressure on your net when you are scooping up a large fish. So, make sure your net can handle that stress by picking one made from great materials – and preferably a reinforced frame where the handle attaches to the actual net hoop.
3.) Make sure the handle reach is long enough. You might need some extra length depending on your boat, or if you are trying to scoop up a fish from a high bank.
Other Links of Interest
If you are like me, you probably like to fish for a variety of different species of fish. Many of these nets can handle different types of fish…others not so much. Here are some articles we wrote on the best landing nets for different types of fish.
Best Fishing Nets for Northern Pike Fishing
Best Fishing Nets for Bass Fishing
Best Fishing Nets for Walleye Fishing
Best Fishing Nets for Trout Fishing
Best Fishing Nets for Muskie Fishing
This list at least covers all of my favorite types of fish to fish for!
If you are big into catfish fishing, you might want to check out our article on the Best Catfish Fishing Rods.
Enjoy – and let us know about all your catfish fishing adventures!