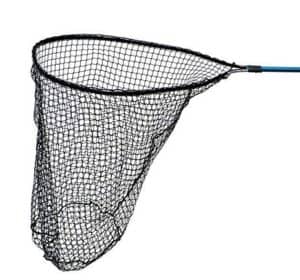 For many anglers, muskie fishing is like chasing that white whale that Herman Melville was talking about in Moby Dick. You can drive yourself crazy and take fishing trips all over North America in search of that giant catch.
When I was younger, my dad and his angler buddies were always talking about muskie fishing – and the "fish of 10,000" casts that they were determined to catch. They would tell stories about how they almost had one, but they lost it by the boat, or the muskie was so big it snapped the line, or…. well you know how fishing stories go.
Today, it is a little easier to catch those large muskie. The population of muskie has made a roaring comeback, and while not common – they are probably more like the fish of 1,000 or 5,000 casts now instead of 10,000. And personally, I like that lower number a little bit better.
Muskie fishing is so unique and so fun, you can see why people get that "muskie fishing craze" and if you are going to make that muskie fishing dream come true, we need to make sure you have the right gear. And we also need to make sure you have the right fishing net – because your standard sized bass net isn't landing a giant muskie.
So, in hopes of making your muskie fishing trip less like the stories my dad and his buddies told, here is our list of the best fishing nets for muskie fishing. (We have updated this list for 2020 with a new addition – the Frabill Deep Conservation Muskie Fishing Net!).
Quick Best Fishing Nets for Muskie Fishing List
Here is a quick reference chart showing our top choices for the best fishing nets for muskie fishing. Beneath this chart is a much more detailed list and review of each net individually, plus some other helpful links, and even some information on muskie cradles!
You should be very happy with all of these nets on your musky fishing adventures!
Our list of the Best Fishing Nets for Muskie Fishing
StowMaster Tournament Series Muskie Landing Net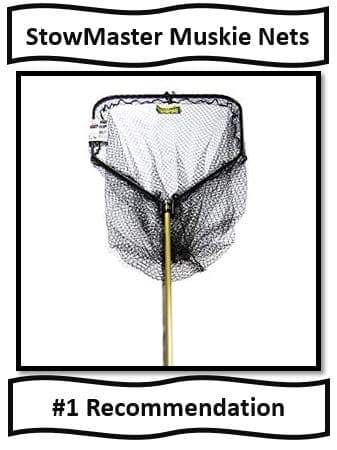 My favorite muskie fishing net is the StowMaster Tournament Series Muskie Landing Net because it combines the size you need to net a muskie, with lots of built in protections for the fish itself.
The largest version of this net has a hoop that measures 36 x 38 inches; and is 48-inches deep. That should provide you enough room to net that large muskie we all dream about.
The net itself is a specifically designed rubber-dipped nylon net. The hole size of the net is also large enough to allow it to move nicely through the water, minimizing the water resistance. The rubber-dipped net is also gentle on the muskie's protective slimy coating, and with most of us releasing muskie after the catch, we want to be as gentle as possible.
The net handle is made from an aluminum alloy that is very durable. The handle on the largest version of this net has an overall length of 116" – which should allow you the reach you need out of your boat. It is a two-stage telescoping handle, so you don't have to use the entire 116-inch reach if it isn't needed!
The handle is 1 ¼ inch in diameter, which is large enough to handle the weight of a muskie when you are lifting them out of the water, but still be thin enough to handle with ease.
These handles are also designed to prevent slippage or twisting when you are netting.
There is also a smaller version of this net which has all the same characteristics, but the handle length is 94-inches, the hoop is 30 x 32 inches, and the net depth is 36 inches. This smaller version is made for those intermediate sized musky, with the larger option being better for those larger muskies you are trying to catch! Here is a link to the smaller option from Amazon.
These nets are also made in the United States and provide that great combination of features and durability that we are all looking for! This net is also easier to store than some of the other options on the list, which is a major plus!

The Predator XL Musky Net
I would rank the Predator XL Musky Net as the strongest; most durable musky net that we have on our list of the best fishing nets for muskie fishing. It is safe to say this net was created with trophy muskie in mind – which is what we all dream about.
The handle of this net is 5/8 of inch in diameter and made from an aluminum handle. The handle is reinforced to the hope, and it is designed to raise up to 60 pounds of muskie! One can only dream of catching a muskie that large!
The handle is also 48 inches long, providing you plenty of reach. It also has a unique "t-grip" handle that makes it easy for you to control the net while in the water and while scooping fish.
The net hoop is 35" x 37" – with a net depth of about 36-inches. It is made with a rubber coated nylon that protects the fish, especially during catch and release situations.
This is a made in the United States muskie net designed for those anglers wanting to go trophy musky hunting. This is our number one recommendation for those looking for a durable muskie net!

The Frabill Deep Knotless Conservation Series Net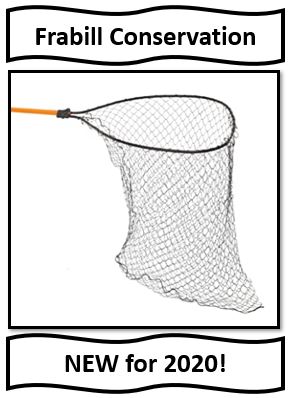 We had to update our list for 2020 with a new addition from Frabill. The Frabill Deep Knotless Conservation Net was designed specifically for Muskie anglers and really is a great 2020 addition to our list of the best Muskie fishing nets!
The conservation series of fishing nets from Frabill was created for catch and release anglers and anglers that was to make sure their net is gentle on fish.
The net itself was created with a knotless, lightweight, tangle-free material. The net also has a teardrop shape to it, and a mesh hole size of 1.5 inches – which lets it glide easily thru the water and helps that water drain while you are scooping up that large muskie. I should also mention that the hoop-size is 32″ x 41″ giving you that extra space you know you need. The net depth is a whopping 54-inches.
The frame itself is lightweight, durable, and easy to handle. You might even be able to use the net one-handed! The handle length is 48″ long – which should give you that reach that you need.
This is a great fishing net that normally costs a little under $200 – and will safely help you land some fish. 

The Frabill Power Catch Big Kahuna Net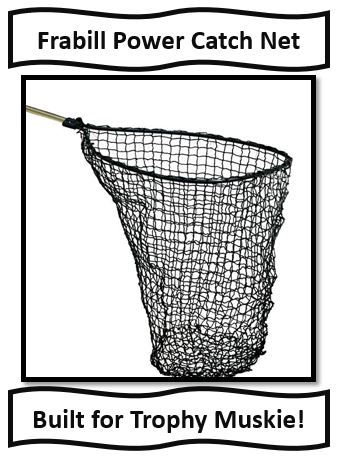 If you are fishing for trophy musky, and you need a net that can handle trophy musky, there aren't many musky fishing nets larger than the Frabill Power Catch Big Kahuna Net.
This giant muskie net has a hoop size of 40 x 44 inches, and a net depth of about 48 inches. It has a teardrop shape and a flat-bottom that provides plenty of room to safely net and lift the muskie you have caught right out of the water.
The mesh is a tangle-free nylon material that should protect the musky you have landed. The mesh holes are 1 ¾ inches in size, which helps drain the water when lifting your fish, and helps prevent water resistance against the net while you are maneuvering it through the water. We sometimes forget how important those holes are, because lifting a giant muskie out of the water is much more difficult than you think!
The handle is a 48" slide handle that is very durable and very easy to grip. This net was designed specifically for very large fish, so extra attention was spent on it to ensure it would stand up to the grind of landing large fish!
If there is a downside to this musky net, it would be that it is difficult to store due to its large size.
Overall, this is a great net that was designed to catch trophy fish for a long time – and it needed to be on our list of the best fishing nets for muskie fishing!

Ranger Big Game Net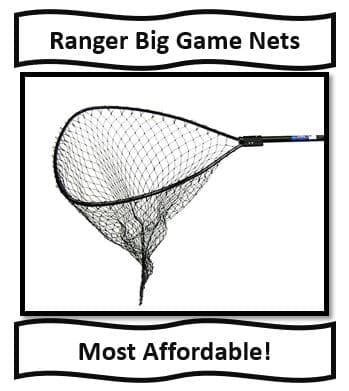 The most affordable, but still very dependable muskie net we have on the list is the Ranger "Big Game" Landing Net.
Ranger does a fantastic job of making high quality nets, and this option is no exception to that rule.
The net itself is a 34 x 32-inch hoop, with a net depth of 48-inches – so a nice sized net for handling muskie.
The handle length is 48-inches. It is a handle that can slide into or off the aluminum yoke – which helps with storage and transportation. The handle and hoop are also black in color -which gives it a great look. It isn't the most durable net on our list, but you shouldn't have any problems with it.
The net is made from a pretty standard nylon style – so it just has more susceptibility to tangling than some of the other options.
It has a great mixture of strength and durability – it is made in the United States, and the ability to transport and store this muskie net are all major pluses for it.
Overall, it is a great musky net at a great price.

Musky Cradles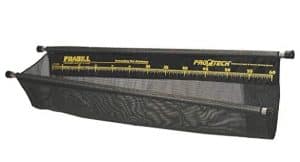 Besides using a traditional muskie landing net, you can also use a muskie cradle to safely help you land muskie.
The benefits of musky cradles are you can weigh, measure, and release a muskie basically without touching them.
The cradle net design helps support the weight of the entire fish, and the mesh material is gentle on scales and keeps the fish's slime coating from being removed.
They are a little different than your traditional nets, and it might take you some time to get used to them, but they are a great alternative to landing nets.
Here is a link to the Frabill Pro-Tech Musky Cradle – which is a great option if you are interested in purchasing a musky cradle.

Tips for Picking a Muskie Net
A muskie net is going to be about the most specialized fishing net that you purchase. The biggest tips I can give you is you want it to be very large, with a very large hoop size – especially if you are dreaming about catching those giant muskie!
You also want the hole size of the net to be fairly large. This is going to help you maneuver the net in the water and reduce water resistance as you lift your trophy muskie! We sometimes forget who difficult it can be to lift a 25 or 30-pound fish out of the water!
Also, a muskie net can take a little bit of a beating – so that is why we put some much emphasis on durability when listing out our best fishing nets for muskie fishing.
If you follow these simple rules, your muskie net should perform really well for you!
Other Links of Interest
Muskie Nets are more of a specialty fishing net and may not be perfect for your everyday fishing needs. If you are looking for something a little more suitable for multi-species fishing – check out these other articles we did on great fishing net options!
The Best Fishing Nets for Bass Fishing
The Best Fishing Nets for Trout
Best Northern Pike Fishing Nets
We hope you enjoyed this article, and if you have had any great muskie adventures, we would love to hear about them!