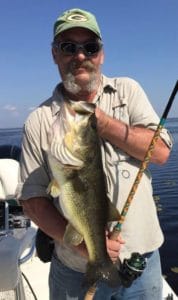 I'm going to be completely honest with you, most of the time I'm bass fishing I'm not going to use a fishing net to get the bass into the boat.
I'm the type of angler that is normally crankbait fishing or spinner fishing for largemouth – I'm also big into catch and release – so when I'm pulling the bass out of the water I normally don't mind if they fall off my lure and land safely back into the water.
On those rare occasions where I land a large bass, I'm normally going to stick my hand into the water and pull that fish out. And the good news is I've almost never gotten hooked by my own lure using this technique!
However, there are a few times where I use a net when bass fishing. When I'm participating in a tournament, it is important to me to make sure I land the fish. Also, when one of my young kids catches a bass, I like to net those to make sure they can hold their catch, and hopefully give me a chance to take a few photos!
So, if you are one of those anglers that really want to have a good bass fishing net – we got you covered. Here is our list of the best bass fishing nets, which should help you land all of those bass we know you are catching!
QUICK NOTE – for this list I left off fly fishing nets that many of you may be looking for if you are big into fly fishing for bass. We are working on that list and will link it here when complete!
Quick Reference Chart
Here is a quick list of the best bass fishing net. Below this quick reference chart is a much more detailed review of each individual option & some tips on picking the right bass fishing net for your situation!
The Best Bass Fishing Nets
Frabill Conservation Series Landing Net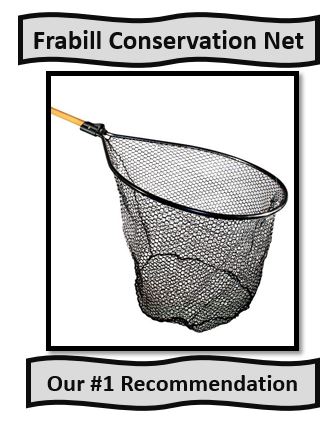 My list of the best bass fishing nets must start with the Frabill Conservation Series Landing Net. This net checks all the boxes for what I want in a fishing net!
There are a couple of different size options, but I like the 20 x 23 option with the reinforced handle.
That hoop size is large enough to give you plenty of space to scoop up a bass – and it is 16" deep with a flat bottom – meaning you shouldn't have any bass jumping out of the net.
The hole size of the net is 3/8" and the tangle-free knotless mesh netting keeps your lures from tangling up – and keeps fish from being injured.
The handle is a telescoping handle, so it will go from 24" to 48" depending on the length you need. Should work for both boat fishing and shore fishing.
The handle is aluminum and is 1" in diameter – which is really easy to grip and control.
Basically, the mix of materials, size, durability, and price make this one great bass fishing net! You won't be disappointed if you pick this fishing net, and it is pretty clear why this is our #1 recommendation for bass landing nets.

StowMaster Tournament Bass Series Landing Net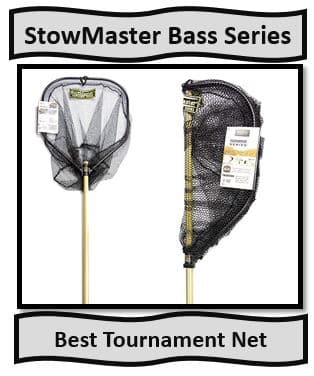 Second on my list of the best bass fishing nets – and there are legitimate reasons why you could list this net as the number one option – is the StowMaster Tournament Bass Series Precision Landing Net.
A huge selling point for this net is that it can easily be stored in any bass boat. It has a one of a kind folding hoop design that lets it fold up to an easily storable size.
The hoop is 20 x 24 inches and 24 inches deep. That size gives you plenty of room to net the fish, and plenty of depth to keep that fish safely inside the net.
The mesh is a knotless material that keeps fish safe, and it has a flat bottom design that helps keep lures from tangling.
The hoop and handle are made from aluminum providing great strength and durability, but still easy maneuverability when trying to scoop fish. It is 80" in length, providing plenty of length to reach fish.
This net is a little more expensive than the conservation series listed at number 1, but it also has a lifetime warranty against breakage and is made in the United States!
You won't be disappointed if you pick this fishing net, especially if you are looking for a great tournament net, or a great bass net to easily store in your bass boat!

KastKing Madbite Folding Net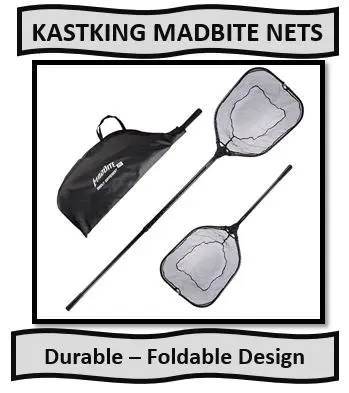 One of the strongest, most durable bass fishing nets you can buy is the KastKing Madbite Folding Net. It even comes with its own storage case!
There are two options of this net that will work really well for bass fishing.
One is a 24" telescopic pole option, & the other is a 20" hoop size on fixed pole. The 24" net option only weighs about 2 pounds – with the 20" hoop option being about a pound and a half in weight. Both are very easy to store and very easy to use.
The smaller 20" net option is 20" long x 16" wide x 20" deep – with the larger 24" option being 24" long x 20" wide x 24 inches deep. Both of these net options are rubber coated – which makes them fish friendly and snag proof! The depth of both nets is also large enough to easily capture bass and keep them from flopping right out of the net.
The handles themselves are made from durable graphite materials – and is built so there are no weak points or flex to the net when you are scooping up those fish.
These fishing nets are going to be right around $40 to $50 normally – which is a great price for just how well designed these fishing nets are. We really had to include this line on any list of the best bass fishing nets.

Ranger 356R Landing Net
Another strong bass fishing net for tournaments, or everyday bass fishing, is the Ranger 356R Landing Net. And as a bonus, Ranger Nets are made in the USA!
This particular net has a 19-inch by 19-inch hoop that is 14-inches deep. I would say that is plenty of size for most bass we are going to be catching.
The net is a knotless molded rubber material that helps prevent tangles and fishing hooks from getting all caught up inside of the net. This molded rubber material is great for catch and release fisherman, which I normally am when bass fishing.
It has a heavy-duty handle that is 36 inches in length and comes with a 3-year warranty. You shouldn't have any problem with durability if you pick this fishing net.
With a price right around $50 – it is going to be difficult to find another bass fishing net that is made in the United States and provides such a great mixture of durability and usability.
I also think this net looks really cool too.

Plusinno Fishing Net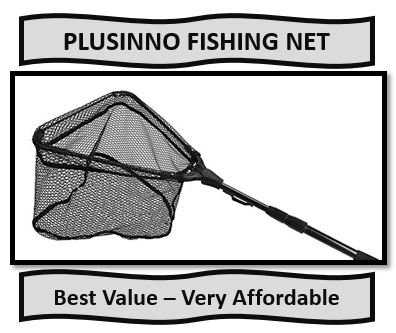 If you are looking for a very affordable, and easy to store, fishing net for bass fishing – the Plusinno Fishing Net line is a great option.
They offer 4 different net options, with 3 of them being okay for bass fishing. I don't necessarily recommend the 12" hoop size fixed pole option, because I want a larger hoop size, and a deeper net (it's net depth is only 7.5"). Netting a giant largemouth bass could present some problems with this option.
The other three options in this line of fishing nets are telescopic poles with bigger & deeper hoops then the before mentioned fixed pole option. The telescopic poles will fold up making these nets very easy to store.
The hoop size options include a 16-inch option, a 17-inch option, and a 20-inch option. I'm always a fan of bigger nets, so I steer towards the 20-inch option, but like I said, any of these options should work well for bass fishing.
All these nets are made with a nylon mesh that will protect the fish and are easy to clean. The poles are made from aluminum and should be very durable for you.
The prices are normally right around $30 – which is great for a durable bass fishing net.

Bass Fishing Nets Q & A
Question: What type of net materials do you recommend for bass fishing nets?
Answer: I recommend either coated nylon or rubber if possible. Those materials help protect the fish while netting – and are also very durable. Especially for catch and release fishing, coated nylon and rubber are the best.
Question: Any hoop size recommendations for bass fishing nets?
Answer: I like a hoop size that is around 20 inches around to give you plenty of space to net your bass. I also like a hoop that is plenty deep, because bass like to flop and jump – and a shallow net may lead to a lost fish.
Question: Any recommendations on handle materials?
Answer: Aluminum or fiberglass materials usually work the best. They provide a great combination of being light weight & durable. The light weight of those materials makes the net very easy to maneuver, and you want the durability when scooping up a large fish.
Also make sure the handle is long enough that you can easily scoop the fish out of the water whether in a boat or on shore.
Other Links of Interest
Here are some other helpful links about bass fishing and fishing nets.
Best Northern Pike Fishing Nets
Final Thoughts
Some of my best outdoor memories come from early morning bass fishing trips with my dad (and possibly a couple of times skipping school to go fishing with friends) – and now I'm going through that exciting process of teaching my children about bass fishing.
Those bass fishing trips are always a little more fun when you can catch a few fish – and especially for my kids – seeing them get to handle the bass that they catch is almost priceless. Whether you are just trying to make sure you land some fish for your children – or making sure you catch that tournament winning bass – having a good bass fishing net is a good idea, and hopefully this list will make it really easy for you to pick the best fishing net for your bass fishing adventures.