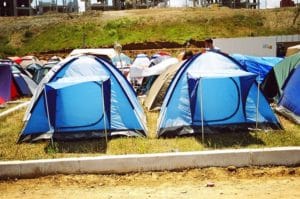 While you always hope that everything goes smoothly during a camping trip or similar outdoor excursion, accidents do happen and let's face it: if you've been using the same tent 30 weekends a year for the last four or five years, you really got the most out of it and might be living on borrowed time until something wears out.
The good news is that sometimes you don't have to go for a full replacement. We've already written a great article on the best replacement tent stakes, and while that might be the most common item that needs replacement over time there are also many other options to get you back camping. Even if you snap a tent pole, don't assume you have to start over! Read on to learn about the best quality tent pole replacements available online today!
Some of Our Favorites
Figuring out "the best" replacement tent poles is going to be difficult if for no other reason than the type and size of tent you have makes a huge difference as far as which of these will work for your needs and which won't.
Tera Aluminum Alloy Tent Pole Support Frames Kit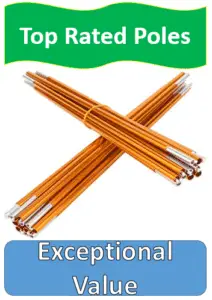 While these won't be the right fit for every type of tent, for people looking for solid framework for certain tents, awnings, and frames will absolutely love what Tera brings to the table with their flexible (yet durable) aluminum alloy replacement tent and support poles.
As of this writing these enjoy one of the highest rankings on Amazon.com for this category, and it's not hard to see why.
The aluminum alloy means they are tough and are best as supports for 2 person tents, whether for camping or for backpacking. The elastic cord connecting the segments in each rod allows them to be both flexible and strong, an important combination that can be hard to find.
There are two replacement rods, each one about 142 inches long, while each specific segment is 14 inches long.
Hikers, ultralight backpackers, or even solo camper who just enjoy that bit of extra space will all understand this rod design and quickly come to appreciate the level of flexibility and strength in the construction of these replacement supporting roads. These are most suitable for the 2 people tents that are either:
210 x 200 x 125 cm
200 x 200 x 135cm
These are strong poles that are specifically tested to hold up in bad weather conditions with heavy wind and rain. There's a reason they're number one on our list!
Coghlan's Fiberglass Tent Pole Replacement Kit
These lightweight fiberglass tent poles come in at less than one pound, yet offer fulls strength and flexibility in replacing a damaged tent pole without weighing down the back of hikers, backpackers, and ultralight backpackers.
This replacement kit offers four replacement poles made of fiberglass, each one 25.63 inches in length (which works out to 65.1 cm each if you're working with metric).
These four pole sections come with lead wire and shock cord, as well as the necessary 9.5 mm ferrules and directions to help you with any work or adjustments you might need to make to make sure these replacement fiberglass poles for your tent live up to your standards and hold up to full use.
This kit can be used or replace damaged or broken tent poles and offer the stability you've been missing from your tent ever since the original pole was damaged. These are durable materials with a solid design to weather the worst that Mother Nature can throw at you. Definitely one of our favorites because it is well designed as well as being easy to set up and use.
Stansport Replacement Shock Corded Fiberglass Tent Poles
Stansport replacement poles for the Stansport catalog items #722-200 & #723-200 are very niche in their target audience, in that they are designed for those two very specific items. These fiberglass tent poles connected by shock cord are easy to assemble, perfectly designed to replace damaged and broken poles, and are strong yet lightweight.
This is a great combination that makes them popular not only for these specific tents, but they have been used by some campers for other tents and similar structures to good effect.
Obviously there are some risks in that situation, however these are known to fit the basic tent size of 90″ X 66″ X 44″ – so larger tent constructions in many cases. The poles are segmented, allowing for some flexibility in set up and as long as you have a tent that fits those parameters you are probably in good shape.
That being said, if you have the exact Stansport tent models that these poles were specifically designed for then you'd be a fool to go in another direction. That's high quality construction and good materials all designed and focused to provide an outstanding product that keeps repeat customers happy.
Stansport Fiberglass Pole Tent Replacement Kit
Also from the Stansport company (you'll notice a pattern that often times a couple of companies really do take the lead in offering replacement parts so their customers can get the most out of long lasting outdoor purchases), this particular fiberglass tent pole replacement kit comes with everything a backpacker needs to get back on track with solid shelter.
This particular kit focuses on tents that are used by hiking and backpacking enthusiasts, and the extreme light weight means these can often be packed in a large pack for a through hike without any worries about getting too weighed down as a result. After all, every ounce counts when you're out on the trail, but you also want to make sure your shelter is up and functioning!
In addition to featuring four 7mm poles that are common with backpacking tents there is also installation wire, shock cording, pole tips, and four ferrules. In other words, you have absolutely everything you need to deal with a broken pole and make sure you have your tent fully pitched and supported even in the middle of the back country.
Texsport 7/16-Inch Tent Pole Replacement Kit
The Texsport replacement kit for tent poles focuses on 7/16 inch posts and features four fiberglass tent poles, multiple Zinc-coated steel ferrules, a couple of pole caps, and more. This kit also includes 10 feet of elastic shock cord in addition to a 29 inch leader wire.
This gives you all the tools you should need to take care of any tent pole repairs that are necessary, and allows you to work with creating new poles at home before you head out camping on your next adventure or they can also be used on the trail to help repair any damaged or broken poles that you end up dealing with while out on the trail.
In total this kit weighs a mere 1.2 lbs and there are detailed instructions for individuals who find they need to cut these poles or pole segments and make adjustments at home before the completely repaired or replaced poles can then work properly.
These are especially popular among DIY types who really like to be hands on with their at home repairs or maintenance of outdoor materials.
Coleman Replacement Tent Pole Kit
Coleman shows up repeatedly on virtually all our "best X tent" lists, so it shouldn't surprise anyone at this point that they manage to show up here, as well. Coleman not only makes a tent pole repair kit that works with many of their own tents, but they work to provide a versatile setup that allows their replacement tent pole solution one that works for other tents and other companies' tents, as well.
This Coleman kit is compatible with the majority of dome tents you will find out there from the small ones for couples to family dome tents that fit a small family's worth of campers. This kit includes four separate replacement fiberglass tent poles in addition to lead while and 10 feet of shock cord.
Add in a couple of vinyl pole caps, some easy to follow set up instructions, and you can see why this kit is one of the best selling on Amazon for campers and outdoor enthusiasts who like to spend a lot of their late springs, full summers, and early autumns out in the wild at the most beautiful campsites in the area.
Bonus: Coghlan's Tent Pole Repair Kit
Sometimes you don't even need a new tent pole, but you can simply repair the ones that are damaged. Featuring an incredible 130 inches of shock cord, 30 inches of wire, 6 washers, and 2 ferrules. This means you have all the material you need to either mend a bent pole or repairing a broken one.
Depending on how the damage is done, you may find this kit gives you the ability to fix two tent poles, allowing you to continue to add to the life of your tent. This is a relatively inexpensive item that is a perfect add on for any Amazon.com order if you are ordering replacement poles, stakes, or even a new tent.
Why wait for a problem before getting prepared?
This is a small investment up front that can make all the difference, especially if you crack a fiberglass tent pole on a Friday afternoon setting up and aren't going to be able to get back into town or to a computer until Monday (or even next Friday if it's a full week).
Grab one of these kits and heed the Boy Scout Motto because as an Eagle Scout I can tell you: it always pays to be prepared.
In Conclusion
While a damaged or broken tent pole is definitely an inconvenience, and can be more than a little annoying, that doesn't mean it has to be the end of the camping fun of the end of the tent. While a good tent pole repair kit might make all the difference while you are actually out there, the fact that there are so many options when it comes to replacement tent poles shows that if you have a tent that lasts the test of time, you can keep it going.
Accidents happen, and whether you use aluminum or fiberglass, there are plenty of options out there for replacing them, and often at very inexpensive prices. This is a great deal for the avid campers out there, and if you ever catch me or my brother gerry-rigging a pole because we didn't take our own advice on being prepared please, by all means, make fun of us accordingly!
Enjoy the great outdoors and we'll see you out camping!
Great video on repairing tent poles: