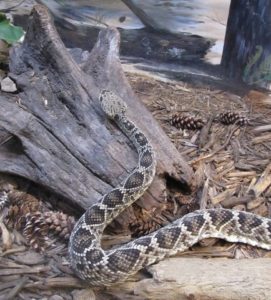 While there's no question that the majority of hunting boots are made for men, and snake boots are no different in that particular matter, but there are many choices when it comes to finding outstanding snake proof boots for women.
There are a couple companies that really focus on these designs, and produce a comfortable and effective boot for hunting, ranching, or working outdoors that also protects from the worst of critters you can find throughout snake country.
We have plenty of friends from all backgrounds who like nothing more than getting out into the woods for a while and if you grow up in the Midwest you know plenty of serious female hunters, farmers, and outdoor workers. They deserve high quality protection from the worst case scenarios, as well!
2018 Update: There have been some changes and movement in the snake boot market for women, so we're really happy to be able to update this article, bring some new styles of women's snake boots to your attention, deal with the obvious problem, and answer even more of your questions based on the e-mail questions we've received.
Hope you love it!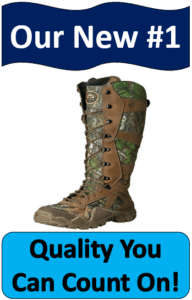 Irish Setter Women's Vaprtrek Boots
While we still have serious respect for the Chippewa pull on snake boots for women, it's still one of the best out there, but we have a new number one! These Irish Setter Vaprtrek Boots feature a rubber sole and a combination of outstanding leather and synthetic fibers for a boot that is comfortable, extremely well built, and provides all the protection that a female outdoor enthusiast could want whether hunting, hiking, working, or exploring in snake country.
The shaft of the boot measures around 14.5 inches from the arch and the sole has roughly and inch of firm rubber at the bottom to help give stability. These are made to the same quality standards that the men's Irish Setter Vaprtrek Boots are, which means you have another great pair of hunting boots offering full protection here.
While these often don't advertise specifically as anti-snake boots, the Vaprtrek includes the classic SnakeGuard to help protect from snake bites and are a must if you're going to be finding yourself heavily in snake country.
These are waterproof hunting boots that also include the trademarked ScentBan, making them an incredibly popular option. Whether you're worried about thorns, fangs, or other dangers, these boots will help you to stay safe out and about.

Update Note: Many of our previous top rated snake boots are no longer stocked by most places online, and we understand the frustration from our female readers who are looking for new snake proof hunting boots. Most of the companies producing snake boots seems to be discontinuing their women's line of anti-snake bite boots and have yet to bring out replacements.
One very good alternative option we like to provide is to check out our article on the top rated snake proof gaiters. This lets you add protection over good boots that already fit comfortably.
This is a major reason why we recommend the boots above, and also check out our last section on the best way to size men's hunting boots to fit a woman's foot to give you the best chance of finding a good fit you can rely on.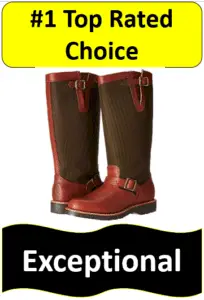 Chippewa Women's Pull On Snake Boots
These are consistently rated as the best women's snake proof boots out there on the market. The "L23913" and "L23914" are basically the same boot with the exception of color scheme, but the designs are the same. These comfortable and exceptionally built leather boots also have a Vibram sole and buckled snaps to adjust fit, which takes care of one of the biggest issues many people end up having when finding the right pair of hunting boots.
Chippewas are consistently considered one of the best brands on the market, so it shouldn't come as a surprise that they also provide some of the best snake protection for women out there. They haven't disappointed in the past with some of their most outstanding designs and that continues here.
These boots offer 15 inches of complete protection from snake fangs. Your feet, ankles, calves, and lower legs are going to be fully protected out in the field, which explains their full popularity. These hold up the Chippewa standard of excellence and bring an astounding aesthetic in addition to the type of quality that is necessary to keep wearers safe out in the field.
These are outstanding snake boots and should be near the very top of the list when it comes to getting a great protective pair of footwear for the special outdoor women in your life.
These have been in high demand recently, so you will want to stay tuned to see if new models come in, if used ones are on sale, or if Chippewa is going to release a new design.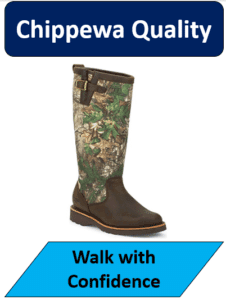 Chippewa Apache Women's Snake Proof Boots
These high quality leather anti snake boots by Chippewa are right up there among the best women's snake boots available. Made mostly from a combination of top notch leather and nylon, these boots are comfortable, designed well, and will stop a bite from even the largest of angry diamondback rattlesnakes, by far the largest venomous snakes found in the United States.
The trademarked Iron Texon insole adds additional comfort and stability to the overall boot design. These boots offer full protection, are good for hunting, ranching, or any type of outdoor wear, and will help keep snake fangs away from your skin.
Chippewa Apache L25118 Lady's Snake Proof Boots with round toe is stylish, practical, and effective. That last point is the most important by far, since you never want to take a chance with a venomous snake bite, and this particular design has held up very well in controlled testing to make sure you are fully protected while out in snake country.
If you're not going with the top rated boot on this list, this one is a good backup choice.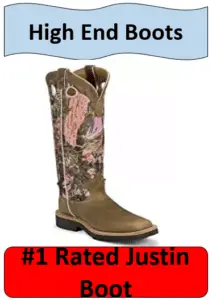 Justin Women's Rugged Camo Snake Boot
These boots are definitely the most expensive (on average) of the ones on the list, but these exceptional looking camo snake boots feature a square toe, tan leather pulled together with pink camo design create a very good looking boot built for female feet while also offering snake protection according to Justin boots.
The Justin Company is known for creating great boot designs and has been around for over a century at this point. Aside from creating an effective and comfortable pull on women's snake boot, this company also proudly proclaims that every single one of their boots are made, manufactured, and produced in the United States.
These boots definitely have a very distinct style, and while the pull on style isn't as common, it does give a little extra convenience for being able to quickly pull them on before heading out. The obvious drawback is simple: if you tend to have a large ankle or thick calves, you will have a very hard time making these fit well.
While we don't rank it quite as high as the Chippewa models (and we prefer Chippewa's more thorough testing of boots to make sure they're "snake proof") this is a good option and the highest rated among Justin Boots.
March 2018 Update: Currently as of March 2018 this particular style seems to be sold out. While we're hoping for them to begin production again or come up with a new design that holds up to the old quality and style, as of this update this model is no longer available.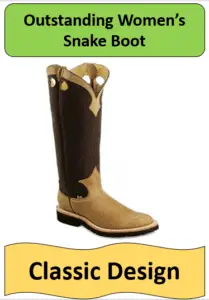 Justin Dune Traction Women's Snake Boot
The Justin Dune round toe snake proof boots for women is a more classic design that harkens back to leather cowboy boots that displayed relatively simple but solid designs. The snake proof fabric shaft is designed to give your foot, ankle, and leg proper protection against striking snakes.
Hand crafted in the United States, these boots are also designed with a trademarked "J-Flex" shock absorbing system that allows your feet to be more comfortable, to be cushioned, and makes wearing them throughout the day much easier on the feet and ankles.
These are a great looking boot design and while they tend to be a touch on the pricier side when it comes to snake boots, they do tend to be less expensive than the other pair of women's Justin boots on this list, and many people find that the hand made quality is worth it.
If you can go with a high quality snake proof boot from the Justin company, these are a fantastic way to go.
March 2018 Update: Currently as of March 2018 this particular style seems to be sold out. While we're hoping for them to begin production again or come up with a new design that holds up to the old quality and style, as of this update this model is no longer available.

What About Using Men's Snake Boots?
There are several companies that produce snake boots but don't focus on a women's line. However, even some of those companies suggest that many of the men's boots can work great for women, with a general rule of thumb being that you want to go 2 sizes smaller. So a women size 10 should look at a men size 8.
This might not always be the ideal way to go but it is another option for women looking for a high quality boot to protect from snake bites while you're out and about in the wild, and unfortunately during some years that ends up being the best option if you want a shot at the highest rated snake proof protection for that year.
If you have particularly thick calves then you might want to go with a size larger. You can always add an extra layer of socks or some insoles to help create a better fit – and you can always return under warranty if needed.
While this is not an ideal situation, it still makes proper protection from venomous snakes possible.
Women's Snake Boots FAQ
Q: What happened to all the old women's snake proof boots?
A: Unfortunately we haven't found a clear answer to this one. While there used to be several very specific options available for female hunters, there seem to be less being produced and many companies have not come forward with new options.
We're keeping track of this and looking for solutions
Q: Can I wear a men's snake proof boot?
A: Absolutely. You do need to do a little adjustment to figure out what your size is, but a general rule of thumb is a 2 size difference while some companies provide charts indicating what they believe the Men's/Women's size to each one is.
Q: Are there any pink women's snake proof boots?
A: Not currently, no. Seeing as how these are generally used for hunting, various forms of camo make the most sense.
Q: Are women's snake boots waterproof?
A: Most will be, although based on various reviews and personal experiences, it is important to note that not every pair seems to hold up to those promises of being waterproof so make sure to do your research on all of this.
Q: Which company makes the best snake boots for women?
A: Traditionally Justin was the company that gave the most options, but Irish Setter currently has one of the best options while Chippewa also had several good options but seems to have discontinued them, as well.
Q: Are all hunting boots snake proof?
A: No, not even close. For boots that are actually designed to make sure a large pit viper's fangs don't get through you need special material and design like unique hardened leather, thick arrays of cloth, or even materials like Kevlar.
Never assume that regular hunting boots can resist a snake bite if they don't advertise that trait. Snake proof boots are built specifically for that purpose.
A Few Final Thoughts
There are several companies that focus specifically on creating outstanding snake protection for women, and others that talk about adjusting sizing to get an equivalent "men's" boot that works just as well in fit and in offering full protection against the bite of a venomous snake. This is the good news: there are options, even as more and more companies seem to veer away from this niche there are still plenty of good snake protection options that are available.
Hopefully you enjoyed our review of women's snake boots and found a pair that is perfect to meet all of your outdoor needs!
Yes, snake boots work – video proof

A few other pages of interest: