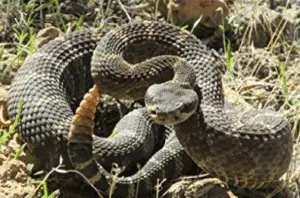 Whether it's on the prairies of North Dakota, in the timbers of the Rocky Mountains, or down by the Mississippi River basin, one of the last things you want to hear when going through the wild is the sudden sound of a loud rattle. While running into venomous snakes is generally going to be a rare occasion, and it is never a good situation out in the wilderness, you are going to feel a lot better if you have protection for your lower legs.
Snake boots are an excellent first line of defense to keep your feet, ankles, and lower legs protected from the venomous bite of an angry, aggressive, or startled/surprised snake. These are a favorite of many ranchers, farmers, and hunters who find themselves in areas where there are chances of running into the occasional rattlesnake, water moccasin, or copperhead.
While all snake boots are tested (check out the video at the end of this article to see a crazy extreme example of this), some are simply better overall as a boot than others. Read on to find out more in my snake boot reviews about the eight best snake proof boots for men currently available online.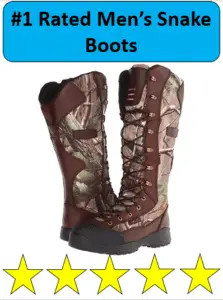 LaCrosse Men's Venom Scent APG HD Snake Boot
These consistently come up as some of the absolute best snake boots out on the market, which also helps explain why these same boots hit the #1 spot in our detailed article about the Top Lacrosse Snake Boots out there.
Made from leather and fabric and featuring a rubber sole, the construction of these boots focuses on creating that perfect balance of comfort, warmth, with a 2 inch heel, 18 inches on the backside, and the ability to lace up to make sure even big feet and big calves get a fit, the LaCrosse Men's Venom Scene Snake Proof Boots really hit the mark.
These are extremely comfortable, hold up well in the field, and keep your feet dry, safe, and warm. That is a great combination when you're out hunting or working in the field for a long period of time. One note of caution: if you see a pair of these for $40 you're buying cheap rip-offs. These have received some negative reviews on Amazon as a result of this: make sure you buy the real deal. These are premium boots for premium protection against snake bites.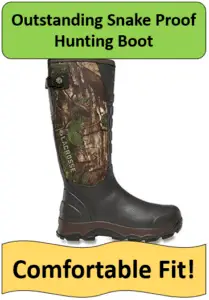 LaCrosse Men's 4X Alpha Snake Hunting Boot
Focusing on a rubber and neophrene pull-on design, the 4X Alpha snake boot for hunters shows LaCrosse really knows their stuff when it comes to making anti snake bite boots as this is the second one from their company to make this list.
Featuring a rubber sole and waterproof design to handle rain, wetlands and marshy areas, your feet should stay dry and warm while hitting your favorite spots for hunting.
The camouflage blend focuses off a heavy green and the design offer 16 inches of 360 degree protection from venomous snake bites. The upper part of the boot as an adjustable latch towards the top, giving a bit of room for guys with larger calves who need a little more space for comfort sake and also making it easy to slip those boots on.
These are temperature rated to -20 and tend to rate a bit on the big side, which is better than the alternative for sure. These are an excellent option when looking for quality snake boots.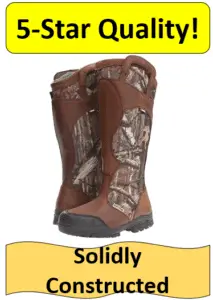 Wood N' Stream Men's Snake Bite Cordura Hunting Boots
Wood N' Stream broke into this market in a big way with their Codura line of men's hunting boots, coming seemingly out of nowhere to suddenly offer one of the highest quality snake boots out there on the market.
This boot is made from a variety of materials, putting together rubber, leather, textile, and polyurethane to create a strong, comfortable, and waterproof outdoor boot for men that stands up to some of the best snake boots put out by Rocky, Chippewa, LaCrosse, and other more established outdoor boot companies.
These boots are waterproof, offer a great mossy oak based camouflage that hunters will appreciate, and brings the same quality that this 60 year old company brings to their other outdoor products that they are much more known for. These are some of the best options among men's snake proof boots and really offer a lot to like on top of the total snake protection. Don't be surprised if this company produces even more outstanding brands in the future.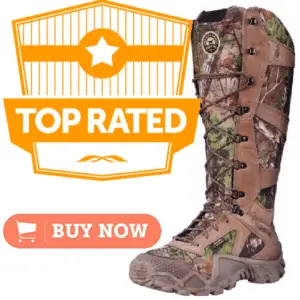 Irish Setter Men's Waterproof Vaprtrek Snake Hunting Boot
Featuring the trademarked "SnakeGuard" design and construction, the Vaprtrek is the top design offered by the Irish Setter company and this is a prime example of an outstanding functional boot that is going to find many fans among the ranchers and hunters out there.
This boot is constructed from a combination of leather and synthetic materials, also featuring a rubber sole that helps with making the boot water resistant. The laced design makes the boot easier to slip on for men with larger lower legs and an UltraDry waterproofing system aims to take care of one o the most common complaints that comes from hunters using inferior models of hunting boots.
A special protective coating helps prevent serious outside damage from abrasions while ScentBan inside the boot cuts down on odors.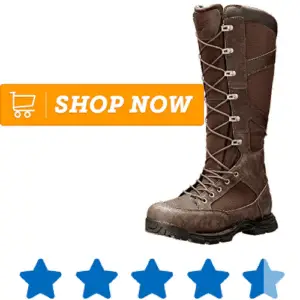 Danner Men's Pronghorn Snake Hunting Boots
Men seem to have a very love/hate relationship with leather made snake boots, and many companies have gone on to new materials and blends but Danner offers a solid design and heavy use of classic leather to create a solid outdoor boot that is insulated, tough, and designed to offer protection from the worst that the outdoors can throw at you.
The Pronghorn line has consistently been one of the best put out by the Danner boot company, and offer classic quality and design that might not be as flashy as some other brands, but it gets the job done. These boots offer 15.5 inches of full protection, while the 1.25 inch heel gives a little boost off the ground and helps to keep your feet dry and warm instead of sinking into water and mud. A solid choice for hunters who firmly believe in the old school look and design.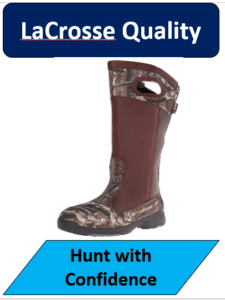 LaCrosse Men's Adder Snake Proof Hunting Boot
LaCrosse was again gets an entry on this list with their Adder hunting boot. This snake bite proof boot is designed not only to prevent snake bites from the common venomous snakes that can be found through the United States, but earns high marks from hunters, farmers, and ranchers for being comfortable, well built, and easy to pull on.
This fabric and leather combination combines with a synthetic sole and special abrasion resistant nylon in order to create a strong but flexible boot that would meet the needs of avid outdoor enthusiasts.
Offering 360 degree protection and specially designed to help kill scent (you're welcome, hunters), there's a lot to really like about the Adder line of snake proof boots from Lacrosse, and this brand once again shows why good construction and the right materials make all the difference when creating a fully functional and popular men's snake proof boot that will be enjoyed by a large number of individuals.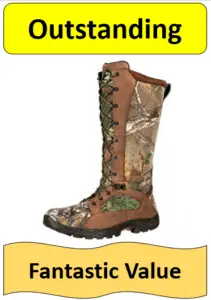 Rocky Men's ProLight Snake Proof Boots
Going with RealTree camo over Mossy Oak designs, the ProLight Snake Boot brand from Rocky Boots is extremely popular with men who like that old school look and design. These snake proof boots for men are guaranteed to be waterproof in addition to strong leather construction that offers full protection from the fangs of even the largest rattlesnakes.
The ProLight line is consistently one of the best brands that Rocky Boots put out, which is why they show up twice on the list of top 5 Rocky snake proof boots reviewed from our earlier article.
These boots have excellent traction, keep your feet dry even through marshes and other wetlands, and aside from working as excellent hunting boots period, they are also are some of the most highly rated snake boots for men that you are going to find anywhere. Why settle for second rate when you can easily check out some of the top options out there?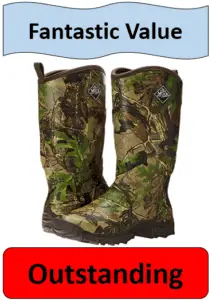 MuckBoots Men's Pursuit Snake Proof Hunting Boots
MuckBoots came out with a really interesting pair of boots to add into the ring. These men's anti snake hunting boots are made mostly from rubber or molded rubber, and the exterior is actually 100% rubber.
The custom Xpress cool fabric that lines the interior of the boots is specifically designed to keep your feet comfortable and prevent excess sweating, and combines with an anti-friction interior to deliver extremely comfortable footwear that help you stay out longer.
These boots are designed to hold up to even some of the toughest terrain and to less than ideal conditions on top of that. While this company has more than 20 different styles, these Pursuit boots are the one style that is actually built to be specifically snake proof. When you want to be absolutely sure this is the brand that you go with and the good news is that they are extremely high quality and worthy of being on this top list of best snake proof boots.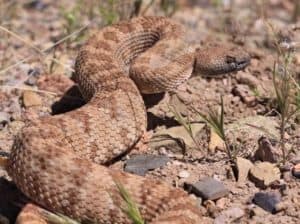 What About Other Snake Protection Options?
This depends a lot on what exactly it is you're talking about. While some people may insist that normal cowboy boots or work boots work well enough, I'm sure as hell not going to take that chance. If you're talking about snake proof gaiters, this is a legitimate option if you find them more comfortable or a more viable option than wearing the boots. However, there are always a few things to keep in mind.
First, depending on the style you might be vulnerable from the back. If you have to step over downed trees or branches a lot, this could become a serious issue as those are some of the most likely places where an irritated or scared rattler might be curled up and that can lead to a strike. However, many of the best gaiters or guards are just as solid as any pair of snake bite proof boots out there and so this is not a bad option at all. In fact, we review snake gaiters in at least one blog post.
When looking at snake grabbers or reptile tongs, while these can be a great way to grab snakes and remove them safely, if you look at any YouTube video of these professionals in action then it is really important to note that they are always wearing gaiters, boots, or both. So while this can be a way to move them if you're looking for more than just immediate protection, they are clearly not a replacement.
As for snake bite kits, avoid them. Seriously, they have been shown to consistently be ineffective at best and actually hurt the damaged limb and speed up medical issues at worst. Protect yourself before getting to that point because those snake bite kits are not proper anti-venom treatments. Not even close.
In Conclusion
There are many good options out there, and although we try our best to keep up with the newest designs released by all the major companies, as well as the brand new styles on the scene from smaller and more independent companies, but sometimes they come out a bit ahead of our updates. We do our best but as always, this isn't necessarily a 100% comprehensive as of this very second up to date state of the snake boot industry.
Do your research, find a brand that is comfortable and fits reliably, and go walk with confidence, knowing you are protected. We hope you enjoyed this men's snake boot review post, and now for the crazy video:
Chippewa Snake Boot Test Video