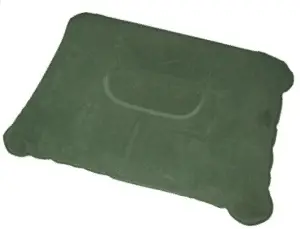 Everyone wants a certain level of comfort when camping, even those of us who have done plenty of roughing it in our days. While the ground might feel fine once you put a sleeping bag or quilt down on the floor of your tent, there's one thing all of us have in common: the need for a good camping pillow.
Whether it's resting the head on an arm, rolling up a sweatshirt to use as neck support, or skipping amateur hour to jump to a full blown portable pillow designed for campers & backpackers, you have options.
What to Look for in a Good Camping Pillow
There are many options out there when it comes to finding the ideal pillow for your camping and other outdoor recreational activities. No matter how much you enjoy camping, there's nothing quite as frustrating as waking up only to find your neck, head, and back hurt. This is doubly true when your lack of a good pillow wakes you up at 2 a.m. or 3 a.m. Seriously, at that point what are you really going to do?
A good camping pillow is going to have several traits, the same ones you will find in some shape or form in all our reviewed selections to follow!
Must be very lightweight
Must be easy to pack up
Must be comfortable
Ergonomic design is preferable
Must be durable
Versatile enough for back, stomach, or side sleepers
Read on for our picks for the top 7 camper pillows out there. We wanted to do a top 10 camping pillows, but after 7 we just weren't comfortable with what looked like a clear drop in quality after finding seven really good ones. So read on for the portable pillows we approve of!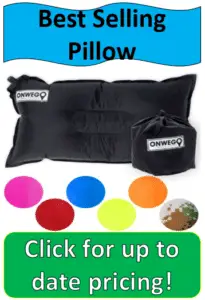 Onwego Inflatable Air Pillows for Campers
These black air pillows are among the most popular available on Amazon, and although it's not our highest rated one, they are a very high quality with the perfect blend of firm support along with solid comfort. These pillows are self inflating, taking away the stress of having to blow them up manually, and are ideal for a wide variety of outdoor trips.
Whether you are into motorcycle camping, long road trips, tent camping, hiking, or even backpacking, getting a good pillow for neck support so you're not waking up in pain. These pillows are 20 x 12 inches when fully blown up and weigh a mere 10.5 oz.
These Onwego pillows are designed to be soft, supportive, and to drastically improve the sleep you will experience throughout the night. They are slip resistant so you don't have to worry about it sliding out from your neck and causing your head to bang against the ground at night, and they even come in  your choice of 7 different colors, including digital camouflage.
There's a reason this highly rated outdoor pillow is the best selling air pillow for campers on Amazon, and although the competition is stiff, it's sure to remain at least one of the top choices available.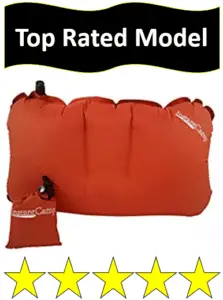 InstantCamp Ultralight Compressible Air Pillow
InstantCamp's ultralight version of the camping air pillow is one of our favorites we've seen so far! This is not only a strong yet soft portable pillow to make outdoor tent camping more bearable, but this is one that was designed with the long distance backpackers and thru hikers in mind since this is an ultralight pillow at a mere 2.4 oz in weight.
The premium nylon used to create this pillow is extremely soft, and the adaptability of this pillow allows for great stomach, back, or side sleeping. When deflated, it can be folded and pushed into a small bag that is roughly the size of a deck of playing cards.
This pillow does need to be manually inflated, it doesn't self-inflate, but its ultralight weight and softness overcomes that minor inconvenience and by getting up to 5.5 inches this works well for side sleepers who need that extra height, as well. This really makes it stick out compared to many of the others out there or on this list.
Durable, comfortable, and well designed – there's a reason that InstantCamp's best camping pillow is simply one of the best out there!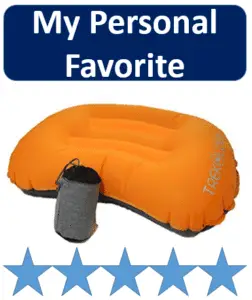 Trekology Compact Inflating Travel Pillow
No one who owns a compact inflated pillow from Trekology is surprised that it made this list. Offered in three colors and two similar but slightly different designs to encourage a better overall resting experience, this pillow has a nice ergonomic design to give that extra bit of support to the neck. I'm personally a HUGE fan of that, as the one recurring problem that's hard for me to get over when tent camping.
Weighing in at only 2.75 ounces this compact travel pillow is great for backpackers and hikers who like to go that extra distance and need to make sure the pack stays as light as possible. This pillow is durable so it will last night after night of use, it is easy to both inflate and deflate, and when completely uninflated can be carried in a pack that is only 5 inches by 2 inches.
Trekology has made minor design changes to further improve the design, and they are frequently testing in order to improve the overall ergonomic effect of these inflatable camping pillows and to make them even better than before. Considering I already feel like they're certainly on of (if not the) best on the market, I'm curious to see how their design continues to change going forward into the future.

Outsmart Inflatable Camp Pillow
Outsmart designs a very uniquely designed inflatable pillow for camping that is distinctive from about any other one on the list. This blue pillow has a very U type shape to it with further grooves in the middle meant to make it ergonomically friendly when it comes to resting the neck.
Some individuals are absolutely sold on this design and love it – claiming the unique shape is perfect for back sleepers who need some firm yet gentle neck support to help them sleep while out camping.
While offering this unique ergonomic design that specifically focuses on cradling the neck, it is also a boon for long distance backpackers as the entire Outsmart camping pillow deflated is less than 3 ounces and fits in a small gray carrying pack that is smaller than the size of a regular soda can. Made of 80% polyester and 20% from a special coating, this is a high quality pillow that really gets the job done. There are some campers who also swear by this as a lower back pillow for back sleepers who need a little bit of lower back support.
Add in a 90 day money back guarantee, and you can tell the company really believes in this pillow – and it's more than enough to make our top 7 list of best pillows for tent camping.

Bukm Self Inflating Foldable Air Pillow
This is a versatile camp and travel pillow makes the list because it is a highly rated and well thought of among many campers who bought one off of Amazon.
Featuring a slightly more common design than some of the other models on here, this is a basic but high quality pillow, fully compressible, and most importantly for those really light or picky sleepers out there, this model is easy to adjust by blowing it up a little bit more, or letting just a little bit of air out.
This is not self inflating, but this blow up air pillow is very easy to fill up with just a few breaths and packs up easily for backpackers and hikers, as well. Roughly four inches thick when inflated, this pillow comes in multiple colors and is large enough to offer space for a back, stomach, or side sleeper.
That is a great deal of versatility for one portable outdoor pillow, and even though it is a blowup it has an outside layer that is designed to be soft and comfortable to simulate the best parts of your favorite at home pillow. That's plenty of comfort and will make your overall outdoor camping experience all the more comfortable and relaxing.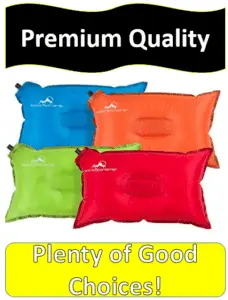 Active Sportsman Self-Inflating Backpacking Pillow
Active Sportsman knows what it takes to create a very high quality blowup air pillow for campers, and they come through with a very solid design here. Coming in four different colors (blue, green, orange, or red) as of this writing these pillows have received a 4.6 out of 5.0 rating on Amazon from happy campers who have purchased them and used them.
These air pillows for outdoor enthusiasts are durable, comfortable, and even adjustable to help make sure you are as comfortable as possible depending on your specific comfort needs. Some people like a little bit more give while others like a firmer pillow for neck and upper back support, or even lower back if that's what you really need.
This pillow weights .5 lbs or 8 ounces and is made from a synthetic memory foam. This means it isn't necessarily too heavy for long hikes or backpacking, but this pillow is heavier than the ultralight models that are only 2 ounces. This is considered one of the most comfortable and durable hiking pillows out there and it even comes with a 100% money back guarantee in case you decide you need to go more ultralight or aren't satisfied for any reason.

The Big E-ZZZ XL Camp Pillow
The Big E-ZZZ extra large camping pillow is a very unique design among the many different inflatable pillows out there. This high quality piece of camping equipment is released by the Relentless Recreation company weighs a mere 8 ounces and is made of a microfiber plastic with cover that separates it from the inflatable models.
While this pillow for campers is going to be a bit bulkier in size for ultralight backpacking since it doesn't break down quite as easily as some of the other inflatable models, more site campers are going to like the contribution Relentless Recreation brings here. The microfiber surface will remind campers of their at home pillow, as the main focus here is all about the comfort and providing a larger pillow than the competition as this one measures 20 inches by 14 inches.
You will have to manually blow the pillow up but then you will have the ability to adjust it as you see fit. Add in the company's promise of a money back guarantee and you can see why this very unique portable traveling pillow makes the list.

In Conclusion
As you can see there are many options out there when it comes to finding a good camping pillow, and there are many companies working tirelessly to continue improving on current designs to create something even better. While many of us love camping out in the wild whether it's in a small tent, family tent, or even a good camping hammock, sometimes what you need to make that fun adventurous camping trip just a little bit better is to find that perfect comfortable pillow that will let you go from a decent night's sleep to a great night's sleep.
Every little comfort can matter, especially at the end of a long day outdoors, so don't dismiss the idea of shopping around for a really good outdoor pillow before your next weekend (or much longer) camping excursion!
Top 7 Camping Pillows Video Review