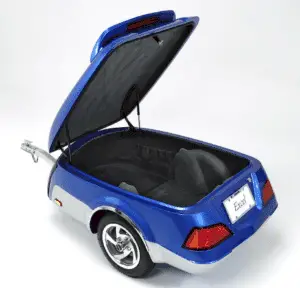 The freedom of the open road is a joy that many people crave but far too people ever get to experience in depth. It shouldn't come as a surprise that the same type of person who absolutely loves hitting the open road on a motorcycle also love the great outdoors in all its forms and often take to camping as a natural extension of that.
The good news is that there is a lot of camping gear out there designed specifically for motorcycle enthusiasts ranging from trailers to tents to cooking gear and more.
While picking out the right gear might be intimidating in the beginning, by doing a little bit of research and taking a few practice camping trips close to home, you will be able to quickly figure out what gear is a necessity, which extras are merely nice, and if you can pack light or need a tow trailer to make sure you enjoy your camping trip in style.
The up front research goes a long way to getting you the gear you really need.
What Makes Something "Motorcycle Camping Gear?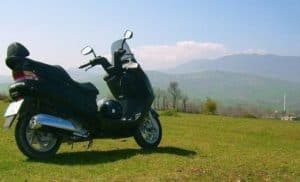 Some gear is specifically designed to be hauled around on motorcycles, other times it's simply easy to pack and haul gear that works well for these specific vehicles. There is no one definition, which is why the key is to simply look at how you enjoy camping and what you need to make that experience enjoyable.
For some people that means the cooking gear had better include a coffee pot. For others they need a full out tent while other outdoor enthusiasts are all about a solid camping hammock. Do you have a favorite camping chair? No guarantee there will be good stumps or other places to set down comfortably. How about a first aid kit?
These are the important things you need to think about so you can efficiently and effectively pack for the limited space you are going to have on your motorcycle…or even have you decide to go with a tag along trailer.
If you're having trouble thinking of what you might need, take a look at our handy chart as a good starting guide.
| GEAR | WHY? | RECOMMEND |
| --- | --- | --- |
| Black Seibertron Motorbike Backpack | Can't get to your campsite if you can't haul your gear. | There are many great options for motorcycle backpacks, but this one is consistently well thought of. |
| Eureka Midori Solo - 1 Person Tent | For solo campers, small and simple is the way to go with tents. | While there are less expensive one person tents, few match the quality of the Eureka Midori. |
| Hilleberg Keron 4 GT, Dark Green, Expedition Tent | Gear in one part of the tent, you in another, and your motorcycle shielded from poor weather and prying eyes. | This is simply one of the strongest, most durable, and highest quality expedition tent currently on the market. |
| Coleman Cooler Quad Chair | You don't realize how much time you have until you disconnect - and you want to relax in comfort. | As of this writing, this is the highest rated camping chair on Amazon. |
| Coleman Brazos Sleeping Bag | Because warm and comfortable is the way to sleep. | There are cheaper, but you should always go quality with a sleeping bag |
| 2 x HeroBeam LED Lantern V2.0 with Flashlight | Flashlights are nice, but being able to add the lantern function is a huge campsite bonus. | There are many good lantern flashlights, but these are consistently rated among the best. |
| GSI Outdoors Pinnacle Soloist Cookset | Depending on the campsite you may not need a fire pit, but you want high quality cooking gear. | The Pinnacle soloist set is known for being high quality and a fantastic starter camp cook set. |
What Motorcycle Luggage Are You Going With?
There are a few different options on how to pack up gear when it comes to hauling everything you need for a motorcycle camping trip. There are those who go with a waterproof dry bag or pack of some kind of pack that can be tied or bungied down on the back of the motorcycle. This tends to be the least popular method, but it is a valid option especially if you are riding solo.
Assuming you're not going with a trailer (and even if you are you might want an extra bit of packing space. Generally speaking there are three types of motorcycle luggage, and each one does have its pros and cons.
Most suitcases for motorcycles fall into the category of:
Hard case luggage
Leather luggage
Textile luggage
There isn't necessarily any right or wrong answer when it comes to which type to go with, with the main issues being durability versus maintenance versus the ability to lock it up (hard case is the winner on that one) for security.
Generally speaking if you ride and camp you will already have an idea of which is the best fit for you and the way you like to travel or set up your bike for road trips. Different bikers are going to have different preferences, and what works best is often actually going to vary on a case by case basis.
If you want more details on choosing the right piece of luggage for motorcycle travel, you should check out this great article on motorcycle camping for beginners to learn more.


Your Camping Experience Starts With The Tent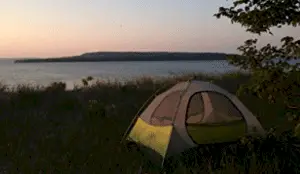 Choosing the right tent becomes really interesting because there are several different options here depending on what type of experience you want. Are you someone who loves backpacker tents and just having a small, light, and efficient tents to go camping? Do you ride independently and need nothing more than a hammock and a tarp to protect from rain?
Then there are even the new expedition tents, which are perfect for people, gear, and even keeping your motorcycle out of the rain and out of the open! In other words, you have some pretty serious options to check out!
Backpacker Tents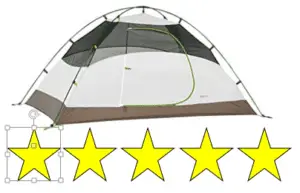 These 2 to 5 person tents are often ideal for the majority of campers. They're not designed for a large family but for one or two travelers with a minimal amount of gear, it is an outstanding option.
The key is finding a high quality tent that is also light weight and can hold up. You need it to be easy to pack and haul, easy to set up, and still have the room you need to enjoy camping without being completely cramped.
There are many great options for small backpacking tents, and a little bit of research goes a long way towards figuring out which ones are the best for you. In fact, you shouldn't even necessarily dismiss a one person tent off hand if you are going solo since there are some pretty exceptional one man backpacker tents out there, as well.
A few things to consider:
Overall weight and bulk of the tent
Portability and durability
Cost
Ease of setup
Take a look at some of our favorites to get an idea of where to start:


Camping Hammocks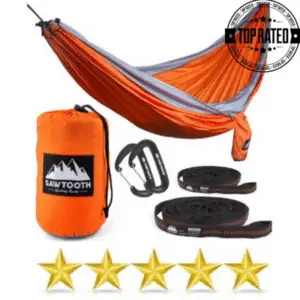 Hey, if you're not traveling with others, or at least not with people you want to share a tent with, then why not consider a camping hammock? Generally easier to set up than most tents and much easier to transport, this is an extremely viable option for the solo traveler, or for the biker who travels with friends, but has his or her own sleeping arrangements.
While hammock sleeping isn't necessarily a favorite of everyone, it is worth knowing that these have come a long way from the hammocks of old.
Coming in a variety of materials, many able to hold up to 400 lbs of weight (of course always check on this before making a purchase) which makes them a good choice for even larger guys or a nice romantic option for a smaller couple looking to cuddle underneath the stars – but off the increasingly dew covered ground and away from all the creepy crawlies that come out at night.
Camping hammocks are increasingly popular and they offer plenty of benefits. There are even some models that are sort of a hybrid and work as a hammock or can be flipped and have a few support poles added to take more of a basic tent form.
Expedition Tents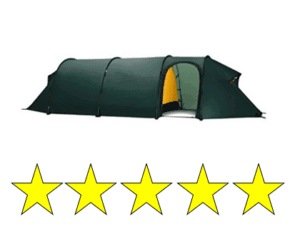 These are relatively new and are sometimes also referred to as motorcycle expedition tents or vehicle storage tents, but expedition is generally the main term used and these bring the idea of pack storage, small backpacking tents, and connect tents all together into one design that gives you the best of all of these.
Expedition tents look like smaller versions of connect tents, with a small section for all your gear. One company in particular stands out when it comes to producing these awesome, highly functional, and high in demand adventure tents, and those are Hilleberg expedition tents.
These are a little bit higher up on the budget scale, but it's easy to see why when you look at the remarkable benefits that they offer individuals who love camping during a long motorcycle road trip. There's a place for gear, a comfy tent for sleeping, and a supporting canopy that keeps your bike out of sight from prying eyes in addition to offering cover for if and when the rain hits.
Let's face it, large family tents are generally out of contention unless you have a compact one and a trailer to haul. So now you're looking at these other tent options to figure out the best ones for you.
There's a lot to think about when you're picking out the right tents for your next amazing outdoor adventure (sorry, couldn't resist), but it's good to know there are options tailor made towards your favorite mode of travel and camping.
You'll Want Quality Camping Cooking Gear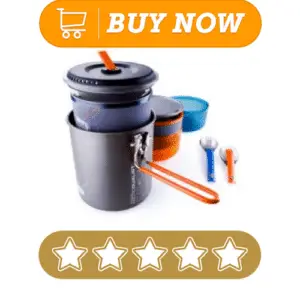 There's a lot to cover here. There are actually a wide array of options when it comes to good cooking gear. Some campers prefer to eschew large pots and pans and go with a small camping stove. This helps take care of any fuel issues since you'll back the fuel tanks with those stoves while also having your small grill right there on the portable stove.
These often come with a small pot or pan, as what fits with that particular stove. This makes it pretty simple to get a small camping stove, a small set of utensils and cookware all in one.
On the other side, there's something to be said about the widely shared belief that no food tests better than the food made over a roaring camp fire. To many people that means a good wood camp fire and not the small propane tanks that often come with small portable camping stoves.
On the other side that could mean just having a basic pan or two, a couple of plates to go with them, and the proper utensils so you can cook multiple dishes over a hot fire and then sit back for a delicious well deserved meal. If waiting for an open fire pit seems like a hassle, or you don't like the inefficiency of all the wood you need to build a bed of coals and get the heat you need to get through an entire meal, then you should definitely take a look at the light weight and high tech solo camping stoves that are earning rave reviews and are extremely efficient in how they burn.
This means more heat and ability to cook using a lot less wood fuel – plus they are lightweight and act as a controlled and contained fire pit in and of themselves. If you're a fan of grilling or cooking on a wood fire, that's definitely something to look at.
Remember that these need to be utensils that can take heat, take flame, and metal is often best because they also need to take a beating whether out on the site or being packed up before heading off to your next adventure. Remember the need for reliable and dependable cooking gear and you're almost certain to find something that works well for you.


Bringing The Perfect Camping Chair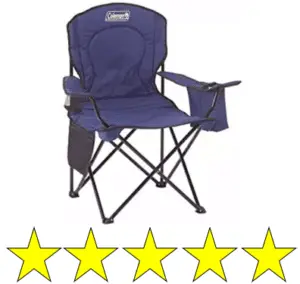 This definitely qualifies as an extra, but not by as much as you might think. Part of enjoying the camping experience is being comfortable or being able to sit around a campfire at night, and not every campsite is going to have some stumps to pull up or natural places to sit. Because of how many options there are when it comes to lightweight camping chairs and how easy they are to fold up and back, there's really no reason you can't bring one along on the back of your bike.
These are the type of camping gear that might not necessarily be a must have, but if you're camping without one, you will constantly notice when you want to sit down and read, kick it around the campfire, or just get off the feet for a bit. Not having that easy chair to sit down in will quickly become a major annoyance. If you're traveling by motorcycle, you don't even have the option of using large coolers as seats.
The good news is that there are some truly great camping chairs out there that get the job done and are incredibly popular. The Coleman Cooler Quad Chair, for example (pictured above) is one of the most popular that can be found on all of Amazon and is just one example of many great outdoor chairs. The Kijaro Dual Lock Chair is another great example of a camping chair that is light, easy to pack up and haul, and can add that extra bit of comfort on your next camping excursion.
Motorcycle Camping FAQ
There are many people who have a lot of questions about motorcycle camping, and we hope this section can help answer those questions for those of you who are new to this amazing activity/lifestyle.
What should I concentrate on if I'm just getting started?
There are several things to consider when looking at jumping into the world of camping while traveling across the country via motor bike. When starting out look for a simple but comfortable tent, a good sleeping bag, a camping chair, and very basic cookware and not much else. Don't buy too much – find a local campsite, and use the absolute basic gear to get used to exactly what you need at a campsite and realize how much you don't need.
These early "test trips" close to home help you streamline what you need to pack and what you don't, and help you get used to and enjoy the lifestyle (or see if it's not completely your thing) before jumping into a big time investment.
Are the expedition tents worth the cost?
This is a big time question, and the answer is going to have a lot to do with how committed you are to long term camping and traveling via motorcycle. If you are a true beginner, this is way too costly an investment to be reasonable. On the other hand if you know this is part of your lifestyle and you're concerned about having your bike clearly out in the open while camping, this is a pretty elegant and practical solution.
These tents offer a small "side tent" just for all your gear, a main tent section where you get to sleep, and a very connect tent setup creates a middle area that is closed in on three sides, while the front can easily be covered with a tarp or left open. This keeps your bike out of the rain and adds a strong "out of sight, out of mind" element that makes many bikers a lot more comfortable camping.
investment, time of use, are you a beginner or do you know this will be a long term interest?
Are there clubs or organizations I can join?
Oh, yeah. There are plenty! Motorcycle camping is a pretty natural hobby or passion if you do enough traveling on your bike and as such there are multiple clubs and organizations that are worth checking out. There's The International Brotherhood of Motorcycle Campers for one, and beyond them there are many local or regional clubs for motorcycle touring, camping, and road trips. A little bit of research can help you learn what your full range of options are.
Look around and if you can't find a local motorcycle camping club, consider going to a regular biker's club or meeting and see if anyone else has heard of one, or are interested in being part of one.
Any advice for beginners?
Camp close by somewhere you're relatively familiar with and start with the basics. You may find you want more than a single chair, tent, or basic cooking utensils but there's nothing like experience to not only get into understanding whether this style of outdoor camping is right for you or not, but also to figure out what you really miss.
Trust me on the lounging/camping chair. You will miss that if you don't have one, especially when it becomes harder to lounge around the fire at night. If you find yourself constantly saying, "Man I wish I had…." then that's a piece of equipment you need to look for before planning your next outing!
How do I find motorcycle friendly campsites?
Start looking around online! There is actually a very healthy community of motorcycle campers which is why many campsites are eager to advertise as being friendly to the local bikers in the area or the through bikers who might be traveling or just passing through. If you see a lot of parks, you can always call directly and talk to a ranger, a groundskeeper, a local authority and just ask to see if their sites are a good fit for you or not.
Enjoy That Open Road, Campers!
At the end of the day, having the right lightweight camping gear that is easy to haul or easy to pack (depending on your specific needs) is really important to get the most out of your experience and really enjoy the process and your specific adventure from start to finish. This article can definitely help you get started with picking up the right gear for a great weekend (or entire week or more) out camping.
Take a look at the following video for more information on getting together your motorcycle camping gear for beginners.

Some Great Further Resources
While motorcycle camping might sound relatively new to a lot of people, the truth is that there are many great resources out there that focus on this very specific niche of campers. If you want to learn more, make sure to check out our blog for further resources on this topic but also take a look at these awesome articles:
RevZilla Article on the basics of motorcycle camping for beginners – a great read!
RoadRunner Article on learning about motorcycle camping.
Motorcycle Camping 101 – another great starter article worth looking at.
Basic Camping Gear List from Camping Rider