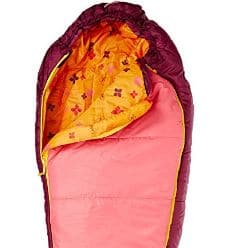 If you have been following our site for a while, you have probably seen our recent posts on the best camping sleeping bags, best hiking sleeping bags, and best children's sleeping bags.
Continuing with our theme on the best sleeping gear for outdoor situations, we decided to do a quick article on the best sleeping bags for toddlers.
I would consider a toddler a child in that 1 to 3 range, so the sleeping bags we reviewed in the best children's sleeping bags article were really meant for children ages 3+.
Most of these sleeping bags are meant for warm summer camping trips – and really backyard camping trips – which makes sense considering the age of the children they are meant for.
However, there are a few that could be used on longer outdoor camping trips. There are also many cartoon character designed toddler sleeping bags that will probably get your child extremely excited about sleeping!
The one piece of advice we always give is the younger the child, the more careful you need to be with them sleeping inside a sleeping bag.
Below is our quick list of some of the best toddler sleeping bags!
KELTY WOOBIE 30 DEGREE KIDS SLEEPING BAG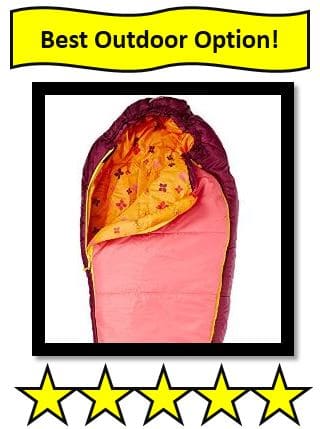 Designed for children up to the age of 6, the Kelty Wobbie Sleeping Bag combines a fun style, with great materials to make a great sleeping bag for serious camping trips.
It weighs about 2 pounds, and has a sleeping space of 4 feet 6 inches.
It has a 30 degree Fahrenheit temperature rating – which means your child could comfortably sleep inside this sleeping bag is as low as 40 to 45°F temperatures.
That temperature rating makes this a good sleeping bag on cooler nights.
It does have a mummy style, flip-down top panel that helps keep your toddler's head warm.
The insulated materials are very comfortable, and the sleep space is large enough for plenty of wiggle room.
There are two color schemes you can pick from – hot pink and a bluish green color….I guess Viridian is the technical name for it…but i'm not the best with crazy colors.
This sleeping bag costs right around $65 – and will be a great introduction sleeping bag for any toddler. More importantly, it will keep them very warm and comfortable.
CHARACTER SLEEPING BAGS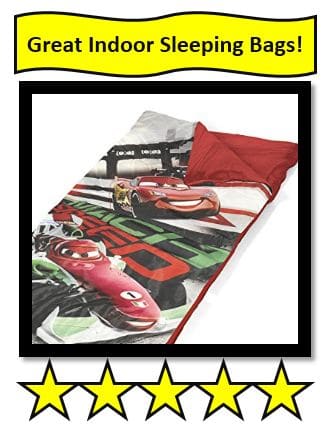 There are also hundreds of character sleeping bags you can purchase for your toddler. Some of these sleeping bags have an age recommendation of 3+, but often parents will use them with children under that age. We ask you to use your best judgement on that – and you should always take the manufacturer's recommendations into consideration when buying a sleeping bag for your toddler.
Most of these character sleeping bags are also meant for indoor or maybe backyard camping – but they could be used on camping trips in warmer conditions.
The plus side to these sleeping bags is they can really excite children – I know my child went through stages ranging from Mickey Mouse to Paw Patrol – and a sleeping bag representing their favorite cartoon characters can provide a lot of fun excitement from the child's perspective.
Disney makes a lot of great character sleeping bags, ranging from Buzz Lightyear to Minnie Mouse and everything in between. The Disney Slumber Bag Sets are their most popular sleeping bags.
The materials are pretty thin – usually a thin nylon – which is why we recommend them more for indoor usage. The sleeping space is normally 26″L x 30″W x 3″H when zipped up. That is a decent sized sleeping bag for most toddlers.
The other plus with these sleeping bags is the price – normally in the $12 to $20 range, so you won't have to worry about breaking the bank to replace them.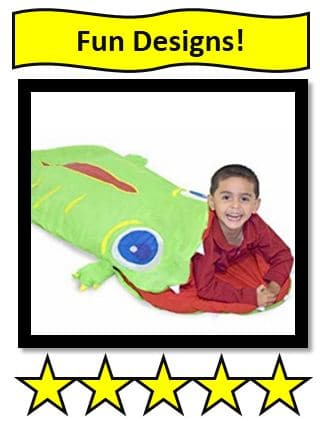 Melissa & Doug are a very popular name in the toy world – and they make some fun sleeping bags for kids too. Their sleeping bags normally have an animal them to them like the Melissa & Doug Augie Alligator or Giddy Bug Sleeping Bag.
They use a high quality polyester fill materials, so they are thicker and more comfortable than the Disney Slumber Bag sets. They are also fun themed, brightly colored, and should bring a lot of enjoyment to your children.
They are also a little larger in size, normally 58 inches long – so they can be used by slightly older children as well.
There are a lot of different animals to pick from, so I imagine you can find one your child will like, and parents will like the $30 or so price tag that normally comes with these.
Olive Kids also makes some fun sleeping bags designed for children – normally incorporating things like trains, planes, and trucks into the design.
Other companies like Marvel will have their line of super hero themed sleeping bags. Again, it is almost impossible to not be able to find a character themed sleeping bag your child is going to love.
We just recommend looking at the materials, the manufacturer's recommendations, and thinking about what type of situation your child is going to be using their sleeping bag in before making a purchase.
VBIGER TODDLER FLEECE SLEEPING BAG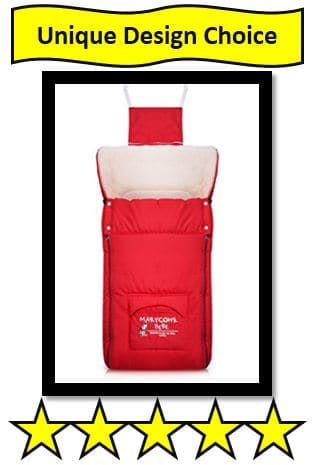 If you are looking for something for a child on the young side of the age spectrum – you should look at the Vbiger Toddler Fleece Sleeping Bag.
This can be used as a swaddle blanket for babies or a sleeping bag for smaller children (it is a product I will be using with my 1 year old this spring).
It is 34″ x 21.7″ x 17.3″ (L x W x H) and is suitable for children ages 0-3.
The sleeping space is not large – so children will grow out of this pretty quickly.
Since it is meant for young toddlers – it isn't always used for camping, but is very popular in cribs, carriers, strollers, and keeping young ones warm in cold temperatures.
The interior is made with a thick and soft berber fleece, which is going to keep toddlers warm in cozy in cool temperatures. It is also designed to keep your child's head warm.
These is a unique product that is made from great materials, has a nifty design, and can do a wonderful job of keeping your toddler warm.
The price is right around $25, and again, this isn't your traditional sleeping bag and is designed for very young children.
FINAL THOUGHTS
Even with all the obvious challenges, it can be a lot of fun to camp with your young children – just make sure you pack the right sleeping gear with you. Hopefully this quick review will give you some ideas on what type of sleeping bag to buy for your toddler.
If you are looking for something to pair that sleeping bag with, you may want to take a look at our article on the best outdoor tents for children – I mean if you are going to buy a sleeping bag for them, you might as well make sure they have a tent to enjoy it in!