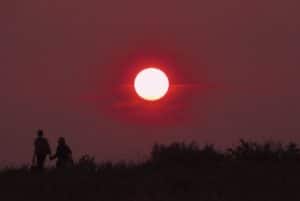 If you do a Google search for kid's tents, you are going to see about a million results ranging from indoor play tents to indoor/outdoor play tents – with a few results for kid outdoor camping tents mixed in. While this is good to illustrate just how many options there are, it also shows you have to be really specific if you are going to get the right match for what you're actually looking for.
We wanted to help you break through all those results and give you a clear, concise list of the best kid's outdoor camping tents.
Not the indoor structures that are basically toys, but in this particular case we would consider a kid's outdoor tent to be one that was specifically designed to be used outdoors – either for yard camping or camping trips in the wilderness (or the not-so-wild outdoor park area).
While there's absolutely nothing wrong with indoor tents, and they can be a great way to get even really young children comfortable with the idea of tent camping, let's look at those specialty kids tents. Whether it's a pup tent in the yard or a small dome tent that lets them sleep right by you at camp, these are the options that stick out as being the best!
This list of children's tents are designed to fit 2, maybe 3, children comfortably, but would be a tight fit for an adult. We also wanted to pick tents that could stand up to heavy usage in the outdoors.
There are some very good two person tents that we left off this list on purpose, with the big reasons for the exclusion being they are more expensive and designed for more serious adult campers. Depending on how you are going to use your child's tent, these will provide a much better value for you as you are introducing your children to the wonders of the great outdoors and the joys that come with time spent outside!
Wenzel Sprout Kids Tent – 2 Person Tent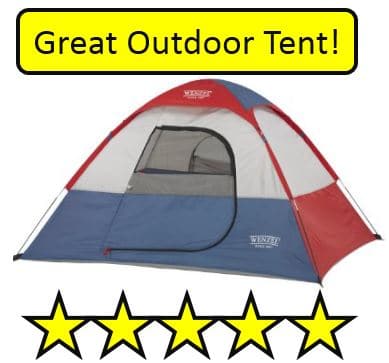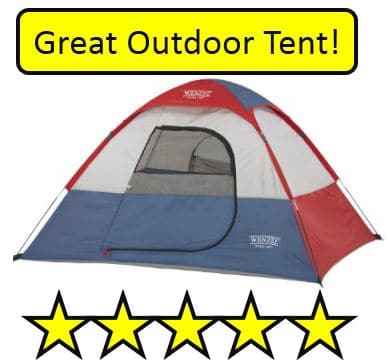 The Wenzel Sprout Kids Tent is a great camping tent for kids. Size wise, it is 6 feet x 3 feet x 5 feet providing plenty of space for multiple small children. It has two fiberglass poles that create the dome shape, and the tent can easily be setup in under 5 minutes so you don't have to worry about set up taking so long. Just two poles and a stake for each corner and that means you have a whole lot less to worry about.
In addition to a really solid dome tent setup, there is also a rainfly that can be attached to the top of the tent or left off to provide a small, mesh screen viewing area. The mesh vent on top also allows for really nice airflow and a decent view of the stars at night. There is a back window that can be opened up, as well as having a front door with zip up screens. This makes this children's tent perfect on breezy days.
The materials are water resistant and well made, but it is a small tent, so super windy or super rainy conditions can cause some issues, which makes sense since you generally don't want to camp when the conditions are really bad, or else that's a time when everyone needs to be in a big family tent together.
All of that being said, as far as kids' tents go this model is outstanding. For a mere $40 or so, it is hard to find a tent this well-made at that price point!
Some people do use this as an indoor or basement camping tent. This works really well since you set it up the same way, minus staking down the corners, and it is strong enough to stay erect without the stakes holding it down.
There are even a few different color schemes you can pick from! This is just a great all around tent for kids.

Coleman Kids Wonder Lake 2-Person Dome Tent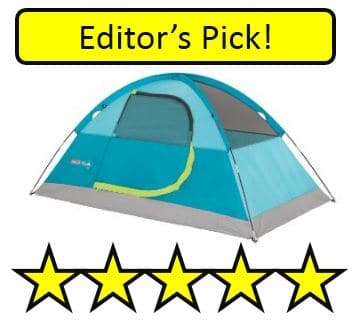 The Coleman Kids Wonder Lake Tent is another perfectly sized tent for kids, with a 7 x 4 foot floor plan and a center height of 3 feet. I especially like the design of this tent since it has a big mesh opening on top that can be left open during the day, and a rainfly can be placed over it at night if needed.
This provides really good ventilation that helps prevent the tent from getting way to stuffy inside during those warm afternoons and allows a cool breeze through the tent whenever the wind picks up or when evening falls.
This tent can withstand some rainy weather, it is built with the standard Weather Tec System that Coleman incorporates into its tents – which is basically reinforced seams and welded floors that are durable and keep out water. Both are very good things, especially since you are looking to introduce kids to camping with these tents so keeping warm and dry is probably a good thing to keep those early experiences fun.
I like the standard color scheme it comes with, and it even has a glow in the dark logo. The price is right around $35 to $40 dollars and the online reviews are phenomenal. It also comes with a limited one year warranty, which does make it our Editor's Pick and #1 choice.

GigaTent Paramount 7' x 6' Camping Dome Tent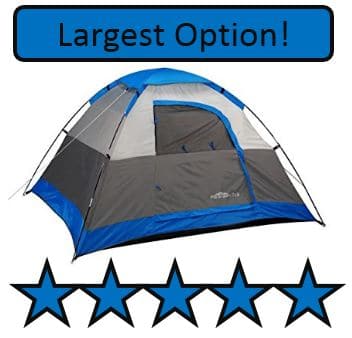 Have a lot of kids, or big kids, or popular kids who tend to have a lot of friends over? Whatever the reason, when you need more space the GigaTent Paramount 7′ x 6′ Dome Tent is the way you need to go. The GigaTent Paramount tent for kids is biggest option we would recommend for children, being a 7 foot by 6 foot floor plan – and with a center height of over 4 feet. For kids that are a little older, or if you need space for 3 or 4 children, this tent will work really well.
This large tent for kids is built to be very durable with fiberglass poles, strong mesh materials, and a waterproof floor. There's no question that this tent is all about being outdoors- with the mesh materials being UV resistant to help minimize sun damage.
With one window and one door, probably the biggest complaint is a lack of a view when in it. It does have enough space that you could fit one adult and a couple of kids in it relatively comfortably, which could be nice in case a parent is needed during the middle of the night!
This is another tent that is in that $40 range and would be a great children's outdoor camping tent! We recommend this tent for anyone that needs a little extra space, or may need a little extra room to fit an adult. Not all kids tents are built the same way and this model is perfect for that extra bit of space for any group outing.

GigaTent Cooper Boy Scouts Camping Tent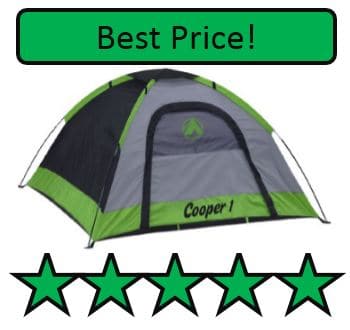 The GigaTent Cooper Boy Scout Camping Tent is a little older model of tent, but we're happy to report that it is also very dependable, and can normally be purchased for right around $30! This tent is smaller in size, 5 feet by 5 feet, so it really is meant to be a great introduction tent for kids.
It is easy to set up, so give your kids the instructions and let them go to town….well that will work if they are old enough to read them. There is enough space for two kids, but you aren't going to fit an adult inside.
It is durable enough to survive some outdoor camping trips, and incredibly affordable. While more like a Cub Scout tent as opposed to an actual Boy Scout size, you still have to like the introduction to camping this particular model brings to the table. Just like the name implies, this is a perfect tent for Girl Scouts or Cub Scouts that are learning the ropes of camping, and will also be a good option for simple backyard adventures at home.

Sundome 2 Person Tent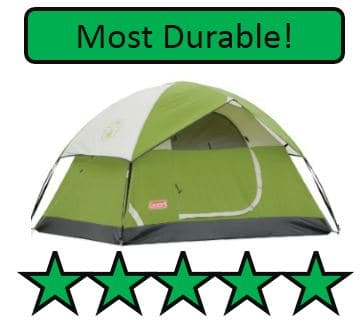 Sundome also makes a really good, durable line of 2 person tents that can easily be used as a child's outdoor camping tent. They are the most expensive option on the list normally, being around $45 to $50 in price, in part because they are designed to be fully functional and usable for individual adults when looking at a long-term camping trip.
The 7 foot by 5 foot space makes it possible for an adult to sleep with a couple of kids, and it even has an electrical access port for a nightlight or lamp if necessary, which is a nice little bonus the other tents don't offer. The setup is pretty simple, and the rainfly is really good at protecting you from the elements should the need arise during inclement weather.
This is a good choice for parents that do a lot of camping, and are looking for a smaller tent for the children to use while the adults sleep in a bigger tent (or camper). If you are only going to be using the tent for backyard camping only, you might be much better off choosing a different option (and save yourself a few bucks in the process).
However, for serious camping, and if you need something very durable for camping out with the kids, it's not out of line to say that there's a good chance this would be the best pick!

Final Notes
Listed above are our picks for the top 5 tents for children. Each one will provide a very good experience for the users, the key is just making sure you pick the right tent for the situations you are going to use it in. We believe it is never too early to start teaching your children about the great outdoors, and these tents are a great way to give children some private space outside and to cultivate that early love of tent camping!
If you are looking for something for the entire family, I would recommend you read our review of the best family tents. If you are looking for a tent that is really unique, look at our Connecttents review! If you want something that is really easy to set up – check out our review on Instant Tents!


As your kid's get older, you may want to teach them how to pitch a classic Boy Scout tent! Below is a fun video showing how that can be done. If these tents aren't what you are looking for – I would encourage you to check out the website toyreviewsbydad.com and look at their incredibly detailed list of the 40 best indoor play tents for children.
Obviously we are really into the outdoor lifestyle and passing that knowledge, love, and experience on to our kids and the generations to follow. We'll do our best to update this list as new great options come up, but we feel confident in telling you that the ones we have on this list are the elite best of the best options to get a top notch tent to encourage your kids to camp.