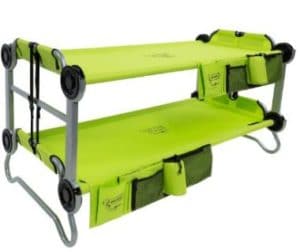 There is very little that excites me more than being able to take my family camping. With the addition of two young sons to my family, I needed to find a solution on how to sleep those kids comfortably during our family adventure trips, and if the parents can avoid getting kicked in the kidneys during the middle of the night, even better!
Luckily for me, my wife discovered some different kids portable bunk beds (some people call them portable bunk cots) that are perfect for camping!
My solution to the problem was going to be making them sleep on the ground like my brother and I had to – but they probably appreciate my wife's solution a little bit more.
The bunks are nice because they don't take up a lot of room, so if your tent is large enough, it is so easy to have your children sleeping on the bunk beds and the adults sleeping on the air mattress. And hopefully you still have some room left over for your gear – there are plenty of impressive large tents that give the space you need to pull that off and we are definitely big fans of all of those!
Better yet, these portable bunk beds work well in other situations, like a trip to the grandparents. Here is a quick review of some of the best portable bunk cots you can purchase, and you can thank us later for the added comfort!
Updated for 2018: We have to admit that these are cooler than ever. While there are usually big changes in the field, the truth is that the same top notch models we first reviewed are actually the same best designs that are currently available now – but we have worked hard to make this page even better and give you even more information about your options.
We have also added a quick reference chart that lists out your different options – BUT PLEASE – continue after this chart to get into more specifics about your choices and to get all your questions about portable bunk beds answered!
The Best Portable Bunk Beds
Our list of the best portable bunk beds.
Can I Use Portable Bunk Beds as an Adult?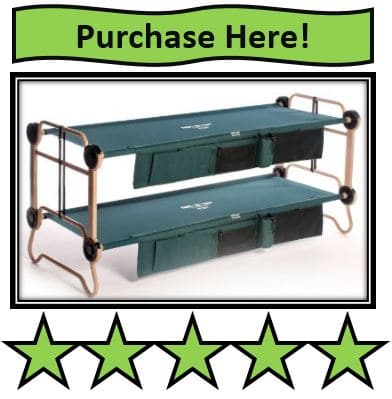 I should also note that you can buy portable bunk cots that are strong enough for adults as well. We purchased them for our children – but they can easily hold a couple of grown-ups when you buy the right version. Obviously portable bunk beds for adults are going to be far different in size, materials, and build from the folding bunk beds for kids – but both do exist!
I could imagine a large group of adults purchasing a few of these bunk beds if they are going to be camping together in one tent. This product means you don't have to buy a 20 person tent to provide enough room for everybody to sleep comfortably!
They use of vertical space means you can still sleep comfortably but take up a lot less room than you would using air mattresses. This gives you more play space, more gear storage, and increases your overall comfort level.
These adult sized bunk beds are available in three colors as of this post – while the kids' versions are available in four. This gives a lot of options from the appearance standpoint and each version has plenty of attached storage pouches for phones, tablets, glasses, and all the odds and ends that you have to take along- but are afraid to leave on the ground because you don't want them to get crushed.
The situations you can use a portable bunk cot in are almost endless – family road trips, camping trips, bachelor parties, sleep overs – this is one investment that will pay off for you for sure and is one of those pieces of outdoor gear that can actually be a nice little piece to have around the home as well!


Disc-O-Bed Portable Cots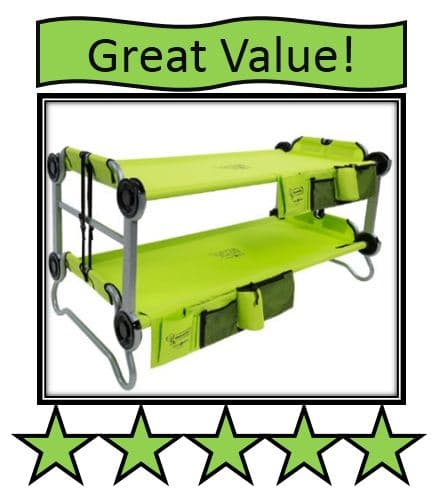 Disc-O-Bed is one of the leaders when it comes to portable bunk beds. They have a couple of different sizes you can pick from, including a youth option, a large option, and even an extra-large version. This is a great piece of information since that means a large number of choices that help make sure you can find what you're looking for. Kids or adults will be able to find a very good portable cot from this company that meets their needs.
The version we bought for our sons is the Disc-O-Bed Youth Kid-O-Bunk with Organizers. This is a slightly smaller version that is specifically made for children. We purchased it because the frame is made from steel, making it very durable – and each bunk can hold up to 200 pounds! That gives us plenty of room for our children to grow into them and means we should be able to get many years of use out of this model.
The surprising part was how easy it was to setup. They call it a disc frame – and believe it or not – there are no tool required during setup. You can set this version up as individual cots, bunk cots, or even a bench. The first time might take you about 10 to 15 minutes to assemble, but the lock in pins and easy to follow instructions (with pictures!) will help you get the job done fast.
In fact, this was far, far easier to put together than most of the Christmas presents I bought for my kids (It took me 3 hours to put together their kitchen set and 2 1/2 hours to put together their train table). Stupid "some assembly required" play areas.
When in bunk bed form, you are looking at a size of 65 inches long, 32.5 inches wide, and 32 inches high. The sleep area is about 28 inches wide and 60 inches long. The space between the first bunk and the second bunk is 18 inches in height. It is close enough to the ground a ladder isn't needed and a child falling out of the top bunk should be just fine.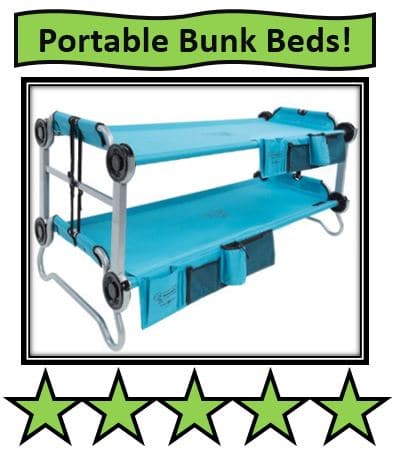 The cots do not come with a mattress or anything like that, but honestly they are pretty comfortable. Our children sleep on them with just a sleeping bag. There is also an organizer or extra pockets on each bed that provide each child with some storage for their prized possessions (which includes a lot of rocks and leaves in our household).
You have three really sharp color schemes you can pick from – lime green, red, and a teal blue color. We went with the blue, but the lime green is really really bright, and the red looks great too.
Now the manufacturer does recommend this product for children ages 7 to 12. We will not encourage you to disregard this piece of information, but many parents including myself, have had younger children ages 3, 4, and 5 sleep on this product with no problem. You know your kid's sleeping pattern better than anyone, and if they roll and move a lot in their sleep, the top bunk is probably not the best place to put them in until they get older. Our oldest son sleeps like a rock (lucky kid – only male in our entire family who has ever slept that well) and hasn't fallen out. Use your best parental judgement here to avoid a loud wail and tears in the morning.
The best thing I can say about this product is when you look at different review sites, it commonly scores over 90% in 5 star ratings, and I would agree with those reviewers. This has been absolutely outstanding for us so far and we don't see any reason we're going to become less enthused about these solid portable bunks in the future.
Extra large portable bunk beds for adults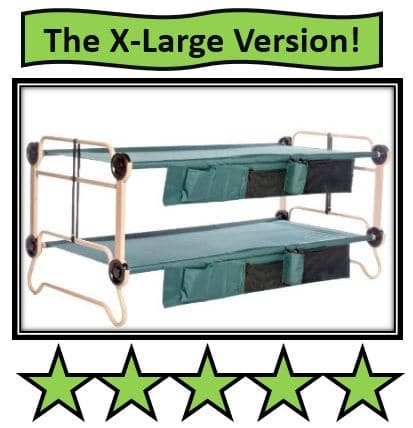 Don't feel left out adults. Disc-O-Bed also has the Large Cam-O-Bunk Cot with Organizers that is made for adults. This is very similar to the product listed above. The setup and features are very similar, but obviously the size is very different as these are designed to hold a lot more weight and have a much longer length, though truly tall individuals may have to side sleep or get slightly creative in shifting if they want to stretch out fully.
This version of adult portable bunk cots is made to hold up to 500 pounds per bunk! The lower bunk is only 11 inches off the ground making it perfect for tent camping. The distance between cots is a little larger, giving you 21 inches of space so you don't have to worry about a claustrophobic panic.
Assembled dimensions are 79 inches in length (6 feet 7 inches), 27.75 inches in width (2 feet, 3.75 inches), and 32 inches in height (2 feet 8 inches). The durable steel frame does make the product heavy, when assembled in bunk bed form it weighs 62 pounds! That's solid heavy duty construction but also brings up one concern we'll want to point out: make sure if you use it tent camping that you have heavy duty flooring or set a thick quilt down to cushion direct pressure from the legs onto the tent floor.
There are even bigger portable bunk beds for adults
If that is still not enough sleeping space, you can purchase the X-Large Disc-O-Bed Cam-O-Bunk with 2 Organizers. The frame and everything else is identical to the large version, but it provides a little bit more sleeping room. The sleeping width of this version is 34.5 inches instead of the 27.75 inches, and it still holds up to 500 pounds per bunk.
If you are concerned about the space between the bunks, there are an X-Large and Large version of the cot bunk beds that are sold with height extensions. The leg extensions can be used to add an additional 7 inches of clearance space between the bunks.
There are also a couple of options Disc-O-Bed created with extra storage space – such as cabinets and footlockers. Those versions are identical to the choices listed above, but again give you more storage space. If that is important to you, I would encourage you to take a look at those options.
All of these options come from a very dependable company – and they are all highly rated on review sites.
Portable Bunk Beds for Camping FAQ
Q: Do all portable bunk beds come with organizing pouches?
A: We can't speak for every single brand or model out there, but all of the designs that we recommend here do come with storage pouches, both solid and mesh. This just makes sense for these types of bunk beds.
Q: How can I make portable bunk beds?
A: There are plenty of plans out there but frankly unless you're a mechanical engineer or one hell of a do it yourself level of handyman, just go with one of these. The cost is going to be comparable and you don't have to worry about a miscalculation or bit of misconstruction that suddenly results in disaster.
For the sheer amount of use and time you can get out of these, it's an easy investment to make and frankly a great deal.
Q: What's the difference between pockets and organizers?
A: Pretty much just advertising. All of these have multiple pouches, pockets, solid and mesh, to allow you to store everything you want organized however you see fit.
Q: Do portable bunk beds have ladders?
A: Nope. There's no need for them. These aren't full-sized bunk beds and are very close to the ground. If they weren't then how would they actually be portable?
Q: Where is the best place to buy portable bunk beds?
A: Amazon.com. We're not being cute here (although we are affiliates and we appreciate any support of this site by having you do your shopping through our links), there aren't many options out there and don't be surprised if online is the only place where you can find these. Amazon is the big retailing giant that these companies use, so it's definitely the way to go.
Q: Is there any difference between portable bunk beds for camping and those made for small children or toddlers?
A: Portable camping bunk beds and portable bunk beds for toddlers are the same thing. Like I said earlier, one of the really cool things about these is that they are great for outdoor camping, for adding bedding to a vacation cabin for a week, or even for just using at home.
Some Final Thoughts (for now)!
A portable bunk bed is not only going to improve your comfort level for camping, but I can't stress enough how versatile they are. We bought it for camping but now use it on road trips and sleep overs. Disc-O-Bed really is the leader when it comes to these products, and I hope your purchase is as enjoyable as ours was.
Other great sleeping/camping products you might want to check out include:
Check out this quick video that shows off this product!
https://www.youtube.com/watch?v=J42RsMVPuFY