Admittedly, I was someone who grew up fishing mostly with St. Croix, Ugly Stik, & a few other very specific brands of fishing rods. So, when some of my angler buddies told me I needed to check out KastKing Rods, I must admit I was skeptical, but intrigued.
I have to say; I've been very impressed with KastKing.
They create high-quality fishing rods at a very, very reasonable price, and the reviews online about them are just fantastic!
It doesn't matter if you need a rod that is versatile and going to be used for numerous different fishing techniques, or if you are looking for a rod specifically built for catfish or walleye – KastKing is going to have you covered!
KastKing says their motto is "Keeping Fishing Fun" – and when you check out their line of affordable, but high-quality fishing rods, you can safely say they are living up to that motto.
So here is a list of the best KastKing Fishing Rods. You are going to be happy no matter which KastKing rod you pick.
Quick List of the Best KastKing Fishing Rods
Here is a quick list of the best KastKing Fishing Rods. If you want a much more detailed review about each option, we got you covered with a nice breakdown of each rod option!
| Rank | Description | Link |
| --- | --- | --- |
| #1 | KastKing Perigee II Fishing Rods | Link |
| #2 | KastKing Royale legend Fishing Rods | Link |
| #3 | KastKing Speed Demon Pro Tournament | Link |
| #4 | KastKing Speed Demon Bass Series | Link |
| #5 | KastKing WideEye Walleye Rods | Link |
| #6 | KastKing KatTech Catfish Rods | Link |
| #7 | KastKing KastKat Rods | Link |
| #8 | KastKing Krome Salmon/Steelhead Rods | Link |
| #9 | KastKing Calamus Ultra-Light Spinning Rods | Link |
The Best KastKing Fishing Rods
KastKing Perigee II Fishing Rods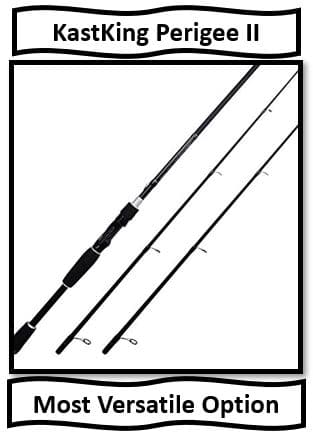 I would consider the KastKing Perigee II Fishing Rods the most popular, most affordable, and really the most versatile rods that KastKing created.
There are literally 100's of positive reviews about this line of rods across different online shopping & outdoor sites.
There are about 20 different variations of these rods ranging in different sizes and coming in casting or spinning rod variations. They also come in 1-piece and 2-piece options based on personal preference.
All of these different KastKing Perigee II Casting and Kastking Perigee II Spinning Rod variations have a few things in common. They are going to be made from 24-ton carbon blanks for maximum strength, sensitivity, and durability. They are all going to have Fuji line guides, graphite reel seats, comfortable grips, and of course a fine-looking design. KastKing really thought about all the details with these rods – they even have high-quality hook holders built into them.
Obviously with so many choices, you have all sorts of lengths, rod sensitivity, and rod-power options to pick from for both spinning and casting rods. However, when you are shopping for these rods you may notice a selection called the KastKing Perigee II Two Piece Twin-Tip options you can pick from.
This is something unique KastKing does that is really cool and can save anglers some major bucks!
These Twin-Tip options are two-piece rods that come with one base, but two tips. For example, you can get a Medium AND Medium-Heavy or a Medium AND Medium-Light tip with your standard base. That is basically two fishing rods for the price of one. And if you are someone who purchased both a medium and medium-light rod from a company for $100+ dollars apiece – well you can see how cool this option is.
This is really such a versatile and affordable rod; you can really see why it is the Gold-Standard from KastKing.

KastKing Royale Legend Fishing Rods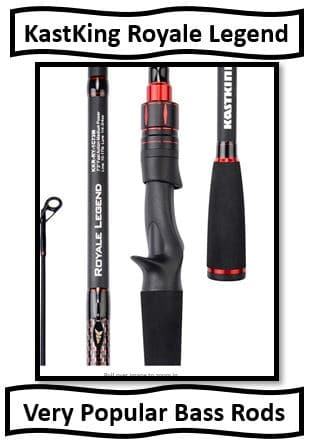 In terms of number of online reviews on various sites, the KastKing Royale Legend Fishing Rods would be considered the second most popular fishing rod variation from KastKing.
This is another rod line from KastKing that has about 20+ variations of casting rods & spinning rods that come in 1-piece or 2-piece variations.
The best way to describe these rods is that they were created for serious bass anglers that enjoy fishing with certain techniques. Each rod option's length, size, action, and power were created with a certain fishing technique in mind.
Flippin, pitching, jigging, spinnerbaits, wacky worms, Texas rigs, Carolina rigs, frogs, jerk baits; yes, they have created a rod designed around those techniques. With everything from medium light to extra-heavy power; there is going to be a rod you enjoy.
All of these rods are made with the top-notch materials that KastKing uses, and they even come with a limited lifetime warranty.
These rods are great for most anglers, but especially great for those bass anglers that need a certain rod for their preferred fishing technique they use to catch big bass.

KastKing Speed Demon Pro Tournament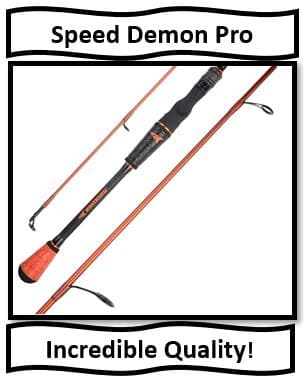 With 100's of great reviews online, the KastKing Speed Demon Pro Tournament Series of fishing rods is very impressive. It is why they had to be included on our list of the Best Bass Fishing Rods!
These rods start with an amazing foundation. They are built with great carbon blanks that reduce weight, but increase the strength and lifting power of these rods over those standard graphite blank rods you can buy at the store.
Side note here – the crankbait rods are built with a composite blend of S-Glass and graphite to produce the lightweight, sensitive action that you want from a crankbait rod!
The other part of these rod's foundation is the great Fuji Guides and Fuji Reel Seats – plus the custom handles and rod butts that give you an amazing grip and control over the rod. Plus they are really comfortable!
There are 15 models in this rod line (4 spinning and 11 casting); with each one basically designed to handle a different fishing technique. There are crankbait rods (those are the ones you will see me using the most), jig rods, flippin' rods, Carolina Rig rods, frog rods, jerk bait rods, – well you get the idea – rods for those different bass fishing techniques you love.
These rods really were built with all the bells and whistles that you want in a high-quality fishing rod. They come with that great peace of mind warranty that KastKing offers on their products.
The pricing is also awesome on this rod line – normally right around the $110 mark. Get these rods if you are a serious bass angler!

KastKing Speed Demon Bass Series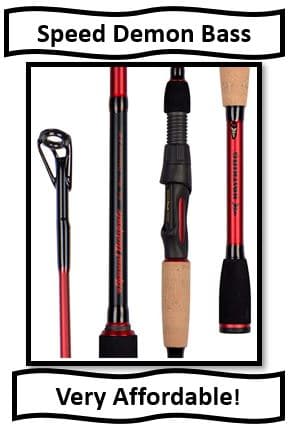 KastKing also makes the KastKing Speed Demon Bass Fishing Rods Series – which is similar to the before mentioned Speed Demon Pro Tournament Line, but with a couple less options and some slightly different features.
There are 11 different technique specific models in this fishing rod line. Two of those are spinning and the rest are casting rod options.
Those technique specific options include Carolina Rig, Crankbait, Flippin', Chatter Bait, Frog, Jerk Bait, Jig Worm, Spinner Bait, Shakey Head, Drop Shot, and Square Bill Crankin'. I think most bass anglers will find a rod that fits their preferred fishing technique.
These rods are made from really good graphite blanks, use Fuji Guides and Reel Seats – and have a traditional cork handle to them. I prefer cork handles, which is an added plus in my book.
The rod lengths will vary from 6'8" in size to 8'0" in size depending on the rod technique you prefer. The rods also vary from Medium-Light to Extra-Heavy for you frog fisherman.
These rods are typically $30 less than the KastKing Speed Demon Pro Tournament line, so if you don't need all the extra (but awesome) bells and whistles those rods come with, this will be a great option for you!
It is hard to argue that KastKing brings amazing quality at an amazing price.

KastKing WideEye Walleye Rods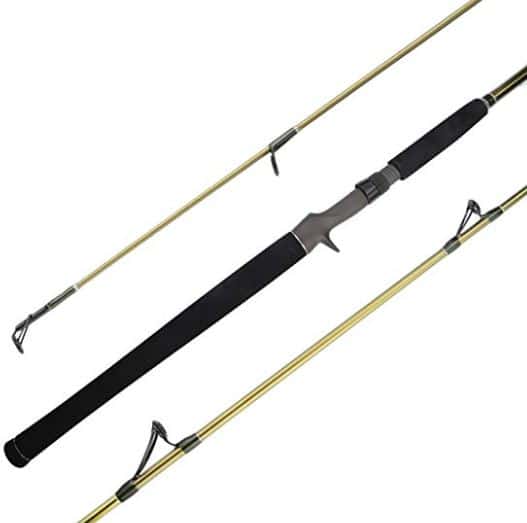 If you have been a longtime reader of Amazingoutdooradventures.com – you have probably noticed how serious we take walleye fishing here. Between my history of walleye fishing tournaments and my annual fishing trips to Lake Erie – I love a good walleye fishing rod.
The KastKing WideEye Walleye Rods line of rods has not only impressed me but has received tremendous feedback from our readers on our best walleye fishing rods article.
There are about 10 different spinning rods you can pick from, and 1 main casting rod as well. Most of the spinning rods are Medium Light in power, but there are a couple of Medium Power choices.
You have 1-piece or 2-piece options to pick from, and they do a really nice job of handling everything from crankbaits, to worm-harness rigs, to jigs! The mixture of sensitivity and power makes these rods perfect for walleye fishing.
These rods use a different rod blank than their popular Perigee II rods – giving them that specific walleye design that anglers are looking for. Of course, they also have high quality Fuji guides and Fuji reel seats which is a major positive.
These rods were designed to be super lightweight, which is great for those long walleye fishing trips. There are even a few telescopic fishing rod options in this line!
Again, it is hard to argue that these are some of the best walleye fishing rods you can buy on the market today!

KastKing KatTech Catfish Rods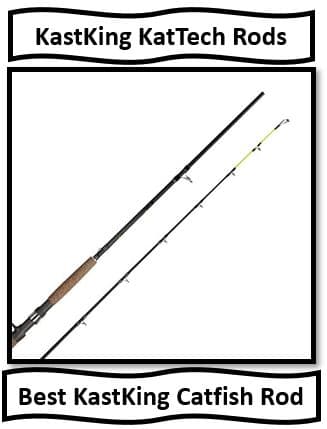 If you have reviewed any of our other fishing rod articles, you probably noticed the KastKing KatTech Catfish Rods on our list of the Best Catfish Fishing Rods.
These rods are fantastic and have the power you need to land large catfish. They are a composite graphite/S-Glass combination.
If you are new to the catfish fishing world, the S-glass helps give the rod the strength needed to catch large fish, with the graphite mixture keeping the rod lighter than a traditional straight S-Glass rod.
These rods are also made with Fuji Guides, Fuji reel seats, and custom rubber cork handles for maximum comfort.
A unique feature of these rods is the Chartreuse "strike tip." This brightly colored rod tip lets you detect fish bites even in low light or nighttime fishing conditions.
There are 9 KastKing KatTech Catfish Casting Rod options. They range from 7'0" to 9'0" in length and will vary from Medium Heavy to Heavy in power. The longer versions of these rods will be 2-piece rods, but there are some 1-piece casting rod options.
There are also 3 KastKing KatTech Catfish Spinning Rods to pick from. They are all 1-piece options, and you have a Medium, Medium-Heavy, and Heavy Power rod to choose from.
These fishing rods will cost around $90+ depending on which rod you pick – and they are just excellent for Catfish Fishing!

KastKing KastKat Catfish Rods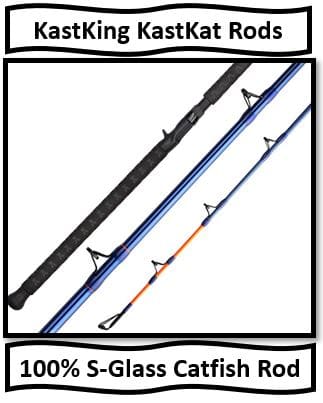 If you are looking for a Catfish Fishing Rod and don't want to pay the near $100 you will pay for the KastKing KatTech Rods, you also have a little bit more affordable option in the KastKng KastKat Catfish Rod.
These rods are 100% S-Glass, which is a little bit more traditional for catfish rods than composite rods. S-Glass provides amazing strength and durability – but they are a little bit heavier than composite rods.
They have stainless steel foot guides, reinforced nylon reel seats, really comfortable handles – really it is the high-quality materials and design you would expect from KastKing.
These rods have a really cool design to them, and they also have a bright orange rod tip. KastKing calls this a "strike tip" because the bright color makes it very easy to see even the lightest fish bites in dark conditions.
There are a couple of spinning rod and casting rod options you can pick from. The most popular versions are a 7'0" 1-piece Medium Powered Casting Rod; a 7'6" 1-piece Heavy Powered Casting Rod; a 7'0" 1-piece Medium Powered Spinning Rod; and a 7'6" 1-piece Heavy powered Spinning rod.
All of these rods are great options, and they really are perfect for catfish anglers looking for that traditional S-glass rod!
Also, the price is normally between $60 – $70 – making it an incredible bargain for this high-quality of a rod!

KastKing Krome Salmon/Steelhead Fishing Rods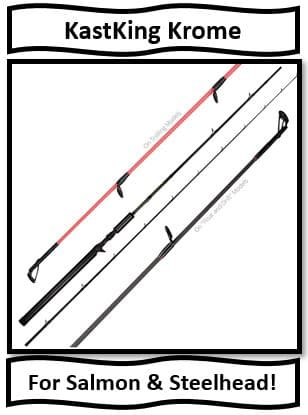 The most expensive rod line from KastKing would be their specialty line – the KastKing Krome Salmon/Steelhead Fishing Rods.
If you couldn't tell by the name, these rods were specifically designed for Salmon and Steelhead fishing. There are 15 models right now including 4 spinning rods and 11 Casting rods. Each of these rods were designed with specific fishing techniques in mind. This means they have created some great rods for drifting, trolling, and back-bouncing!
These rods will vary from 7'11" in size to 12'0" in size – you have 1-piece & 2-piece options.
All of these options are made from high-end rod blanks, Fuji guides, Fuji reel seats, and carbon fiber handles that are made to handle those larger salmon & steelhead.
These rods also have a neat orange tip on the trolling models. This makes it easier to see the fish strike action on these rods in less than ideal light conditions. The float and drift models don't have the brightly colored tip.
This is a new rod in the world of salmon & steelhead fishing, but it is turning heads. Places like Fish Alaska Magazine have even given it their Editor's Choice Award.
Priced around $150 – it is hard to find such a high-quality salmon rod at that price point!

KastKing Calamus Ultra-Light Weight Spinning Rods
One of my favorite fishing memories was catching a 10-pound northern pike on my ultra-light fishing rod while I was trying to catch some walleye. It was awesome!
Not that I would recommend northern pike fishing with ultra-light fishing rods, but if you like crappie, trout, panfish, or maybe even some walleye or smallmouth fishing – the KastKing Calamus Ultra-Light Spinning Rods collection could be a great option for you!
These rods are built to be, well, ultra-light. They have a polished graphite blank that uses titanium guides, frames, and rings to reduce weight. They also have graphite reel seat and a split butt to provide nice balance and comfort.
There are 9 KastKing Calamus Ultra-Light Spinning Rods and they are all 2-piece rods; with the exception of the 4'6" spinning rod option – which might be a little short to make into two pieces.
The rods will vary from 4'6" in size to 7'0" rods; but I have always preferred my ultra-light rods to be on the shorter side.
The bigger rods could handle some larger bass, walleye, and trout – while the shorter versions are just awesome for crappie and panfish.
For those finesse based fishing techniques, these ultra-light fishing rods really can't be beat. And a $60 to $70 price tag is pretty darn awesome too.

Final Thoughts
I'm sure that KastKing is going to keep producing new and exciting fishing rod options, so we will be sure to keep this article updated on anything new coming to the market by them!
If you are interested in some of the other fishing rod articles we have produced, please check out some of these links!
The Best St. Croix Fishing Rods
The Best Telescopic Ice Fishing Rods
The Best Northern Pike Fishing Rods (not many ultra-light fishing rod recommendations in this one)
Of course, you might need a great fishing reel to go with that KastKing Fishing Rod, so you should probably check out this new article from us:
The Best KastKing Spinning Reels
Also, let us know which KastKing rod is your favorite or your experiences using their fishing gear! We always love to hear from our readers!