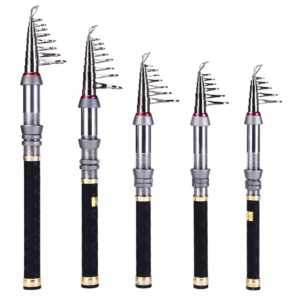 While I tend to prefer small ultralight rods for ice fishing, there are many people I know who are firmly in the corner of using telescopic fishing rods as their equipment of choice for when the lakes freeze over thick and the ice fishing season hits full swing. And hey, when it's time to go fishing, you want to know what your best options are no matter what the situation!
This makes sense to some degree as they are naturally much smaller rods that are going to be easier to move around and position as needed and allows for the maximum coverage around a fishing hole while a full sized rod could be hard to control, and is extremely impractical in many cases.
Let's face it: an ice fishing shack is not the same as an open boat. You need different equipment for whatever specific type of angling you're tackling.
Telescopic rods are used for a lot more than just hitting the ice, but they are a popular voice because of the small size and versatility.
In other words, while these rods might not be right for everyone, they are a legitimate option that are worth being considered by anglers.


Top Rated Telescopic Ice Fishing Rods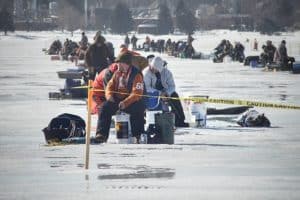 There are many cheaply built fishing rods out there, and if you've ever been burned going for a budget option, you know how important it is to make sure even your low cost options hit a minimum quality level that lets you enjoy a successful day on the ice. While everyone's experience can differ, and telescopic rods in particular can have individual instances of failure or frustration (especially if not properly wrapped for shipping), there are some models and company names that rise to the top.
Our following choices are a mixture of the tried and true names in telescopic fishing rods that have long established themselves as the top names in the field as well as several up and coming designs that have received very high marks among real world anglers so far.
Among these two groups, you should be able to find a high quality fishing rod for ice fishing that suits your specific winter angling needs.
Plusinno Telescopic Fishing Rod Review
There are many good telescopic rods that came up during our research, but one name kept coming up again and again among anglers we talked to – and that was this remarkable model from Plusinno.
This particular rod, combined with a good light reel, creates a light weight combo that is easy to carry and easy to use. These rods have a great combination of power and sensitivity, especially for a telescopic model of fishing rod.
Easy to carry, easy to store, easy to use, there's a lot to really love about what this Plusinno model has to offer. The grips on the handle are EVA in nature for easy no-slip grip as well as a hybrid of materials that create a rod that is surprisingly strong for the design, yet without sacrificing any of the flexibility and action that makes ice fishing enjoyable.
This is a medium power rod that can handle some pretty serious action from fish who want to put up a fight before coming up to the ice hole. While casting isn't an issue during the winter, this is a telescopic fishing rod that actually does offer plenty of power and solid potential for expert casters during warm weather months, meaning that this is an ice fishing telescopic rod that can be used in all seasons.
Very versatile telescopic rods
The eyelets are made of a solid aluminum oxide blend while the reel seat is made from stainless steel. This is a great combination that helps explain why the materials used on every single feature of this rod to bring together the ideal unit.
Two locking rings right above the reel allow for a secure and snug fit for the reel so you don't have to worry about structural integrity. Add in the foam grips and the fact that each section locks together snugly and it quickly becomes easy to see why this one is tops.
This rod can be fit out to several sizes based on the number of sections used, and the stainless steel reel also means that these rods can even hold up to saltwater making this a truly versatile and remarkable telescopic rod by Plusinno.
A great option if you want a versatile fishing rod for your all season angling needs.

Sougayilang Telescopic Fishing Rod Review
Sougayilang is a name that comes up a lot in discussions of the absolute best telescopic rods out there, and for good reason. A brand that shows up twice on our list of the top nine options (all of which can be found on Amazon), Sougayilang provides many interesting options when it comes to taking advantage of the benefits of telescopic rods.
Used for both freshwater and saltwater fishing, this rod is made from graphite carbon fiber which makes it strong yet flexible as well as making it resistant to wear. Some sections include specifically corrosion-resistant machined aluminum.
This shows a clear nod to wanting to create a quality rod for avid outdoor anglers, and anyone who has had some serious fishing bursts while out on the ice, you know the importance of having gear that can last against the test of time and hold up to any amount of sudden wear or pressure.
These rods come in up to 6 different sizes, and can come solo or with an included kit that includes reels, line, lures, and a few accessories. If you don't have favorite fishing reels or prefer a certain type of line, going with a kit can be a great way to go so you don't need to worry anymore.
This is a telescopic fishing rod that may be popular with winter ice fishing enthusiasts, but it's worth noting this is a rod that works well for saltwater fishing from shore and was originally made with that in mind – but it's success for winter fishing in the interior states can't be denied!
Finally, there is a great one year warranty that makes sure you are taken care of if a particularly large or nasty fish puts a little too much stress on the rod at the wrong time. You are covered for a year and will be back out on the ice in no time!

Plusinno Telescopic Retractable Fishing Rod Review
This trademarked Plusinno retractable telescopic rod is one of the top models currently out there, and one of the two main styles that is put out by this company. Whether golden or silver in coloring, these are good looking rods that are made from a combination of stainless steel, carbon fiber material, and a special comfortable non-slip grip as well.
There's a lot to love about the design. While some rods will sell out on fiberglass, or others will swear by stainless steel or specialize carbon, this rod excels because it doesn't sell out on one material for the entire design. Where stainless steel makes sense, stainless steel gets used. Where graphite proves a better fit, that's what is used. The variety of materials come together to create a rod that as a whole is much stronger than all its individual parts.
This particular model is very portable, includes an extended handle, and there are a remarkable 6 sizes available for this model including:
5.91 feet
6.89 feet
7.87 feet
8.86 feet
9.84 feet
10.83 feet
Those are obviously the sizes once fully extended. Some anglers have made the comment that adding teflon tape over the screw threads helps to make sure everything is tightened together properly. This may vary on a case by case basis. Easy to collapse down and travel with, there's no denying this is an exceptional choice when it comes to telescopic fishing rods for ice fishing.

Eagle Claw Pack-It Telescopic Spinning Rod Review
The Eagle Claw definitely sticks out among the many options when it comes to finding a top rated telescopic rod for ice fishing. A unique aesthetic look combines with a solid design to make this an easy addition to the best rated list.
Easy to move around at a mere 18 inches in size before folding out to a full length of 5 feet and six inches when fully extended, this portable telescopic spinning rod is perfect when you need to pack light for your next ice fishing adventure.
These rods are made from durable yet flexible fiberglass and are rated as being a medium power rod that also features slow-medium action. This makes it a great ice fishing pole because it offers a combination of durable strength as well as enough movement to keep the fishing fun.
There are four ceramic eyelets that work as guides and most anglers use between 4 lb and 10 lb test line with this particular rod. While this can also be used for casting, it's not a power casting rod even fully extended and this makes it particularly fit for use around an augered hole in the ice. Add in a comfortable and solid grip from an EVA foam handle and a one year warranty covering everything and this comes together to be a pretty solid package.
This rod is comfortable to hold and use and also features a fine aesthetic with a strong yellow finish coupled with silver trim. This also makes it easy to spot in the wild, which is nice if you have a habit of occasionally dropping things.
General Pros:
Extremely lightweight
Very compact
Decent casting for a telescopic fishing rod
Rugged build
General Cons:
Many anglers report poor overall sensitivity
Decent sized fish can throw off alignment

Sougayilang Graphite Carbon Fiber Pocket Fishing Rod Review
You can see all 5 sizes of this particular Sougayilang telescopic portable fishing rod right in the picture. This is an excellent model and another obvious reason why Sougayilang appears on this list twice. These portable rods are easy to transport, pack, or carry around (whether by hand or in a backpack).
These lightweight pocket fishing rods feature a graphite carbon fiber build that allows for both strength and flexibility in the perfect combo. Add in a little bit of stainless steel and you are in a great place when it comes to having the type of portable rod that works perfectly in your portable shack while ice fishing.
There's a lot to like about the material mixture of these rods, and aside from being durable the general reports back on sensitivity have been positive, indicating that these offer a nice balance. If you want a telescopic rod you can use for fishing even when it isn't winter then this is one of the best options because it is built to be casting friendly, but this means it is also built strong enough to handle weighted jigs and sinker setups.
This also comes with a 30 day no questions asked money back guarantee, so it's a great option for trying out hard and heavy the first few weeks to make sure it is going to hold up to your specific needs.

Yongzhi Metal Pocket Fishing Rod Review
This is a fishing pole that has really flew under the radar, in part because of a relatively new name to the fishing world, but this particular design of telescopic fishing rod has received a large array of positive reviews from active anglers.
Taking advantage of a variety of different materials, this rod design combines carbon fiber, fiberglass, ceramic inserts, and some stainless steel to create a rod that is elastic, durable, and yet remains incredibly lightweight and therefore easy to carry and move.
When closed these rods are between 10.5 and 13 inches, making them very easy to carry around and indeed even pocket sized compared to the depth of pockets included in many cargo shorts. These are also very easy to carry via backpack and the retractable design is perfect for travel.
These have been very popular as a fishing rod for hitting those isolated creeks during multi-day or multi-week hikes and backpacking trips, as a starting fishing rod for kids, or as a great rod for ice fishing. This is a powerful and impressive ultralight model that will get the job done during your next winter fishing outing!

Goture Telescopic Fishing Rod Review
If you're looking for an excellent telescopic fishing rod that really live up to the best that this design has to offer then you will definitely want to check out what Goture has to offer.
The Goture Sword fishing rod is an outstanding telescopic rod that was built with the idea of being usable for both saltwater and freshwater fishing, for casting or jigging, or even ice fishing. These are an outstanding option, and should definitely be on the short list of any discussion about the top rated telescopic fishing poles.
Available in 5 different models/sizes, the size chosen can change the number of guides as well as the power. The shortest Goture Sword rod model, for example, is considered a medium power rod while the other four models available are considered medium heavy action.
The balance of sensitivity and strength comes from a blend of fiberglass and high quality carbon. Solid grips are comfortable on the hands while the reel seat is made from really premium aluminum (aircraft grade, in fact). This rod in particular gets very high marks for being really sensitive in comparison to other telescopic rods.
Positives: Several models to choose from, great grips & reel seat, exceptional sensitivity, good lifting power
Negatives: Poor model for casting, hard to close, sometimes hard to open
Comes with a 1-year warranty that covers nearly everything, and while it has its cons like any telescopic rod this model is particularly outstanding.

Blisswill Portable Pocket Telescopic Fishing Pole Review
The Blisswill pocket fishing rods are an extremely well designed portable telescopic design that focuses on providing anglers with an ultra-light fiberglass rod that works no matter what the fishing season without forcing you to pack a full sized model.
These rods look good, are properly durable while also displaying a degree of elasticity so you can enjoy the proper amount of action whenever a decent sized fish takes the bait.
When fully closed these are only 12 to 15 inches in length, meaning they are very easy to pack up and move from one spot to another.  These are durable for a telescopic rod and look especially good from an aesthetic point of view.
The fact that they hold up to actual use even when using braided fishing line and sitting around the ice hole and you have a great rod that is good for angling during all seasons.
These rods have a one month warranty that promise a 100% refund if you're not satisfied.
Not a bad option at all if you're in the market.

Why Go with a Telescopic Rod?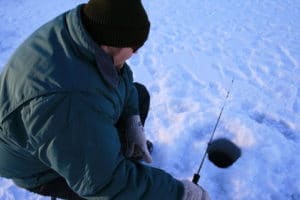 While there are some marketing campaigns that try to convince otherwise let's get one important detail out of the way right off the bat: these are not going to be the same high quality as a full sized traditional rod whether low action or high action.
There's a reason premium fishing rod designs are the same basic setup and design for years now: because it's the optimal model.
So we're not making the claim any telescopic rod design will hold up against a premium conventional fishing rod, because it won't. This is especially true when measuring ability to cast (both distance & accuracy) as well as ability to control the retrieval motions of certain lures.
However, there are some advantages to going with a telescopic model which includes (but isn't limited to) the fact they are made to be compact, affordable, and can be used for a variety of different fishing seasons. They are often way less expensive, as well.
There are many great reasons that a telescopic fishing rod could be a great choice to meet all of your outdoor angling needs, and this article shows you a great list of the best rated options currently available online.
Don't forget the basics
Whether you're a newbie at the truly cold weather fishing or an old hand looking to prepare for the next step, you never want to forget the basics before getting started. Whether it's getting a fishing license for the season, checking on what limits are during the winter, or other seasonal regulations, you want to make sure that you understand every single relevant rule and regulation that is going to affect you during this season.
In other words, be a responsible outdoorsman and make sure you take care of all the most important details before heading out for another successful fishing trip.
Ice Fishing FAQ
Q: I've never done this before – what do I need to know?
A: Ideally if you're a true beginner you should look around locally and see if you can find an experienced ice fisherman to take you under his/her wings. In some places you auger out a hole and sit on a bucket waiting. In many others you have ice fishing shacks that move onto the lake as soon as the ice is a safe depth. The ice fishing community is usually very open and friendly. Also, don't forget the ice auger!
Q: Do I need a shelter?
A: This will depend on the day, local rules, and the outdoor temperature. No matter how resistant to the cold you are, when you add in water and slush, you don't want to spend hours completely in the open during freezing temperatures – especially once gloves, coats, and clothes get soaked. There are temporary fishing shelters available that might provide a solution in some situations.
Q: What style of fishing works best?
A: Depends on the time, place, and fish. Live bait often does better than artificial lures, and while various jigging options often work, there are various options available. Keep trying new techniques and learning until you find one that works.
Q: Do telescopic fishing rods work for ice fishing?
A: this is a preference thing but generally speaking, yes, absolutely. Plenty of experienced anglers use telescopic poles and it isn't hard to see why.
Q: Where can I learn more about ice fishing?
A: You haven't looked around our site? I'm shocked – shocked I tell you! Nah, I forgive you. We will be adding many more articles on ice fishing in the future and hopefully some first person blog accounts, but in the meantime if you're a true beginner there's a pretty good ice fishing resource here.
Other Fishing Articles of Interest
If you enjoyed the great content we provided here, or are like us and really want to do the deep dive before committing to any gear purchase, you may want to check out some of these great blog posts we've written, as well.
In Conclusion
While there are always going to be plenty of opinions when it comes to setting up a great ice fishing hole, the equipment you use can really make or break your overall experience. There are many options available, and if you decide that you like the advantages that a telescopic fishing rod brings to the table when you set up for some ice fishing then at least make sure you are using one of the truly best models that is currently available to consumers.
Take a chance with a great telescopic rod and see how it affects your ice fishing results.