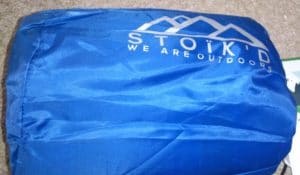 Important Disclaimer: While we were provided with a free Stoikd self-inflating sleeping pad for review, we were not paid for this review nor is it a sponsored post. We accept free review samples but our opinions are going to be 100% our experience good, bad, or ugly. The manufacturer had the faith to back up their product so we have reviewed it. Hope you enjoy our thoughts on their self-inflating sleeping pad.
**Also, due to my ancient "smart"phone not being so smart, we lost most of the pictures we had of me demonstrating the product. We salvaged what we could, used their pictures from Amazon, and will re-review in the future to get better pictures. Apologies ahead of time.
The quality of your sleep makes all the difference when it comes to enjoying the great outdoors. Even the most incredible sunrises are a bit hard to appreciate with morning neck and back pain from a poor night's sleep. My first experience with Stoik'd self inflating sleeping pad (important note: not the same as an air mattress – make sure you're looking for the right item) revolved around one question: was it comfortable and supportive enough for me to switch to back sleeping?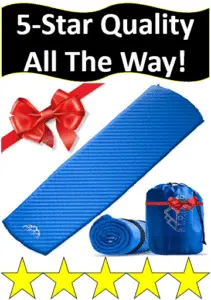 Features
Set up was basically fool proof even without the simple to follow instructions that were included. This pad measures 72 inches long by 20 inches wide, and the pad should offer  you 1.5 inches of thickness, though that can be a little bit more depending on how you decide to adjust the firmness and/or air levels.
In addition to this, the foam is specifically designed to encourage body heat to be absorbed by the pad, thus keeping your body head
What Did I Like?
The sleeping pad is definitely better than your standard non inflating foam pad. The ability to make it thicker/firmer is something I also loved since I tend to also prefer harder supportive surfaces while sleeping versus ultra soft, though I know I am in the minority with my preferences on this one.
In addition to this, the foam is comfortable and supportive, and the material holds up well. After testing this a couple nights, I even let the nephews (age 4 yrs and 20 months) go to town on it. If my favorite two little terrors couldn't damage the pad, then I feel pretty good at saying this will last. They provide a lifetime warranty which means even if I find a way to eventually damage this pad, I'm still covered.
I definitely like companies who back up their products on this level.
They mind the details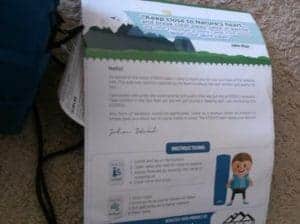 Above all else what I liked is the fact that the guys at Stoik'd seemed to really pay attention to the details. The nylon they used for the pad's storage/carrying bag was absolutely top notch, and I LOVE the fact that the sleeping pad came with one of their emergency thermal blankets, which is great to help make sure your sleeping bag is fully insulated.
In fact we have a Stoik'd emergency blanket review you can look up to get the full story on that, otherwise just recognize that I love the fact a sleeping pad comes with another high quality piece of camping equipment that is going to be useful in most outdoor camping situations: the thermal blanket for extra lining.
Great instructions that are well printed wrap up the package, and shows that in every single part of this was put together with great attention and care. When the details are minded that closely, you can bet the main quality issues will often be well watched over and that was true in this case, as well, in my experience!
What Didn't I Like?
Honestly I liked a LOT more than I didn't like, and a lot of these are going to be a bit on the nit-picky side, but in the pursuit of a fair review, it's only fair to cover the "negatives" as well.
Even though this sleeping pad is the same size as your average sleeping pad, for big and tall guys like me, they can seem a touch on the small side. You want a few extra inches on the length and the width. I understand these need to be fairly standard to popular sleeping bag sizes, but many companies also have a "tall" option and I'd like to see the same thing from this company.
It's a nitpick type of complaint – this still works extremely well for me, and I was honestly surprised how much of a difference it make whether sleeping on the back deck, the apartment deck, or the ground (hey when I test, I test). There was no denying the difference in both comfort and quality of sleep that resulted.
So What's the Final Verdict?
I'll be completely honest: generally speaking I'm not necessarily huge on sleeping pads because I tend to be a side sleeper, and when a cheap sleeping pad deflates, I hate the feeling of sinking. So if I'm going to give a thumbs up to a sleeping pad, it needs to make me feel comfortable as a back sleeper or be really solid to be able to support me when I'm side sleeping.
This is a great pad that put up with my tossing and turning from one side to another during the night and at the end of the day, I'm glad the folks over at Stroik'd had the courage to end us a review sample – because they passed with flying colors.
Now I am likely to give this to my brother as he begins teaching the little ones about camping and the outdoors, especially since he's a back sleeper, but that doesn't change the fact that I'm a picky reviewer for this type of product, and it passed my tests with flying colors. 5 stars, all the way.
Good video giving some tips on what to look for in a sleeping pad