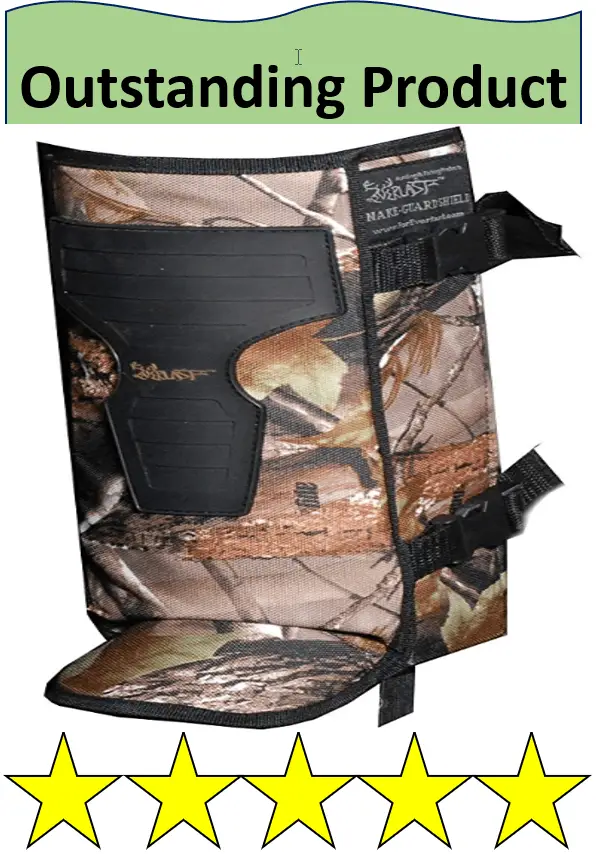 ForEverlast Snake Guard Gaiters: How Do They Hold Up?
ForEverlast creates a heavy duty snake gaiter that is aimed specific at hunters. Featuring a thick material design that not only prevents the fangs of venomous snakes from sinking in but also gives protection from branches, brambles, thorns, and other similar issues that you can run into while out hunting.
You'll notice on the design the bit of extra plastic shielding on the front of the gaiters. The entire gaiter is snake proof though the plastic protector on the front is better to help toss off the thorns and other potentially painful snags that can go right through the blue jeans.
These are an outstanding option that do well in the outdoor market for a reason. Well designed, with a very unique design an style, these gaiters are going to hold up to even the hardest conditions. They are going to keep you safe from snake bites from all the major venomous snakes that can be found throughout North America.
Major Features
Classic Mossy Oak camouflage
Easily adjustable straps for perfect fit
Fits over jeans and boots
Relatively inexpensive
Piece of outer shielding for extra protection against thorns, briers, stickers, cacti needles, and other issues.
Warranty
The warranty tends to be 30 days upon sale, although there are some sellers that might add an additional 30 days to the original warranty. You generally won't find a warranty that stretches past that point.
Perfect Protection for Hunters
The ForEverlast snake gaiters were designed specifically with hunters in mind and this is an area where they thrive. They are good for a wide variety of hunting ecosystems and offer great snake protection as well as straight up lower leg protection.
These are flexible, comfortable, and there are even several examples of hunters writing about the fang of a snake even breaking off on the surface of the snake gaiter.
As one first-hand account very accurately and aptly puts it: "Better in the boot than the leg!"
We couldn't agree more.
There are multiple snake boot and gaiter brands that we don't back at all because of quality questions. However, these are outstanding snake gaiters from ForEverlast that will keep your legs safe even with an unforeseen experience with an angry critter.
Tested & Approved
You don't want to trust a pair of snake gaiters that haven't undergone thorough testing. These have been tested on copperheads, water moccasins, and rattlesnakes so they are field-proved.
When you have snake gaiters that are working this well, you can go through the tall grass and downed trees with a lot less concern. Safety matters and you don't want to be on the wrong side of things.
ForEverlast snake gaiters are some serious protection for hunters and other outdoor individuals. If you have worried about snake bites, and if you refuse to give up hunting (good on ya!) then a great pair of snake gaiters are important.
These will protect your legs, and allow you to hunt and move on in confidence.
Final Grade
There's no question that you do not want to go cheap when it comes to getting the best possible protection for your legs against rattlesnakes, copperheads, water moccasins, and more. ForEverlast snake gaiters are well designed, work like a charm, and have a high reputation among hunters for a reason. Final grade: 8.5/10.
These are an excellent option when it comes to protective gear and there's a reason they make our short list of the best snake gaiters for hunters on the market!