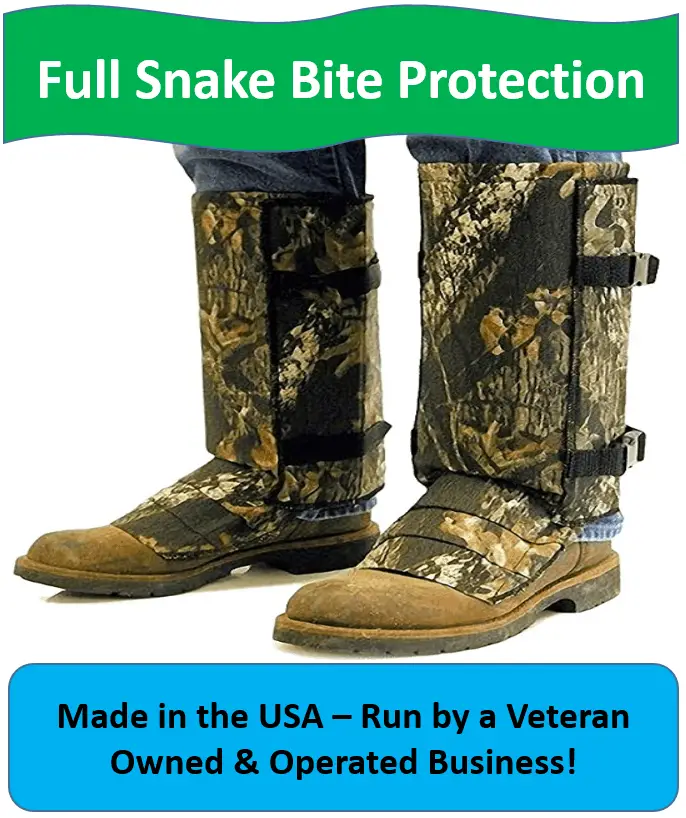 Crackshot Snake Gaiters: Made in the USA Snake Bite Protection
Look I understand the importance of snakes in an ecosystem, but it doesn't mean I have to like them. While Jon and I have always loved the great outdoors, running into venomous snakes in the thick weeds or woods has never been on the "to do" list.
Crackshot snake gaiters are the most popular brand of snake gaiters out there, and it's not hard to see why. They are made from high quality materials, very well designed, and an unusual combination of lightweight and strong that you just don't find in too many outdoor products nowadays.
Major Features
A full 17 inches of lower leg protection offered
100% guarantee to protect from snake bites
Backed with a $1 million product liability policy
Lightweight at only 11 oz.
Extremely tough – even tested against high caliber firearms!
Water resistant for when the weather turns
Multiple colors and looks to choose from
The features of these gaiters already make them stand out against the competition. The incredible percentage of perfect ratings on major websites like Amazon is another sign of just how strong a pick they are.
Warranty Information
Crackshot Snake Guardz gaiters stand behind their work. When you use the best materials and high-quality labor you end up with a solid product. Not only do they stand behind their gaiters but they also offer an incredible $1 million product liability policy on their snake gaiters.
In other words if the unthinkable happens and a pair of their gaiters fails for the first time, then they cover up to a million dollars of damages. That's a solid belief in what you're producing.
Crackshot Snake Gaiters First Hand Impressions
These are surprisingly lightweight and breathable. This adds a heavy level of comfort while also offering all the protection that you expect from a great piece of outdoor gear like these.
They are the right combination of flexible and firm to fit well even when you have thick lower legs. I like the fact there are so many different colors to choose from, and they fit comfortably over my favorite pair of blue jeans and hiking boots.
Fortunately, I haven't had to test these in the field yet. I do a pretty good job avoiding potentially dangerous snakes. The owners of this Missouri-based company have no such qualms. Right on the front of their website: a video of watching these snake proof gaiters working like a charm in action.
The truth is that these were easy to put on, to adjust the fit to, and are so comfortable that it was easy to forget I was even wearing them. That is the mark of a truly incredible piece of outdoor gear.
Do Snake Chaps or Gaiters Really Work?
Absolutely! These have been tested on rattlesnakes, copperheads, water moccasins, and more. These are used by ranchers, forest service, hunters, campers, and even the Border Patrol.
You shouldn't be surprised that the brand used by these groups the most often is Crackshot.
You need this level of protection even when using tools like snake tongs. Medical bills are nasty even with insurance and even worse without. Getting some protection at the lower legs is crucial.
That type of protective gear is really important because you don't want to pay those bills. You don't want to risk your life. You certainly don't want to go through the pain and likely injuries that a bite will cause.
And remember, snake bite kits don't work.
Great Outdoor Gear – Not Just for Snake Protection!
These snake gaiters are excellent and should be a must-buy for every serious outdoor enthusiast. These gaiters offer protection from things like cactus needles, long wooden splinters, or other prickly dangers you can run into while out and about in the wild.
These are resistant to rain water, and provide a solid protection against swinging branches or other outdoor dangers. They are a great piece of gear that can keep you skin from being pricked by long thorns, from certain types of leg injuries, and more.
They are comfortable, they are effective, and like any good piece of gear they provide a wide array of versatile benefits.
Final Grade
There's a reason we're such huge fans of what these guys have to offer. They are an American owned company run by many veterans who produce good paying jobs for veterans. That's a mission of giving back, and it is an amazing way to help bring in automatic quality control.
There are many good snake gaiters out there, but there's no denying that Crackshot's are a step above the rest. This is a 10/10 product and we strongly recommend them for anyone who needs protection from venomous snakes.
It doesn't get much better than that.