Whether you want to replace your tarnished kayak carry handles or simply add a couple of extra carrying points, you may want to stick around for a while as this article is going to help shed light on the best kayak side mount carry handles available on the market today.
The best kayak side mount carry handles are strong, durable, and versatile. They should be attachable to a wide variety of different kayak designs and provide the strength and durability needed to carry your kayak from parking down to the best place to push off on the river.
There are some pretty solid options out there. We've found eight great ones we feel comfortable with to help you get from parking to that kayak camping adventure you've been waiting for!
The Best Side Mount Carry Handles on the Market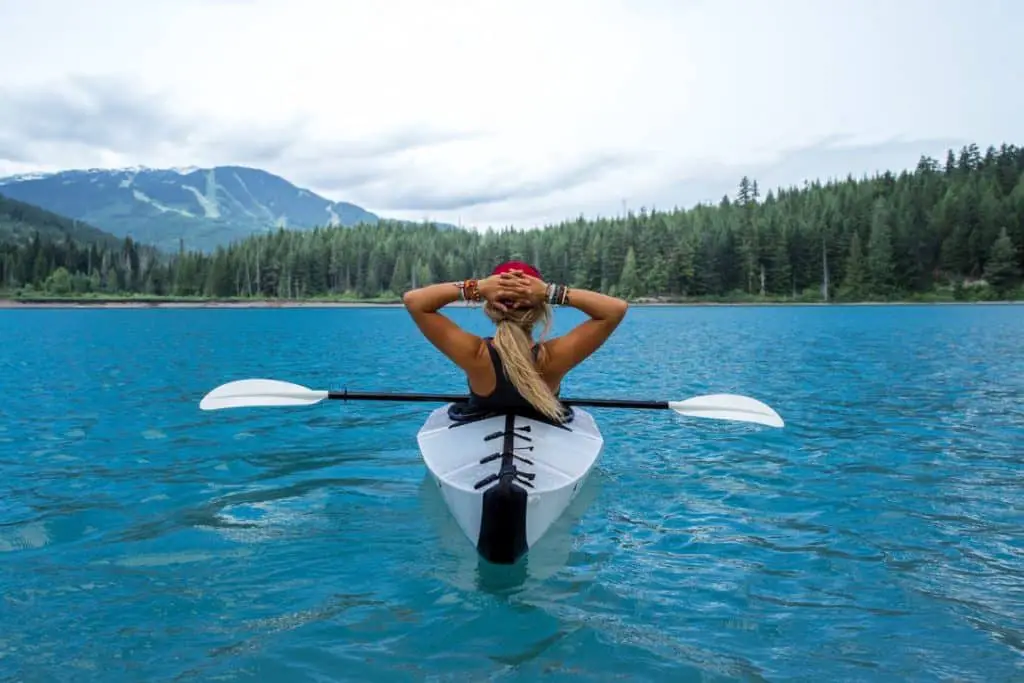 Best Kayak Side Mount Carry Handles: Our Picks
HJ Garden Kayak Carry Handles
This is yet another outstanding pair of carrying handles that's optimal for kayaks. This product is available in 2-package and 4-package quantities. The price difference between the two isn't that notable, which is great news for people who want to stock on kayak carrying handles.
When it comes to durability, the HJ Garden handles have to be some of the most durable on the list, thanks to their durable and waterproof design, strong load-bearing capacity, and strong road holding capacity. To add, the surface contours are textured in such a way that prevents slipping.
The HJ Garden handles aren't suitable for inflatable kayaks. They are suitable, however, for use on other types of kayaks as well as canoes, boats, and various other boat accessories.
You can even use them as carrying handles for suitcases, doors, luggage, and other bag accessories. The package includes all the required hardware for mounting.
The installation process is simple. All you need to do is mark the holes as you're holding the handle against the side of your kayak, drill at the position of the holes, and then fix the handle with the O ring and lantern-shaped rivet.
Just that simple and you are ready to go!

Occult LLC Kayak Handles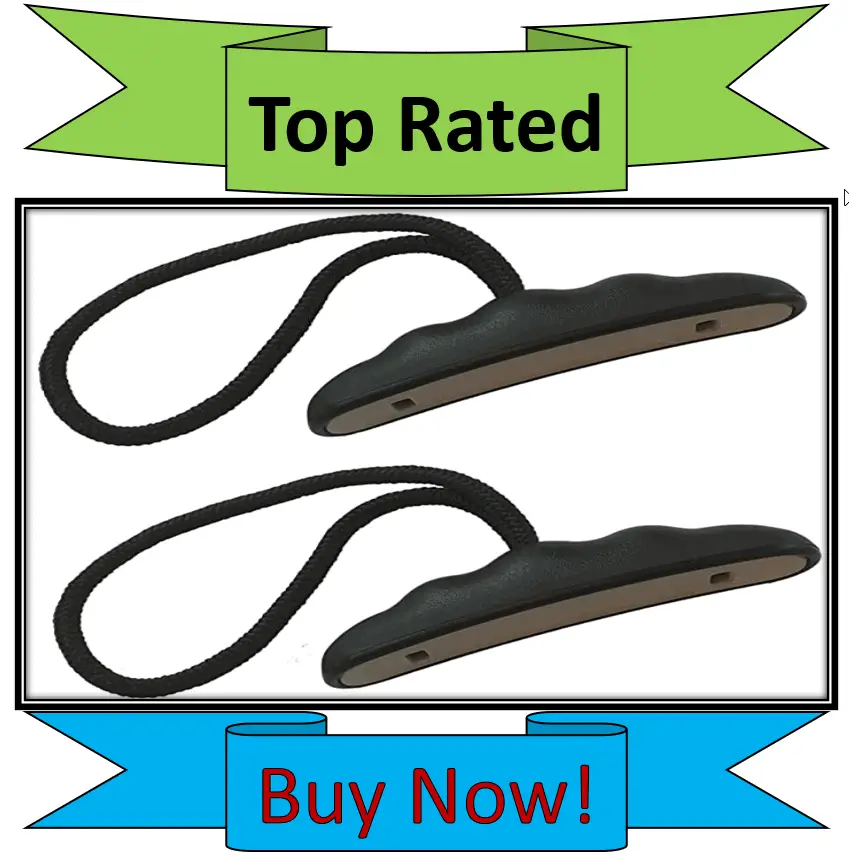 While most of the kayak handles available on the market boast superb durability and practicality, only a few of them boast aesthetic appeal, and the Occult LCC Handles is one of those few and far between products.
The slick design of these handles can accentuate the look of any kayak while getting you and your boat from point A to point B safely.
Installing the Occult LLC handles is as easy as it can be. First of all, you need to loop the string through the mounting location. Thereafter, you want the ends of the string to go through the hole in the middle of the handle. Lastly, tie off the string and apply the cover shield over the top.
The handles are made from heavy-duty plastics that can handle the weight of most kayaks. The strings are also high-quality and aren't so bulky that it becomes hard to tie them.
You can even cut down the strings to size if you want to eliminate some slack and ensure easy knotting.
The handles feature gray plastic covers that snap into the handles so that they're not visible. In terms of comfort, the handles have a four-concave design that allows your hands to slip through for ease of carrying.
The handles are also rounded off to fit your hand and ensure ideal comfort.

TEANTECH Kayak Carry Handles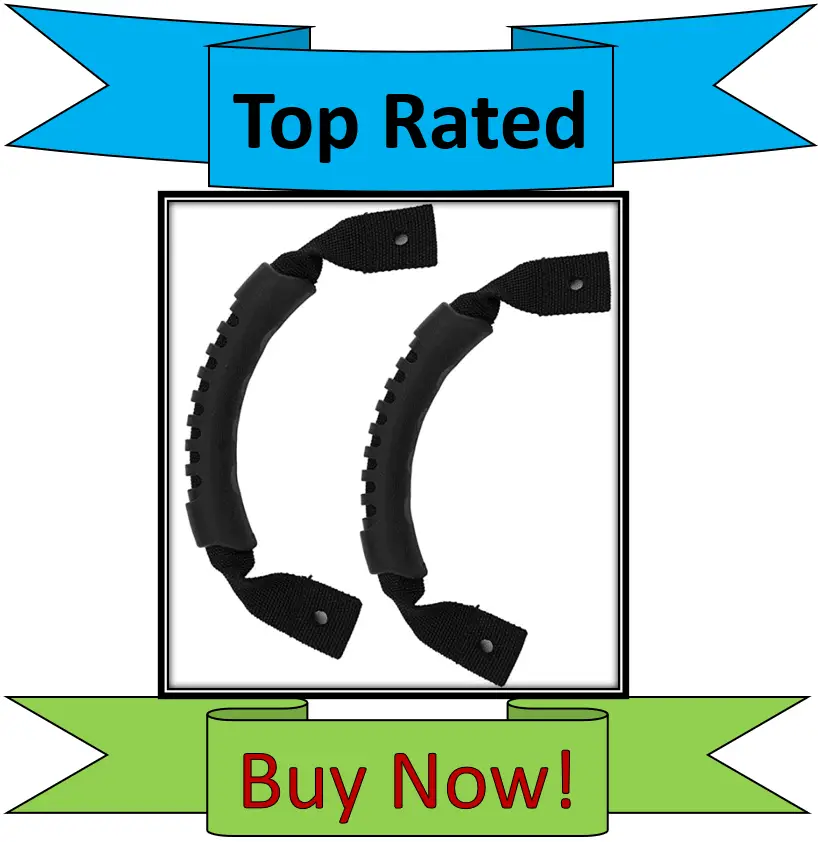 Made of high-quality nylon and rubber, this pair of carrying handles from TEANTECH will surely stand the test of time. These handles can be used for just about anything, from replacing kayak and canoe handles to being used as luggage, door, or suitcase handles. They're super versatile.
The TEANTECH handles are extremely comfortable, thanks to their ergonomic design. The grip is also contoured to prevent slipping and to ensure optimal comfort. The handles can be used to replace old handles or as additional carrying points on both sit-on-top and sit-in kayak models.
Just like most of the products on our list, the TEANTECH handles are very easy to install. Also, the elastic nature of the nylon strap will allow for more convenience paddling. You won't have to worry about the sun and salt eating away at these handles. They'll certainly stick around.
We've noticed a few customer reviews indicating that one of the handles came with screw holes while the other doesn't, so you may need to drill a hole or two if that's true.
Moreover, there isn't any sort of information about the hardware included in the package, which is quite a bummer.

Antrader Rubber Carry Handles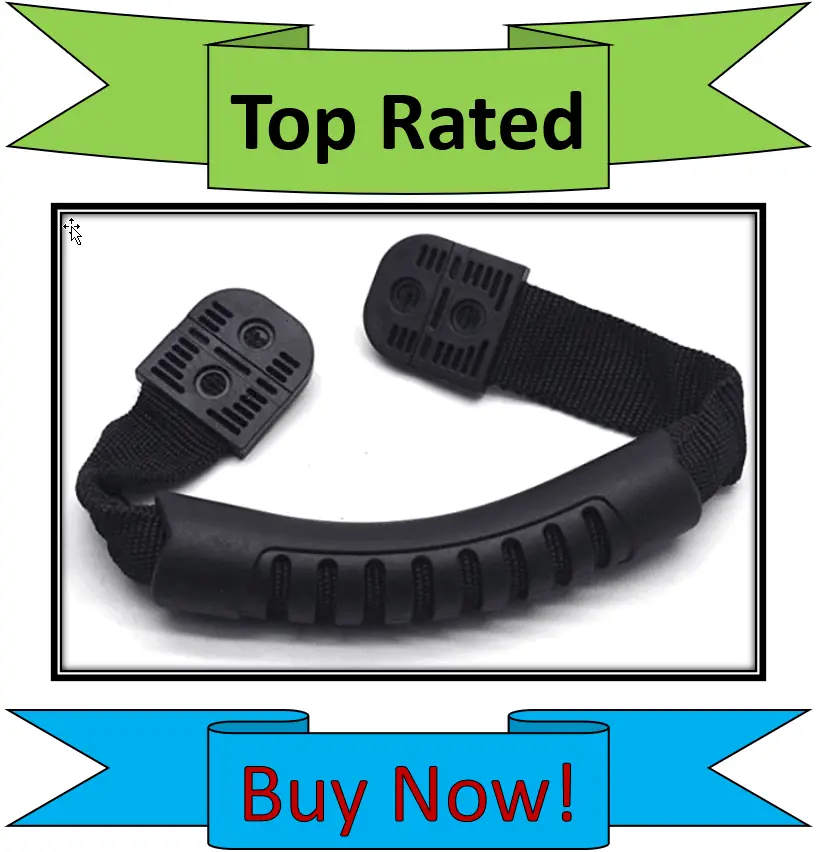 This pair of rubber carrying handles from Antrader may be the most versatile pair of handles on this list, mainly because of the many options in which it's available.
You can buy it in the form of handles with end webbing, handles with fixing ends, or mere TRP handles with no straps. In other words, you have options.
Similar to the TEANTECH handles, the Antrader handles feature a nylon and rubber design that grants them a great deal of durability. The size of the grip is 4.7×0.8 inches, which isn't so bulky that it causes discomfort. The grip is also contoured for extra comfort and to prevent slipping.
Not only are these handles versatile in the sense that they're available in many variations, but in the sense that they can be used on almost anything that requires handles.
These handles can be used for kayaks and canoes, as well as for suitcases, luggage, doors, and more. The end webbing variant of these handles is doubled and stitched to ensure extra strength and security.
However, if you're going to go for the end webbing variant, you must keep in mind that it doesn't come with any screws, so you'll need to purchase some hardware separately.

Festnight Mount Carry Handles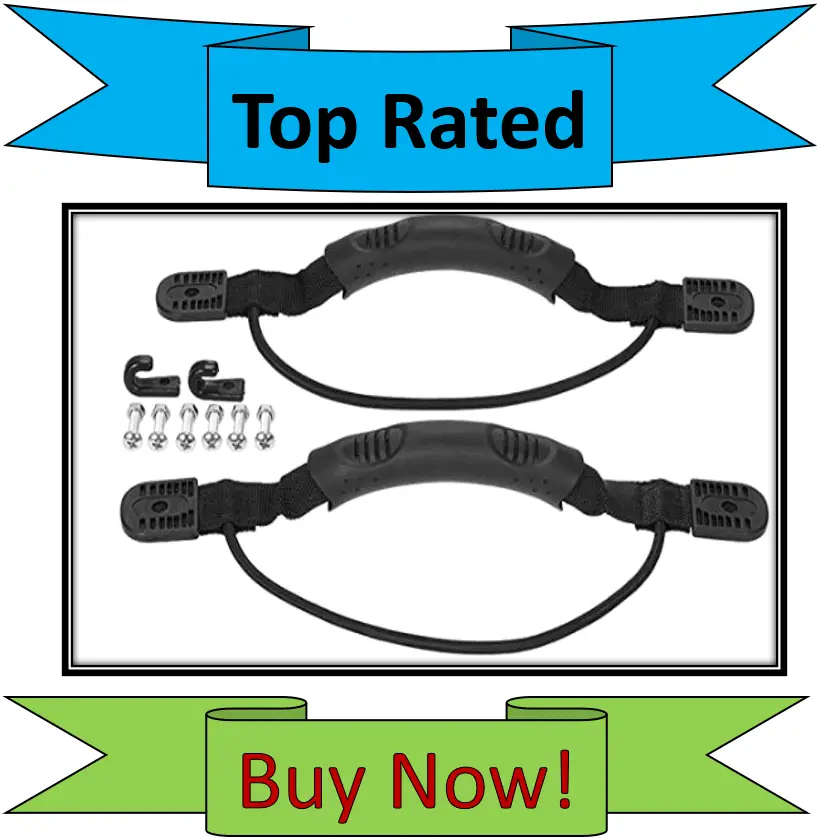 Designed specifically for kayaks, these handles from Festnight offer universal compatibility with almost all types of kayaks. They're made from high-quality materials that ensure great durability and strength.
They also boast an aesthetically appealing design that'll accentuate your kayak.
When it comes to hardware, the Festnight handles are some of the best as they're accompanied by hardware for installation and bonus hardware for securing your paddle, including bungee and j-hooks. The installation process is as easy as mounting the handles on each side of the kayak.
Like we've already just mentioned, the package includes all the hardware you need to install the handles, including 6 screws, 6 nuts, and 2 hooks. Note that there's a 2-3% difference according to manual measurements, so you want to inspect the size carefully before buying this product.
The handles themselves are made from nylon and plastic, so you're guaranteed a considerable deal of durability. The nuts and screws are made out of stainless steel, so it's highly unlikely that you'll need to replace them anytime soon.
Overall, these handles offer great bang for the buck.

LY1122 Rubber Carry Handles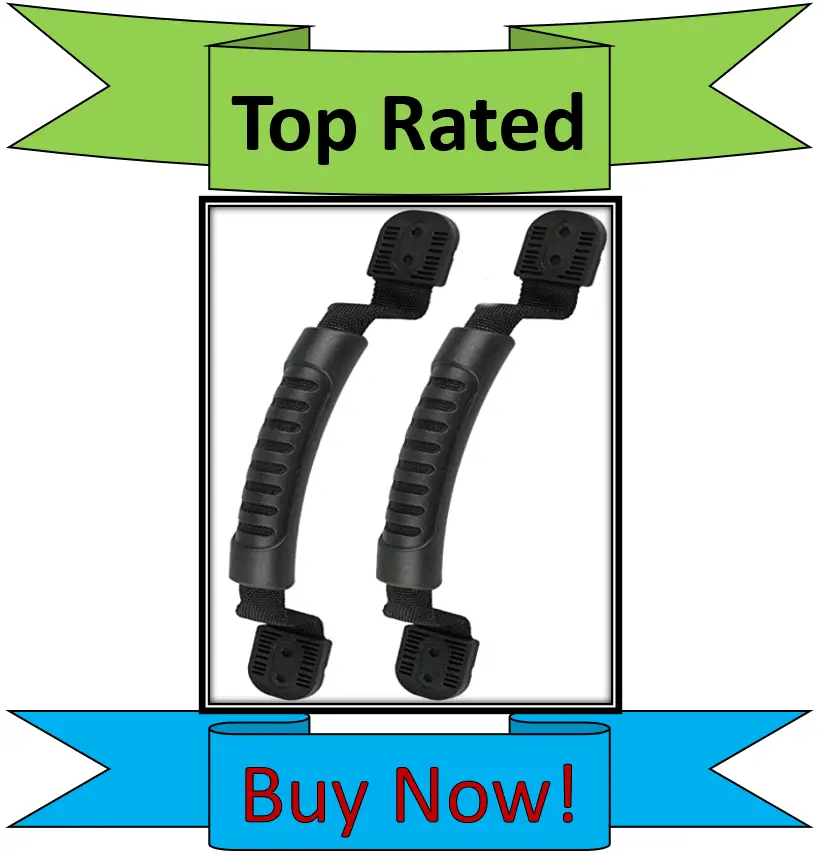 These rubber side mount carry handles from KY1122 are some of the most comfortable handles on this list. They feature contoured grips that ensure easy and comfortable use that's free of any slipping. The rubber material offers these handles a good blend of durability and flexibility.
Thes handles are designed primarily for canoes and kayaks, so you shouldn't expect them to be of any use with luggage and suitcases. The handles are fairly easy to install and remove.
Simply remove your old handles, bolt these ones in its place, and you're ready to go kayaking.
Sadly, the screws required for the installation process aren't included in the package. There isn't any sort of information about other hardware, so it's safe to assume that you'll need to buy all of the required hardware separately.
Quality-wise, however, these handles are outstanding. You will be hard pressed to do much better.

Pactrade Marine Carry Handles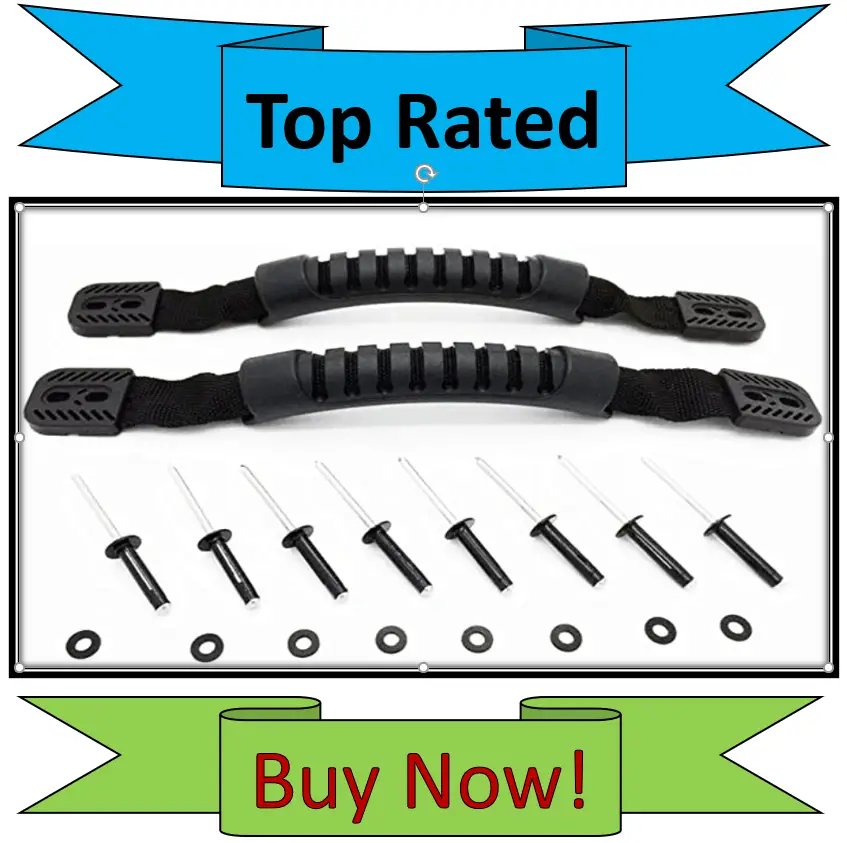 Made out of thermoplastic rubber, this pair of kayak carry handles from Pactrade Marine offers a superb balance between durability and lightweight as these handles weigh only 6.4 ounces. The handles feature a comfortable, low-profile design that measures in at 8.5×4.2×1.2 inches.
What's so cool about these side mount carry handles is that they're not only designed for use on kayaks. You can also use it on canoes to make transportation easier.
These handles are optimal for use on almost all sit-on-top and sit-in kayak models, thanks to their universal design.
The Pactrade Marine Kayak Carry Handles includes all of its installation hardware. So you won't have to spend a single penny on hardware. If you want to use your existing hardware, you might need to enlarge the screw holes.
We suggest using the hardware that comes with this product.
Upon closer inspection, you'll notice that the end webbing of these carry handles is doubled and stitched, which helps ensure a great death of strength and security. Installing this pair of handles is a breeze and shouldn't take much of your time.
Overall, an excellent pair of carrying handles.

Yak-Gear HAND Handle Kit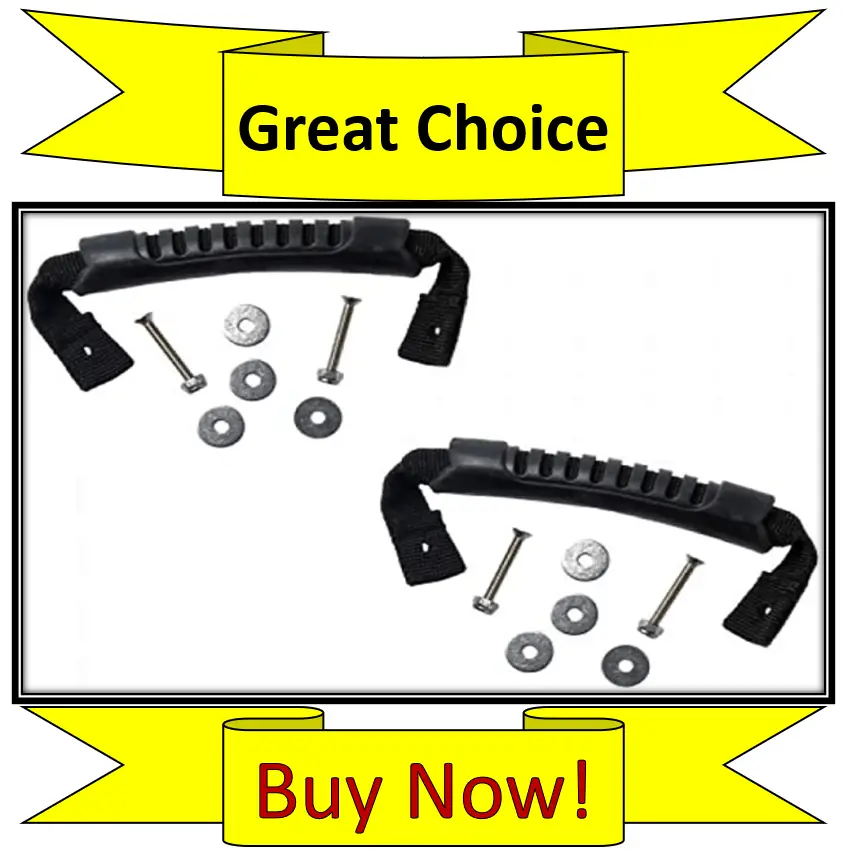 The Yak-Gear Handle Kit is an excellent choice for when it's time to replace your worn-out carry handles or if you just want to install additional carrying points to help you with transportation. It's one of the most comfortable sets of handles on this list, thanks to their use of contour grips.
This product is a complete handle kit, meaning that it features all needed installation hardware, installation instructions, and rigging tips from Yak-Gear.
We're pretty fond of the build quality of the accompanying installation hardware, as they're built from highly-durable stainless steel.
The Yak-Gear handles themselves are made from a marine-grade rubber material that's pretty rugged. In addition, the handles flaunt double-thick nylon straps that boost their durability.
Like we've already mentioned, the contoured grip helps ensure ideal comfort and ease of use.
Yak-Gear recommends the use of waterproof silicone when installing these handles. However, the package doesn't include silicone, so you'll have to buy it separately.
With the aid of the tips and instructions provided by Yak-Gear, the installation process shouldn't take much time.

---
Kayak Side Mount Carry Handle Buying Factors
Finding the right carry handles for your kayak can be quite challenging considering the variety of products available. To ensure the most value for your money, consider the following factors.
Durability
Kayak side mount handles aren't expensive, but this doesn't mean that you don't need to invest in a pair of handles that'll last for long. The grips should be made out of durable materials, while the end webbing of the straps needs to be doubled and stitched to ensure maximum strength.
Comfort
Finding a durable pair of carrying handles is easy, but finding a pair that's comfortable isn't. You need to make sure that the handles boast an ergonomic design and that their surface is properly contoured to ensure ideal comfort. The grip should also be fairly slim to allow for easy grabbing.
Compatibility
Not all side mount carry handles available are suitable for all types of kayaks. The description of the product should state the type of kayak it's suitable for, be it a sit-in or sit-on-top kayak. If you have an inflatable kayak, pay close attention because not all handles suit inflatable kayaks.
Versatility
Luckily, most of the handles on our list can be used for various other applications aside from use on kayaks. Some handles can be installed on canoes and boats, while others can be utilized for suitcases, luggage, doors, and more. Consider your needs and decide accordingly.
---
Final Thoughts
There's plenty of other kayak side mount carry handles available on the market, but why gamble with your money on a product that hasn't established itself yet. All of the above-mentioned carry handles will certainly do your kayak justice and allow for comfortable transportation.
If we were to recommend a product for you, we'd highly recommend either the Pactrade Marine Carry Handles or the HJ Garden Kayak Carry Handles, as they strike a superb balance between aesthetic appeal, durability, and ease of installation. Which pair of handles you think is the best?
Related Kayaking Articles & Reviews