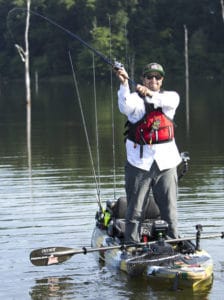 Fishing is one of my favorite outdoor activities, and I'm far from the only one who feels this way. Whether you love the fight of an aggressive fish like bass or northern pike, a solid pull like the walleye or many large carp, or the trickiness of the trout or muskie, a day out on the water is a good one. Fishing from shore is one option. Going out on a boat is another. That being said, kayak fishing is becoming increasingly popular as a great option for anglers. If you're going to be going out on the water, you want to make sure you have one of the best fishing kayaks available!
If you have never fished from a kayak, there are a few important things to know. One is that a touring kayak and a fishing kayak are not the same. If you try going fishing off of a regular touring kayak you're going to have a really rough time of it.
There are many special types of equipment needed for kayak fishing. As any angler can tell you, no matter what the type of style of fishing, better equipment leads to better results. Thus it should come as no surprise that you only want to buy from the best fishing kayaks currently available.
Best Fishing Kayaks
There are many options when it come to fishing kayaks, and we've done our best to compile a list with a little bit of everything for you. Whether you're looking for a single person kayak, a dual seat kayak, small or large, budget or premium – many of the absolute best options available are up ahead.
So read on, and get ready for a great experience kayak fishing!
Hobie Mirage Pro Angler 14 Kayak
While the price point might be the main thing that gets in the way of most anglers considering a Hobie Mirage Pro Angler Kayak, there's a reason this model is top of the list. This is a truly premium fishing kayak. If you're looking for the absolute best quality and design, this is it.
Hobie Mirage is a name that is extremely well regarded when it comes to kayaks. Hands down they consistently make many of the most premium and amazing fishing kayaks on the market.
They are the only kayaks to feature the MirageDrive & Glide Technology system. This allows you leg muscles to help power the kayak more easily while freeing up the hands more for to make fishing easier than ever.
A Vantage seating system means anglers will have back support and a high level of comfort no matter how much time is spent on the water. The seat can easily be adjusted as needed to provide customized support and whatever angle you need for more accurate casting and control.
There is storage for up to four fishing rods horizontally as well as vertical storage for two more. Add in a design that gives easy access to tackle and the perfect set up for a wide number of kayak friendly portable fish finders and it's not hard to see why these fishing kayaks are so popular.
Sporting an impressive 14 feet in length, the kayak is stable for holding up to 600 pounds and everything about this outstanding kayak just screams "angler." This isn't haphazardly put together, but is designed and made for the dedicated fisherman.


Vibe Kayaks Sea Ghost Fishing Kayak
Vibe is another company that has extremely high rankings in the kayak fishing community. While they are not the complete premium top of the line models like Hobie, they are the closest you can get at a reasonable price. And they actually make a pretty good attempt to hit that level of quality.
This Sea Ghost Kayak from Vibe comes in at 13 feet in length and weighs in at 74 lbs. There are 11 foot models available as well, but the big thing is looking at the high quality design that provides optimal balance so even if you have a real lunker on the other end of the line, you won't have to worry about tipping over.
After all, balance is your friend.
This fishing kayak offers everything you'd be looking for as an angler. Mounts for your fishing rods, proper gear tracks to allow custom rigging, multiple options for storage, and more. When you're facing a long paddle to get to the good waters, you'll appreciated the toe controlled rubber systems to help give you more energy with less effort.
There are extra rod holders, plenty of places to set up your tackle tray or store additional lures, and plenty of different setups available so you can figure out where you like your lures, your nets, and everything else to be.
A good hero seat means plenty of comfort on those long days. Add in the fact that Vibe provides a one year warranty on all parts and a limited lifetime warranty for actual defects on new kayaks and you can feel very secure about this purchase!


Vibe Kayaks Sea Ghost 11-Foot Angler Sit On Top Fishing Kayak
Available in multiple colors, this 11 foot model from Vibe Kayaks has a heavy emphasis on orange & orange stripe designs or blue & blue stripe designs. This is a one person fishing kayak that weighs 62 lbs and includes one mounted rod holder on each side as well as multiple areas for rigging up as needed.
This is a fishing kayak that offers control. You will never be off balance in this model, designed specifically for anglers. A large center console and rear & front hatches means plenty of setup options.
This is a kayak that gives superior control, balance, versatility, and comfort. That is a great combination for anything, and for fishing it's crucial!
This is a fishing kayak that works in calm days or in windy days. You can use this for rivers, flat water, and maneuver extremely well. The hull is extremely well balanced, and with 33 inches of width and a 425 pound weight capacity, there's a lot to love about this kayak even for larger anglers.


Brooklyn Kayak Company BKC UH-TK181 Fishing Kayak
The Brooklyn Kayak Company is another premium brand name when it comes to top rated fishing kayaks. Often going under the abbreviation of BKC, this UH-TK181 model is a full 12.5 feet length and is the highest rated model we review that offers dual sitting.
Featuring an impressive 7 rod holders, there are plenty of options for both anglers. In addition to this, there are 3 sets of colors available.
The three options are:
Green camo
Grey camo
Yellow-Orange
Using the "Sit on Top" design, both anglers can sit comfortably. Add in the fact that both anglers can put several lines in the water at once at this only increases the chances of getting some bites while out on the water.
This fishing kayak also features waterproof storage hatches. Add in twin paddle rests and a secure cargo area and there's a lot to like here. Designed with anglers in mind, this kayak has a lot of versatility. This is a fishing kayak anglers will be happy to use on the water.
Add in multiple carrying handles for easy transport out of the water and it's no surprise this model has so many fans.


Vibe Kayaks YellowFin 13-Foot Tandem Fishing Kayak
Vibe wasn't going to let the Brooklyn Kayak Company run away with the title of best duo fishing kayak. The YellowFin 13 foot model by Vibe is another outstanding options. Especially for couples who love to fish together.
The Yellowfin is an eye-catching fishing kayak that comes in 6 possible color combinations & designs. Weighing 80 lbs, this is a solidly built model that has a safe weight capacity of up to 500 lbs.
The accessories on this kayak are rock solid. There are two rod mount holders as well as multiple mounting points. This allows a lot of versatility in setting up the ideal fishing setup for each situation.
Unlike most two seaters, this fishing kayak is even adjustable. That means it can be set up in a way that allows one person to paddle solo. Now that's some serious versatility!
The Vibe fishing kayak comes with two sealed hatches. Each of these has a bag insert. Add in a rear tank well for the catch and a bow cargo bungee type of system and you will be set for comfortable and effective fishing all day.
A strong hull design that is rudder ready means solid performance even in rough water. This kayak can hold two adults and a child. On the other hand, the weight total does need to be watched. So for larger people, that needs to come first.
Finally, a great seller warranty helps you buy in confidence. The one potential negative? The paddles that come with this model aren't great. Because of this many anglers we talked to recommended upgrading to Evolve paddles.


BKC UH-FK184 Single Fishing Kayak
The Brooklyn Kayak Company pushes its way onto our list one more time! Their 9-foot single fishing kayak model is only 45 pounds. Despite that lightweight, it still provides solid support for up to 250 lbs.
This model provides 5 rod holders. This means that a single angler can put multiple lines in the water and pull in more fish. That's a pretty solid setup. The BKC single person fishing kayak features two different sections for cargo storage.
A secure paddle rest will keep your paddle secure so you don't have to worry about it while casting and manning the lines. This kayak is well suited for navigating fast currents, traveling distances over calm water, and getting you to the next fishing hole.
There's space for snacks, for tackle, and of course for those giant fish you're chasing. This is our pick as an outstanding "budget" model for the solo kayak angler looking for a good deal on a limited budget without sacrificing quality.


Kayak Fishing FAQ
Q: Is Kayak fishing safe?
A: Absolutely. Many people don't understand the difference between touring kayaks and fishing kayaks. Fishing kayaks are much more balanced and canoe-like in stability. Always take all common sense safety precautions. But that being said, kayak fishing is definitely safe.
Q: What's the best fishing kayak for the money?
A: Really depends on what you're version of "for the money" is. There's no question the Hobe Mirage Pro is top in quality, but it's also several times the cost of other models. We do like the Vibe Kayaks Sea Ghost fishing model as premium quality for better price point.
Q: How should I store a fishing kayak?
A: Follow all directions that come with each. You want to take care of a fishing kayak like you would a touring one. Clean and check it after long excursions and follow any special directions that come with it.
Q: Is kayak fishing banned anywhere?
A: This would be a local ordinance if it was. In most places this is 100% legal. In fact, kayak fishing is often acceptable where boat fishing isn't. This is due to the lack of engines disturbing the local ecosystem.
Q: How should I go about outfitting a fishing kayak?
A: If you're completely new to kayak fishing, talk to locals who are already into the scene. You'll need the basics: fishing rods, reels, a net, good cooler, etc. Some accessories are specifically built for kayak anglers. A lot will also depend on the type of kayak. Do you have multiple mounting points to put more rods out? What are you fishing for in the area?
A general angler's checklist will be a great starting point. The rest comes from experience.
Q: Can you go kayak fishing in the ocean?
A: Yes. Saltwater kayak fishing is a major thing. That being said, it's important to always note currents. You don't want to go out in weather your kayak can't handle.
Q: Is kayak fishing freshwater or saltwater?
A: Depends on location. This is actually practiced in both water types. This is why there are as many questions about kayak fishing the Florida Keys as there are about Kayak fishing in Alaska, Minnesota, or Michigan.
Q: How can I try out kayak fishing to know if I like it or not?
A: A fishing kayak is a pretty big investment. I feel pretty safe saying most anglers will fall in love with it. That being said, look for an area where kayak fishing is big and try renting for a weekend. If it gets its hooks into you, great. If not, then at least you know!
Tying It All Together
Kayak fishing is definitely a unique experience. If you haven't tried it before the first outing or two can be a bit intimidating. That being said, there's a reason why this form of fishing has become so popular. Requiring skill, a strong presence in the moment, and some sick balance & paddling skills, it's a great hobby that can easily become an obsession. You really don't want to go cheap when it comes to your kayak.
Fortunately with our top list here you'll know exactly which models you can trust. Look at the one that fits your fishing needs best and get ready for a day of some serious fishing!
Kayak Fishing for Beginners Tips Video
Other Articles of Interest