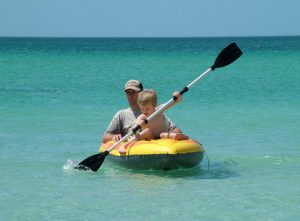 Kayaks are not especially lightweight, nor should they be. If you're going to enjoy the water you need to make sure that the boat you use can hold your weight and handle any challenges that the outdoors bring your way.
Portable kayaks often come in two forms: inflatable models and folding models. So how much does a portable kayak actually weigh and how much of a difference is there between one model and another?
The truth is that there can be quite a bit of difference based on the kayak design, size, and materials used. There are some models here barely over 20 lbs while others are north of 50 lbs. Needless to say, there are major differences between what those extreme examples of kayaks look like, as well as how they can perform. I found myself wondering just how much portable kayaks actually weighed.
Based on my research, it turns out the weight of a portable kayak depends on the style and design more than anything. Solo inflatable kayaks average 23.66 lbs per kayak, tandem inflatable kayaks averaged 32.39 lbs in weight per kayak, and folding kayaks averaged 35.38 lbs in weight. The lightest is the Sevylor Quikpak K1 1-Person Kayak at a mere 18 lbs while multiple models weighed in at over 45 lbs.
While I was happy to get definite numbers like this to figure out how much portable kayaks weighed, this just made me all the more interested in doing a deep dive to learn more.
Inflatable Kayaks
The far majority of portable kayaks are going to be inflatable. This makes a lot of sense since a combination of smart design and strong materials means a blow-up kayak can actually be strong and hold up to a lot of weight. Inflatable kayaks come in both traditional single-person designs as well as some tandem designs.
Single-Person Inflatable Portable Kayaks
Single person inflatable designs are extremely popular and offer a lightweight & inexpensive option to enjoy the water compared to the traditional kayaks. These usually can hold anywhere from 200 to 300 lbs safely and are meant for lake and creek use, but not for the whitewater rapids. These are better for milder situations and still give you a way to enjoy the water.
And you won't need two people huffing as they lift with their legs to get a heavy kayak down to the water. So what is the average weight of an inflatable kayak?
The average weight of a single inflatable portable kayak*: 23.66 lbs average or a 23.0 lb median weight
*Because the Star Pike Fishing Inflatable Kayak is such an outlier, we have not included it in the average as it would really throw things off.
Popular Single Inflatable Kayaks & Weight
Driftsun Rover 120 Inflatable White Water Kayak – 22.0 lbs
Intex Challenger K1 Inflatable Kayak – 27.2 lbs
Advanced Elements 1-Inflatable Kayak – 23.0 lbs
Darget Inflatable PackRaft Kayak – 28.1 lbs
Sevylor Quikpak K1 1-Person Kayak – 18.0 lbs
Star Pike Fishing Inflatable Kayak – 45.0 lbs
Tandem Inflatable Portable Kayaks
The other style of inflatable kayaks are tandem. In other words, they are meant for two people. These can be an enormous amount of fun and are a great way for a father and son or mother and daughter to kayak together.
Most of these designs are only for two people, but there are one or two designs out there (Sea Eagle is one that sticks out) which actually allow for up to three people.
Tandem inflatable kayaks tend to be about 30-50% heavier than their solo counterparts. However they often can hold twice the weight of passengers. Many companies specializing in inflatable models of kayaks will actually have a 1-person AND a 2-person design of the same kayak to meet the majority of outdoor needs.
The average weight of a tandem inflatable portable kayak: 32.39 lbs average or 30.6 lbs median weight
Popular Tandem Inflatable Kayaks & Weight of each
Intex Exployer K2 Kayak – 30.6 lbs
Sea Eagle Inflatable Kayak – 32.0 lbs
Intex Challenger K2 Kayak – 33.53 lbs
Driftsun Voyager 2-person Kayak – 27.0 lbs
Driftsun Rover 220 Tandem Kayak – 28.0 lbs
Ztotop 2-person Inflatable Kayak – 30.6 lbs
Brine Marine Inflatable Kayak 2-Person – 45.0 lbs
Folding Kayaks
Folding kayaks are going to be heavier than inflatable kayaks because they tend to be made with a specialized fabric, flexible PVC or similar skeleton, and thus are going to be heavier. Often they can hold more weight than your average inflatable model, as well. Folding kayaks can be a bit difficult to value because they are definitely much less common than the portable inflatable designs, but many people like that they feel more sturdy and solid.
Oru is by far and away consistently the biggest and best name when it comes to folding kayaks. Many different designs come and go, and struggle to compete with Oru which is why many different names will come along but over the long haul if you're looking at Oru models then chances are you'll be in good shape.
The average weight of a solo folding portable kayak: 35.38 lbs average or 29.0 lbs median weight
Single-Person or Solo Kayak
Folbot Touring Kiawah Foldable and Portable Kayak – 32.0 lbs
Oru Kayak Foldable Kayak Beach LT – 26.0 lbs
Oru Kayak Foldable Kayak Bay ST – 28.0 lbs
Oru Kayak Foldable Kayak Coast XT – 36.0 lbs
SKATEBOLT Folding Portable Kayak – 48.1 lbs
Tucktec Folding Kayak – 28.0 lbs
MyCanoe 2.5 Origami Folding portable Collapsible boat – 55.0 lbs
Elevens Cruise Plus Foldable Portable Kayak – 30 lbs
What Are the Best Portable Kayaks?
There are going to be differing opinions on this, but obviously there are certain kayaks that will definitely stick out compared to the others. Depending on your specific needs and the waters you'll be enjoying, that can change which specific design is a little bit better for you than others.
Each of the following are our picks for the best overall portable kayaks in each category (1-man inflatable, 2-man inflatable, & folding). The links to each one go to a secure page on Amazon.com where you can get more information on each specific model as well as well as current pricing.
In Conclusion
As you can see, each portable kayak is going to be a little bit different, but if you know the portable kayak type, whether it is single or tandem, then you will be able to have a pretty good idea of how much you can expect each type of kayak to weigh. While some people love the traditional style, portable kayaks offer a high level of versatility all at a budget-friendly price that won't break the wallet. These portable models are surprisingly lightweight and compact, and pack a lot of fun into a surprisingly light package!