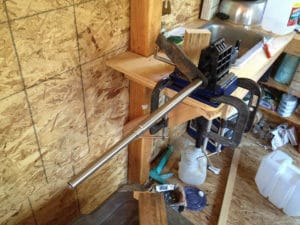 Do you enjoy the art of gunsmithing? Maybe you like repairing old firearms? Or are you an avid shooter who actually has relatively little experience with smithing work and gunsmithing kits and you want to understand them more thoroughly?
Whatever your passion is, one thing is for sure. It's essential to have the right tools. By having access to these tools, you'll not only be able to get the job done right, but you'll also eliminate a lot of unnecessary frustration.
When choosing the right gunsmithing kit for your needs, you'll want to first consider what type of firearms you'll be working on. After that, you'll also want to consider where you'll be working on your guns and the amount of space you'll have available to you.
Some of the kits listed below are a collection of one kind of tool where as others are more comprehensive sets. Some are smaller and more compact while sets take up more area. These are the things you'll want to think about before you fully decide on a specific product.
Wheeler 89-Piece Deluxe Gunsmithing Screwdriver Set
If you're looking to own one of the most useful gunsmithing kits on the market, then you really need to give the Wheeler 89-Piece Deluxe Gunsmithing Screwdriver Set a try. Why might you ask? Well to start, it's one of the largest screwdriver collections on the market.
Screwdrivers are the most common tool used in gunsmithing, and this kit has every single size you could ever need. In fact, Wheelers collected screw sizes from over 100 different firearms, both modern and antique, and then crafted this collection based upon that.
You'll receive 54 hollow ground flat bits, 4 Phillips bits, 8 Allen bits, 3 Torx bits, 15 specialty bits, and doubles of the thinnest bits as well. Now, that's what I call a collection.
The quality of this 89-piece set is also worth mentioning. These screwdrivers are constructed from S2 Tool Steel and then hardened to 56 – 58 Rockwell "C" for advanced strength. They're built strong, sturdy, and extremely durable. Every collection comes in a hard, plastic case with anti-slip, molded handles.
This case will not only protect your new tools, it'll also make transporting them a much easier job too.

Wheeler Hammer & Punch Set
The Wheeler Hammer & Punch set shows yet again why the Wheeler brand is so trusted when it comes to gunsmithing and gunsmithing tools. This set of tools comes in a solid hard molded gray plastic storage and carrying case to organize, protect, and transport the gunsmithing tools as needed.
This Wheeler set includes a two sided hammer, one with a brass face and the other a polymer face, as well as eight brass punches of varying sizes from 1/8″ to 5/16″ and all the common necessary sizes in between.
In addition to these brass punches, there are also 4 steel punches (two of 1/16 and two of 3/32 sizes), as well as two plastic punches (one that measured 15/64 and another 3/8).
This small but versatile kit is a fantastic set of tools for driving pins, drifting your sights, and the solid case that is easy to carry means that you can carry it around with ease, giving you the ability to work and adjust wherever needed.
A very high quality kit that will make a great addition to any firearm workshop area.

Pachmayr Master Gunsmith Firearm Screw Kit
The Pachmayr Master Gunsmith Firearm Screw Kit is a fantastic choice for gun owners who either travel a lot or have limited space in their work area. This 277-piece kit comes in a 7.1″ x 4.8″ x 1″ plastic container and weighs less than 1lb. The squarish shape of the container allows the collection to be easily stacked or stored, and the easy-to-snap latch keeps dust, dirt, and moisture from contaminating your tools.
Each collection consists of 23 different, hard-to-find screws, and 12 of each of the 23. That's a total of 276 pieces all together. By having multiple extras, you won't have to worry about going into a panic attack every time you drop or lose one since your kit already ha the next piece up and ready to go.
Simply open up your container and grab another one. It's that convenient, and the large supply means you can easily and confidently work on multiple types and models of guns.
Every kit also comes with complementary metal tweezers, so pulling out your bits won't be such a strain on your fingers. It's definitely an extra, little bonus.

Grace USA Gun Care Tool 17 Set
This 17-piece tool set collection combines elegance, quality, and convenience all into one. With this set, you'll receive 8 hollow-ground screwdrivers with polished, hardwood handles, an 8 oz brass hammer also with a hardwood handle, and 8 solid, brass pin punches too.
To help you care for these tools and keep them together, you'll also receive a durable, vinyl pouch to hold them in. This pouch can be carried in your glove compartment, your backpack, or your ammunition bag for easy transportation.
Every tool in this 17-piece gun care set is constructed from premium materials. Once you hold them in your hand, you'll notice the different in quality when compared to other similar sets on the market. These guys make sure to go the extra distance to make sure this is one of the absolute best care sets on the current market.
This might be a smaller kit when it comes to gun care and gun maintenance needs, but it is built with extreme attention to quality, and that really matters.

Weaver Deluxe Gunsmith Tool Kit
Gun owners looking for a very comprehensive collection of gunsmithing tools complete with a high-quality carrying case should think about ordering out the Weaver Deluxe Gunsmith Tool Kit. This 88-piece kit comes with a durable steel punch set crafted to fit an array of different sized pins.
In addition to this, you'll also receive an adjustable, brass hammer, a variety of different-sized screwdriver heads, a few other essential components to go with it.
The hard, well-designed case that comes with this collection keeps all of these tools conveniently organized. Trying to find a screwdriver or another tool when you really need it can become a little irritating.
This case will help prevent your tools from becoming rusty as a result of moisture, and whatever your favorite outdoor hobby is you know the importance of keeping your gear in tip top shape. That is doubly true when it come to needing to keep metal pieces in good shape and rust free.
Anyone who takes care of their firearms knows the importance of keeping every single metal piece moisture and rest free.

Winchester 51 Piece Gunsmith Screwdriver Set
No one should be surprised that a brand name as important to the history of firearms as Winchester would also show up on our list of the top gunsmithing kits currently on the market. While there are a few options to choose from, there's little question that their 51-piece gunsmith screwdriver set is the tops being offered.
This small but versatile screwdriver set is extremely versatile, effective, and the carrying case is not only strong and durable but also small and compact for your convenience when working at your workshop space or traveling. For many of us convenience is definitely key!
The screwdriver has a magnetic tip, multiple bits for attachment (flat heads, hex, Phillips, long Phillips, and many more) in addition to even a 1 inch sized socket adapter.
The hard molded plastic that makes up the carrying kit is fantastic and makes it easy to protect and store. The only potential drawback to this outstanding kit is that it isn't a full gunsmith kit, but a strong supporting screwdriver kit. A great addition to any full gunsmithing workshop or as a part of building up a beginning work area for your firearms. Highly recommended!



NC Star Essential Gun Smith Tool Kit
This convenient, little gunsmithing kit has all the essential tools and comes in a soft, easy-to-carry bag. With a total weight of 4 lbs and a length of 16," you can literally take it with you wherever you go.
There's nothing more annoying that hauling a large, heavy collection of tools on vacation or to a local gun show. With the NC Star Essential Gun Smith Tool Kit, this won't be an issue.
This complete kit contains a wide selection of tools including a brass-ended mallet, a screwdriver with multiple bits, a triangle mill file, a bench block, and a hex drive just to name a very few.
You'll even get a pair of clear, safety glasses, so you can prevent any unnecessary eye accidents. Now, that's one diversified set of tools, and the easy carrying case that gives you such a wide variety of options even when traveling light on the move makes this choice a definite winner when it comes to top rated portable gunsmith kits.

Wheeler Professional Gunsmithing Screwdriver Set
Have you been on the lookout for a quality gunsmithing screwdriver set? This collection consists of only the most common bits used by professional gunsmiths, and as a result, you'll rarely ever find yourself in a situation where you don't have the sized bit for a specific screw.
A smaller version of Wheeler's larger 89 piece gunsmithing kit, this 43 piece professional screwdriver set is more than enough to provide the tools you need for virtually all of your gunsmithing needs. This is a quality option that offers everything you expect from the top kits that are available on this list.
For people new to the art of gunsmithing, there's also a clever Screwdriver Bit Location Guide included. This simple yet effective guide will help direct beginners to the right sized bits for their firearms. It's easy to read and conveniently located on the inside of the hard-shell case.
The thing that I really love about this set is that each one of the screwdrivers features a no-slip, rubbery handle that fits perfectly in the palm of your hand.
These tools are hard to drop and easy to use, even in wet conditions. This is truly one great set of gunsmithing screwdrivers.

Winchester 15 Piece Brass/Steel Punch Set
Winchester makes wonderful products, and this 15 Piece Brass/Steel Punch Set is no exception. This set includes a beautiful a double-faced hammer decorated with steel and nylon heads. In addition to this, you'll also receive 8 different sized brass head punches, 4 steel head punches, and 2 nylon punches. This isn't a full gunsmith kit but when you're specifically looking for a punch set, this is a top notch option.
All of these tools come in a red, blow molded case that's not only durable, it's also lightweight and easy to carry. In fact, when the case is fully loaded, it weighs less than 2 lbs, meaning it is never going to put a strain on your arm muscles.
Now, that is one truly lightweight set of tools!
Every 15-piece Winchester set comes with a 1-year warranty. If for any reason your tools become defected through regular use, you'll get a full replacement. It's that simple, but you almost certainly won't have to cash this in as the emphasis on quality for this company has truly paid off.

Lyman 68 Piece Master Gunsmith Tool Kit
It doesn't matter whether you're repairing, rebuilding, or customizing your firearm, this kit contains every kind of bit you could possibly need to get the job done in the most efficient manner possible.
Everything you need is here, and that versatility allows you to get some serious work done with this kit.
This Lyman collection includes Phillips screws, slotted screws, hex screws, and 6-lobe screws. You'll also receive a Weaver scope ring bit, a Glock front sight bit, and 3 different sized pin punchers, 0.062," 0.093," and 0.118."
Every collection comes in a hard, durable case with easy-to-snap latches. This case is designed to not only protect your tools from a variety of damaging elements but also to make transporting them a hassle-free experience.
This is one exceptional set of tools, and it has definitely made this list for good reasons.

2018 Update: SPIKA Gun Care Hammer Punch Gunsmithing Set
This is a new addition to the list, and we are always happy to add another outstanding option to our list of the top rated gunsmithing kits currently out in the market. After all, you can't get outstanding options from inferior tools.
SPIKA introduces a small but excellent kit that features a brass head hammer, 8 brass punches of varying sizes, 4 sizes of steel punches, and even two composite punches. Add in a dozen screwdrivers for careful fitting screws of all sizes as well as the molded plastic carrying kit, and this is a small but solid kit that takes care of all hammer punching needs you may have.
While this is going to be far different from the big-time Wheeler kits with 32 or 64 pieces or more that aim to take care of every part of gunsmithing, the SPIKA focuses on a couple things and focuses on doing them very well.
This is a great supportive kit or an excellent starting tool set. Either way, a quality buy and well deserving of its spot breaking onto this list.

2018 UPDATED: Wheeler Ultra Gunsmithing Kit Reviewed
2018 UPDATE: While Wheeler continues to make several outstanding kits for gunsmithing, they either appear to have stopped making this particular kit or sellers on Amazon have moved on to other Wheeler kits. Look further up on this article for the newest offerings, but this was the #1 prior to being discontinued – and it speaks really well to Wheeler's quality when it comes to outstanding gunsmithing kits!
Anybody who has a love for the art of gunsmithing will absolutely appreciate the Wheeler Ultra Gunsmithing Kit. When you purchase this kit, you'll receive enough tools to perform over 50 cleaning, repairing, and rebuilding operations. You'll be able to do it all.
Each tool included is specifically crafted to make working on your firearms a much quicker and less frustrating job. Every tool has its own use, and together they'll all make your life a whole lot easier. You'll be ready for any gunsmithing problem that could possibly arise.
Another aspect that makes this a great investment is the quality of the tools. Every tool is made from top-of-the-line materials and built to last. You'll never have to worry about breaking or ruining them with regular use.
Everyone who purchases this amazing set will also receive a convenient carrying case to go with it. You'll be able to take your new gunsmithing kit on vacation, camping trips, and even gun shows with little or no effort at all.
This is definitely a collection worth checking out, and if you're looking for a complete kit that meets all your gunsmith needs then we strongly recommend going with this particular option. Beginner or advanced, you will find plenty of use from this particular gunsmithing kit.

Getting Started Gunsmithing from Home
Whether you're a big time hunter, a huge enthusiast for recreational shooting, or just someone who loves crafting in all its forms, there's a lot to love about really getting into the nitty-gritty of gunsmithing. However, unless you grew up in a home that not only had firearms but also went further into actual custom work with guns then there's a good chance that you could be an excellent hunter, a great shooter, and still not have really any familiarity with the practice of crafting or customizing guns (aka "gunsmithing") or any concept of where to start in terms of getting the right tools.
So if you're interested in learning these skills, how the heck are you supposed to get started with the right tools?
The good news is that with the Internet and access to forums, tutorial videos on YouTube, and even active websites you have plenty of options.
There are a few things you need to look at as you are getting started, however.
Are you looking at general home gunsmithing or a specialty niche?
How many tools do you need, and what should you focus on to start?
Do you have the patience to stick with it before you get started?
These are all pretty major points you need to look at.
What gunsmithing tools do you need to get started?
This is going to vary from person to person and over time will also depend on which direction you want to go with the specific skills you learn, but some tools are just going to be universal. The following are the specific tools that we recommend for true beginners.
A gunsmith vise
This is an absolute must-have tool for gunsmiths of all experience levels. Considered one of the backbone tools for working with guns, this is crucial in order to be able to work on individual pieces as well as holding your gun firmly but properly in place in order to keep both of your hands free to do whatever is necessary to get the work done.
Ideally you want a vise that is built specifically for this type of work and that means going for a vise with clamps that have non-marring jaws. This means you can firmly secure your firearm, or various parts of it, without worry of any damage.
A good bench block
This is the proper tool for helping to keep your gun steady while also providing the right holes in it to allow you to properly line up things perfectly before you either drive your pin in or out. This should definitely be one of your first tools to use as a new gunsmith.
A gunsmith's brass hammer
You can't really hammer pins in or out without a good hammer, can you? As with many things, you want the right tools. Pulling a hammer from your nearest convenient store just isn't a good plan. You want the small and specifically designed hammers that are built for this type of work.
A pin punch (or several)
These are often sold individually, in small groups, and are often included in large numbers with gunsmithing kits. Have multiple pin punches if you have more than one firearm as many of these are specifically designed for specific types of guns or to work with pieces designed for particular builds or calibers. In other words, this is where you can get really specific with wanting to match up the perfect tool for a very precise bit of work.
Gunsmith screwdrivers (no, regular ones will not do!)
Regular screwdrivers don't get the job done in this case. While having one flat head screwdriver and one Phillip's head screwdriver is actually great life advice for anyone going out on their own (along with a hammer, pliers, a plunger, and duck tape – the basics of adulting in the beginning), special screws are used in putting together firearms into the fine functioning weapons they are and that means using the specialty screwdrivers that are designed for this type of work.
Gunsmithing FAQ
Q: Just what exactly is gunsmithing?
A: A gunsmith (whether amateur or professional) is any individual who designs, builds, maintains, repairs, or customizes firearms. The practice of doing this with firearms, or ammunition, is what gunsmithing is all about and remains a very common and popular practice today.
Q: Why should a casual hunter or shooter learn gunsmithing skills?
A: The more you understand your tools and how they work, the better you will be able to use them whether as a recreational shooting enthusiast or as a hunter. Plus, any repairs, maintenance, or custom work done to a firearm is done by a skilled human being somewhere – why not learn the skills so you can do it yourself?
Q: Where can I learn important skills in this field?
A: There are many different ways. If you have a friend or know someone who is into building, designing, or repairing (or even restoring) guns then you can often ask to learn from them. There are online video courses, YouTube videos, but even better is going the direction of going to actual courses offered by the NRA or a local professional organization offering the same courses and services.
Good old fashioned reference books on gunsmithing often include detailed pictures and charts that include step by step instructions, so build that library, as well!
Q: Just how many tools do I actually need?
A: This depends on how far you want to get into gunsmithing. If you want to just focus on a little bit of restoration work or thorough cleaning and maintenance then you need a lot less than if you want to learn everything possible. This all depends on your specific needs, as well.
Q: What starting tools does a home gunsmith need?
A: There are many great gunsmithing tools out there and while it can be intimidating for beginners, as with anything else requiring tools there is a short list of really good starter tools you want to make sure to have. A good basic starter group includes: a good gun vise, basic bench mat or work bench, basic gunsmithing kit (even the most basic ones area good way to start), cleaning brush, cleaning oil, cleaning patches.
This gives you the space and tools to do basic maintenance and upkeep, learn the ins and outs of your firearm, and steadily move on from there with your basic tools. You can also re-read the section right before this one, which lays out several of the best tools available.
Q: How do I learn gunsmithing for free?
A: This is doable to an extent, but be careful of making sure you're on the right heart. There are plenty of gunsmiths who love to pass on the craft and are willing to teach either as an official apprentice setup or as a side thing (you should still pay for your own materials or at the least provide some pizza, beer, something in appreciation).
The best other option: you can learn gunsmithing online – it's the beauty of new technology. You will need tools and materials and will make mistakes along the way, but it is amazing how vast a library of knowledge is out there.
Q: How much does gunsmithing school cost?
A: This is going to vary based on the specific school, classes, and any financial aid that you might be eligible to receive. However there is a renewed emphasis on trade school and feel free to check out this article on the top rated gunsmithing trade schools.
Q: Is gunsmithing a dying trade?
A: Boy is this a rough question! This is also one that is really a Catch-22 in many ways. While fewer people in the States own guns, many of them own more guns. Also, the proliferation of valuable information and guides means more and more individual handymen are doing it themselves.
However, since fewer individuals have been doing this as a profession there is also a higher demand for these services and fewer people to provide them. There is an ebb and flow to this sort of thing, but there is still very much a demand for gunsmith skills.
Q: Do gunsmiths handle gun restoration work?
A: Many do. There are varying specialties in the field, so the answer won't necessarily always be yes but whether it is repair, restoration, or customization work, usually an experienced gunsmith of some type is doing the work.
Q: How many decent gunsmith tools can be found on Amazon.com?
A: Actually quite a few of them. In fact, all of the top rated gunsmithing kits on our list can be found on Amazon and it's not just because they're found there online, but because they really are some of the absolute best kits that you will find anywhere. Order away with confidence!
Q: Is gunsmithing illegal?
A: Generally speaking, no. Now there are regulations. You can't legally do anything that would be considered illegal like making a firearm fully automatic, creating illegal firearms (think sawed-off shotguns), or advertising as a licensed gunsmith if you're not licensed.
The actual practice of gunsmithing however is completely legal in most places. Check local and state regulations where you live to see if there are any additional rules or concerns to take into consideration.
Classic Gunsmithing Specializations
While there are plenty of activities that fall under the general term of gunsmithing, it's important to know that there are many specialties that fall under this general term. Whether you practice at home or are picking up skills for working as a gunsmith (and most working gunsmiths do their own work/activities at home, as well), understanding what specialties are there are can help you know which tools you need as well as what direction you will want to go with your studies as you move from pure beginner to someone who really builds some serious gunsmithing skills.
While there are many different directions you can go, especially once you start talking about custom work or specialty work, there are some "common" specialties that are worth knowing about, especially if you're looking at gunsmithing as eventually being more of a career as opposed to just a hobby.
Shortlist of gunsmith specialties includes:
Custom gun designs & builds
Finisher gunsmith (applies chemical processes to various parts of the guns)
Stockmakers & checkerers specializing in general & custom gun stocks
Engravers
Pistolsmiths
Niche manufacturers – anytime you hear about custom triggers, barrels, receivers, chances are you're talking about specialist gunsmiths working for a niche manufacturer
In Conclusion
Gunsmithing work isn't for everyone, and that's fine. Cleaning and maintenance remain important parts of responsible gun ownership, and you want to make sure you have all the tools you absolutely need, like these kits or a good gun vise, and learn to use the tools you aren't a familiar with. The gunsmithing kits in this article are many of the absolute best kits available online and are a great start for anyone who is looking to hone their skills and keep their firearms at their absolute best.
If you liked this article you may also want to check out:
Great Video Introduction to Gunsmithing