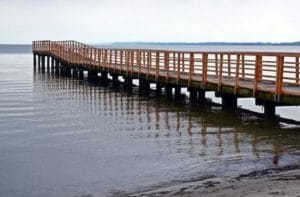 As an avid fisherman, there probably isn't anything worse than finding a really good fishing hole then not remembering how to get back there. This is especially frustrating when you are using your fish finder to explore new territory, you find the perfect new spot, than can't remember how to get back there.
This has happened to me and my brother on more than one occasion.
After all, not all of us have Grandpa's memory when it comes to these things. That man could find a fishing hole from 35 years ago with a blindfold on during a Midwest thunderstorm.
If you've ever related to this frustration of knowing you were close to that great fishing spot but you just can't quite make it work again, then I would strongly recommended using a fish finder that has GPS built into it.
GPS fish finders will allow you to mark those places permanently. That gives you the ability to return to that new fishing spot anytime that you want.
As an added value, many of these GPS fishfinders let you monitor your jigs and speed when trolling – improving your fishing techniques in ways that might lead to bigger and better results every time you're out on the water…and what angler doesn't want that?
Here are some of the best fish finders with GPS, and a quick review about each one to help you make the right buying decision.
Garmin Fish Finder GPS – Garmin Striker 4DV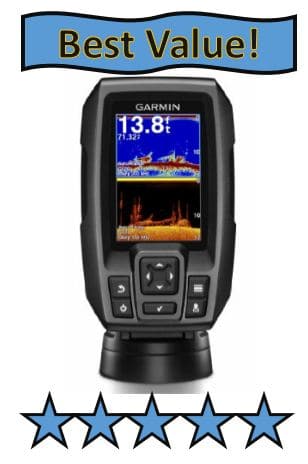 Besides the GPS feature, this unit comes with a 3.5 inch color screen, that clearly shows fish and underwater features. The down scanner will provide images in up to 750 feet of water.
The high sensitivity GPS on this unit will allow you to mark fishing spots and make it easy for you to return to them in the future. You can also mark locations like docks or boat ramps above water. Garmin even lets you mark important underwater features like brush piles, stumps, rock outcroppings and more.
Basically anything that you want to remember in the future.
The mapping feature will also show you the path you want to take to get to those previously marked spots, and gives you that full range of information so you never forget an important detail when you're out and about finding your favorite spots.
The GPS also helps you with your different fishing techniques. When stationary, you will be able to see your jig or weighted bait, and where it is in comparison with fish or the bottom.
You can even see if fish are swimming away from it, letting you know it might be time to change up the lure. These units are so accurate you can see even see how high and low you are lifting and dropping your jig.
For trolling purposes you are able to see boat speed. You can monitor how fast you are going, and how fish are reacting to your speed.
A portable kit is available with this unit that makes it mountable for kayaks, canoes, or allows you to use it for ice fishing. With a price around $180, it is hard to find a good GPS fish finder that is a better value than this one. This unit will work for almost anyone.
In addition, if you buy the portable kit, you can use it in almost any situation.

Raymarine Dragonfly Pro Series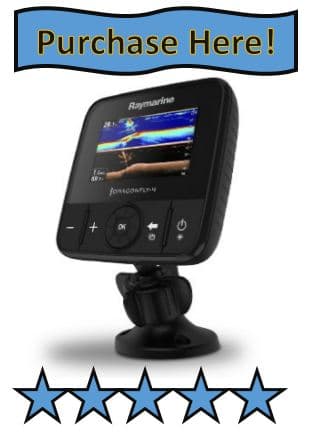 Raymarine has a few units that come with a built in GPS. The Dragonfly 4Pro, Dragonfly 5Pro, and Dragonfly 7Pro all have built in GPS. Pay close attention to the unit you are buying, because if you are looking for built in GPS the standard Dragonfly 4 and Dragonfly 5DVS do not have that feature built in. You absolutely have to go Pro to make sure you get the GPS you're looking for.
The Dragonfly-4 Pro is the most popular version, and has an incredible screen. It is 4.3 inches in size, but the dual sonar creates almost photo quality images, making this one of the best imaging units you can buy.
The LCD screen looks really good in all weather, and looks good from different angles, making it a great fit for virtually any angler who is used to any type of weather or fishing conditions. After all, what's the use of the GPS portion of a premium fish finder if it doesn't hold up during crummy weather?
The Pro models also allow you to download the Raymarine mobile app. The fish finder has a built in Wi-Fi connection that will let you see the imagining on your smartphone or tablet, giving this model a versatility that many anglers will find extremely attractive.
This is nice because if you are looking to have a screen bigger than the 4.3 inch standard screen, you can use your tablet without losing any resolution.
The price is more expensive than the Garmin option, usually ranging around $275 for the Dragonfly 4 Pro. What you are paying for is the extremely detailing imaging, and for serious fisherman, the little extra money is well worth it.
The other designs definitely have their strong points and there are those anglers who are of the opinion that if you're going to drop a few hundred on an outstanding GPS-sonar fish finding system then why not spend that touch extra to get a larger and easier to read screen.
Check these out from Raymarine:

Lowrance GPS Fishfinder Review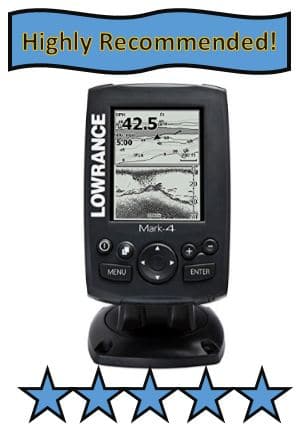 Lowrance has a phenomenal selection of Fishfinder/GPS/Chart plotter combinations to pick from. They do a great job of having combination units, and have about 17 different fish finder GPS combos to pick from.
In other words, you have plenty of options, and it would be really impractical for us to try to differentiate each possible combination from one another. In the end, I think picking the right Lowrance fishfinder and GPS combination will come down to what extra features you want.
The Lowrance Mark 4 Chirp is the most affordable option they carry. It comes with an almost 4.5 inch high-resolution screen that is backlit and easy to read.
The built in GPS feature gives you all the data you want, and the price can range from $175 to $275 depending on if it is for sale or not.
For a GPS fish finder option that's not bad at all, especially considering the level of quality you get from this model. That built-in GPS is put to good use and there's a reason that every new model whether basic or high end quickly finds a strong group of anglers becoming fans.
Premium Lowrance GPS models are tempting…
Or you could go with the premium GPS models from Lowrance, if budget isn't a concern but only quality and effectiveness is. The most expensive Fish finder GPS combo from Lowrance?
The HDS-12 Gen3 normally runs around $3000, but provides you with almost everything you could dream of, including a 12 inch screen and the most accurate internal GPS antenna you can get from a fish finder. If money isn't a problem and you are a serious angler then you will definitely want to consider this as an option.
You have so many mapping options and features with this version, it is almost unbelievable. Lowrance is a leader in the fish finder industry, so you won't go wrong picking on of their options, whether you decide to pick a $275 dollar unit, a $3000 unit, or pick one somewhere in between.

Humminbird Fish Finder GPS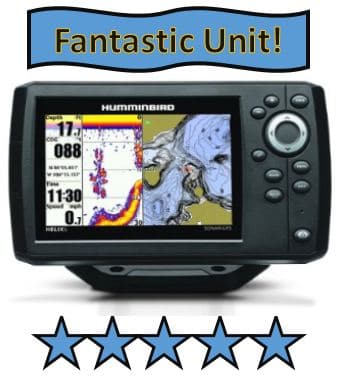 Humminbird is another very popular fish finder manufacturer that combines an internal GPS system into lots of their options.
One of the most popular series is the Helix series. These are a very good boat mounted option that will give you all the information you would want.
The most popular pick is normally the Helix 5 series, but the Helix 7 series is also very popular. Both are affordable, with the older series 5 normally costing around $300 and the newer 7 series costing around $400 to $500.
Screen size will really be the big deciding factor here. The 7 series comes with a 7" inch screen and the 5 series comes with a predictable 5" inch screen.
They both will have GPS and chart plotting, a colored screen, down imaging, and provide the details you want, but screen size changes based on the unit. If your eyes aren't quite what they used to be then don't be afraid to grab the 7-inch screen and get a little more detail to guide your fishing adventures through the day.
You really can't go wrong picking one of these options. If you need a portable fishfinder, check out this list of the best options!

Looking at the Benefits of a GPS Fish Finder
When you think about it, the benefits of a GPS fish finder are pretty easy to list off. Aside from the obvious ability to clearly see where you are and where you are going, having the ability to mark unexpected fishing challenges or your favorite hot spots allows you to return to the best spots again and again.
Depending on where you fish, sometimes the difference between finding a hot channel where you can always count on the fish to return during a certain time of day and absolutely nothing can be just a few feet. If you've ever fished for walleye, you know what it's like to find those feeding channels or to have the days where you just can't quite make it work.
Having a fish finder with GPS means you don't have to go back to an area that you know has at least a couple good spots only to spend the whole day piddling around looking for that perfect spot, knowing it is there but unable to line it up. The GPS allows you to mark it and come straight back each and every single time.
The best results always come to the prepared fisherman, and a truly great fish finder can absolutely be an angler's best friend!
What to Look for in a GPS Fish Finder
There are plenty of different things you want to keep in mind while searching for the perfect GPS fishfinder for you. First, keep in mind that not all models are created equal. Some will clearly be more useful than others. You will also find that different boats call for different fish finders. Many times ditto depending on the style of fishing or information most important to you.
The Screen/Picture Resolution
This one should be pretty obvious. It doesn't matter how detailed the screen is if you can't read it. Six different shades of green don't matter if you're color blind. You want a screen with detailed picture resolution that is easy to make out.
Same with any zoom features. You don't want to lose sight because you adjust the picture or the monitor. Make sure to only check out the GPS-based fishfinders that get high marks for picture resolution. Good screens matter.
Cone Coverage Area
A fishfinder will use some type of sonar cone to make out what is underneath the water. This means that the angle and the area covered by the cone matter quite a bit. The numbers can be a bit confusing if you're not sure what to look for.
Most good fishfinders fall in the 16 degree to 20 degree mark, although there is a heavy variety beyond that. The majority of anglers will find 20 degrees more than enough. With all the angles covered your fishing efforts will likely be rewarded with even more success.
This also covers the issue of frequency. The frequency of your GPS fishfinder can determine whether it works better in shallow water, deep water, or both equally well.
Side Imaging Vs. Down Imaging
This is related to the section above. The truth is that you can get very different looks depending on how your GPS is set up. Understanding the difference between these two types of imaging, and which you prefer, will help you immensely when it comes to picking out the right one for your boat.
This might seem like a small issue, but for some it is actually quite a large one! Make sure you're getting the imaging that really helps you out while fishing.
Power Consumption
The amount of power it uses and the battery life are both important. If you're a hardcore angler spending 12 hours a day on the water you don't want your fishfinder draining out at hour 6. Make sure the power drain is reasonable.
Our Final Thoughts…For Now
There are a lot of good reasons to make sure your fish finder has GPS built into it, with the biggest being improving your fishing techniques and mapping all the data you could want as a fisherman. Each of these options have some great benefits to them, so pick the one that is in the right price range for you! A good rule of thumb is the more you pay, the better mapping options you are going to get, so please remember this if that is an important feature for you!
Here is some more information about the Helix 7 – a very good option for fisherman!
Helix 7 GPS Fish Finder Video
Other Resources of Interest