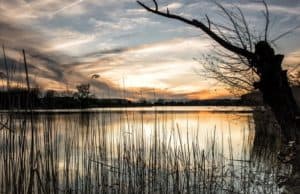 We understand that not everybody is willing to pay hundreds and hundreds of dollars (maybe even thousands of dollars if you are looking at some of the really high end 3-D options) for a fish finder. So we wanted to do a quick review on some of the best cheap fish finder options out there.
The cheaper models are going to give up some of the fantastic features that more expensive models give you, but for people who don't need all the bells and whistles, and just want a solid fish finder, these are some really good options.
If you don't need GPS monitoring, 3D maps, offline map modes, and all of those extras – this list of affordable fish finders should help you pick a nice option that is geared towards finding fish swimming under your boat because once you know they're there, you have all the information you need to get fishing and increase your chances of bringing in that great daily catch!
So read on to find the high quality inexpensive fish finder for you!
Humminbird PiranhaMax 197C Color Fish Finder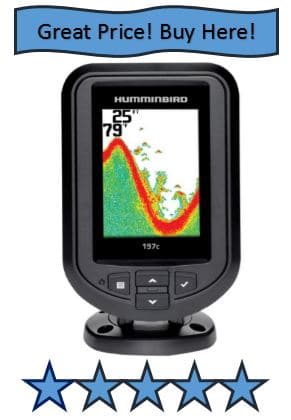 If you are looking for cheap but effective fish finders to mount to your boat, this excellent model has to be towards the top of the list. Humminbird is known for making great fish finders, and you can normally purchase this one for around $100 which definitely puts it in the value area of fish finders, but there's nothing low value about the quality of what the PiranhaMax fish finder has to offer.
The transducer is included (as well as a mounting bracket, hardware, and a user's manual) and you will need to mount it to the transom of your vessel. This unit can be mounted to kayaks, as well, though obviously you will want to use all the proper caution and care when setting this up for actual on the water use.
The screen itself is 3.5 inches in size and is in color. The screen will show basic bottom readings, fish locations, water depth & temperature, and will provide all the basic information you want just fine. In addition to all this useful information, there is a fish alarm for fish swimming by, and the manufacturer says it will read depths of up to 600 feet.
This is a very good basic fish finder and one that will deliver on its value and then some.

Lowrance Hook-3X Sonar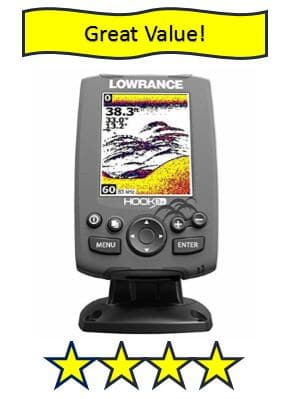 Lowrance is another company known for building durable and effective fish finders. One of their most affordable versions is the Hook-3X series, and you may be surprised by just how much information and assistance this series of portable sonar fish finders provides you. This is another boat mounted fish finder option, and you should be able to purchase it for under $100 most of the time.
This comes with a 3-inch color display screen with a 320 x 240 pixel resolution. It is supposed to be easy to see in the sunlight, but this is one of those details that does come up as one of the most common complaints that buyers have. There are many people out there who say they need to keep the backlit section on to make it readable during very sunny days.
Not a serious issue, but it is still one of those things that you should be aware of. After all, even the easiest of workarounds doesn't work if you don't know about it.
It comes with all the necessary equipment, except for the battery which you need to purchase separately. Like most fish finders you are going to be able to find fish, bottom contour and structure readings, and water temperature. It works best when the transducer is mounted to the transom although this isn't an absolute necessity.
The manufacturer says that the patented transducer it comes with can track the bottom at speeds of up to 75 mph – I'm not sure if that is true, or even necessary, but that is pretty damned impressive. Not sure I'd test that, but a more conventional fast trolling with crankbaits might be quite viable with these tools.

Garmin Striker 4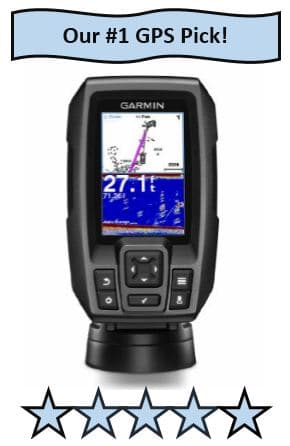 A good cheap fish finder reviews list wouldn't be complete without having the Garmin Striker 4 listed. It is a little bit more expensive than some of the other options, usually around $120 to $125 dollars. However, it is also one of the most highly rated options by users on different shopping sites and we are extremely impressed with this option, as well.
Even if you were hoping to stick around $100, you should seriously consider taking a look at this particular fishing GPS system.
This particular Garmin Striker fish finder can be mounted to the front of your boat or the trolling motor and it comes with all the necessary brackets and mounting equipment. The screen itself is just a mere 3 inches in size, and it reads better than most other cheaper versions, which is a welcome bit of news for anyone who has ever looked at a fish finder screen and couldn't tell if they were going after a large fish near the bottom or getting their lures snagged in underwater roughage. It is a great option for scanning water temps, bottom structure, and finding fish.
The big selling point is it has a built in GPS, making this the best cheap fish finder GPS combo package on the market. The GPS will allow you to mark fishing spots, making sure you never forget where those great secret fishing holes are located. That alone definitely makes this a popular choice.
The GPS also monitors speed, so when you are trolling you will know exactly what speed you are going. This will allow you to make the necessary adjustments to your trolling technique so you can increase your chances of bringing in that big catch!
This is our number one recommendation for serious fisherman looking for a cheaper fish finder and also anyone that needs GPS.

NorCross Portable Fish Finders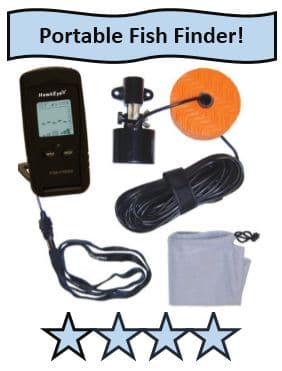 If you are looking for a cheap fish finder, but you do not want it to be mounted to your boat, you should look at purchasing a Portable Fish Finder. Finding really good truly portable fish finders can be quite a challenge but NorCross makes a couple of options that are both very dependable and also very affordable.
How these work is very simple. You will actually tie the transducer to fishing line and cast it out into the water. The transducer connects to the display screen, and will start gathering data about bottom structure and fish locations.
You can reel in the transducer and cast it out again as much as you want, adjusting as needed depending on where you are fishing at the time.
This particular option is great for people that do a lot of shore fishing, or need a fish finder for their canoe or kayak. Since it is not mounted to your boat, it is easy to take these fish finders with you from place to place, which also means you never have to go out fishing again without having a fish finder on hand.
The older portable fish finders can be purchased for around $50 to $80 depending on the model, with the newer and flashier versions running up to $200 or $250 dollars. Obviously this means some are much cheaper than others, but doing a little bit of homework will help you quickly figure out which models are in your actual price range and which ones are not.

Do You Have a Certain Price Range in Mind?
While figuring out pricing can be complicated for a wide variety of reasons, the good news is that there are plenty of options when it comes to finding a less expensive fish finder. While in many cases price is going to be one of the major driving forces (and that is perfectly understandable), it is also worth knowing that sometimes an extra $20 or $50 might be worth it depending on the types of
Just because a fish finder isn't expensive doesn't mean it isn't a really high quality. While having a top price range makes sense, at the same time you need to know which traits are incredibly important to you in a fish finder and which options are less important but still considered a nice bonus if you happen to have them.
When you break things down in this way you will be able to get a really solid idea of what it is that is really important to you. This not only helps narrow down the best options but also makes it much less likely that you will fall for a fancy sales pitch or bells and whistles that in reality don't help out your fishing efforts all that much or really aren't as important as you initially thought.
A little bit of thought and research up front goes a really long way.
What Should You Look for in an Inexpensive Fish Finder?
The chances of you finding the perfect fish finder are always going to be a long shot but that being said, there are plenty of options out there to choose from and you should always be willing to take a look at what inexpensive options you have.
Aside from the obvious answer of price you will want to look at a wide variety of different factors that all go into helping to figure out which models are best suited to fit your needs and which ones are not.
Just a few of the good things to look at include:
How easy the screen is to read
Depth of accurate readings
Portable versus mounted options
How the fish finder is mounted
What the reviews from previous owners are like
Other Great Fishing Blog Posts of Interest
Hey, we understand that sometimes you really get into an article topic and want to get more on that same subject. If you were here during the really early days of the blog there were a handful of articles on fish finders and that was it. However, we now have multiple articles on various fishing gear that you might find interesting, so peruse some of these other articles to your heart's desire and see if you find anything that hits you!
While a good pair of pliers to help crimp lead sinkers, bend metal, or remove (or repair) hooks doesn't come up as a "sexy" piece of fishing gear, there is no denying just how important pliers are to your average angler. This article talks about the all the major options, how they stack up, and offers plenty of choices to make sure you're never without the tools you need to succeed.
Best protective fishing rod cases
If you're going to spend the money on a high quality fishing rod, you want to make sure it's properly protected when you travel! This excellent blog post finds the best ones available for a wide array of various fishing rods and helps separate the best protective rod cases from the pretenders.
Finding the best fishing gloves
Hey, if you're used to getting in every single possible moment of non-winter to fish, there are going to be some really cold and wet days where you desperately want to make sure you have a great pair of warm gloves that keep you going without limiting your finger dexterity.
Final Thoughts
These are some really good, affordable fish finders that should help you catch some fish! They are perfect for the people that aren't looking for all the bells and whistles of the more expensive versions, or for fisherman that get a out a few times a year, so spending lots of money on fishing equipment just wouldn't make sense.
These are also very good beginner units for people that want to get more familiar with fish finders before making a larger purchase. Hopefully this reviewed helped you decide which option would be best for you!
For a very specific price range, don't forget to take a look at these:
Also – here is some information on the best portable fish finders and best portable hand held fish finders if you are looking for something that doesn't have to be connected to your boat!
Here is a quick look about the Garmin Striker 4!