If you often feel like you don't have full control of your kayak, or you quickly develop backaches during rides, then it's probably time to upgrade from the old stock kayak seat.
This is where attachable sit-on-top kayak seats come in, offering an easy solution to add extra padding and support for a more comfortable experience on the water.
Today, we're helping you find the best attachable kayak seat for your needs, with a list of the top 10 candidates on the market and a mini buying guide for landing a great deal.
Quick Best Kayak Seat List
Why Choose Sit-On-Top Kayak Seats?
There are 2 basic styles of kayak seats: the sit-on-top and the traditional sit-inside.
While it's true that having your legs inside the boat kayak provides shelter for your lower body from wind and water, this style of kayaks restricts your freedom to move in and out of the water, while making it difficult to recover the kayak in case you flip because water will most likely rush inside.
On the contrary, sit-on-top seats are self-bailing, which means they usually feature small holes or channels to drain the water through them. This style of seats eliminates the feeling of confinement, allowing you to easily get in and out of the kayak.
Sit-on-top kayak seats are also very stable and user-friendly. Moreover, you can simply attach and detach them as you please.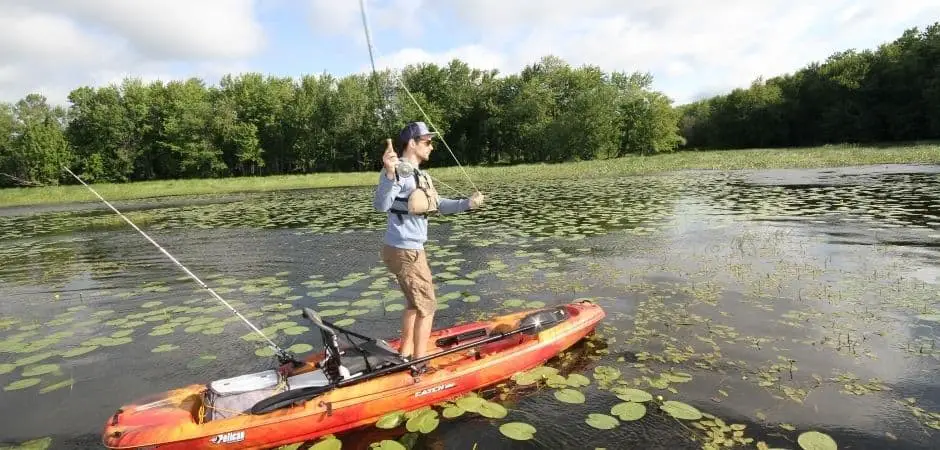 Picture used with permission from Happiness Without. The original picture can be found at: https://www.happinesswithout.com/pelican-catch-120-review. Check them out!
How to Choose the Best Attachable Kayak Seat?
Here are a few aspects to consider before buying a sit-on-top kayak seat:
Padding – generous cushioning in the seat and backrest is a must to ensure maximum comfort and reduce the occurrence of back pain. Padding is also particularly important if you plan on going for long rides.
 Anchoring – sturdy anchoring prevents the seat from sliding out of place when you move around or lean back. So, look for a seat with multiple front and back straps for extra security.
10 Best Sit-On-Top Attachable Kayak Seats
Ocean Kayak Comfort Plus Seat Back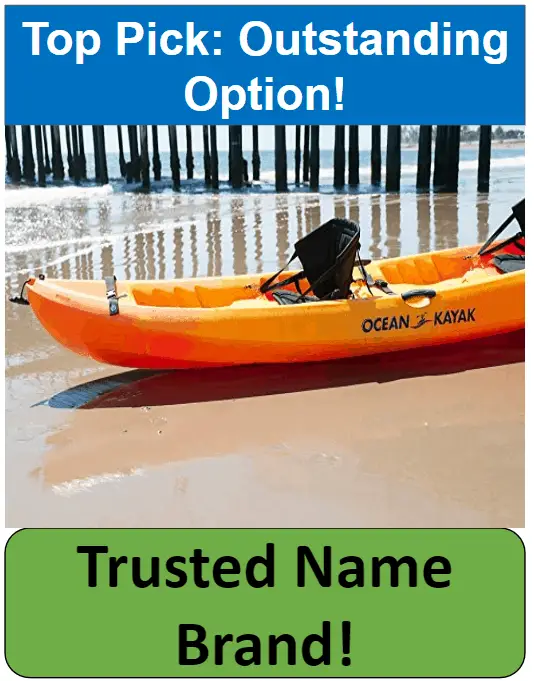 Kicking off our list with a popular choice among hundreds of kayakers looking to upgrade their sit-on-top kayaks, the Ocean Kayak Comfort Plus Seat Back is constructed using durable UV-resistant nylon fabric. It's reinforced with internal stays to provide extra structure and support.
The generous foam padding at the back and seat coupled with the tall back design work together to offer couch-like comfort on the water. The Comfort Plus Seat is ideal for kayakers in need of extra back support and cushioning. It's also an excellent seat if you're planning on spending long periods on the water.
Although it's manufactured by Ocean Kayaks, this seat is actually compatible with multiple common brands. This seat features 4-way adjustable mounting straps on the sides so you can fine-tune it to a snug, comfortable fit. It also comes with solid brass clips for easy yet secure attachment, as well as reflective logos for after-dark illumination.
Pros
Excellent back support
Sturdy clasps
Dries quickly
Easy to strap in and adjust
Cons
The seat padding isn't quite enough for some people

Leader Accessories Deluxe Padded Kayak Seat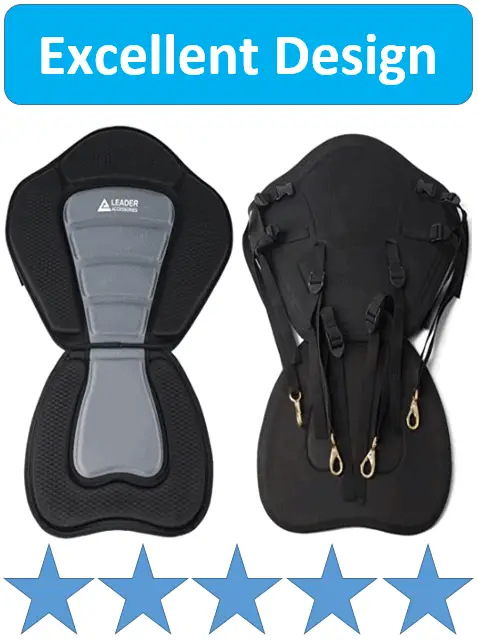 Built to completely fit your body's contour, this reliable sit-on-top kayak seat from Leader Accessories is praised by hundreds of kayakers swearing by its remarkable comfort and support. It's made using molded foam and durable nylon fabric to ensure a long service time.
This seat features marine-grade solid brass connecting snaps with adjustable webbing to deliver secure attachment against heavier weights. The unit is also equipped with 2 front straps and 2 rear straps to offer you a wide range of adjustability and accommodate almost any kayak.
The Leader Accessories Deluxe Padded Kayak Seat is foldable for maximum portability. It comes with a detachable bag for extra storage – available in black, black/grey, and grey/black colors.
Pros
Ample seat padding
Quick adjustment
Easy to fold
Foam padding adjusts over time
Cons
The seat cushioning can be a bit hard at first
A touch bulky
Click here for current prices on Amazon!

Pactrade Marine Adjustable Padded Deluxe Kayak Seat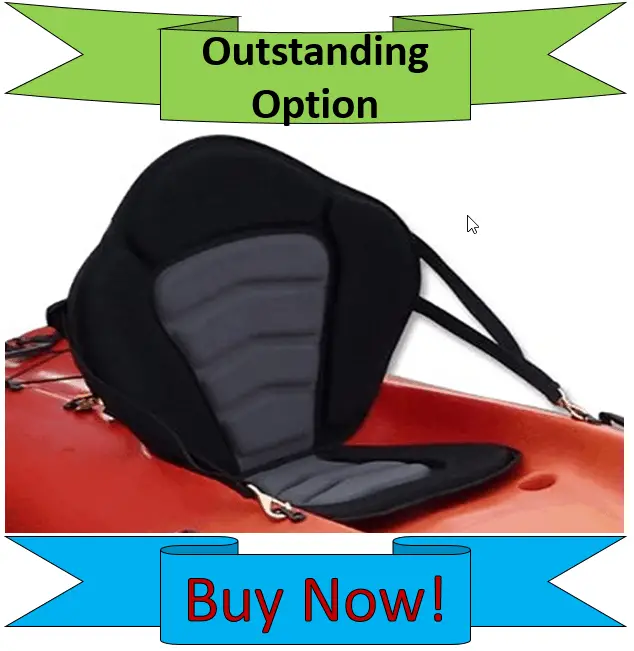 Offering great value for money, this sit-on-top kayak seat from Pactrade Marine is made out of neoprene and 600D polyester to effectively withstand wear and tear. As for the inner layer, it consists of EVA foam and PE (polyethylene) plate to support and cushion your back and rear.
The Pactrade Marine sit-on-top kayak seat is equipped with heavy-duty adjustable anchoring at the front and the back. This helps keep you in place when dealing with watery rapids and violent currents.
For extra security and comfort, the seat comes with a highly contoured non-slip padded surface. This makes for a solid choice if you're suffering from lower back pain. Complete with snap hooks and a detachable zipper bag, the Pactrade Marine seat is definitely well worth its price.
Pros
High resistance to wear and tear
Anti-slip surface
Heavy-duty straps
Great value for money
Cons
Click here for current prices on Amazon!

Vibe Kayaks Deluxe Padded Sit-On-Top Kayak Seat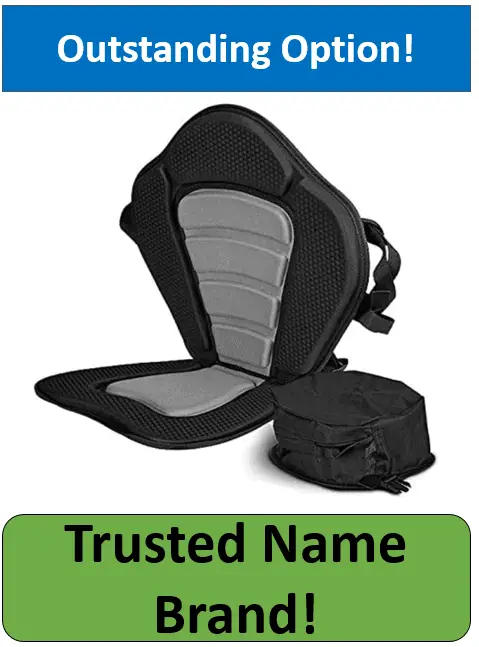 If you're in the market for a sit-on-top kayak seat with extra width and padding to accommodate large, muscular bodies, then the Vibe Kayaks Deluxe Seat may be just what you need. It delivers enough space and ample cushioning without breaking the bank, which makes for a budget-friendly option.
This seat features reinforced back support as well as marine grade brass connecting snaps to deliver durable performance for long days on the water. It's also quite versatile thanks to the 4-way adjustable straps that allow a proper fit for most sit-on-top kayaks.
In addition to its stylish design, the Vibe Kayaks Sit-On-Top Kayak Seat includes a wax-coated storage pouch to keep your personal items or kayaking accessories safe from getting wet.
Pros
Versatile use
Easy to fasten
Affordable
Ideal for larger people
Cons
The zipper on the storage pouch is a bit difficult to use
Click here for current prices on Amazon!

Ocean Kayak Comfort Tech Seat for Sit-On-Top Kayaks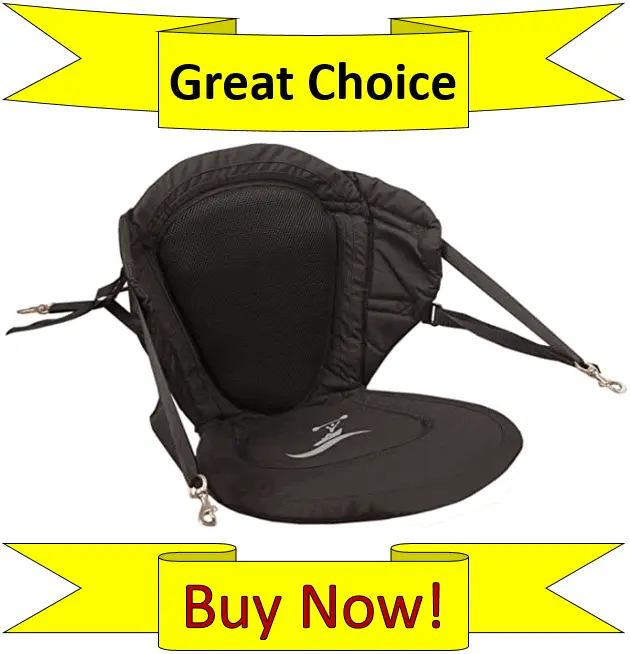 Another fantastic choice from Ocean Kayak is the Comfort Tech Sit-On-Top Kayak Seat that's built with maximum comfort in mind. This seat is actually an upgrade from the previously mentioned Comfort Plus Seat, featuring even more padding to ensure that your rides are as comfortable as possible no matter how long you're on the water.
This sit-on-top kayak seat is made using durable nylon fabric with UV-resistance to prolong its service time. It comes with a taller back design for extra support, as well as a built-in mesh ventilation system to help the seat dry faster.
Similar to the older version, the Ocean Kayak Comfort Tech Kayak Seat is fully adjustable to fit many brands of sit-on-top kayaks. Moreover, it's equipped with reinforced stays, brass swivel buckles for secure attachment, and reflective logos to enhance your visibility when it's dark.
Pros
Extra padding and back support
Mesh ventilation system
Excellent support for longer rides
Cons
Clamp rings tend to rust quickly
Click here for current prices on Amazon!

Brooklyn Kayak Company BKC Professional Sit-on-Top Full Kayak Seat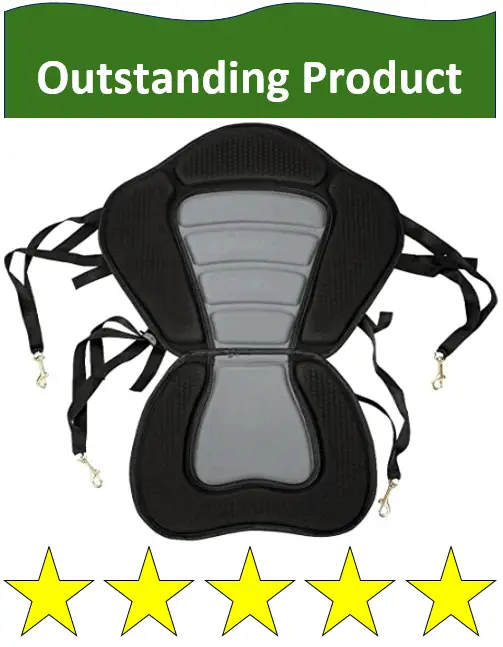 The BKC Professional Sit-on-Top Kayak Seat is a simple approach to the sit-on-top kayaks' scene. It's a wonderful option if you're looking for the reliable support of the company's basic universal design, but with added cushioning for full comfort effect.
The BKC sit-on-top kayak seat is built with foam padding and contoured in a way that lets it accommodate the shape of your body, even if you're on the taller or bigger side.
The seat features 2 upper straps and 2 lower straps with brass lock catches to fasten the unit at the front as well as the back. These straps are adjustable to fit a wide range of kayaks, while the buckles are strategically placed so you can install a storage bag without issues.
Pros
Long-lasting service
Strong strap materials
Works for taller people
Cons
The seat cushion can be thicker
Click here for current prices on Amazon!

KERCO Angler-x Adjustable Sit-On-Top Kayak Seat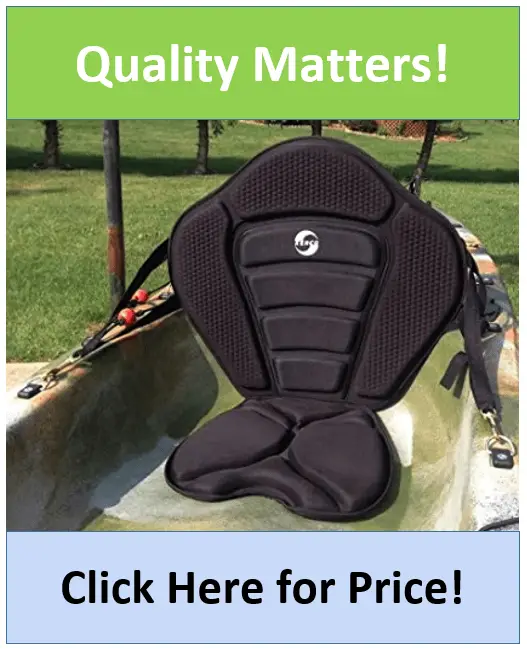 If you're mainly concerned about back pain, or you plan on spending long times on the water, then the KERCO Angler-x Adjustable sit-on-top Kayak Seat can offer you the comfort of high-end brands at a reasonable price.
The Angler-x seat is designed to easily fit most kayaks and canoes, thanks to the front and back adjustable straps that also help secure the seat in place using marine-grade anti-corrosion clips. The seat itself is made out of nylon fabric and Kerco Molded Dura-Foam to ensure it can withstand harsh waters.
Moreover, the seat is well contoured and padded to deliver just the right amount of softness and support, complete with a zippered pouch and an anti-slip surface to avoid slipping accidents during bumpy rides.
Pros
Extremely comfortable
Good support for the lower back
Non-skid surface
Cons
The zipper on the pouch is a bit flimsy
Click here for current prices on Amazon!

JAYEGT Kayak Sit-On-Top Kayak Seat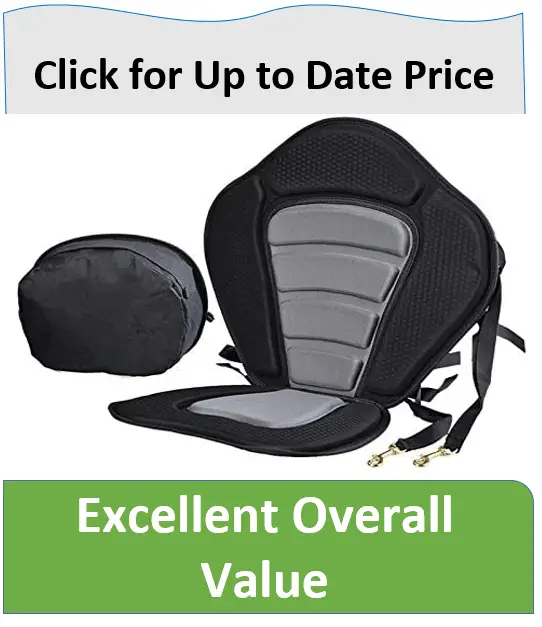 The sit-on-top kayak seat from JAYEGT is a solid choice for kayakers in need of something sturdy, comfortable, but also affordable.
It features durable construction made using neoprene and 600D polyester to extend its lifespan. As for the inner layer, it consists of EVA (ethylene vinyl acetate) foam and PE plate to cushion your butt and back while providing adequate posture support. Moreover, the backrest features an anti-skid surface for a slip-free ride.
The JAYEGT sit-on-top kayak seat can suit just about any kayak since it includes adjustable straps on the front and rear sides. These straps come with metal spring hooks to securely fasten the seat and keep you safe.
Topped off with accurate contours, ample padding, and detachable bag, this seat is certainly a bang for the buck!
Pros
Sturdy attachment
Slip-resistant panel
Budget-friendly
Cons
Click here for current prices on Amazon!

Vbestlife Padded Kayak Seat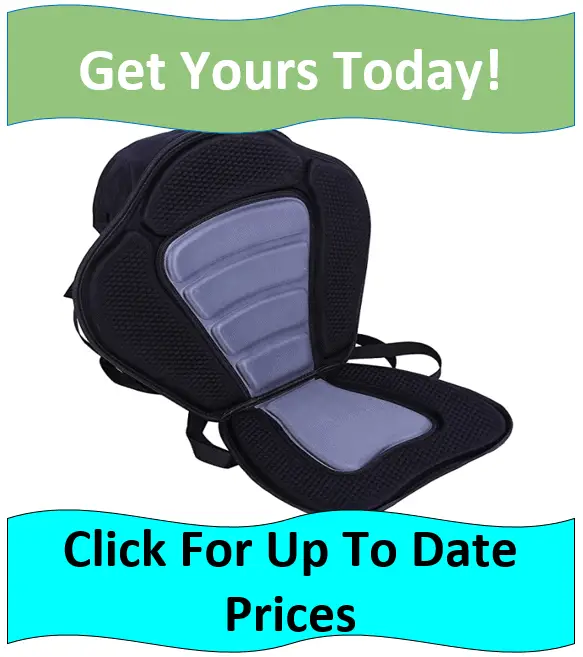 On the pricey side of the spectrum, the Vbestlife Padded Kayak Seat promises to deliver excellent support and comfort to your thighs, butt, and back, whether you're fishing, sightseeing, or simply chilling.
This sit-on-top kayak seat is made using high-quality neoprene and 600D polyester, which are both strong and water-resistant. The durable fabric covers a ½-inch thick EVA padding on the backrest and the seat, offering ample cushioning during long rides to prevent back pain.
The Vbestlife seat features a channeled design on the seat and backrest to promote water drainage. There are 2 front and 2 rear straps to allow for a wide range of adjustability, attaching to your kayak via sturdy brass snap hooks.
Pros
Thick EVA padding
Enhanced water drainage
Fits an extensive range of kayaks
Cons
Can be a bit too big for some kayaks
Click here for current prices on Amazon!

Surf To Summit GTS Sport Sit-On-Top Kayak Seat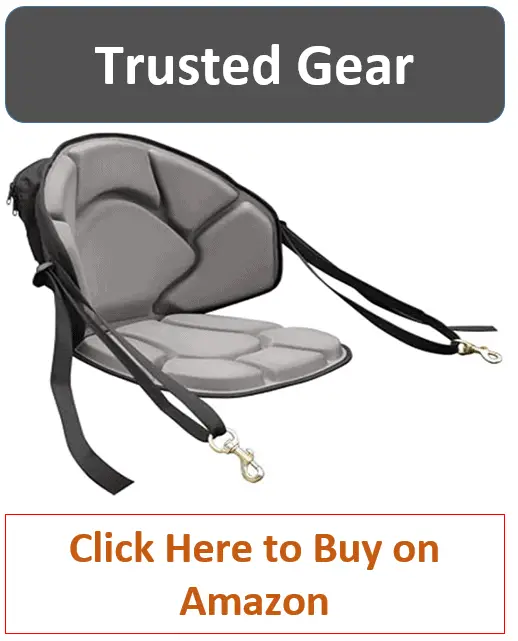 Last but not least, the incredible GTS Sit-On-Top Kayak Seat by Surf To Summit is a high-end product that offers remarkable support and comfort thanks to its expertly contoured design.
The 12.5-inch tall backrest provides plenty of support to kayakers of all sizes, while the deep padded thermoformed foam construction conforms to the unique shape of your body to achieve personalized cushioning without compromising the unit's firmness.
Not only does the built-in tri laminated backrest give users reliable structural support, but the resulting grooves also facilitate water channeling so the seat dries faster.
Similar to other seats of the GTS series, this sit-on-top model is made using heavy-duty 600D fabric, reinforced at apparent extra stress spots including the back of the kayak and the zipper pack attachment points. The seat is equipped with solid brass clips for secure fastening, as well as a large storage pack for added convenience.
Pros
Superior structural support
Soft padding doesn't lose firmness
Excellent water channeling
Large zipper pack
Cons
Click here for current prices on Amazon!

Best Budget Attachable Kayak Seat: Harmony Gear Standard Sit-on-Top Seat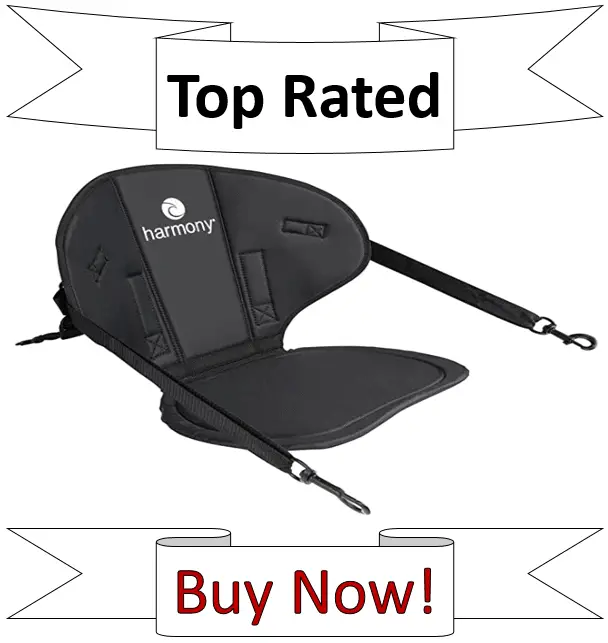 There aren't too many options when it comes to a budget-friendly attachable kayak seat, especially if you're looking for any amount of quality whatsoever. That being said, Harmony Gear makes a very solid attachable kayak seat that looks good, does the job, and for about half the price of your average attachable seat.
These aren't high end but they are a solid budget option. The metal connective pieces are rust resistant, the seat is adjustable, and the side panel design gives a degree of versatility to find a better and more comfortable fit for yourself.
Pros
Great inexpensive option for kayakers and kayak anglers
Skid-resistant bottom
Fully adjustable attachable seat
Metal pieces are corrosion-resistant
Cons
Not going to be as comfortable as many of the high end attachable kayak seats
Clips can be a little tight
A bit thin on the back support padding
Click here for current prices on Amazon!

Wrap Up
Choosing the best attachable kayak seat sure isn't a simple task, especially with so many options for sit-on-top kayaks seats available on the market. Not only do you have to consider the seat's material, anchoring, and padding, but you also need to make sure your budget stays intact.
That being said, the kayak seats in this article are reliable, made from top-notch materials, and will give you the perfect combination of comfort, quality, and price. These kayak seats are an outstanding addition to your outdoor
However, if you don't mind the splurge, then you should check out the Surf To Summit GTS Sport Sit-On-Top Kayak Seat. It delivers superior support and cushioning, along with excellent water drainage and durable construction.
Other Articles of Interest