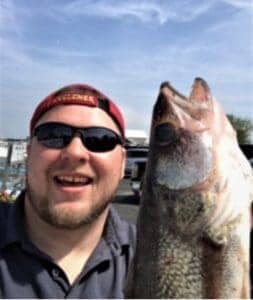 If you have been reading our site for a while, you know how excited we get about our annual walleye fishing trip to Lake Erie! It is hard to beat the fishing, the company, and the overall experience of landing a bunch of great looking walleye.
We once again used Captain Hook Charters out of Marblehead/Port Clinton Ohio. And if you have had as much success fishing with them as we have had in the past – it only made sense for us to use them again!
Our crew was slightly different – It included Shane, our dad Lee, his wife Cheryl, our Uncle Kevin (this was his first experience fishing on Lake Erie) and of course myself!
We fished with our usual Captain – Captain Kyle – for the first two days, then we got to fish with the main man Captain Pete for the third day.
It was an amazing experience just like our past trips, and if you are thinking about a Lake Erie Walleye Charter, I'm always going to recommend Captain Hook (and they don't pay us anything to recommend them)!
If you haven't read our past review, it might be a good idea – because we expand a little bit more about lodging and some other details in that one! Since we covered lodging and area in that one we're diving right into 2019's fishing in this one!
Anyways, enjoy my quick review of our trip!
Lake Erie Lodging
If there was one downside to our trip, is we did have to stay at 3 different locations due to some scheduling conflicts. However, this wasn't a big issue and definitely didn't affect how much fun we had on our trip. Credit to where credit is due, once it was clear there were issues the charter really worked with us to make things right and make sure we were taken care of.
Day 1: We simply stated at a local hotel.
Day 2 & 3: We stayed at the North Shore Lodge in Marblehead (you can read more about this location in our 2018 review)
Day 4: We spent out last night at "The Pond" Condos which is associated with Captain Hook Charters. These condos are really nice, have access to a grill, and will be enjoyable for all who decide to stay there.
We have already booked our 2020 fishing trip reservations for the North Shore Lodge – mostly because of the privacy and isolation. But if you are into group steak fries and getting to know the neighbors, you will really enjoy the Pond Condos.
Day 1 of Fishing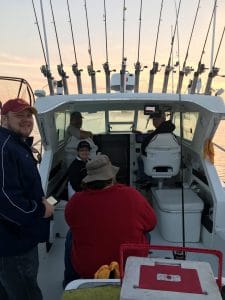 We couldn't have asked for a better start to this fishing trip! The weather was absolutely perfect – warming up to about 70 degrees; with a slight breeze and the sun shining. As you can imagine, that type of weather made it really easy for us to catch fish!
We left the Port Clinton Marina around 6:00 A.M. and Captain Kyle took us on approximately a 40-minute boat ride to start fishing near the Canadian border. We were using the typical worm harness/Lindy Rigs/Erie Dearies (I've heard them called about 10 different things depending on where you are from) rigs with night crawlers.
It didn't take long for us to start striking walleye gold. Unlike our 2018 trip, I didn't catch the largest fish of the trip on my first cast. I decided to be more patient this year and give everyone else a chance.
We were striking a bunch of really nice fish, typically in that 2-4 pound range!
We always have a big fish contest that I win 66% of the time. For most of the day our largest fish was right around 20 inches, but I did hook a really nice 21-Inch walleye that would turn out to be our largest of the day and start me off with a win on the biggest fish contest.
Shane had a slow start to the day. He just couldn't seem to get that bite he was looking for, but he ended with a big flourish catching 4 or 5 walleyes in about a 15 minute span at the end. It was tremendous work and everyone in the group would catch between 4 to 8 walleyes! We all took turns netting fish and just having a great day on the water.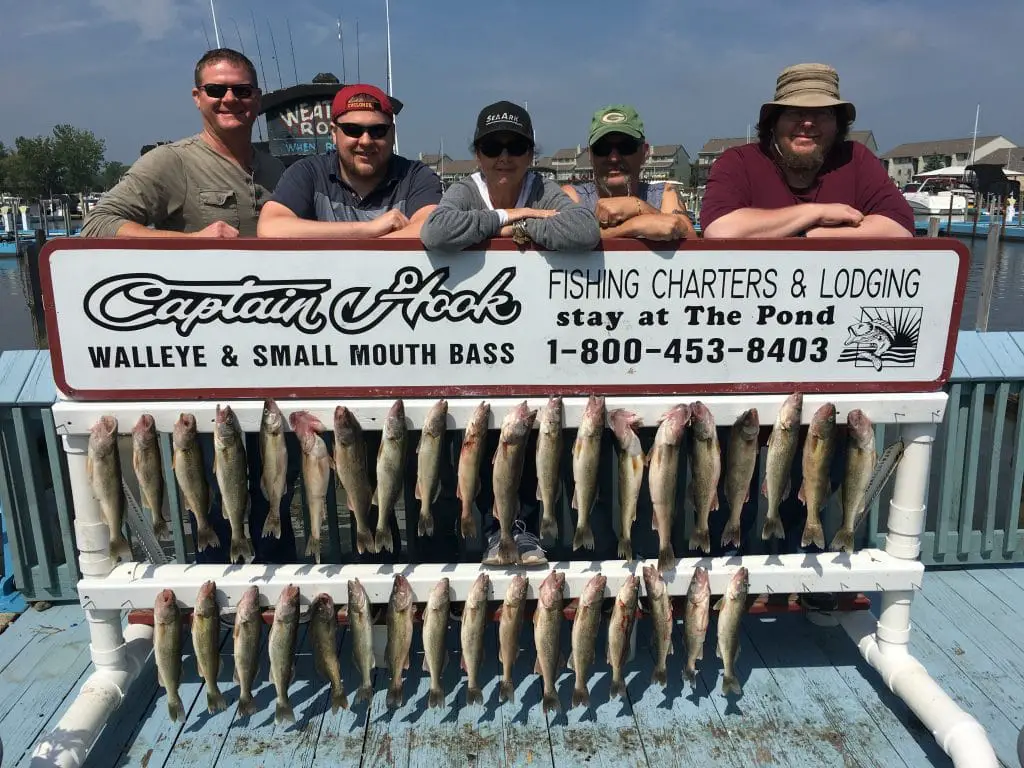 It was also pretty impressive how well Kevin got the hang of drift fishing, and he started nailing some really nice walleye very quickly!
Right around 10:45ish we were limited out with a fantastic 36 walleyes – and started to make our way back home!
That day we took all our gear to the Northshore Lodge which would be our home for the next couple of days.
When you get back from fishing that early, there is only a couple of reasonable things to do – mostly drink, grill, and play cards. And that is exactly what we did.
On a complete side note – We played Euchre for about 3 hours. It all came down to a 9 to 9 final hand to see who the champion was going to be. Being down 2 tricks to 1 and knowing my team (Dad and I) were not going to get that point we needed – I cheated and pulled out a joker I was hiding. We are going to call that a walk-off victory for my team.
Day 2 of Walleye Fishing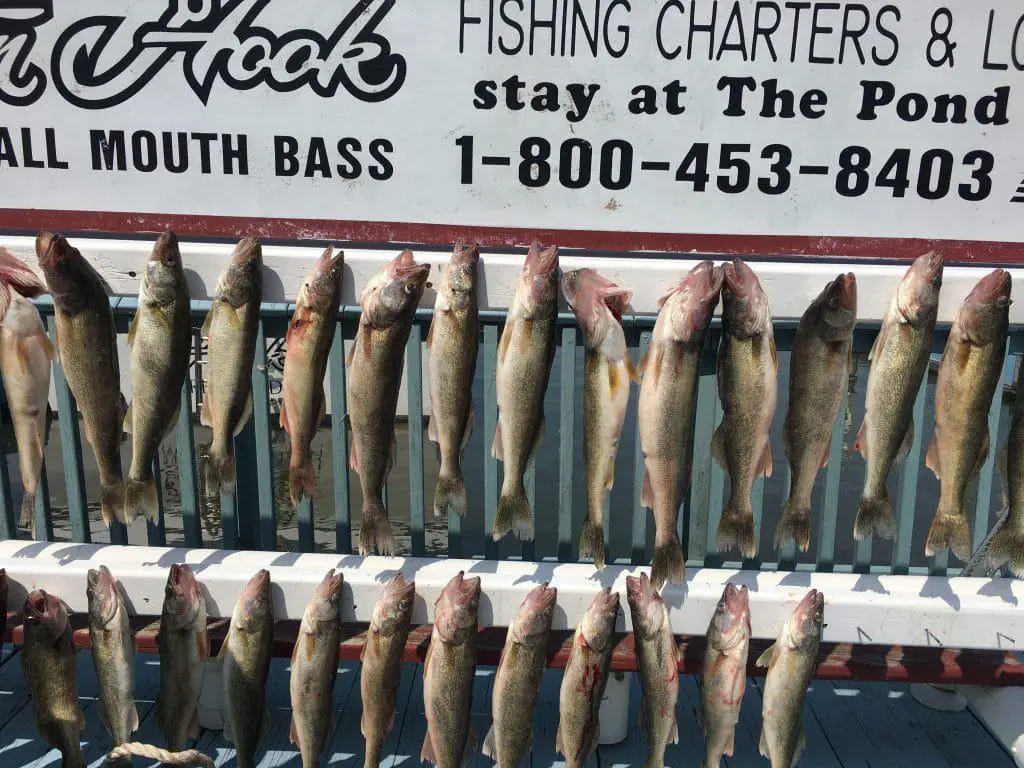 Day 2 included all of us going out fishing again, except for Shane who normally takes day 2 off for some rest and relaxation.
The water on Day 2 was a lot rougher then Day 1. The wind was blowing upwards of 20 – 25 mph; which will create some major waves on a larger body of water like Lake Erie.
Because of how rough the water was, we didn't go out to near Canadian waters – but stayed in an area that was a little more protected from the wind.
The fishing couldn't have been any better. We limited out in record time. By about 9:00 A.M. we had landed 30 keeper walleyes and were doing a little bit of catch and release fishing.
The size was down a little – with our biggest being right around 21-inches – but the quantity was up. I know you are curious, but I didn't catch the biggest fish, that actually went to Kevin.
The bottom-bouncer rigs were getting some great action in this type of weather. By about 9:30 a.m. we were on our way back to the Northshore Lodge for some rest and relaxation.
Once we got back, I basically took a quick nap, grilled up some steaks, drank some booze, played some cards and we watched one of the more unique movies you are ever going to see. If you haven't ever seen Escanaba in da Moonlight (released in 2001) – and you come from a big time hunting or fishing family – it is definitely work the watch!
If you don't come from a background of getting together as a family for events like deer hunting season – well this movie probably isn't going too be to much fun for you!
Day 3 of Walleye Fishing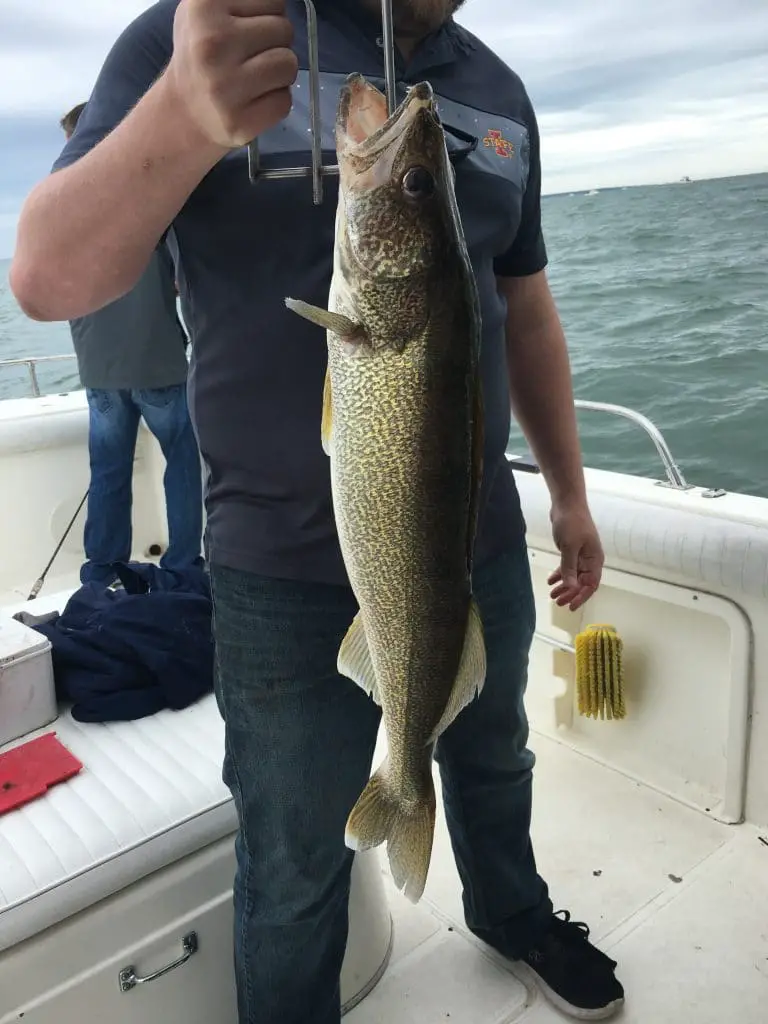 For Day 3 of our fishing trip we switched captains to Captain Pete instead of Captain Kyle. Luckily, we were in good hands since Captain Pete is the head person for Captain Hook Charters.
The weather was a little less rough then day 2 – but definitely rougher then day 1. It was nice enough however for us to go back to near the Canadian border where we fished day 1.
This was a very unique day of fishing. We were catching a few fish here and there, but we were also losing a good chunk of fish too. We had lost about six walleyes in the first hour or so, which is about as many as we had lost the entire first two days. It didn't seem to matter what we did, they just weren't hitting hard and staying hooked. And the other captains were complaining of the same thing.
Luckily Shane got into a great roll while everyone else was slumping. He was able to land 3 quick walleyes when casting before an unfortunate injury kept him out for the rest of the day. Those rough Lake Erie waves can be tough on the legs.
We basically kept grinding out the fish. We were using both bottom bouncers and drifting fishing. By about 11:45 we were 2 fish from limiting out.
That is when I hooked the largest fish of the trip. At first, I thought I had caught a sheepshead because of the way it was fighting, until I saw a glimpse of it. It was a heck of a battle, but I ended up catching a 27-inch lunker!
I ended up catching the final fish as well, giving us our limit of 36 walleyes by noon!
It might have taking us a few hours longer than the previous days, but the size was up, and we were all very happy with the amount of fish we caught.
For lodging, we actually stayed at the very nice "The Pond" Condos and instead of taking everybody's money for catching the biggest fish, I let everyone else in the group order a couple of pizzas for us!
The Pizza was great, the cards were still fun, the drinking was still good – and the company couldn't have been better. When all was said and done, we caught 102 walleyes over 3 days of fishing.
Unfortunately, we had to go home the next day, but it was an easy decision for us to book our trip for next year thru Captain Hook Charters again!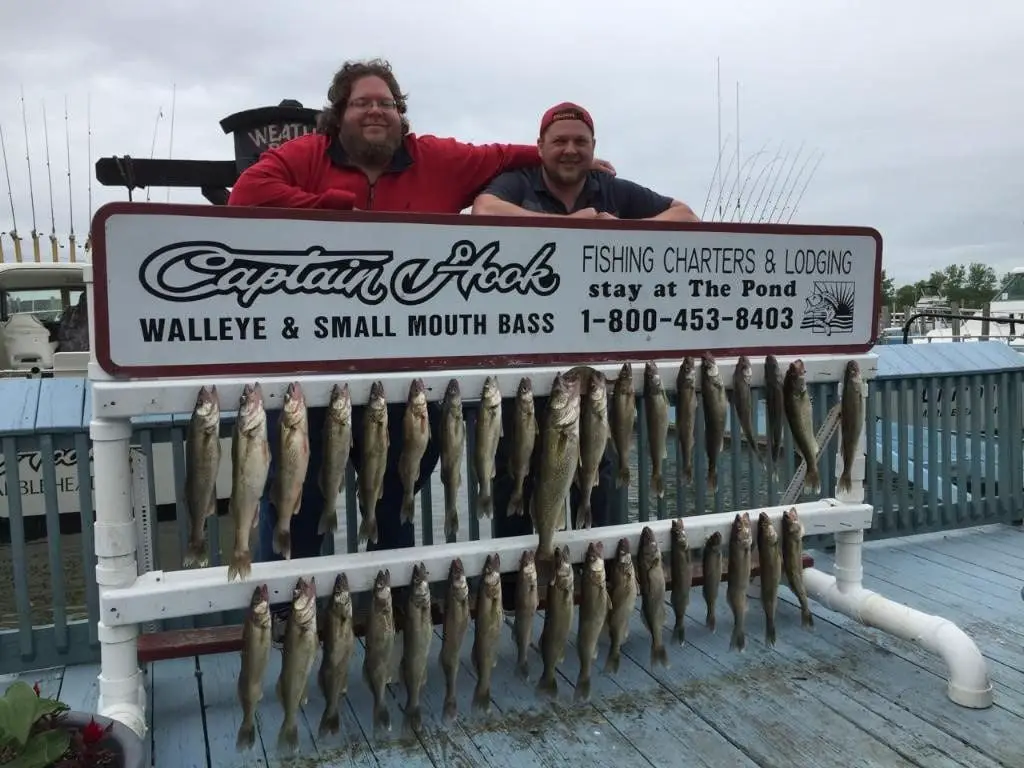 2019 Lake Erie Walleye Fishing Report
Last year was the start of a really special run in Lake Erie off of the Ohio coast. This was the first time in a long time that limiting out early was a frequent occurrence, and the captains were talking about two straight years of really impressive sized walleye hatchings. Between what the captains are experiencing, years of the water getting cleaner, and walleyes realizing an invasive species eating their young were actually pretty good eating themselves – the walleye are absolutely THRIVING in Lake Erie!
While it can always be dangerous to project too far ahead, things are looking amazing when it comes to walleye fishing in 2019, and things are looking just as good in the short-term future, as well! The reports from the local Department of Natural Resources indicate that the most recent new walleye hatchings have been among the largest ever seen in recent memory.
For the first time in a long time many charter captains are doubling up on guided tours during the day because there's actually room for them. The next 5-6 years potentially could just continue to be amazing when it comes to walleye fishing in Lake Erie and we even booked next year's trip before coming home. So Lake Erie Trip 2020 is already set to go!
Shane's Two Cents
Jon pretty much nails it. Lake Erie walleye fishing is really as good as it gets. I've been going for about 6 years now, and I'd say the fishing is the best it's been since I started going. This is only the second year where we limited out every day, and we've limited out quickly – always well before noon. Previous trips we'd be out to 3-4 pm and get good catches, but not a limit out.
This year's catch overall was also bigger than last year's. The top sized were about the same (minus the obvious 27 inch monster Jon brought in), the middle sized ones were definitely consistently bigger than last year, and the "small" ones were much larger than last year. It also felt like there were a lot more mid-sized eaters versus small eaters.
Limiting out early means getting up at 5:30 a.m. each morning paid off with fishing being done before 11, a day of grilling, drinking, watching movies, and playing euchre – what more could you ask for? Everyone went back home with more frozen walleye fillets than we could go through in a month – although in my household we're going to take a serious run at it.
The sinker and worm combo casting and bottom bouncing were winning tactics once again, and we'll be going with the same charter, same captain again next year. This worked out really well for us.
Also a pro tip: pay the extra money for the executive package. The packed lunches are actually pretty solid, having water and soda when the sun's out is great, and most of all, you don't have to clean a single fish when your group catches 118 walleye and 1 perch over three days of fishing. It's worth it.
Absolute blast and we'll be looking forward to it next year…minus all the moving around 🙂
Other Links of Interest
If this article got you excited about doing some walleye fishing, here are some articles that we did that should ensure that you have all the right walleye fishing gear!
The Best Walleye Fishing Lures
Quick Hitter: The Best Walleye Fishing Line