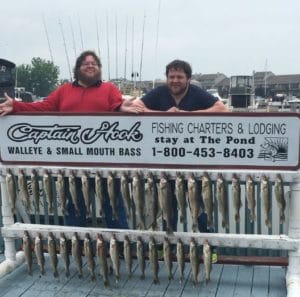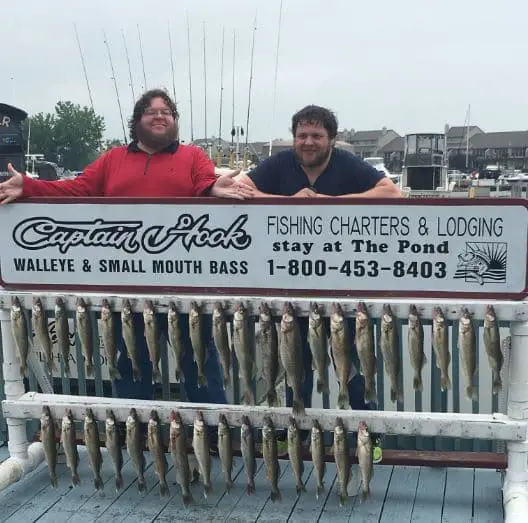 One of the goals we had this year at amazingoutdooradventures.com – was to share more of our personal stories and outdoor adventures to our readers.
Shane & I just finished our 3 Day Walleye Fishing Trip to Lake Erie and thought that would be a really nice experience to share with everybody!
This is a trip we have taken a few times in the past – I even won a team walleye fishing tournament all the way back in 2001 – but this year's experience was just extraordinary!
We had great lodging, a great charter boat captain, and an amazing three days of fishing. Add in great company, great food, and pretty good weather – and you have the makings of a fantastic fishing trip!
Below is a quick synopsis of our experience – and I'm sure Shane will add some more personal stories to this article as well!
Also, we always love getting ideas for new fishing adventures, so if you have taken some great fishing trips recently, hit us up on social media or email us your experience so we can look at planning a new fishing trip in the near future!
Lodging in Marblehead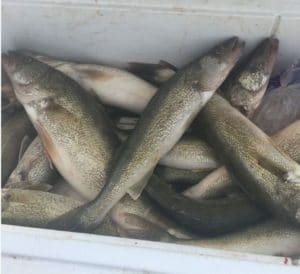 We did our fishing with Captain Hook Charters out of Marblehead/Port Clinton, Ohio. Captain Hook has great charter packages that combine lodging with fishing – and we always pick the 3 days of fishing with 4 days (when available) of lodging.
Normally the lodging is going to be at the Captain Hook Condos that are located on a little pond. These places are really nice, and we have stayed at them before. We have no problem recommending them, they're rock solid.
This time, the condos were booked so we stayed at a little rental property called the North Shore Lodge that is literally off the beaten path! You drive up a little driveway entrance that seems to come out of nowhere, a big garage to the side making you think you've hit the wrong place, only to follow the gravel path to find this little place tucked away in the back!
For more information about the Captain Hook Condos, check out this link here: "The Pond Condos."
Both places are actually very nice, but I preferred our accommodations this time around because of how private they were. You were literally tucked away, with no worries about neighbors, and there was plenty of socializing space.
This rental unit includes 3 bedrooms with 2 beds in each, a down stairs & upstairs bathroom, nice kitchen area, great patio space, and even a very nice grill.
For those that are interested in cleaning their own fish, there was even a fish cleaning house. That isn't my style – but some people might enjoy cleaning their own fish while on vacation.
There are little things that could be improved on like the upstairs bathroom door not fitting quite right, and those bedrooms getting a little stuffy at night – but it is way better than staying at a hotel!
Really we can't stress enough how nice the social spaces were, how usable the kitchen and grill were, and how nice it is to be tucked away.
We would recommend this lodging anytime and for more information about North Shore Lodge, check out their Facebook page here!
Day 1: The Walleye Fishing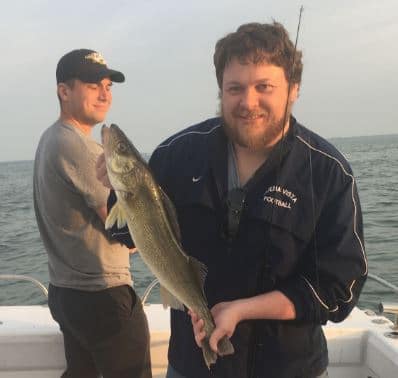 Now for the fun part of the story, which you were probably the most interested about anyways – the fishing!
Day 1 was perfect. The weather was a slightly overcast 70 – 75 degrees and made for perfect fishing conditions. We left the docks at about 5:50 A.M. after meeting up with our Captain – Kyle. The drive from North Shore Lodge to the Marina was about 6 minutes, so nice and close!
We fished a few miles out from the marina, and it didn't take long for us to catch fish. We were fishing in a group of 5 plus the captain – so we are able to keep 36 walleyes! There is a minimum length requirement of 15 inches, which is there to ensure there are plenty of big walleye for us to catch in the future!
We were casting out what I call Lindy Rigs – which was a double hook set up (baited with worms), gold spinner blade, multicolored beads, and a little under an ounce weight. Depending on the depth of the fish, you would cast out, do between an eight and fifteen count, and do a slow retrieve.
The fish hit immediately. I actually caught the biggest walleye of the trip on my very first cast with my rig being in the water for about 35. This walleye was a little over 24 inches long and was about 6 pounds. An excellent first fish!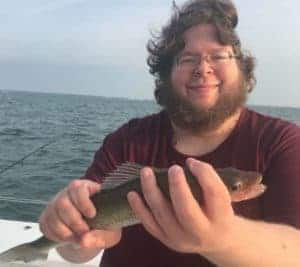 We are a slightly competitive group, so we do always bet $10 a person on who will catch the biggest fish each day. So yeah, that was a $40 catch for me!
The fishing action didn't stop there. Everyone caught at least 4 or 5 keepers while casting, and day 1 turned out to be our best day in terms of size. We caught some really, really nice walleye (and even a few perch). Shane did catch the last walleye of the day, and it was a very nice catch!
It only took us until about 10:45 to max out at 36 keepers. It was an amazing start to the trip, and the fish didn't stop biting! Check out that picture of just how well we did on day one (below)!
It is kind of fun when you get back to the marina by 11:30ish. We felt like that was a good time to grab a drink, go back home and grill some burgers and brats, and then relax. The older folks took a nap and chilled out why us young kids decided to go out and explore.
This even resulted in a great miniature golf round between me and my buddy Chris. Like usual, he choked on the 18th hole (flashbacks to our Vegas trip) and we tied. He had a 3-stroke lead going into 18 – but I remain undefeated against him.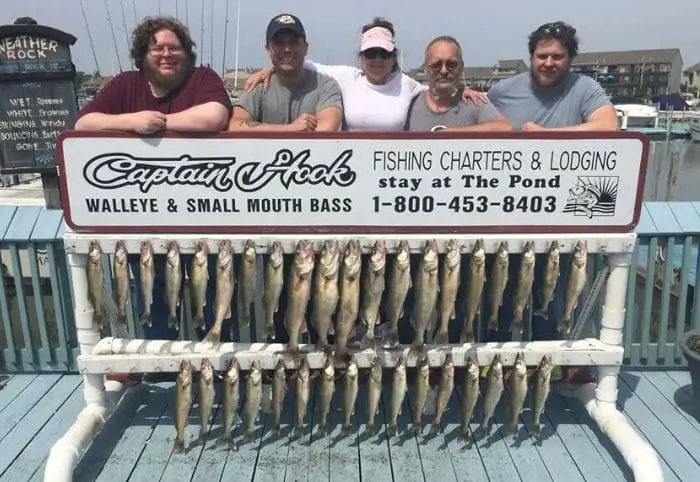 Day 2 Walleye Fishing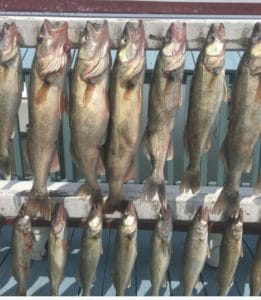 The weather for day 2 wasn't as nice. There was actually some pretty steady rain that hit us in the morning, but luckily the temperature was still pretty high, so the conditions weren't terrible. We again traveled a couple miles from the marina, so we didn't have to travel to far in the rain!
Personally, I enjoy fishing in the rain more than trying to fish in 100-degree sunshine conditions, so it didn't bother me at all. It was a good reminder on how you should always pack your raingear!
Shane took the day off on day 2, so our maximum amount of walleye allowed was 30. The fishing was much streakier on day two (Shane Note: Excuses, excuses. Notice how fishing got better once I was back on the boat. No such thing as coincidences!). We would catch 4 or 5 walleyes really quick, and then go 30 minutes without a bite. This happened pretty much the entire day.
We used the same fishing techniques with casting the same type of rigs, and that was how we caught most of the fish. We did add some bottom bouncers to try and reach those bottom dwelling walleyes – but the chop wasn't great for bottom bouncers.
This was my big day in terms of volume of fish. I probably caught right around 15 of our 30 keepers. It was just one of those days where everything I did seemed to be working!
We caught a lot more throwback 13 or 14-inch walleyes this day then the other two. The size was also down in day 2 compared to day 1 & 3, but I can't really complain when you catch 30 keepers! It was closer to 11:30 or 12:00 for us to limit out – but that meant we were back home by 12:30ish!
If you were wondering, I won the biggest fish competition again and was awarded another $40.
The benefits of good housing..
Due to the weather, we didn't get out to explore much. However, we decided to stay in and have a few cocktails and watch some DVDs.
Completely unrelated to fishing – the movie Hardcore Henry is a trip. If you are in to crazy action movies (with violence) this movie is a must see. Haven't seen anything like it before and it is a great mixture of action and comedy. If you aren't into action movies or a little bit of violence in your movies, not going to recommend this one for you.
Below is a quick video just to give you an idea of what its like leaving the marina at 5:45 a.m.
Day 3 Lake Erie Walleye Fishing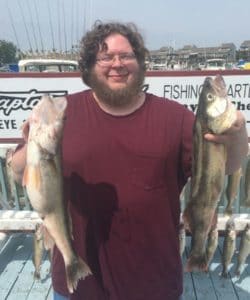 Day three was a fun combination of Day 1 & Day 2. The weather started out rainy, then misty, before finally clearing up some. The fishing was just as good as day 1!
We did travel a lot further from the marina this day than the prior days (about a 30-minute travel time or so). The fish had moved a little so we went and hit the hot spots that Captain Kyle took us to. It didn't take us long to hit the fish again!
We used the same casting equipment and techniques as the prior days, however bottom bouncers worked really well on day 3! The fish seemed to be a little deeper, and we were fishing in deeper water, plus the chop was just perfect for those bottom bouncers to have great action!
Shane basically manned the bottom bouncers and was nailing fish after fish – and hauling in some nice keepers as well. Personally, this was my least successful day of fishing, I probably only caught 2 or 3 keepers, but it is hard not to have fun when everybody is nailing fish!
The fish we were catching were bigger than day 2, but not quit as big as our day 1 catch. We limited out quicker this day than day 1!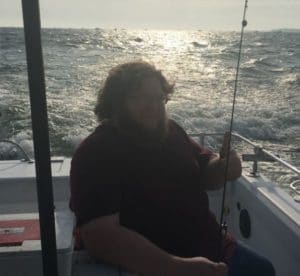 We got into a couple of major feeding frenzies. There were multiple times when Captain Kyle was netting one Walleye and we had another one or two hooked. We even trusted Shane to grab a net once or twice.
While we were landing our 36 fish to limit out, we caught a 37th walleye that we had to throw back who we know refer to as "You Lucky Bastard." It was one of those days where the fish we just slamming it, and we were done at about 10:30 – even with more traveling time!
Chris did catch a bigger fish then me, so I didn't sweep the biggest fish competition, but 2 out 3 isn't bad.
I will also say we spent the extra money on the executive charter because it provided free fish cleaning and free lunch as part of our package. To me, it is worth the extra few bucks to have someone else clean your fish so you can spend time relaxing and drinking! Also, it is nice not having to worry about packing a lunch the night before. Trust me, it's well worth the extra few bucks!
The rest of our time was spent playing cards, drinking, watching movies, relaxing, and doing all those little things that you like to do on vacation. The lodging we had was again perfect for socializing, but was well designed so you could slip away and take a nap if you wanted to.
Unfortunately, the next morning we all went our separate ways, but not before we caught 102 keeper walleyes in 3 days (plus 5 perch)!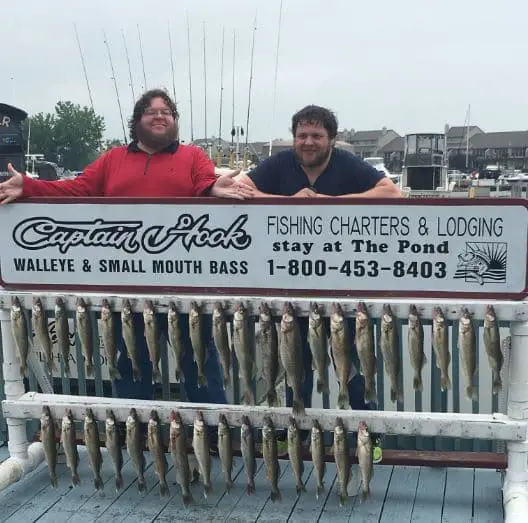 A Few Thoughts from Shane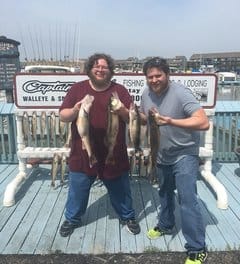 This really was an exceptional fishing trip. Due to some ankle issues, and how much the boat can pitch hours on end, I took the second day off. Adjusting your weight non-stop for several hours can be a bit much. Jon covered the trip really well.
The walleye fishing was beyond phenomenal. We even brought in a few perch. I think Chris caught most of those (maybe a special "Canadian Touch?") but I'd have to double check that. We have to put up with Jon's bragging because he caught the largest fish of the entire trip on the first cast on day one, and he won biggest walleye on 2/3 days…but some things you just have to deal with.
The trip was fantastic, and honestly even when Lake Erie threw us "Good Scottish weather" (deep clouds and a constant drizzle rain soaking us all), the fishing was great and it's easy not to care when you're limiting out by 10:30! There's also just that odd feeling of having "earned it" when you end up soaked from that steady rain, wiping off the eye glasses in between reeling in another keeper walleye.
We've already put in for another trip next year with the same housing, same charter captain, same everything – why break up a good thing?
The 2018 Fishing Trip: Final Review
The pictures say it all: this trip was an unmitigated success in about every way possible. In other words, we all rocked it! This is a trip we had taken a few times in the past and are moving to make it a yearly thing – so hopefully there will be many more updates on future trips.
Even eating walleye for every single meal since getting back, there's plenty left in the freezer and Shane has said the same. Nice having a vacation that slashes the grocery bill once you get home!
And just to be clear: this is not a sponsored post in any way. Captain Hook Charters didn't know we were writing this review, the didn't even know we were bloggers. We're just that happy with how the trip went and that impressed with the service.
According to the Captain, some of the DNR guys and local biologists said based on the spawns, we could expect another 6-7 years of really good fishing like this…and we can't wait to be part of that!
Some links of interest:
Learn More About Marblehead Ohio
Check out our NEW 2019 Lake Erie Walleye Vacation Report!
Here is a new video tour of our Lodging during this trip!
Get Gear for Your Own Walleye Fishing Adventure!