If you are new to our site, you won't know just how big of a part walleye fishing has been in the outdoor adventures my brother and I have had. If you are a repeat user of our site, you will know how often we like to talk about walleye fishing, and post pictures and videos of our walleye fishing success stories!
I've been blessed enough to go walleye fishing in Iowa, Minnesota, Wisconsin, the Great Lakes, & even Canada.  Each of those places have taught me different walleye fishing techniques and exposed me to numerous different walleye lures that anglers swear are the best.
Each lake, river, and area you fish are going to have different techniques and lures that work better – so it is almost impossible to come up with a list that tells you all the best walleye fishing lures in some universal order of effectiveness.
But what I can tell you is that over my 25+ years of walleye fishing, including some great walleye fishing tournaments, these lures and techniques have brought me a lot of success.
So here is our list of the best walleye fishing lures – and if you think we are missing something that should obviously be on this list, let us know! We are always looking for some new walleye lures to try out on our next fishing adventures & would love to add something new to our best walleye fishing lure list!
Quick List of the Best Walleye Fishing Lures
Here is a quick list of what we rank as the best walleye fishing lures for those who aren't patient enough to read our entire review. I will tell you that there are much more detailed explanations and stories about our personal success with these lures below, so please read on! We also have some other great links we think you are going to be interested in, and a video of our last walleye catch from Lake Erie!
The best walleye fishing lures.
The Original Floating Rapala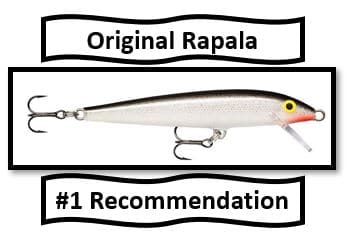 This is probably number 1 on my list due in part to sentimental value, since these crankbaits are what I was originally taught to master in terms of walleye fishing in Canadian waters.
With that being said, the Original Floating Rapala can be amazingly effective in landing large walleye, and I've had amazing success using them for years (and they aren't just for catching walleye, i've landed enough large bass & pike on them to know that firsthand).
Most anglers know what these lures are and have used them before, they are one of the most versatile and successful lures ever created. They are successful for walleye fishing because they can be used in multiple ways, such as casting, trolling, on bouncing rigs – this versatility makes them perfect for all sorts of different environment and situations.
They also come in numerous colors and sizes – with blue, silver, fire tiger, and chartreuse holding special places in my heart, but there are so many different color schemes based on popular feeding fish in the area you fish that you can pick from.
The different sizes will operate at different depths (depending on the fishing techniques), with the bigger sizes tending to go deeper for you. The right size will depend on the body of water you are fishing.
This is a classic lure, and it was an easy choice to place it number one on our list of the best walleye fishing lures – even when we removed sentimental value from the equation.
Rapala Shad Raps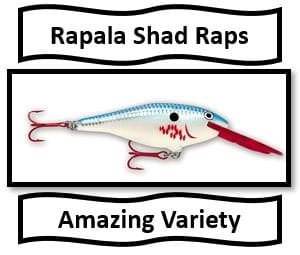 I'm not going freshwater fishing without a great selection of Rapala Shad Raps joining my collection of Floating Rapalas in my tackle box.
Slightly smaller in size than your traditional Floating Rapalas – Shad Raps have a great wobbling action to them that seems to be irresistible to walleye. These lures are especially effective during those spring time thaws where walleye often need that extra coaxing to strike some lures.
These lures are very popular for casting & retrieving or trolling – and there are literally dozens and dozens of different options you can pick from. These options will run at different depths, come in different styles, and have tons of different colors to pick from.
All these varieties will help you pick the right Shad Rap for your fishing trip. Different colors and different lengths tend to work better based on the style fishing of you are doing, and the type of water body you are fishing.
Classic blue is always going to be my go to starting color, but I always have a chartreuse, silver, firetiger, and some type of copper/gold combination on me.
The Rapala Jointed Shallow Shad Rap & Rapala Super Shad Raps are also two of my favorite variations.
The Cotton Cordell Wally Diver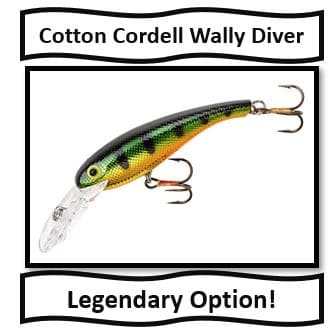 If you have a long discussion with most walleye angler about their favorite tackle, the legendary Cotton Cordell Wally Diver is normally going to come up.
These lures have a great profile and a great wiggle to them – which should drive the walleye nuts (you might even catch a few bass with these lures as well). They also come in numerous different colors that you are going to want to have a few different varieties of.
These classic Wally Divers are going to come in two different size options: 2 and 1/2 inches and 3 and 1/8 inches in length. The shorter version is called the CD5 and the larger option will be referred to the CD6.
The 2 1/2-inch option will run between 6-8 feet when casting and retrieving – and about 11 feet when trolling.
The 3 1/8-inch option will run between 9 – 11 feet when casting, and about 14 – 18 feet when trolling. That makes this a great option for slightly deeper water.
The most popular colors are normally perch, chrome & black, and Chartreuse – but like I said before, there are some really cool looking color options (like red and black) that are a lot of fun to mess around with.
If you love those jointed crankbaits and the action they bring to the table, there is a Cotton Cordell Jointed Wally Diver you can purchase as well!
Classic Jig Head with Live Bait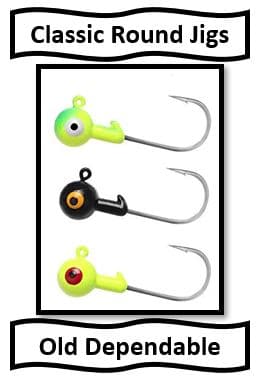 In this day and age of lots of new and shiny fishing lures hitting the market, we often forget about the classics. I don't know how many walleye i've got with a simple round jig head and a leech, night crawler, or minnow attached to it. Sometimes keeping things simple is the way to go!
Of course, you have to have a little patience and learn your classic jigging techniques. I remember that my dad wasn't a fan of jigging – so he would always pawn me off on one of his buddies to learn that technique. He told me it was important to learn, and you are going to catch a lot of fish doing it, but he was going to go fish with his crankbaits while I learned from one of his jigging angler friends.
In the lakes of Minnesota and Wisconsin I would usually pair leeches with my jigs. On Lake Erie and in Iowa I usually use night crawlers, but minnows are also very effective on bodies of water that allow them. Ask the locals if you are unsure what live bait to use!
There are so many different colors and weights to pick from when it comes to jigs, just make sure you pick one that is heavy enough to reach the appropriate water depths in which you are fishing. They are so easy to store, its always worth having a nice selection in your tackle box.
The real question for me is, who am I going to pawn my sons off onto to teach them how to jig?
Lindy Rigs or Spinner Rigs or Spinner Harnesses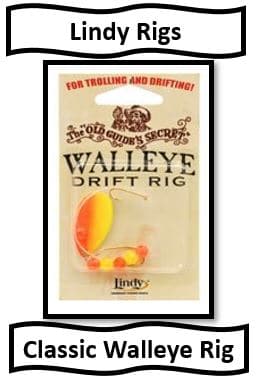 Using Lindy Rigs was one of the first techniques I learned to catch walleye, especially on Lake Erie. I have always referred to them as Lindy Rigs, but they all called different things including spinner rigs or spinner harnesses depending on where you are located.
The best way to describe these rigs are a long piece of fishing line that has a loop on the top that is connected to your line, has a spinner blade and beads, with normally two hooks on the back end, but you can have just one hook without the trailer hook.
Depending on where you are fishing and who you talk to, people will recommend different styles of spinner blades, such as a Colorado blade – and will have slightly different preferences on the setup of their spinner harness rigs.
Often you are going to use nightcrawlers or leeches as the live bait that connects to the hooks.
I have used these rigs with multiple fishing techniques. In deep waters like Lake Erie, casting these rigs with a weight for a certain count, then doing a slow retrieve is amazingly effective.
I have also done some slow drifting or trolling with them, but one of the best techniques also involves attaching them to bottom bouncers and watching walleye slam them.
This is one of the oldest and most popular fishing lure/technique combinations – and it is amazingly simple to build your own Lindy rigs. This was one of the things my dad and I really enjoyed doing – creating fun color and spinner blade combinations and seeing what had the most success.
The one thing you might want to buy if you are going to have a nice collection of Lindy rigs is what they call a "Lindy Rigger Kit." These help you store your rigs and keep them from getting tangled up all over the place.
You can buy these Spinner Harness/Spinner Rigs from a number of different places if you don't want to make your own – including some very popular models from Berkley & Northland Tackle.
Strike King Red Eyed Shad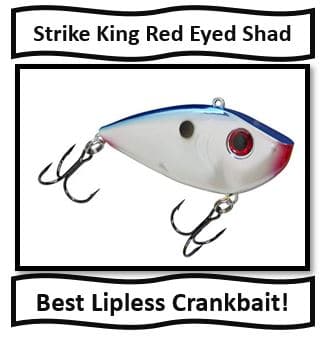 The Strike King Red Eyed Shad is the top ranked lipless crankbait on our list. There are two styles of this lure – one that features rattles and one that does not. Normally I like making as much havoc as possible in the water and prefer the version with rattles!
The most popular version will be the rattle version which comes in 3 different sizes: 1/4; 1/2; and 3/4 oz.
These options have premium hooks, a cool looking 3D eye for a realistic look, and free-floating rattles that give it a great sound.
With great action, great design, and about 20+ color varieties to pick from – it is easy to see why this is such a poplar shallow water walleye fishing lure. I probably sound like a broken record saying I always start with the chrome blue and chrome black options – but be adventurous and try out some different color combos!
We have to rank this our top lipless crankbait for walleye fishing – and I love its ability to be fished fast thru casting and retrieving techniques.
If you are the silent type – and aren't as interested in rattles, you can check out the Strike King Red Eyed Shad Silent.
Storm Hot 'N Tot MadFlash
A lot of walleye anglers swear by Storm Hot 'N Tot fishing lures – and it is easy to see why. These lures have a unique erratic diving action that you can't really duplicate with any other lure.
The lure design is fantastic, and it has a unique metal lip. That lip design is part of the reason that action of the lure is so original.
Also, these are made from premium hooks that should help you land those walleyes we are all seeking.
It comes in some really phenomenal color schemes. The finish of the lure is available in holographic, painted, chrome, and UV fishiness. Personally, I love the chrome finishes, particularly the Black Chrome Orange option.
These durable fishing lures deserve a spot in any serious walleye angler's tackle box!
Strike King Walleye Elite Lures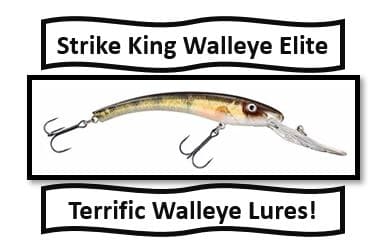 Strike King is a great manufacturer of fishing lures, and there are 3 main additions in the Walleye Elite Fishing Lure Line. You have the Walleye Elite Banana Shad, Walleye Elite Bonsai Shad, and the Walleye Elite Lucky Shad Crankbait.
The Walleye Elite Banana Shad is 5-inches long and has a really great wide tail action that triggers those walleyes to bite. They come in numerous different colors and can dive down as deep as 20-feet when being trolled or casting.
The Walleye Elite Bonsai Shad is 4-inches long and uses a very tight wiggle/motion to attract walleye. The slender profile of this lure comes in a bunch of different colors and has a 12-foot diving depth when being trolled or casted.
You also got to love the Walleye Elite Lucky Shad Crankbait. This crankbait is 3-inches long and runs at a much shallower depth than those other two listed options. Per usual with Strike King; there are some great color combinations of these lures out there as well.
Having all three of these lures in your tackle box to make sure can cover all water depths and have different action to attract walleyes are going to be a good idea.
Lindy Fuzz-E Grub Jigs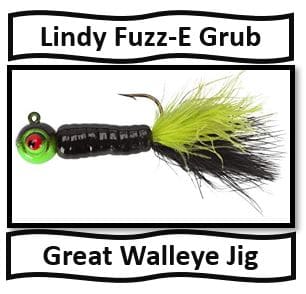 I should probably get back on the jigging train and not just talk about jerkbaits and crankbaits when talking about the best walleye fishing lures (sorry dad) – and mention how good a Lindy Fuzz-E Grub Jig can be for walleye fishing!
The combination of the soft plastic body, fluffy tail, and multiple-colored jig eye makes these lures very attractive to walleye.
There are lots of different body color and tail color combinations to select from – and I like to have a nice variety on hand. A good mixture such as pink and white or yellow and black will make sure you are prepared for different water types.
I like the 2-inch option the best, and the weights I use normally vary between 1/8 of an oz. to 1/4 oz. depending on water depth.
Hey if you are going to jig and want to make sure you are catching walleye, this is a good lure to have in your tackle box.
KVD Series 300 Walleye Jerkbait – NEW for 2019!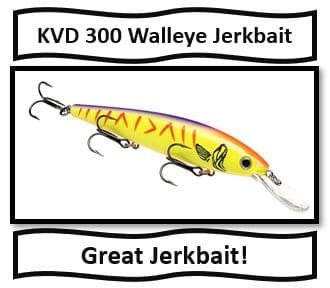 One of the new lures on the market in 2019 that really has me excited is the KVD Series 300 Walleye Jerkbait. I've had some amazing success catching bass with the Kevin VanDam Strike King Crankbaits, so I had no choice but to buy some of these jerkbaits.
These jerkbaits have a similar look to a traditional Floating Rapala; and since they are a jerkbait, they are designed to mimic an injured fish.
There is a deep-water option and an option that run shallower. Both of them come in lots of different color combinations.
Jerkbaits are a lot of fun once you get your technique down, but they might require a little bit of practice.
This lure might end up higher on our list, but since they are so new in 2019, I'm going to have to take them out for a spin and see how they perform!
Check back for more updates on this lure!
Terminator T-1 Spinnerbaits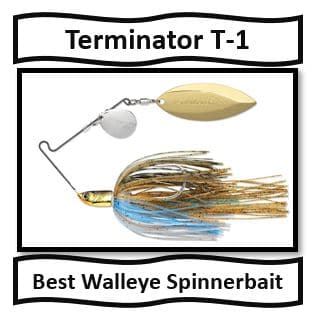 Complete moment of honesty here – I've never fished for walleye with a spinnerbait, but I have a good 20 different varieties in my tackle box for bass fishing.
With that being said, if you shop on Rapala's website or if you read numerous different outdoor magazines, they list the Terminator T1 Spinnerbait as one of their favorite walleye fishing lures. I'm going to trust these respected publications and fishing equipment manufacturers and add this lure to our list!
The design of these spinnerbaits is really nice. They pair a very realistic, eye-catching baitfish head design with a silicone skirt. The color combinations of these skirts are impressive as well.
I love the traditional spinnerbait blade design that should create some great action in the water – and should provide that big walleye bite that you are looking for.
These particular spinnerbaits are also made with top notch materials and should provide a very durable walleye lure for you. And they have a cool name, that should be a very important factor in your decision making process.
Based on all the research, we are going to list this as the best spinnerbait for walleye fishing and add it to our overall list of the best walleye fishing lures.
Reef Runner 800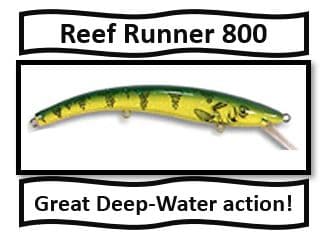 For spring walleye fishing and trying to land some of those 10+ pound walleyes we all dream about – The Reef Runner 800 is a great option.
This lure provides a lot of flexibility, giving you the ability to troll it or cast it. These lures also have the ability to fish deep waters – they can reach a maximum depth of almost 28-feet!
The lure length is about 6 and 3/16 inches in size when you include the body and bill. It is 5/8 of an oz. and weight and comes in dozens of different color options.
These lures do take a little bit of practice to get them performing at their maximum performance, but they have been a trusted lure for walleye anglers for a long time now.
Because of its deep-water action and ability to catch a lot of fish when being trolled, we had to include this on the best walleye fishing lures list!
Other Walleye Fishing Links of Interest
Hopefully this list of fishing lures will help you catch a lot of walleye! Fishing trips are much more fun when the entire crew is reeling in fish; and these lures have always brought me great success over the years.
Having the right lures is an important part of Walleye Fishing – but you also want to make sure the rest of your gear is going to help you catch those walleyes of your dreams. Here are some other great articles we have done on Walleye Fishing!
Quick Hitter: The Best Walleye Fishing Line
2018 Lake Erie Walleye Fishing Trip Reviewed
The Best Walleye Fishing Gear Review
And as promised here is a fun little video about one of catches during our last group walleye trip. We have another big walleye fishing trip coming up in a couple of months (June, 2019) – so check back for some updates from that one!