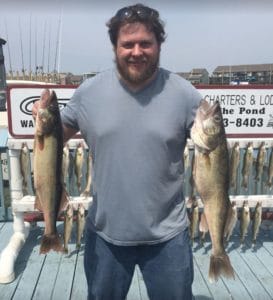 I think most of us anglers have gone thru different periods of our fishing careers where we preferred one type of fishing line over others.
I also believe that most of us have spent a lot of time at our local sporting good stores just scoping out all the different fishing line options that are out there. And there are many.
After we spend all that time experimenting with different strengths, test-line weights, colors, materials, brands – we usually find there are certain characteristics of those fishing lines that work really well for certain fish species.
There will never be a perfect fishing line for every situation – personal preference and where you are fishing are going to play big parts in what type of fishing line you pick – but in hopes of saving you a lot of trouble, here are some tips and recommendations on what we feel are the best walleye fishing lines.
Quick List of the Best Walleye Fishing Lines
Here is a quick reference chart you can look at for great walleye fishing lines. Beneath this chart is some tips for picking the right walleye fishing line, and some more detailed information about each option!
The Best Walleye Fishing Lines
Tips for Picking the Best Walleye Fishing Lines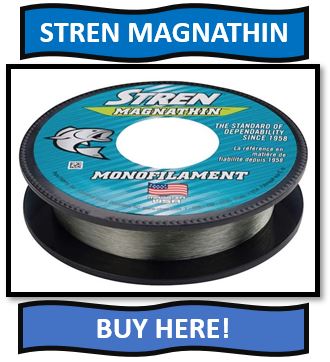 Everybody is going to have some slightly different preferences based on what type of walleye fishing techniques they use, but these tips will help you find the right fishing line a vast majority of the time.
Line Type: Most anglers still use monofilament fishing lines. These lines have a nice stretch to them making them very easy to handle and easy to cast. Monofilament line is more forgiving than braided line.
For example, if your drag is to tight and you set the hook to hard on a walleye, you won't tear the lure out of the fish's mouth because the line will stretch.
This line will be thicker than braided line, needs to be changed more often than braided line, and doesn't handle the wear and tear as well as braided line.
Braided or "super lines" can be a very good option for walleye fishing because they don't have the stretch monofilament lines do, and can take more punishment, especially if you are doing deeper water fishing or using bottom bouncers.
All these types of lines can be very successful for walleye fishing depending on your fishing technique.
Line Weight – You basically want your walleye fishing line to be as light as possible. Most fishing techniques will work great with monofilament line in that 8 to 12-pound test line range. Braided lines in the 6 to 14-pound test line are also very popular because they are thinner than monofilament lines.
Light line is important for a few reasons when walleye fishing. Walleye tend to inhale their meals, and light line makes this easier for them to accomplish. Walleyes will often spit out the bait if they feel resistance, and lighter line helps prevent this from occurring.
How often Should I Change Line? – Monofilament line should be changed at least yearly! That stretch which is a big benefit also leads to the line wearing out sooner, and I don't want you losing a trophy fish because you used this type of line to long. Professionals will often change monofilament line weekly or monthly.
Braided line can last a lot longer, but depending on use, a yearly or every other year line change is pretty common.


Quick Review of the Best Walleye Fishing Lines
Stren MagnaThin – Stren MagaThin is one of the most popular monofilament walleye fishing lines you can purchase. This is a very thin/light line which is perfect for walleye fishing. The smaller diameter of the line helps with lure action and prevents water drag.
Stren created a walleye line color that comes in 4, 6, 8, 10, and 12-pound variations which is perfect for walleye fishing.
Berkley Trilene – This is my "old dependable" fishing line I turn too for many situations. There are some different Berkley Trilene options, but the Berkley Trilene Smooth casting monofilament line works great for walleye.
It is strong and smooth, very versatile for different fishing techniques, and should help you land some nice fish! I will use either the 8, 10, or 12-pound test line variety.
Berkley FireLine – One of the most popular "superlines" on the market today is Berkley's FireLine. This line is 3 or 4 times stronger typically than monofilament line and is optimized for spinning reels to make it easy to use.
There are lots of different color schemes and test-line weights to pick from!
Northland Tackle Bionic Walleye Monofilament Line – This Northland Tackle Bionic Walleye Fishing Line was specifically designed for walleye anglers who like monofilament fishing line. It is easy to handle, and works great for bobbers, bottom bouncers, live-bait rigs, and other popular walleye fishing techniques.
You have a clear mono line color & and green camo color you can pick – with 4, 5, 6, 7, 8, and 10-pound test line available.
Northland Tackle Bionic Walleye Braided Line – For those that like braided line above monofilament, you also have Northland Tackle Bionic Walleye Braided line to pick from for that extra strength that braided line provided.
This braided fishing line option has 6, 8, 10, 15, and 20-pound fishing line options available.
Piscifun Onyx Braided Fishing Line – Piscifun Onyx Braided fishing line is a really good braided line choice. It is a high sensitivity line with a low stretch, cuts thru the water very well, and has good knot strength.
You have white & green color options in 6, 8, 10, 12, & 15-pound test line choices.
Final Thoughts & Links of Interest
Hopefully these tips and line options will help you pick the right fishing line for your preferred walleye fishing techniques!
Here are some other great articles we have written on walleye fishing & walleye gear to make sure you have everything you need on your next walleye fishing trip!
The Best Walleye Fishing Lures
2018 Lake Erie Fishing Trip Review
Oh, and if you have a certain type of fishing line that you swear by when it comes to walleye fishing, please let us know!