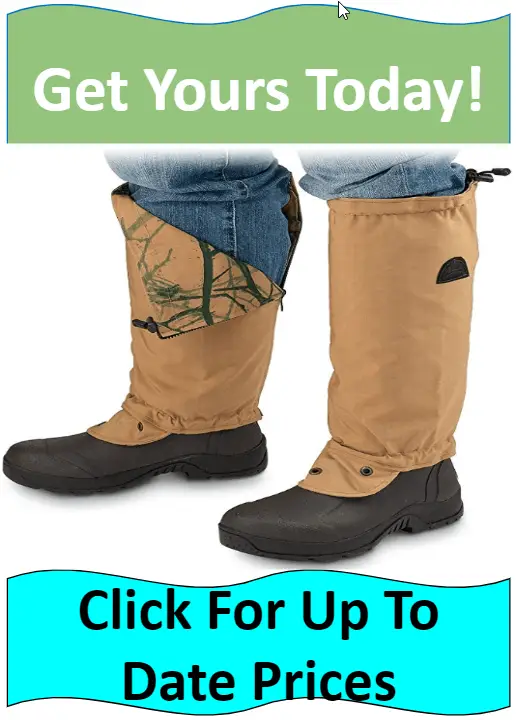 Turtleskin SnakeArmor Snake Gaiters Reviewed: How Do They Compare?
You definitely want to watch your step while you're out hiking out and about snake country. You also want to make sure you have the proper protection so if an angry rattler or aggressive copperhead takes a strike at you, your legs are in good shape.
TurtleSkin's SnakeArmor brand of anti-snake bite gaiters are an excellent option for protecting the legs. Some sites refer to them as the premium option, but we will get to our opinion on that claim in a moment.
The main thing to know is that they are solid and tested. These snake gaiters are the only ones we know of that actually follow the lead of Crackshot Guardz snake gaiters and actually tests them against real live rattlesnakes. That way you know these are going to work.
They've been tested against the real thing and that definitely is reassuring. The old saying "the proof is in the pudding" is important when it comes to your health. Especially when that issue can be life threatening.
Major Features
Made in the USA
Fully reversible
Flexible & foldable material allows for easy packing & unpacking
Waterproof & wind resistant
Tested with actual rattlesnakes
Available in regular (20 x 17 x 16 inches) & husky (23 x 20 x 16 inches) sizes
Warranty
As of this writing they offer a 30 day warranty for returns. However, these must be in unused condition and there is a re-stocking fee in addition to a shipping & handling fee. You can double check the warranty terms here.
Turtle Snake Gaiters vs. Snake Chaps
One very important comparison that needs to be made is the fact that Turtle snake chaps and Turtle snake gaiters are two different products. While they are both designed to offer serious heavy duty protection, they are very different pieces of gear.
Both of these can actually work very well. They both stop snake fangs from sinking in. They protect you from the worst case scenario with rattlesnakes, water moccasins, or copperheads. This is important because as we preach to anyone who will listen: snake bite kits don't work!
Prevent the snake bite before it happens!
Now as for the gaiters vs. chaps comparison. Think of chaps as what the old cowboys wear and you can still see them with some modern ranchers. These are leg coverings that are a bit looser and lighter than gaiters and they cover from ankle all the way up the legs to the hips.
Snake gaiters are smaller, covering from the knee on down That is a wrap-around protection for the lower leg which often is more than enough. Whether chaps or gaiters is better depends more on your needs. You can also check the table right below to catch some of the main stats on each one.
| | | |
| --- | --- | --- |
| | Snake Gaiters | Snake Chaps |
| Avg PriceRange | $160-185 | $280-295 |
| Sizes | 2 – normal & husky | 6 – full leg coverage |
| Best For… | Hunters, short-term use | Ranchers, long day use |
| Rating | 7.5/10 | 7.9/10 |
| Amazon Link | Click Here! | Click Here! |
Turtle Snake Gaiters vs. Crackshot Guardz Snake Gaiters
Both of these can provide some excellent protection from venomous snakes. The lower legs are some of the most vulnerable areas where a snake bite can take place and by protecting them you are far more likely to avoid bites (just watch where you place those hands).
The truth is it can be hard to compare these. They are two of the biggest names when it comes to snake protection. Both companies produce their anti-snake bite gaiters in the United States, both test them against actual rattlesnakes, and both offer serious protection.
There is a major difference in price on average, and preference could vary quite a bit. Then again, most people only own one pair of gaiters so you don't get many comparisons from individuals.
Both are good options that offer plenty of protection.
Final Grade
Don't get us wrong: Turtle brand snake gaiters are a really solid product. These do a good job of offering great protection to the lower legs. If you buy this you're not likely to be disappointed.
However, we're not 100% convinced the higher price really indicates they're that far ahead of other top notch options like Crackshot Snake Guardz.
Because of that high price and a slight ding against the lack of adjustable fit compared to some other options out there, we're giving Turtleskin snake gaiters a final grade of 7.5 out of 10.