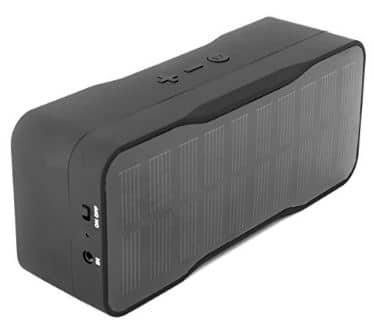 Depending on the type of camping or fishing trip I am taking, I usually make sure I pack my solar speakers. I love having the camp fire burning, some adult beverages flowing, and my top notch playlist playing on my iPhone!
The speaker quality of my cell phone is not very good, so to make that music as enjoyable as possible, I connect my phone to my solar speaker to increase sound clarity – and most importantly – volume.
The reason I pick a solar speaker for camping trips is because of the battery life and chargeability. I don't camp in a camper, so often I don't have immediate access to electricity, and those small battery speakers often burn through batteries very quickly without improving sound quality at all.
The best solar speakers will have great sound quality, and more importantly, won't run out of battery life. As long as the sun is shining I am able to keep my speaker charged all weekend long!
Solar speakers are great, but I also want you to have realistic expectations of them. They are great for campsites, but they aren't a complete state of the art sound system with every bell and whistle imaginable. Don't expect them to provide a dance party experience.
Below is a list of the best solar speakers for camping!
Reveal Solar Speaker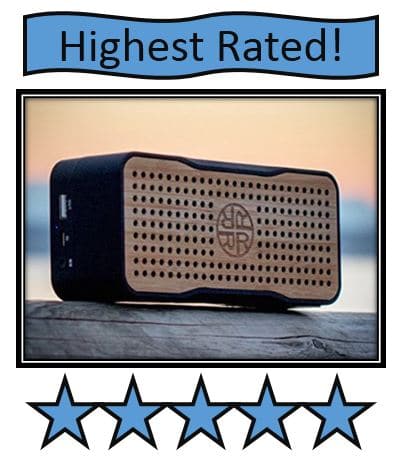 The Reveal Solar Speaker is one of the highest rated solar speakers online.
It has an 8 hour battery life when it isn't plugged in or the sun is beating on the solar panel, so you should have plenty of time to play through that playlist of yours!
To charge it you can either plug it into an outlet (might be hard to do depending on how you are camping) or by letting the sun charge it through the solar panel.
The speaker will play either from an Aux input or a Bluetooth connection. I normally use a Bluetooth connection, but both options work well.
Another nice benefit to this speaker is that it will charge your smartphone or tablet. You just plug your device into the Bluetooth speaker and it charges you device while playing music!
I also love the look of this speaker. It has a really neat bamboo looking panel on the front and the back has the solar panel. The sound quality is very good, and will be perfect for those who want some music playing at the campsite!
Depending if you can find the speaker on sale or not, they are normally priced around $120, and for every product purchased, Reveal will plant a tree! We always love supporting companies that give back to protecting the environment!

Eton Rugged Rukus Solar Powered Speaker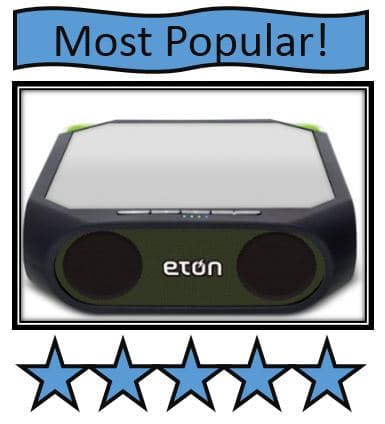 When you go to shopping sites online, the most popular solar speaker in terms of volume sold would be the Eton Rugged Solar Speakers.
It has a high efficiency solar panel that charges the built in battery, and that battery will provide 8 hours of listening time when fully charged!
It has two full range speakers that provide a solid listening experience.
The speaker connects to your devices via a Bluetooth connection, or there is an aux-in option. The volume of this speaker is very very good for its size.
It is about 1 pound in weight, so very easy to travel with. You also have a green color scheme and a black color scheme you can pick from. It is splash proof, so a little water won't hurt it, but don't keep it out in the rain.
You also have a USB charger that will charge your phone, and you can fully charge the battery in about 5 hours of sunlight, which is fantastic!
We would highly recommend this speaker for your camping trips!

NUNET Solar/Battery Powered Bluetooth Speaker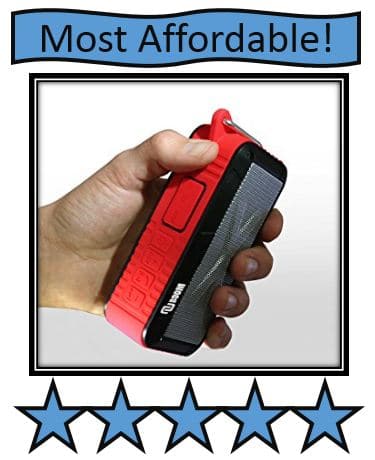 This option is one of the most affordable solar powered speakers you can buy.
It is small in size, basically 2 inches by 3 inches – but the speaker quality is very respectable.
The solar panel will charge the internal battery and give you right around 4 hours of playtime when fully charged.
It is also a unit that can be connected by Bluetooth or Aux input – with the Bluetooth capability being a big reason we like solar speakers.
It is very durable and comes with a 1 year warranty. It is also water resistant, so a little bit of water won't hurt it. Of course, we don't recommend leaving your speakers out during a thunderstorm or throwing them into a lake to see just how water resistant they are.
The speaker quality isn't as good as some of the other options, but with a price tag right around $20 – it is really hard to complain about that price!
This unit is great for the occasional camper, or someone who is just looking for a basic unit to make their music more enjoyable.

Youmoon Solar Powered Speaker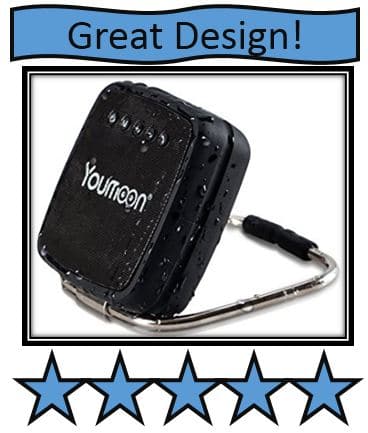 I really like the Youmoon Solar Speaker because of its compact design.
The compact design also includes a metal handle that makes it easy to hang – which can be very useful when out camping.
The case is also very durable, which makes these a great option for outdoor activities and camping trips.
The internal battery gives you about 6 hours of listening time when fully charged, and the solar panel is able to charge that battery fairly quickly.
Your device will connect by Bluetooth technology in about 3 seconds, and it has a Bluetooth range of about 33 feet.
Every time to speaker is turned on, it also automatically connect to the last device it was connected to via Bluetooth.
The price is normally around $70, but does come on sale from time to time for a little cheaper price. The big benefits of this unit compared to some of the others are the durability and design!
Youmoon also has some really nice portable speakers that aren't solar powered that you may want to check out as well! They are much more affordable than the solar speaker options.

Goal Zero Solar Rechargeable Speaker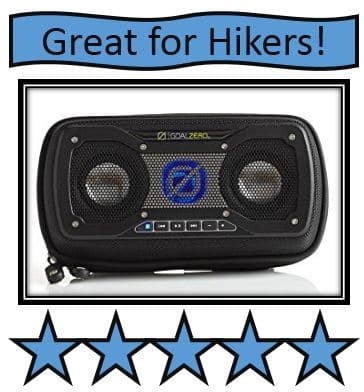 Another nice option to choose from is the Goal Zero Solar Rechargeable Speaker. These are really marketed towards hikers.
The reasons it is popular with hikers is because it has a very durable, weatherproof outer shell that keeps everything safe and sound.
It also has an attached bungee that allows it to strap on to your hiking backpack – and since you can connect the device via Bluetooth – you can listen to music while you are out hiking!
The USB charger will charge this unit faster than the solar panel, but both are effective.
The sound quality is much better than most phones, and certainly will be nice on hiking trips.
We normally see this unit retail for right around $100 (for the green and black color choices – the blue and teal are around $130 right now). The design is a little more modern than some of the other choices, and its light weight and smaller size do make it a good choice for hikers.


Final Thoughts
Any of these solar camping speakers should help make your camping trips a little more fun. The sound quality and volume will be much better than trying to play music on your phone's speakers – and the solar charging capability allows you to have music without worrying and your batteries dying!
These are the solar speakers that we recommend for camping, but they would also work by the pool and other outdoor situations.
There are also much bigger solar rock speakers that can be purchased for your yard. They really look good and can make a great addition to your home party space! If you want to learn more about those, please click on the linked article above.
Other Fun Solar Products Include:
The Best Solar Battery Chargers
If you want to learn more about solar camping speakers, check out this video from Youtube!