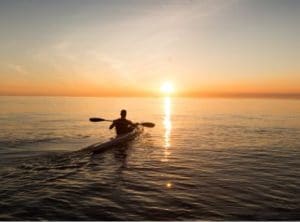 Kayaking is a great way to enjoy the numerous lake and river systems across the United States. One of the only things better than kayaking (at least in my opinion, anyways) is fishing from your kayak! Hey some people love the challenging white water rapids while outdoor anglers like me see the kayak as another amazing way to find top notch fishing spots.
Kayaks allow you fishing access to some very hard to reach fishing spots that just aren't accessible to large fishing boats, and there is something especially gratifying about finding a great fishing hole and hauling in a whole mess of fish after the effort of paddling out the spot – and then paddling back. Pride and joy can be a great combination when properly put together!
There are now fish finders that were specifically designed – or at the very least – perform really well in kayaks. These particular kayak fish finding models not only help you see if there are fish in some of those hard to reach fishing spots, but they can also be used for other things. Kayakers that aren't interested in fishing, but want to know things like water temperature and water depth, can also use fish finders to gather that information.
At the end of the day, the best kayak fish finder will help you find fish and provide you with all the relevant data you need to fish any body of water more effectively. This article should help you decide on what type of kayak fish finder you will want to purchase, and what to look for before making that purchase.
Now with more than enough introduction text to this post, please enjoy our brief list of the best kayak fish finders reviewed (NOTE: We only include the best of the best. Even the "worst" ones on our lists are going to be far better than your average model, and mediocre ones we never review).
Picking the Best Portable Kayak Fish Finders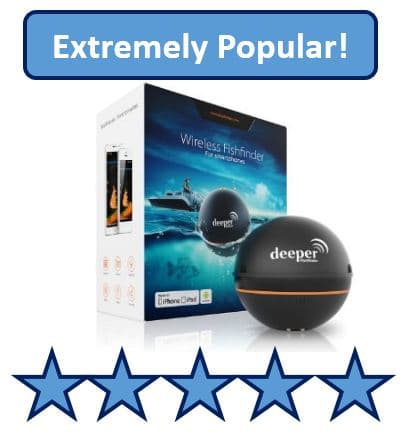 Ease of use is going to be a big reason for you to pick a portable fish finder for kayaks. They are light weight, easy to use, and the transducer/sonar can be moved without serious hassle. There's a reason many fish finders simply don't work with a kayak fishing setup but the good news is that portable models can be setup with relative ease. These fish finders can also provide a lot of great information for you – often a lot more than you would expect for such an affordable price.
There are a couple of different types of portable fish finders you can purchase that we are confident in recommending. All of those fish finders will have a transducer that you cast out or throw out into the water. Some transducers are wireless, so you want to tie them to a fishing line before casting. Others will be cable connected – meaning they are attached to the screen and normally have 30 to 35 feet of cable to work with. There are pros and cons to both models, and you'll want to think about what is going to work best for you before making a purchase.
The wireless options can gather data from farther away, but controlling the sonar can be a little difficult from time to time. The cable attached options can't gather data from as faraway but generally speaking they are easier to maneuver.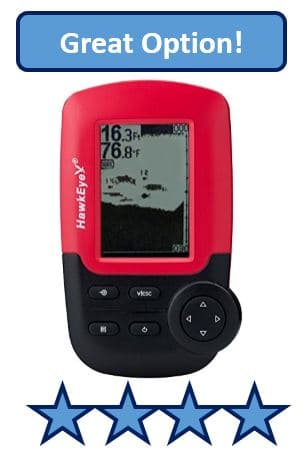 If you do use a wireless or Bluetooth option that is attached to your phone or tablet, you will not use up any data from your cell phone plan. You also don't have to have an Internet connection for them to work, which is a huge plus considering how many of the best fishing areas out there are located in isolated areas.
Another big deciding factor will be do you want a standard fish finder display screen, or do you want a version that attaches to a smartphone or tablet? Both options have benefits and disadvantages. A standard display screen is normally 3 or 4 inches in size, and depending on the unit you buy, doesn't always have the best screen clarity.
Tablets especially can deliver a bigger, clearer screen. However, battery life can be a concern. Also, do you want to take your smartphone or tablet with you on your kayak, or would you rather be holding a waterproof display screen over the water? If you are going to use your smartphone, buy a water proof holder – let's try to prevent as many possible accidents as possible. Let's also call all of this what it is: plain good old common sense.
Once you decide if you want a wireless connection or a cable connection, and once you decide on if you it to be connected to a standard display screen or a phone/tablet – there are going to be lots of great portable kayak fish finders you can choose from!
Different Portable Fish Finder Options for Kayaks
For a more in-depth review of each of these picks, I would encourage you to click on this article about the best portable fish finders. We have an entire article where we really dive into each one, the pros and cons, buying considerations, and everything else. No point in re-writing each one so if you're interested in seeing our reviews visit that page or you can simply go to the Amazon page of each by clicking the bolded links in the list below!
Our favorite options are listed below.
1.) Deeper Smart Fishfinder 3.0 – This is one of the first, and still one of the best, portable fish finders available. It uses a Bluetooth connection to connect the transducer/sonar to your smartphone or tablet.
2.) Deeper Pro – Same great features as the Deeper Smart Fishfinder, except it uses a wireless connection to connect the tablet and transducer. This allows you to gather information from farther away.
3.) Deeper Pro + – Same great features and connection as the Deeper Pro, but you also have built in GPS features to help with mapping!
4.) MadBite FX 3000 Fish Finder – This great option uses a wireless connection to connect the sonar to a display screen that isn't your phone or tablet.
5.) Signstek FF-002 – This is another fish finder that uses a wireless connection to connect the transducer to a display screen. Great batter life and great price as well!
6.) NorCross HawkEye F33P – This is one of the oldest models you can pick from. The price is very, very affordable and it connects a display screen to the transducer by cable. It DOES NOT measure water temperature.
7.) HawkEye FT1PX FishTrax Portable Dot Matrix – This is the updated version of the NorCross F33P. It is a little more expensive, but has a better screen and does read water temperatures. Still connects by a cable to display screen option.
8.) iBobber Wireless Bluetooth – This is the lightest portable fish finder you can buy and uses a Bluetooth connection to connect your wireless device to the sonar.
9.) FishHunter Directional 3D – This unique fish finder offers up some of the most detailed imaging you can get from a portable fish finder. The transducers also gather data from a larger area than other options. Connects by using Wi-Fi connections to your smartphone or tablet.
10.) Venterior Portable Fish Finder – This is a wire connected (25 feet of cable) to display option that providers really good information, and normally costs under $90!
Other Kayak Fishfinder Options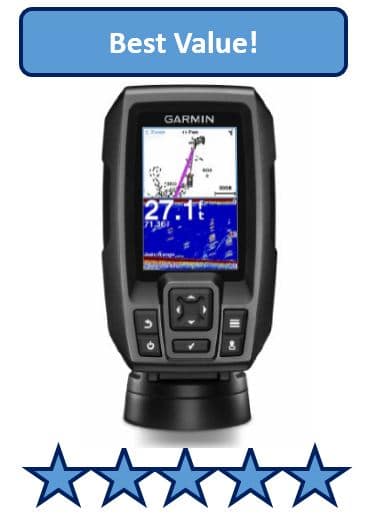 There are some other, more traditional, fish finders that kayakers will use. These options will require you to have a battery to power the units, and often need to be mounted, preferably to the transom. The battery and the mount make them a little more cumbersome at times, but these traditional fish finders do provide a lot of great underwater details. If you can find a convenient and reliable way to make this work, it is definitely worth a look.
The key here if you buy a traditional fish finder is just making sure everything matches up well with your kayak. You want to make sure you have enough space, the weight of the battery won't throw you off, and think about little details like that.
The Lowrance Elite 3X and Garmin Striker 4 are some of the more popular traditional fish finders for kayaks. They are compact and size, but still deliver great data like water speed, bottom readings, and obviously fish alarms.
Kayak fish finder mounts can also be purchased for different units, including portable kayak fish finders. These mounts will help you hold the display screen in place, and there are numerous different options you can pick from.
The best advice we can give about kayak fish finder mounts is making sure you test them, secure them, and play around with them before you ever get out into the water. There are horror stories of the mount coming lose from the kayak – and they don't necessarily float – so they dragged your display screen to the bottom of the water with them.
We don't want you to lose your fish finder and your mount – so please do some research, pick the appropriate type of mount for the fish finder you own, and make sure it is secured tight! You don't want to visit this article twice in the same week because of a preventable accident!
Other Fishing Articles You May Like
Final Notes on Fishing Kayaking
With so many good options to pick from, there is no reason not to have a good fish finder to go along with your kayak! We would also love to hear any feedback you have personally had with kayak fish finders. Good experiences or bad, email us or leave us a note on one of our social media feeds!
We would also love to hear any great fishing stories you have from your kayak, maybe in some of those hard to reach places we all dream about discovering. If you haven't done any kayak fishing yet, check out some of these useful tips.
If you want to see what some of these portable kayak fish finders look like in action, here is a training video featuring the Deeper fish finders.