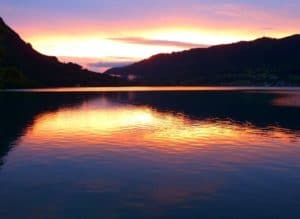 When people are looking for the most trusted and dependable fish finders, many experienced anglers will decide on Humminbird models. They do this because Humminbird is one of the most trusted manufacturers in the industry, and they make it really easy for you to decide on which fish finders you want to purchase from them – breaking them down to different versions with unique features meant for different situations and fishing holes.
The big model lines you are able to pick from include the Onix, Helix, PiranhaMax, and ICE versions. Each one of these sub-brands or options from Hummingbird have different functionalities that were specifically designed for different situations. Instead of trying to make a "one size fits all" model that almost inevitably will be mediocre, they go for specialized fish finders that tackle all the various different types of fishing, fishing holes, and angling challenges that are going to come up while going out and about.
Here is a brief review of the top Hummingbird fish finders, hopefully guiding you in the right direction for your future purchase.
Humminbird Onix Series Fish Finders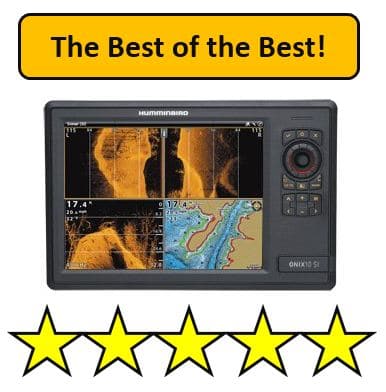 The Hummingbird Onix series of fishfinders is considered the best of the best in the fish finder world, and you are going to pay a good chunk of money to own one of these. However, if you have the budget to spend on premium fishing gear, then you definitely want to see if you can make a Hummingbird Onix part of your arsenal for all those outings on the water.
The leader of this elite group of top fishfinders is the Onix10ci SI Combo. Right off the bat anglers are going to love its large 10.5 inch high definition display screen that is backlit and can be easily read in any weather conditions. It comes with HD side imagining, HD down imaging, and what they call dual signal processing. Basically you are going to see the fish under the boat and all around the boat as well no matter what the sun's glare or rain and fog. This fishfinder can see.
The built in transducer reads water temperature, the built in GPS monitors speed – and you have GPS chart plotting options as well. The transducer should be transom mounted and you have gimbal or in-dash mounting options for the display screen.
Split screen options are included, 3D charts views are included, sonar recording features are included, and basically anything that you could want from a fish finder will be included. This is a full package deal and while the price is going to be on the premium side of things, you can rest easy (by which we mean never sleep because of the excitement the day before a big fishing trip) knowing you have the absolute best on the market.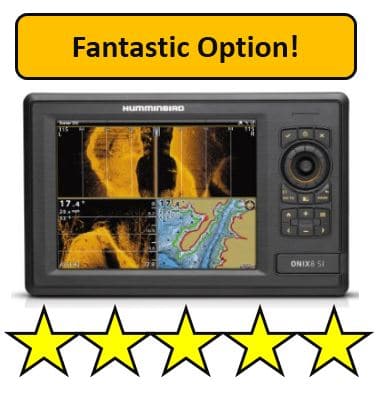 There are a couple of hummingbird fish finder accessories that can be purchased with this unit to make it even more versatile and impressive than it already is. The CHIRP Ethernet SONAR module can allow this unit to read water depths of up to 10,000 feet! An optional deep water transducer can be purchased to help this unit reach power output RMS ratings of 1000 watts.
If that extra surge in power and ability is something you want for your model, then those accessories should definitely be kept in mind when you go about filling out your shopping list.
The other great option is the Onix8ci SI Combo. This premium Hummingbird fish finder is almost identical in the features it comes with plus the add-ons you can purchase when compared with the Onix10ci. The big difference is the 8ci option has an unbelievably clear 8 inch screen instead of a 10.5 inch screen. Whether those extra few inches matter or not depends on your personal preference as well as maybe other factors like budget and eye sight, but on the whole these are just absolutely exceptional models that are as good as it gets when it comes to fishfinders.
You can click on either of the above photos to price these out on Amazon, see if any sales are going on.
Generally speaking, when not on sale the Onix8ci SI Combo normally costs around $2700 while the Onix10ci SI Combo costs around $3200. They are the best of the best when it comes to fish finders. They have every feature imaginable to help you catch more fish, and can even be used in the deepest of salt water fishing trips if the proper additions are purchased.
Humminbird Helix Fish Finder Series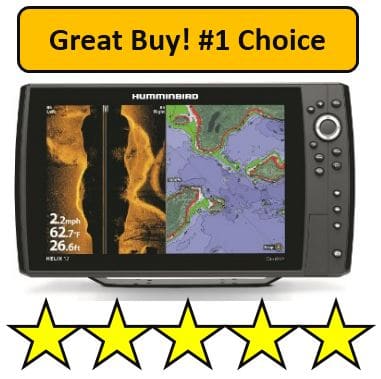 The Helix fish finders are the most popular options from Hummingbird since they combine top notch graphics and technology with a versatile array of sizes and a more reasonable price for those of us who don't have the biggest budget to work with. You will be able to purchase from the Helix 5, 7, 9, 10, or 12 model line. The biggest difference between all these versions is the screen size, with the number indicating how big they are in inches. So they're as compact as 5 inches, or up to 12 for people (my brother) whose eyes aren't that great.
These models have really effective down imaging and side imaging technology that gives you a great understanding of everything going on under your boat. Most of these models even go that extra mile to have GPS built into them to help you with mapping and boat speed information, which is important information for the dedicated angler.
Some of the Helix 5 or Helix 7 models do not have that feature built in, just check to see if GPS is included in the unit name. If it is, you have a GPS version, if not, you don't. Keeping it pretty simple to figure out so you can spend less time shopping and more time casting and fishing.
There aren't a lot of other differences between the models. Versions 9, 10, and 12 have SD card slots that allow you to save maps and screen captures – plus those slots allow for easy software updates. These versions also have an easy cable management system that keep them organized. These models have a new processor as well that have increased processor speeds by 25% which is plenty exciting if you're a techie in addition to an outdoorsman. If it's all Greek to you, it means everything works faster for an even better and more accurate up to date readout of where you're fishing for your next big catch!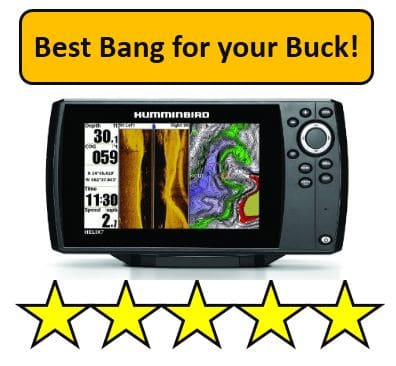 New upgrades have been made to the 7, 9, 10, and 12 models to make the screen and viewing more effective and enjoyable. The screens of those models are now glass bonded allowing for better visibility in bright sunlight. The screens themselves were also developed to be up to 50% brighter than in the past, showing a dedication by the company to keep upgrading and improving based on prior feedback.
Helix 5 units without GPS are normally around $200 – and prices can range upwards of $2300 for the full blown Helix 12 GPS models with all of the bells and whistles. The good news is this means plenty of variety – there is almost certainly a build and model that meets your needs as an angler within your budget. The rougher news is that this variety means you may have to do some research to figure out exactly which mix and model hits your sweet spot.
Screen size and GPS capabilities will be major factors in deciding which option is the best one for you. The Helix 5 models are great for beginners, smaller lakes, and people that don't fish all of the time. The Helix 10 and 12 are excellent options for more serious fisherman, and the 7 and 9 options are perfect if you are somewhere in between. Shop accordingly and enjoy the results as you catch more (and bigger) fish than ever!


Humminbird PiranhaMAX Series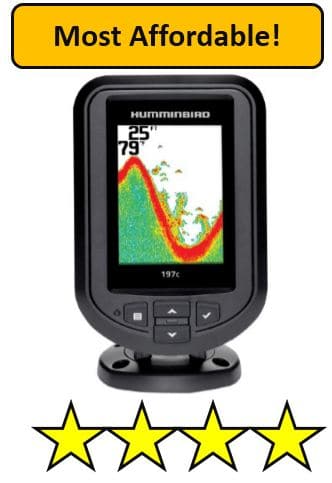 The most affordable fish finders you can buy from Humminbird come from the PiranhaMax series. You have the PiranhaMax 197C series which includes a 3.5 color display screen and the PiranhaMax 4 series which comes with a 4.3 inch color display screen. These are smaller, but the screen clarity is exceptional, which makes up for the relatively small size in comparison to some of the larger models.
The screens on both versions are pretty basic, but will show you bottom structure and fish swimming underneath the boat. They don't have any GPS functions built into them, but are perfect for fisherman that are familiar with the body of water they will be fishing on – and just need to make sure they are picking good fishing spots. After all, the fish can move based on water temperature and weather.
Some of these versions have dual frequency sonar that give you a better coverage area, while others only have down imaging which shows only things going on directly underneath the boat. Prices range from around $100 to $200 for these models, making them a very affordable option for fisherman.
The Humminbird ICE Series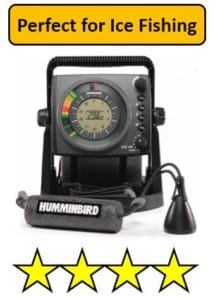 Humminbird also makes a series of fish finders specifically designed for ice fishing. The most expensive option is the ICE 688ci HD Combo. It has a 5 inch color display that can be set to traditional ice fishing flasher mode. The reason it is more expensive is because it has GPS built in chart plotting and other GPS features, making it the choice of seriously cold weather anglers when it comes to finding the perfect ice fishing fishfinder.
The ICE 55 is a traditional 6-Color flasher for ice fishing, with the ICE 45 and ICE 35 being traditional 3 Color flashers. Both are really good options, but are only designed for ice fishing. The most expensive options can range from around $600 to the cheaper versions being around $400, meaning they are very reasonably priced all things considered.
For more details about ice fishing fish finders, I would encourage you to read the linked article.
Final Notes
From ice fishing to deep saltwater fishing; humminbird makes a fish finder for you! Even beginners can buy from the PiranhaMax line to have a dependable fish finder for your fishing adventures. Humminbird has always been a leader in the industry, starting in a garage in Alabama in 1971, and expanding into one of the most popular fish finder companies in the world.
There are just so many great fish finders to pick from, ranging from ice fishing fish finders to portable fish finders. Hopefully this article helped you find the right option for your situation!
YouTube video on Humminbird Fishfinders