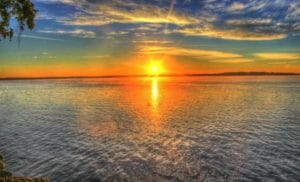 As an avid angler myself, I know the importance of having the right equipment ready for each and every weekend outing. There are so many different fish finders out there, it can be difficult to narrow down your list of options to figure out which ones are worth the investment and which ones aren't.
One of the key elements in picking a fish finder is going to be price, and with some units costing thousands of dollars, those are obviously not the best options for everyone. Premium is nice, but come on, right?
For fishermen that need a dependable unit, but don't want to spend tons of money, we provided a list of the best fish finders currently under $300. These units provide great data and make it really easy for you to find fish without breaking the bank.
Here are some of our favorite affordable fish finders, and hopefully this review will help you find the right option for all of your fishing adventures!
Lowrance Inexpensive Fishfinder Options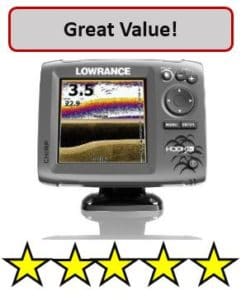 Lowrance offers a few really good fish finder options for under $300, so don't be surprised if their name shows up a few times on these types of lists. The Lowrance Hook 5x series is right around the $300 mark, and comes with a great high resolution, 5 inch color display screen that makes tracking fish easy!
The DownScan Imaging™ provides great views of fish, structure, and bottom details right underneath the boat, and mounts easily to your vessel. The unit is also really good at automatically adjusting the settings to give you the best view possible, which is much nicer than having to constantly make those adjustments manually on your own.
Especially if you're like my brother. How can a geek with glasses be so bad with technology? But he's an okay angler – I guess. Point being, the automatic adjustment is a very nice feature so you can focus on what you do best: fishing.
This fish finder also another really unique feature that is worth mentioning. Lowrance's inexpensive Hook fish finder also has the ability to record your sonar history, and allow you to look back at that data at a later time. This is a great option for those in need of a high quality fish finder you can permanently mount to your boat.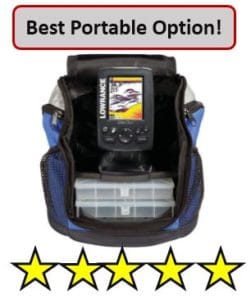 Another great low cost option from Lowrance is the Elite 3X All Season Pack, which is nice because it is a portable sonar unit that features the transducer and two different mounting options. One is a suction cup mount lets you install the unit in small boats, but you also have a mount that lets you mount it vertical for ice fishing or onto docks.
That's really good versatility, which is great for those of us who like to fish all four seasons but have a really limited budget to invest into our passions.
This particular fish finding unit is perfect for ice fishing, and it is also perfect for people that rent a lot of boats, and need to be able to take their unit from place to place. The color display screen is 3.5 inches in size, and the LED screen works well in sunlight and during the night.
Any piece of equipment that can extend your fishing time each day is a good thing, right?
This is the best portable fish finder under $300 that can easily be mounted from boat to boat, or location to location. For different variations of portable fish finders, I would encourage you to look at this list of other options.


Humminbird Fishfinder Options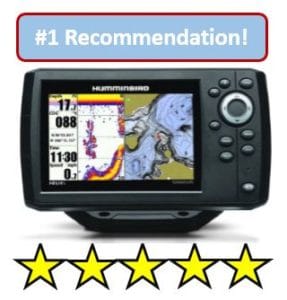 Humminbird also makes some very effective and affordable fish finders, with the Helix 5 Sonar GPS being right at the $300 mark or so. We recently wrote an article about some great GPS fish finders, and this one ranks right up there as one of the absolute best models for the money.
Add in the fact that they often come in right at or just a touch under $300 and that creates an exceptional piece of fishing equipment
The built in GPS helps you know things like boat speed, and the display screen is fantastic. It is 5 inches in size, and clearly shows color imaging of fish, bottom structure, and all that data you need to catch more fish. It will also track information in depths of up to 1500 feet, which is remarkable when you think about it and definitely goes above and beyond in delivering incredible amounts of information.
Dual frequencies means you have 20 degree and 60 degree coverage options, giving a serious amount of data right at your fingertips.
We highly recommend this fish finder for anyone that needs some extra bells and whistles like GPS, and want a very dependable fish finder for their boat.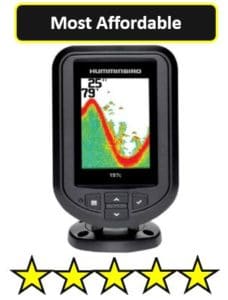 The most affordable option from Humminbird is the PiranhaMAX series, specifically the PiranhaMAX 197c. This unit has a cost right around $100, but still provides you with many of the features you want in a fish finder. This is an excellent value, and although it might not be quite the same level as the really premium options, there's a lot to love about this model even beyond the fact it is a fishfinder well below a $300 budget.
The display screen is 3.5 inches in size and is in color, but obviously doesn't provide you with as much detail as some of your other options. The display, mounting bracket, transducer, and installation hardware should all be included with the purchase. It only weighs a mere 2 lbs, making it easy to transport and mount without concern.
You get many of the standard features you would expect like fish id, fish alarms, depth alarms, and a zoom feature. It does only use down imaging, so you are only going to see what is going on underneath your boat.
We recommended this unit for beginners that are looking a good introduction unit, or for fisherman that need something dependable, but only get out on the water a few times a month.

Other Cheap Fishfinder Options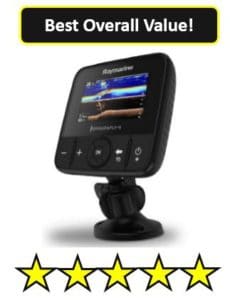 There are a few other really good fish finder companies that make some of the best inexpensive fish finders available for purchase. One of my personal favorites is the Raymarine Dragonfly 4Pro. For under $300, you are going to get some of the best features of any fish finder at that price range.
This unit has a 4.3 inch high definition viewing screen that makes it one of the best in the business. The sonar actually provides you with photo like quality information, making it easy to track fish and figure out what type of bottom structure you are dealing with. There is even a memory card slot where you can save maps and sonar data too.
It also has an awesome Wi-Fi enabled app that connects your phone to the fish finder. This allows you to stream live data on your phone or tablet, and even share your catch with friends on social media. Because when it comes to fishing, bragging about that big catch is such a huge part of the fun among you and your fellow anglers!
These fish finder also receives very high marks on many different review sites, which can be rare for this industry and helps re-assure you that these ratings are based on actual impressiveness and not just the affiliate program that pays out the highest.
This is an outstanding inexpensive fish finder that won't bust your budget, leaving plenty leftover for those new rods or lures that will help you catch that next big lunker!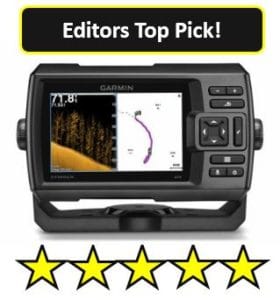 Another fantastic option that is right around $300 is the Garmin Striker 5DV. Garmin does a really nice job of incorporating GPS, which will allow you to mark spots on your fish finder and return to them days later. This is a rare benefit for such an inexpensive fishfinder and is yet another reason why Garmin makes the list.
The GPS also displays boat speed, which can be very useful information depending on the fishing techniques you are using. Trolling at one speed might not be working, but slight adjustments might make all the difference.
The screen itself is 5 inches, so large enough to make it easy to view everything going on underneath your boat in detail. It does come with a bracket that allows you to attach the transducer to your trolling motor.
This is also a fish finder that have very positive reviews online. Both the Raymarine Dragonfly 4Pro and the Garmin Striker 5DV are perfect for serious fisherman looking for very good fish finders.

Final Notes
Hopefully this fish finder under $300 review will help you pick the best option for your personal fishing needs. What is great is these companies have done a fantastic job of producing inexpensive fish finders that still have features like GPS and Hi-Def display screens built into them. When we started fishing there was nothing like these out on the market even for much more money, so to see so many great options is just an awesome example of how sometimes technology can make the outdoor experience even better.
This really makes it possible for all of us to have the most enjoyable fishing trips possible. The video below gives a good overview of various fishfinders that are great for kayaks and small boats – you'll see some familiar names on there for sure!
Great YouTube Fishfinder Review Video