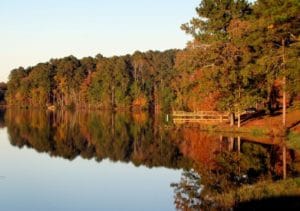 We wanted to continue our affordable fish finder article series with the best fish finders under $200. These fish finders aren't ideal for the fishermen that want to map out lots of different fishing spots, or use GPS to monitor boat speed, or for anglers that spend many hours on the water.
However, they are perfect for fishermen that want a dependable beginners unit or for anglers that know a body of water really well and just want to see how many fish are underneath the boat.
The following fish finder review under $200 article should help you pick out the right unit for your fishing trips – and more importantly – provide you with a dependable unit that will help gather all of the relevant fishing information you need to catch more fish!
The Best Lowrance Fish Finders Under $200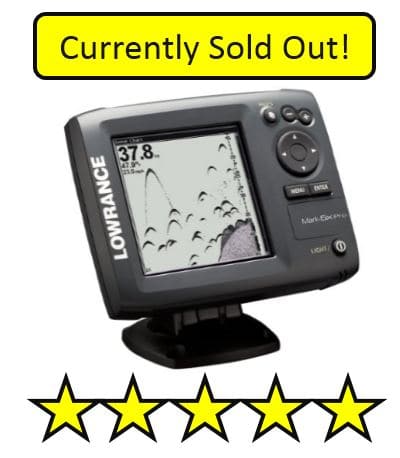 Our number one pick for a reliable fish finder under $200 would be the Lowrance Mark 5X. It has very high reviews on numerous different review sites, and is normally right around the $160 price range. It is so popular, it often sells out on some shopping sites.
The screen is easy to read since it is 5 inches in size. It is a 480×480 pixel black and white high resolution screen, which comes with a backlight to help with viewing during day time or night time fishing trips. You can see water temperature, bottom structure, and obviously fish location!
Installation of this unit is also very simple, and there are advanced user modes that can help you fine tune the sensors for different water conditions. This is the perfect fish finder for anglers that want a sturdy, but simple fish finder, or for an angler that hasn't had much experience with fish finders and is looking for a dependable unit to learn from.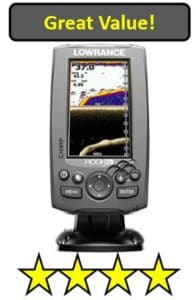 Other inexpensive fish finder options from Lowrance include the Hook 4-X and Hook 3-X. The Hook 4-X comes with a 4 inch screen – which is a high resolution color display screen as well. The big draw for this fish finder is the advanced sonar processing that it comes with, which means you don't have to keep manually adjusting the screen all of the time for the best resolution.
The fishfinder takes care of the resolution itself, saving you time and helping to reassure you that what you're seeing is accurate as you chase that next trophy catch.
The Hook 4-X is right around $200 with the Hook 3-X being around $130 in price. The reason the Hook 3-X is cheaper is because the screen is smaller, being only 3.5 inches in size, and it doesn't have the same built in automatic setting adjustment that the Hook 4 does.
Both units are a good value, though if you can spare the extra $70 for the Hook 4, many anglers we know definitely believe it is worth the expense for those little extras.
Both of these options are very good if you prefer to have a color screen vs a black and white one. The Hook 4 is also really nice if you just hate wasting time adjusting the settings of your fish finder all of the time. The Hook 3 just delivers a great unit at a great price.


Garmin Options Under $200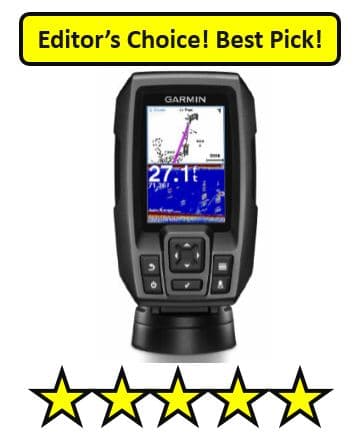 At right around $120, the Garmin Striker 4 is one of the best cheap fish finders you can buy. What separates Garmin from many of the other options is that is has built in GPS, which will let you track boat speed and map fishing spots. This gives all kinds of information the dedicated and precise angler can use to make sure they give themselves the best chance to up the number of fish they catch as well as the size of those fish.
At this price, it is almost unheard of to have a built in GPS with your fish finder, which makes this under $200 model stick out even more.
Included with your purchase will be everything you need to mount and setup your fish finder, except the battery you need to power it with. I would recommend this unit for both beginners and experienced fisherman – it really does just bring a lot to the table no matter what your fishing experience.
The biggest drawback is the screen size. The screen is only 3.5 inches in size, so it can be difficult to monitor fish and see GPS details at the same time. The screen is in color and provides a high resolution picture, which is nice, but if there is one drawback the small screen is definitely it.
There is also a portable kit that can be purchased to go with it, making it a great option for kayak and canoe fishing as well.
Humminbird Fish Finders under $200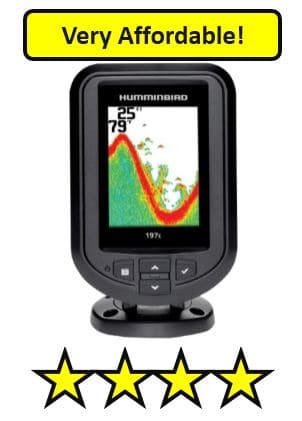 Humminbird is known for producing excellent fish finders that normally cost lots and lots of money. However, the Humminbird PiranhaMAX 197c is actually very affordable, normally costing right around $150, while still delivering on the quality you would expect from the Humminbird brand of products.
As with many inexpensive fishfinders, the biggest complaint tends to be the screen size. In this case the display screen is small, only 3.5 inches in size, but the resolution is fantastic. You will get a very clear, and in color, picture of what is going on in the water. The built in transducer provides information like water temperature, and it works in depths of up to 600 feet.
It doesn't have a ton of extra features like GPS, but it does have selective fish finder ID, and really does provide you with everything you could expect from a $150 fish finder. The manufacturer does recommend for it to be transom mounted to gather the most accurate information possible for you.
The Best Portable Fish Finders Under $200
There are numerous portable fish finders that cost under $200 to purchase, and I would actually recommend you read this review for more information about them.
A good example of these fish finders is the MadBite FX3000 Fish Finder. How they work is really simple, you actually have a transducer that is either connected by wires to the display, or the transducer uses a Wi-Fi connection or Bluetooth connection to connect to the display. The Madbite is wireless and uses a wireless connection to connect the transducer to the display.
The transducer itself is actually cast out into the water, and it will start relaying information to your display screen. Some options even connect the transducer to your smartphone or tablet. The MadBite will send the information to a 3 inch full color display screen so you can adjust you fishing strategy according to the data that is now right at your fingertips.
These fish finders are perfect for fisherman that do a lot of kayak, canoe, or shore fishing. The ability to easily take them from place to place is fantastic. The downside is they aren't permanently mounted, and they don't read depths as deep as those mounted units do.
Kayak, Canoe, and shore fisherman should look into a portable unit as this is a much more viable option than any of the more mounted and set options.
Our Final Review
For all of us that are trying to find a high quality fish finder without breaking the bank, these are our top choices. We all would agree (at least I think we would) that fishing trips are more enjoyable when catching fish, so having a dependable fish finder in your tackle box is a good idea – and these choices deliver on all fronts.
If you are curious about portable fish finders, here is a quick video on reading inexpensive fish finders that does a really good job of breaking it down so you can get the most out of your experience.
Great sonar fishfinder review on YouTube